Hamansutra
Tout ce que vous devez savoir sur Hamansutra en 20 questions...(en anglais)
Zanoah Bia, le 10 mai 2010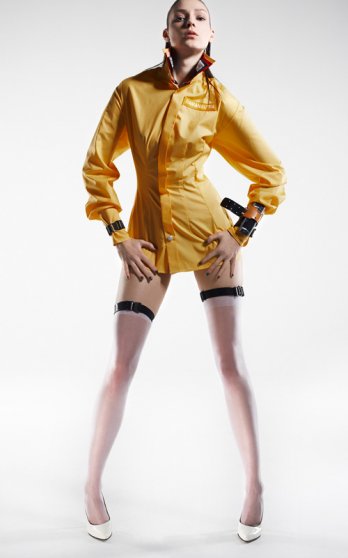 Hamansutra_Artificial Skin Collection_Denis Pernath
E.D.: What is your favourite example of the use of sustainable fabrics/products in fashion design?H.A.:
Well, personally I love the denims that are currently being produced in Japan – a mixture of cotton and hemp. Really rugged, long-lasting fabrics that are fantastic to work with, feel good and are timeless.
E.D.: What design project would you never design and why?H.A.:
I don't spurn commerciality, but I don't embrace it at any cost. I'm perfectly willing to cancel a project if the client doesn't support my ideas. It would be ridiculous for a sick patient to start telling the doctor what kind of treatment he should be giving. Sometimes you have to give clients a general anaesthetic to be able to get on with a project. There's nothing worse than people trying to intervene. So many designers working for major companies have to suffer under these conditions day in day out, watching helplessly as their ideas are shot down in flames. Whatever kind of project I'm involved in, I paint pictures like a classical painter – it's what I'm commissioned for. And if a project isn't in line with my vision, I can't approve it.
E.D.: What are your favourite items (in art, photography, design, architecture)?H.A.:
Hans Bellmer and Marcel Duchamp are definitely my favorites among the Surrealists, and I admire Expressionists such as Egon Schiele and also the German artist Arno Rink, who wrote the foreword in my Lookbook. I don't need to name names in photography but I love working with new, unknown image-makers. In modern architecture I have to mention Lebbeus Woods for his highly experimental approach, but also Art Nouveau architects and the architects of the palaces at Persepolis, commissioned and collaborated on by Cyrus II. And of course Persian poets like Khayyam, Hafiz and Mawlana (Rumi). Finally, my favorite comic artists are Vaughn Bode and Régis Loisel.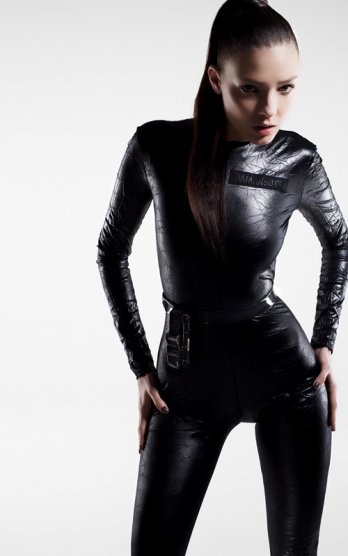 Hamansutra_Artificial Skin Collection_Denis Pernath
E.D.: What do you hope your current work will bring to people, to humanity?H.A.:
My work at the moment gives insights into the background of my ultimate collection which isn't yet on display anywhere – it basically involves show pieces. I always try to think like a doctor. My designs are closely based on human anatomy, but realized with a twist. When I draw the sketches for a design, I use my wrist like a pair of compasses and create organic shapes which I then transform. My philosophy, like my accessories and outfits, is designed to be primarily based on anatomy, like an intrinsic part of the body that we just don't happen to have. As if we needed an artificial leg to be able to walk. In the past, the craft of tailoring paid far more attention to functioning human anatomy than today, but this knowledge was still used too rarely. Except in the military – the designers there were the greatest geniuses, and I'm still amazed at the ideas they came up with.
E.D.: What invention would best improve your life? H.A.:
A flying skateboard or hoverboard, like the one in "Back to the Future". OK, we'd need a new transport system, but wouldn't it be the most sensational invention for all of us? To me, there are few things more boring than going to auto exhibitions or looking through portfolios of industrial design graduates – everything's focused on four-wheeled cars. While you could hardly describe them as failures, I get so incredibly tired of seeing them.
E.D.: Can you describe the evolution of your work from your first projects to the present day?H.A.:
Everything I did was helpful in teaching me different techniques of dealing with problems. I started to experiment with leather accessories in 1995, using myself as a guinea-pig and model to find out exactly how these accessories feel, how people respond to them and how they capture the attention. At that time I knew nothing about tailoring so I worked with liquid glue to hold my designs together! Now I can carry out all the phases myself, using all the disciplines and techniques I'm familiar with; layouts, collages, drawing, photos, sketching, sewing, designing and finishing fashion collections for my brand…. knowledge is power, so no-one can tell you bullshit.
E.D.: What couldn't you live without?H.A.:
Sport, optimism, the power and faith of my team and my family – it wouldn't work without them.
E.D.: Finally, which 21th-century architects/designers/artists would you invite to a dream dinner?H.A.:
Oh, I'd be spoilt for choice – there would be plenty of interesting people there. But my top favorite right now would be to meet Luc Besson for dinner to discuss a film project… and for dessert, a little hanky-panky with his ex, Milla Jovovich.
www.hamansutra.com

Acknowledgments
Photography: Denis Pernath
Model: Katjushka Krasawiza aka Katja K. (fashion world)
Make-up: Alex Hofmann
Retouching: Dirk Meycke
Graphic design: Hort Berlin
Phones: Vertu Mobiles
English translation: Alison Moffat
giubbotti peuterey
Peuterey Outlet
giubbotti peuterey
peuterey online