Hamansutra
Tout ce que vous devez savoir sur Hamansutra en 20 questions...(en anglais)
Zanoah Bia, le 10 mai 2010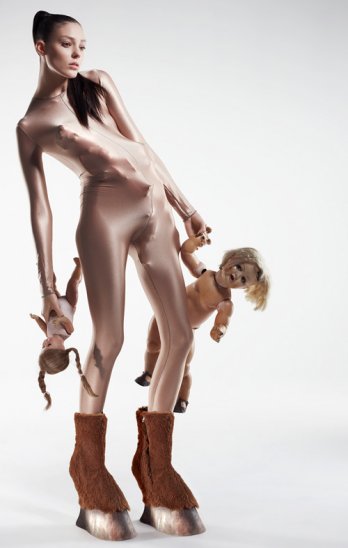 Hamansutra_Artificial Skin Collection_Denis Pernath
E.D.: What does the word "ecology" mean to you? H.A.:
Nature belongs to the insects. If we blunder around in it, we'll get stung.
E.D.: And chic, what do you feel it is?H.A.:
Well, the old chestnut could be true that people always look at shoes first. When my hand-crafted made-to-measure shoes are polished till they shine, I feel chic. It also gives you a feeling of security, like a soldier standing to attention. The rest of your outfit can be as ripped and casual as you like.
E.D.: Which designer, artist / architect do you admire most?H.A.:
A great interest of mine is "Übermenschen", as I call them – legends, exceptional achievers. For example, Ferdosi, the major Persian poet who invented a language and who is considered the saviour of the Farsi language and the Iranian nation. Or other legendary figures like film director Fritz Lang, architect Lebbeus Woods and Munich-born Karl Valentin, known as the German Charlie Chaplin. I love reading up on these people to explore their ideas and opinions.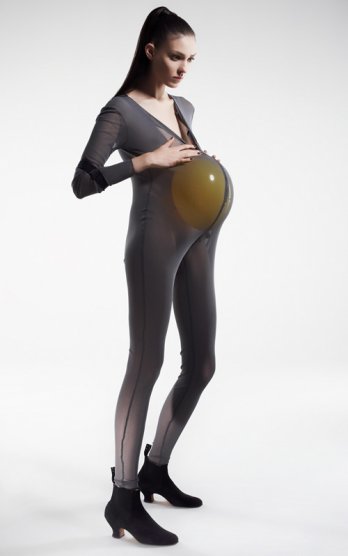 Hamansutra_Artificial Skin Collection_Denis Pernath
E.D.: What will be, for you, the favourite brands or objects, and why?H.A.:
My favorite object (I also use this going to work) is my Swiss Army bike, which dates from 1945 and symbolizes rebellion. It's also a vintage machine that I categorize as an aesthetic object - but my attempts to renovate it showed me that the Swiss should stick to making watches. I'm working on getting an "Indian" brand army motorbike from 1938. Indian won the Army-Navy Production Award in 1943. I don't have any favorite fashion brands at the moment, but I just love all Levi's twisted leg styles in original rigid Red-Caste denim, because you feel the quality when you wear them.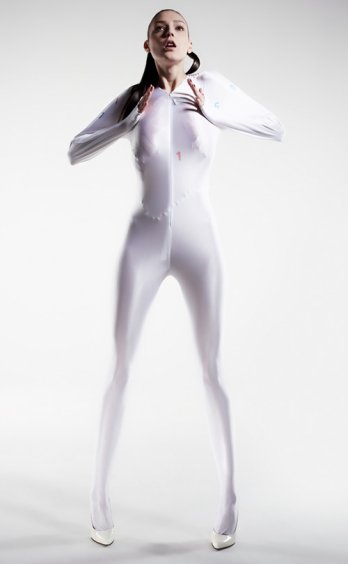 Hamansutra_Artificial Skin Collection_Denis Pernath
E.D.: Which city resembles you the most and why?H.A.:
Munich is definitely very me in certain ways, but more out of habit – after all, I lived there for over 20 years. Secure, grounded, orderly, but still with interesting areas of light and darkness in all aspects of everyday life – the people, the food, the creative scene, whatever – that draw you in and fascinate you. New York, on the other hand, requires a whole load of stamina – every step is a small battle – but it delivers such a wealth of inspiration. And so does my birthplace Teheran – not as it became after 1979, but as it was in the ancient Persian Empire. It's where my roots are, and it has the vibrant emotions, the warmth and hospitality, the blazing heat, the extroversion and the optimism that I like to think I have too. Actually, I feel I'm on the same wavelength as the major metropolis cities, where people have big ideas and big ambitions and don't hesitate to try and achieve them. Here in New York I'm striving to think big too. And yet New York isn't the gateway to success that the media try to make out. It's full of disappointed people who failed to reach their big ideals – and the media is partly to blame for hyping up the Disneyfied "self-made man", "American Dream" image of the place. There's no substitute for sheer hard work, for learning to take disappointment and working through it. You have to get the best out of this city for yourself. But when you do… oh boy. The way I look at it, this place is full of brave and thirsty horses – and I'm one of them.

E.D.: Your dream project?H.A.:
One of my dream projects would be making childhood dreams into reality – like making a film out of the old cartoon series "Captain Future", preferably working with Luc Besson. I think I'd be the right person to create the look of the film – redesigning and improving characters and their costumes, making it all happen in reality. If Steven Spielberg hasn't already bought the film rights, of course. I would be careful not to overload the film with too many 3D effects. The aim is to make people love to go to the movies – to feel the power that emanates from the screen, the vastness, the infinite inventiveness. That's how I imagine Captain Future in 2017. Futurism on a movie screen, created with the help of good old-fashioned tailoring craftsmanship. And we'd transform Christian's Bruhn's amazing music into a lush, lavish orchestral score.
giubbotti peuterey
Peuterey Outlet
giubbotti peuterey
peuterey online