Hamansutra
Tout ce que vous devez savoir sur Hamansutra en 20 questions...(en anglais)
Zanoah Bia, le 10 mai 2010
Hamansutra_Artificial Skin Collection_Denis Pernath
ARTIFICIAL SKIN…

EgoDesign Magazine: Who are you / how would you describe yourself?Hamansutra:
My name is Haman Alimardani, also known as hamansutra. I'm 32 years old and a fashion designer. My friends call me "the Riddler". I love to play around with different types of characters in a fantasy world, by changing my name constantly - Ohama in Manhamman, Hamandinejad the penisident of erect, Hamao, Haman the Mass Murderer, Muhamman Ali, Ham man = Bacon Boy, He-Man, Super H_Man, Hamany… These variations on the Haman theme can be regarded as a political statement – critical, self-aggrandising, inspiring and fun all at the same time. It's good to be able to laugh at yourself.
E.D.: Tell us more about Artificial Skin, and your (future) works?H.A.:
I present unique custom accessories with Vertu – pioneering luxury mobile phones. Full-body overalls made from stretch and stocking fabrics symbolize an artificial second skin. The mobile phones represent the chips of the future, transplanted under the skin. The idea behind the designs is the ultimate transparency of life today, where everything we do is observed and documented by CCTV, Internet sites, Google…Giving birth in a matter of seconds thanks to a system of zippers; disco balls modeled as gigantic nipples, a Russian woman soldier serving for Germany, a shoe with integrated compass that shows you the way as you walk it … I want my designs to be people – not just sketches.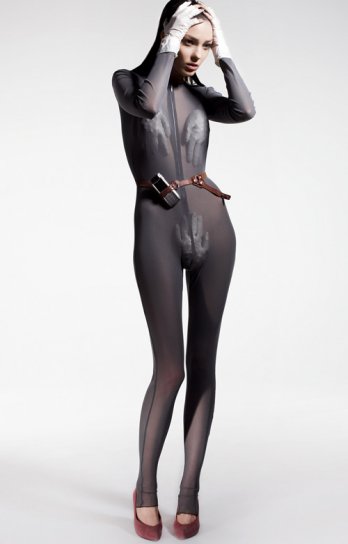 Hamansutra_Artificial Skin Collection_Denis Pernath
E.D.: Is there a philosophy behind your work?H.A:
"A thousand moves in the game of fashion" is my philosophy. Fashion with instructions: Fashion that features targeted functions, tailored for functionality without compromising on style and individuality. Fashion that draws its inspiration from sources outside fashion, returning old methods of design and production to the centre of attention. Fashion inspired by my passion for design, creativity and good ideas. Fashion that covers a carefully selected, compact range of styles – but those perfectly. Because perfection is protection. I started out as hamansutra in Munich in 1996 and finished my first fashion collection, for female bodybuilders, in London in 2004. My brand name is a blend of India and Persia. Haman was the prime minister of the Persian king Ahasuerus, also known as Xerxes, who reigned from 485-465 BC. Sutra means a joined thread, but also instructions or discourse – think of the Kama Sutra, a discourse of instructions for sexual positions. I developed my own philosophy from my passion for instructions, and the endlessly changing positions in the game of fashion.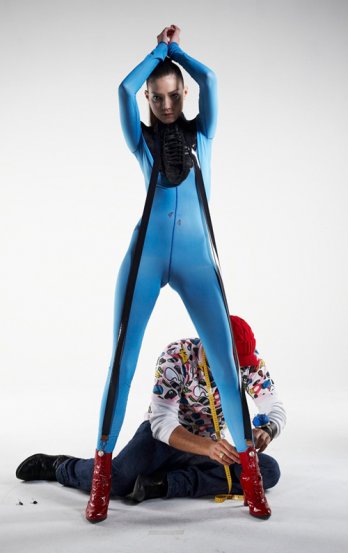 Hamansutra_Artificial Skin Collection_Denis Pernath
E.D.: What do you consider your influences, what inspires you? H.A.:
My work is laid out on the Swiss Army knife principle – a model of order and function. But the whole world's a stage for me, and the universe is my model – the whole scope of the world is where I draw my ideas and inspirations from.
E.D.: How would you explain design? H.A.:
Design is emotion – proof that you live and breathe your design. I love the physical craft of creating. Taking a mistake, a chance element – a coffee stain, a dead fly – and weaving it into the design. Creators should take their experiments more seriously. Everything starts with a prototype. Now the baby has to learn to walk – and never stop learning.
E.D.: Your favourite materials in design and why?H.A.:
In general, I really like to work with leather. It's a very serious material, since you are not allowed to make any mistakes (if you make a hole in the wrong spot, you can't hide it any more). I very much respect the fact that it is skin, and always try to find a way to leave it in one piece if possible and work it around the human body. Besides leather, I use special-effect fabrics, hard cloth like denim and science-fiction and high-technology fabrics, such as stainproof fabrics where stains can simply be wiped off. Thoughtfully planned fabrics are always welcome.
giubbotti peuterey
Peuterey Outlet
giubbotti peuterey
peuterey online