Pure Poison + Dream 45
Color of soul by Patrizio Di Renzo (en anglais)
P.E.H., le 24 août 2009
Patrizio Di Renzo/Dream 45, Tableau9, Namibia, 2005
Being true to oneself
This awareness has materialised in the form of a book. Initially entitled "Unio" (which means "being true to oneself" in ancient Greek), the vast project was ultimately named "Portraits of Illusions" (published by Editions Assouline) More transitory than definite, his work reveals both the melancholic phantasmagoria of the photographer's universe and, equally, a timeless sensuality that is both nostalgic and demonic. In some of the images one can discern the work of Stanley Kubrick, as if one of the keys to the mystery of his final film "Eyes Wide Shut" were hiding somewhere in the cryptic and pearly complexities of the world of Patrizio Di Renzo's imagination. Incidentally, with ideas that are constantly projected into the future and never tend towards nostalgia, the man of images sees himself making films very soon.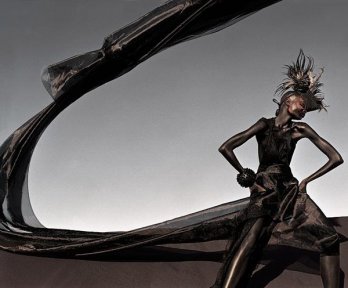 Patrizio Di Renzo/Dream 45, T9, Namibia, 2005
Magic doesn't work on command, it turns up by surprise
"When I take a photograph of somebody, I don't capture that person's soul as other photographers claim to do. In my role as an image-maker, I am aware that, on my own, I don't do anything. I like the idea of mixing. You can never predict what will happen on set, it is an experience that arises from the coming together of several people, and trying to control it is an illusion", he explains. As seen in his recent work with New York make-up artist Kabuki for the photo shoot of the 2008 collection of Swiss jeweller Majo Fruithof, Patrizio Di Renzo likes to surround himself with the best when he is in the process of creating. Together, the team devotes itself to expert work where time doesn't matter, where magic works by surprise. For beauty arises when it wants to, whimsically, and certainly never on command.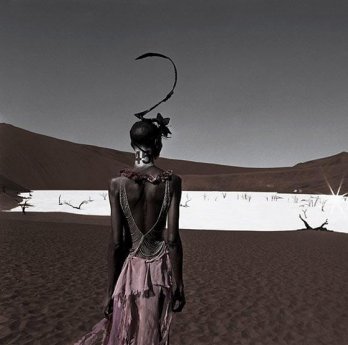 Patrizio Di Renzo/Dream 45, T1, Namibia, 2005
Beauty is a mystery
Will alchemy of the sublime result in the purest form of neutrality? The photographer himself admits that there are no frames, no photos and no paintings on the walls in his home. "Today, people no longer have time to bring out class, and beauty has become a mystery. It is mystical", he adds as a final clue towards explaining why his creativity is in constant turmoil. At the end of this appealing encounter, there is no longer any shadow of doubt that Patrizio Di Renzo is a dandy, a true dandy. One of those who doesn't have to talk about himself to stand out. A man for whom Oscar Wilde's Dorian Gray, transposed into our times, would certainly have risked damnation to have the portrait of his youth drawn against an eternal perspective.
www.patriziodirenzo.com
giubbotti peuterey
Peuterey Outlet
giubbotti peuterey
peuterey online