LIJO RENY architects
Dr. Cijo Jos and Dr. Thushara Cijo Residence (en anglais)
LiJo, le 2 mars 2009
The compound wall is a simple contemporary design, which breaks at two points, on either side of the site, to form horizontal openings that give a glimpse of the serene landscape within. The compound wall was designed in this fashion so that it compliments the building within it. It accommodates two entries to the site, a vehicular gate & a wicket gate. The wicket gate stands under a gateway that which is totally contemporary and a very good example of how traditional elements can be used in a modern context. The gateway connects the compound wall to the house visually, a point that is missed in most of the houses today.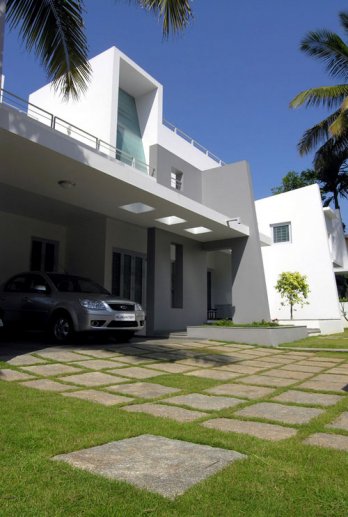 Lijo RENY Architect_Drs.Cijo Jos and Thushara Cijo Residence/LIJO RENY architects
Space for a planter was found out side the compound wall, between the two entries, by setting in the wall. This setting in of the compound wall and the main gate connected to it facilitates better turning radius for vehicles entering the compound. Having no thread to pick up from the context in which it stands, this unique creation that spreads, on a 10 cent corner plot, to an area of 2750 sq ft, in Hari Sri residential colony, in Trichur, makes a bold statement as a silent protest against the pseudo traditionalism that has been plaguing the present architectural scenario in Kerala,(India).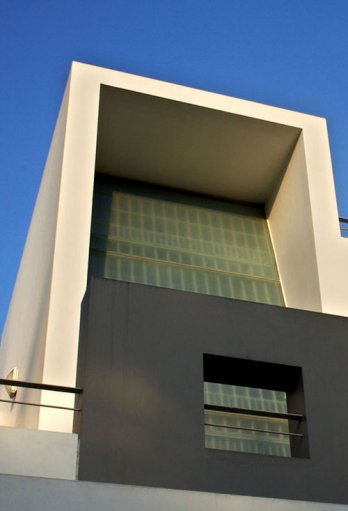 Lijo RENY Architect_Drs.Cijo Jos and Thushara Cijo Residence/LIJO RENY architects
The juxtaposed solid form with its structural walls pulled out, ensures a perpetual play of light and shadow. The structural fins that come out redirects breeze into the building at various openings as well as adds a certain aesthetic character of the building. The various masses that rise and fall are a pure reflection of the volume contained within. The landscape is kept minimal to avoid the clutter that usually turns out to be maintenance constrain. Also the minimal landscape complements the visually complicated form. The waterspout is also custom designed and positioned in a way it gels well with the rest of the design. Entering through either of the gates, one has to tread the various levels to reach the sit out. These levels integrate the building into the landscape.
giubbotti peuterey
Peuterey Outlet
giubbotti peuterey
peuterey online