Alexis Aliocha Peskine
20 trucs que vous devriez savoir sur Alexis Peskine…
Zanoah Bia, le 6 décembre 2018
Alexis Peskine/Alexis-Peskine_Lessoned, 2008
E.D. : Quelle ville vous ressemble le plus et pourquoi ?A.P.:
Si la ville était mon identité, je serais une ville métissée comme Paris, New York et Salvadorde Bahia. Paris est la ville où j'ai grandi et appris à me connaître et à être moi même. C'est une ville cosmopolite et culturellement et socialement riche et diversifiée. Elle prend son temps à apprécier et à analyser les choses et n'aime pas être contredite. Paris reste quand même une ville est cynique et complexe. Elle doûte souvent d'elle même mais apprécie aussi ce qu'elle est, sa position de ville Lumière. Mais elle veut toujours plus... New York est aussi multi-culturelle et est constamment à la recherche des ideés nouvelles, des tendances avant-gardistes et branchées. Elle veut tout le temps se divertir et elle ne se pose jamais de questions. Salvador est une ville à la fois vieille avec une âme et jeune de par sa créativité. Elle aime faire la fête, rire, manger et faire l'amour. Elle ne pense pas au lendemain. Elle est expressive et mélancolique.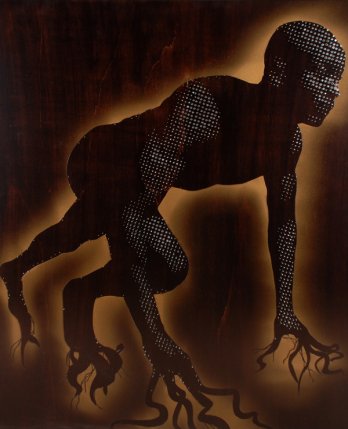 Alexis Peskine/Starting Blocked
E.D. : Vous ne pourriez pas vivre sans ? A.P.:
Mon cerveau.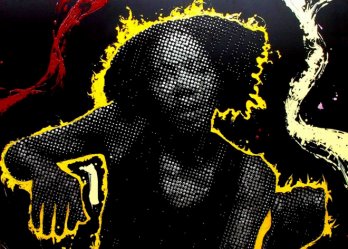 Alexis Peskine/alexis-peskine_Maezinha Revisited, 2008.
E.D. : Dernière question. Quels artistes, architectes, designers contemporains inviteriez-vous à dîner chez vous ? A.P. :
Stevie Wonder, Jay Z, Takashi Murakami, David Adjayé, Jeff Koons, Michel Gondry, Kara Walker, Damien Hirst, Dave Chapelle, Ellen Gallagher, David LaChapelle, mes frères Anthony Peskine et Gystère, mes talentueux amis Tedra Wilson, Hank Willis Thomas, Jordan Eagles, Mickalene Thomas et biensur un groupe de mes amis pour rajouter a la dynamique.
Alexis Peskine/Alexis Peskine_Corna Banana.
Bio_Express
Alexis Aliocha Peskine was born in Paris, France, on September 29, 1979. He is a 2004 Fulbright Scholar who holds a B.F.A. from Howard University an M.A. and M.F.A. from the Maryland Institute College of Art (MICA). Peskine's use of graphic and commercial images in fine art is informed by his early start in graphic design. At age 15, he was the youngest student to enter the Apprentice Center of Formation for the Graphic Art in Paris; he subsequently worked for Crayures as an industrial designer for clients such as Roland Garros, Malterre and Fly. He also served a stint as Creative Director for Burrell Communications in Chicago. Peskine bridges the gap between graphic design and fine art by using the same design aesthetic to appeal to the masses, as his work often touches on the ideology of consumerism and mass consumption.
As a junior at Howard University in 2002, Peskine was the first winner of the Verizon HBCU Student Art Competition; the following year, he won second place in the same competition. His work has attracted the attention of Chrissie Iles of the Whitney Museum and Yukie Kamaya of the New Museum of Contemporary Art in New York. Burrell Communications' Chairman Emeritus Tom Burrell and musicians Donald Byrd, Talib Kweli and Common all own Peskine's work.
Drawing inspiration from his paternal grandfather who survived a German concentration camp, to his maternal grandfather who lived in the favelas of Salvador, Bahia, to the loving marriage of his own Franco-Russian father and Afro-Brazilian mother, Peskine challenges his audience with provocative, cynical and sometimes earnest takes on serious subjects. Much of his work also celebrates family, friends and the beauty and humor of solitary inanimate objects.
www.alexispeskine.com
giubbotti peuterey
Peuterey Outlet
giubbotti peuterey
peuterey online