Frank Tjepkema + Janneke Hooymans
The duo beyond Heineken The City (en anglais)
D.A., le 18 août 2008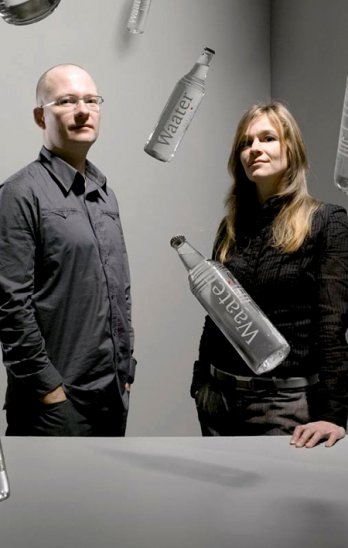 Frank Tjepkema et Janneke Hooymans_Tjep
Frank Tjepkema and Janneke Hooymans, alias
Tjep
, located in Amsterdam, well-known for their product design collaborations with Droog, British Airways and Ikea, and projects focusing on corporate identity. They were less well-known for their activities in the sectors of interior design and architecture.
Frank Tjepkema (1970) grew up in Geneva, Brussels and New-York. After experiencing a variety of cultures during his youth he settled in the Netherlands in 1989 to study industrial design. He graduated Cum Laude from the Design Academy in Eindhoven in 1996. Frank Tjepkema's graduation project based on artificial nature drew immediate attention and was selected for the Droog Design collection. His relation with Droog led to even more notable projects like the Do Break in 2000, the award winning British Airways Executive Lounge at Heathrow in 2004 and the Chair of Textures presented during Art Basel Miami Beach 2006, a Droog project in collaboration with gallery Friedman Benda. After initially working for Philips Design, Frank set up his own design studio called Tjep. together with Janneke Hooymans in 2001. Frank Tjepkema's field of work has developed to include products, furniture, accessories (such as the famous Bling Bling medallion), interior design and interior architecture for a multitude of restaurants, such as the widely acclaimed Restaurant Fabbrica in Rotterdam and shops such as the recently opened Heineken flagship-store in the center of Amsterdam. Tjep' s work can be found in the world's most influential galleries such as Moss in New-York (Bling Bling, Heartbreak...) all the way to the shelves of your refrigerator (Waater bottle).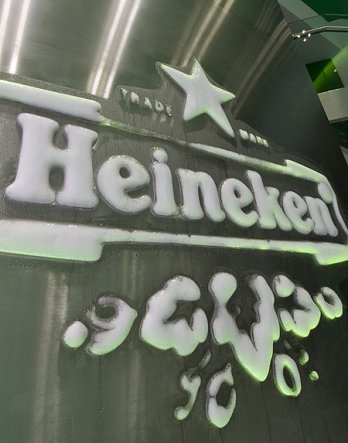 Heineken The City by Frank Tjepkema et Janneke Hooymans_Tjep
Frank has taught and lectured at various design academies in the Netherlands and abroad: Design Academy Eindhoven, the Rietveld Academy in Amsterdam (head of department 2001/ 2004), Universidad Iberoamericana Mexico City, Iceland Academy of The Arts Reykjavik, The Acadia Summer Arts Program Maine USA. He has also lectured in a.o. Japan (Nagoya Design Center), Malaysia, Spain and Hungary. His work is part of several major design collections at the Stedelijk Museum in Amsterdam, Centraal Museum in Utrecht, Museum't Kruithuis in Den Bosch, Museum fur Kunst und Gewerbe in Hamburg. Other significant exhibitions include Design Contre Design at the Grands Palais in Paris in 2007 and the Fragiles Collection presented in Miami in 2007 and Dubai in 2008.
Work has also been presented during a multitude of exhibitions in Japan, United States, Germany, Brazil, Spain, Portugal, Switzerland, Sweden.... Coverage on Tjep. has been published in most leading design magazines and newspapers around the world such as Domus, Interni, Blueprint, Design Report, Frame, I.D. magazine, Abitare, Elle decoration, Icon, The New York Times, Items, Metropolis, Identity Matters, Washignton Post, +81, Sleazenation. Related fields of work also include being member of the board of the Premsela Foundation, being part of an examination commission at the Dutch Foundation for Art and Design and being juror for the Dutch Design Awards.
giubbotti peuterey
Peuterey Outlet
giubbotti peuterey
peuterey online