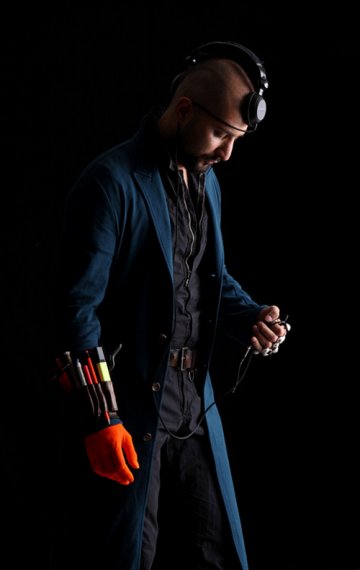 Hamansutra
Tout ce que vous devez savoir sur Hamansutra en 20 questions...(en anglais)
Zanoah Bia, le 10 mai 2010
Portrait_ExpressHaman Alimardani (hamansutra) was born in 1977 in Tehran, Iran. He moved to New York with his family in 1978 but was principally educated in Germany (he has German nationality) so English is his third language. His brand name and working name of hamansutra is a mixture of Indian and Persian influences. Haman was the prime minister of the Persian king Ahasuerus, also known as Xerxes, who reigned from 485-465 BC. Sutra means a joined thread, but also instructions or discourse; in this meaning, it is probably best-known in the West in the Kama Sutra (a discourse of instructions for sexual positions. Hamansutra was introduced to graffiti in 1989 through the Munich underground scene; in 1993 he formed an artists' group with a streetworker and obtained funding from Munich City Council. He began to study graphic design in Munich to develop his style further. During this period hamansutra held exhibitions of graffiti art and illustrations on canvas and paper at locations in and around Munich (Pasinger Fabrik arts center in Munich in July 1995, Groebenzeller Buergerhaus arts center in June 1996). He would later continue this work in June 1999, organizing an exhibition of Fashion and 3-Dimensional Illustration at Blocherer Schule fashion academy in Munich.

From 1993 Hamansutra funded his studies by working as a DJ at various clubs playing Soul, House, Rap, etc. and by contract graffiti artwork, some of which was published in the book "Graffiti Writing in Munich". During his graphic design studies he was able to fully unfold his potential in working on the themes of fashion and accessories, where he could successfully synthesize his Persian cultural background with fresh ideas. In 1996, during his graphic arts studies, hamansutra began to look more closely at fashion. The students were given assignments such as writing campaigns for snowboard clients – so hamansutra started to design the clothes to go with them. hamansutra launched his own hamansutra label in Munich in 1996 and established it as a company in London in 2004. The label aimed to present clothes as artistic objects rather than commodities, regarding fashion as part of an overall concept, the ceremony of clothing oneself.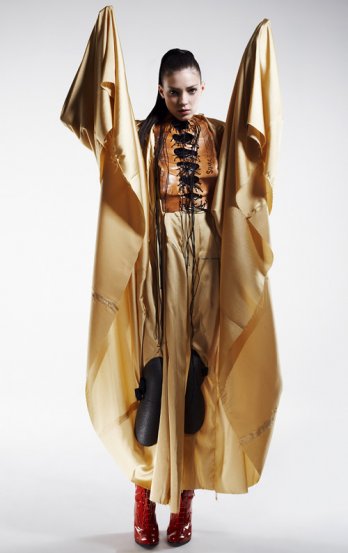 Hamansutra_Artificial Skin Collection_Denis Pernath
Hamansutra developed his own philosophy from his own personal passion for instructions and from the endlessly changing positions in the game of fashion, adopting the slogans "A thousand moves in the game of fashion" and "Because perfection is protection" to express these ideas. Inspired by kids' heroes like "Hercules" and "Master of the Universe - He-Man" (which sounds like Haman…), hamansutra started to experiment with leather accessories in 1995, using himself as a guinea-pig and model to find out exactly how these accessories feel, how people respond to them and how they capture the attention. During this process hamansutra discovered that he was less interested in how people responded to his designs: it was the actual function of the designs that he found so fascinating. At the same time, he began to use the name hamansutra on stickers which he stuck up everywhere to publicize himself – like the tags of graffiti artists.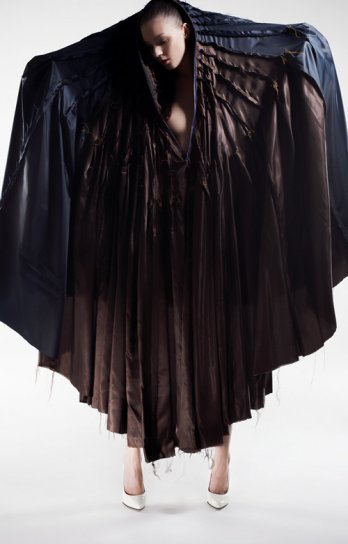 Hamansutra_Artificial Skin Collection_Denis Pernath
In 1998 Hamansutra worked as a graphic designer for the well known advertising agency Jung von Matt in Hamburg (Germany), with Audi A3, Deutsche Bahn (German railway company), and Benson & Hedges Silver among his clients. Work there included fashion briefings, e.g. designing "Lingerie for the year 2000" for premium German underwear brand Mey, selecting outfits for a Mey shoot, etc. He was encouraged by his art school tutors and Creative Directors in the advertising agency to study fashion design at Central St. Martins, with the idea that the courses would best reflect his previous study background as well as his personal style and that London would be a good starting-point for exploring the world of unconventional design. Hamansutra therefore decided to finish at Jung von Matt in order to study fashion design at St. Martins School of Art; he successfully completed the first year of the BA (Honours) in Design Technology for the Fashion Industry at London College of Fashion in 1999-2000 and subsequently joined Central Saint Martins in October 2001 for the second year of the Fashion Design with Marketing course.
Hamansutra_Artificial Skin Collection_Denis Pernath
ARTIFICIAL SKIN…

EgoDesign Magazine: Who are you / how would you describe yourself?Hamansutra:
My name is Haman Alimardani, also known as hamansutra. I'm 32 years old and a fashion designer. My friends call me "the Riddler". I love to play around with different types of characters in a fantasy world, by changing my name constantly - Ohama in Manhamman, Hamandinejad the penisident of erect, Hamao, Haman the Mass Murderer, Muhamman Ali, Ham man = Bacon Boy, He-Man, Super H_Man, Hamany… These variations on the Haman theme can be regarded as a political statement – critical, self-aggrandising, inspiring and fun all at the same time. It's good to be able to laugh at yourself.
E.D.: Tell us more about Artificial Skin, and your (future) works?H.A.:
I present unique custom accessories with Vertu – pioneering luxury mobile phones. Full-body overalls made from stretch and stocking fabrics symbolize an artificial second skin. The mobile phones represent the chips of the future, transplanted under the skin. The idea behind the designs is the ultimate transparency of life today, where everything we do is observed and documented by CCTV, Internet sites, Google…Giving birth in a matter of seconds thanks to a system of zippers; disco balls modeled as gigantic nipples, a Russian woman soldier serving for Germany, a shoe with integrated compass that shows you the way as you walk it … I want my designs to be people – not just sketches.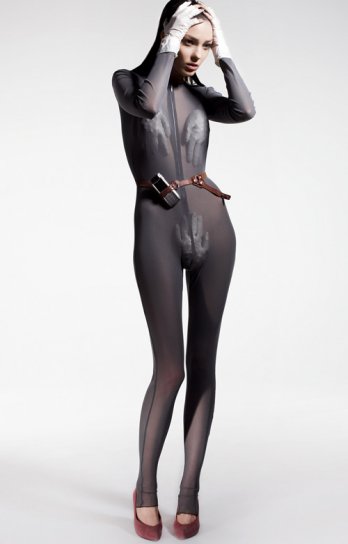 Hamansutra_Artificial Skin Collection_Denis Pernath
E.D.: Is there a philosophy behind your work?H.A:
"A thousand moves in the game of fashion" is my philosophy. Fashion with instructions: Fashion that features targeted functions, tailored for functionality without compromising on style and individuality. Fashion that draws its inspiration from sources outside fashion, returning old methods of design and production to the centre of attention. Fashion inspired by my passion for design, creativity and good ideas. Fashion that covers a carefully selected, compact range of styles – but those perfectly. Because perfection is protection. I started out as hamansutra in Munich in 1996 and finished my first fashion collection, for female bodybuilders, in London in 2004. My brand name is a blend of India and Persia. Haman was the prime minister of the Persian king Ahasuerus, also known as Xerxes, who reigned from 485-465 BC. Sutra means a joined thread, but also instructions or discourse – think of the Kama Sutra, a discourse of instructions for sexual positions. I developed my own philosophy from my passion for instructions, and the endlessly changing positions in the game of fashion.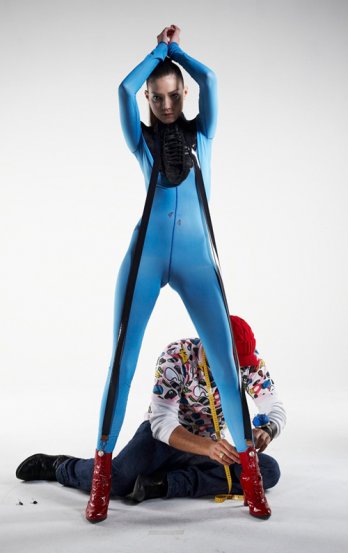 Hamansutra_Artificial Skin Collection_Denis Pernath
E.D.: What do you consider your influences, what inspires you? H.A.:
My work is laid out on the Swiss Army knife principle – a model of order and function. But the whole world's a stage for me, and the universe is my model – the whole scope of the world is where I draw my ideas and inspirations from.
E.D.: How would you explain design? H.A.:
Design is emotion – proof that you live and breathe your design. I love the physical craft of creating. Taking a mistake, a chance element – a coffee stain, a dead fly – and weaving it into the design. Creators should take their experiments more seriously. Everything starts with a prototype. Now the baby has to learn to walk – and never stop learning.
E.D.: Your favourite materials in design and why?H.A.:
In general, I really like to work with leather. It's a very serious material, since you are not allowed to make any mistakes (if you make a hole in the wrong spot, you can't hide it any more). I very much respect the fact that it is skin, and always try to find a way to leave it in one piece if possible and work it around the human body. Besides leather, I use special-effect fabrics, hard cloth like denim and science-fiction and high-technology fabrics, such as stainproof fabrics where stains can simply be wiped off. Thoughtfully planned fabrics are always welcome.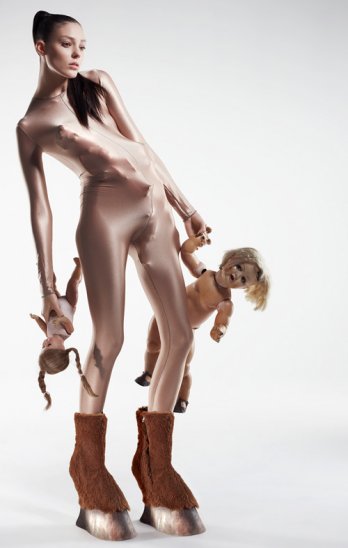 Hamansutra_Artificial Skin Collection_Denis Pernath
E.D.: What does the word "ecology" mean to you? H.A.:
Nature belongs to the insects. If we blunder around in it, we'll get stung.
E.D.: And chic, what do you feel it is?H.A.:
Well, the old chestnut could be true that people always look at shoes first. When my hand-crafted made-to-measure shoes are polished till they shine, I feel chic. It also gives you a feeling of security, like a soldier standing to attention. The rest of your outfit can be as ripped and casual as you like.
E.D.: Which designer, artist / architect do you admire most?H.A.:
A great interest of mine is "Übermenschen", as I call them – legends, exceptional achievers. For example, Ferdosi, the major Persian poet who invented a language and who is considered the saviour of the Farsi language and the Iranian nation. Or other legendary figures like film director Fritz Lang, architect Lebbeus Woods and Munich-born Karl Valentin, known as the German Charlie Chaplin. I love reading up on these people to explore their ideas and opinions.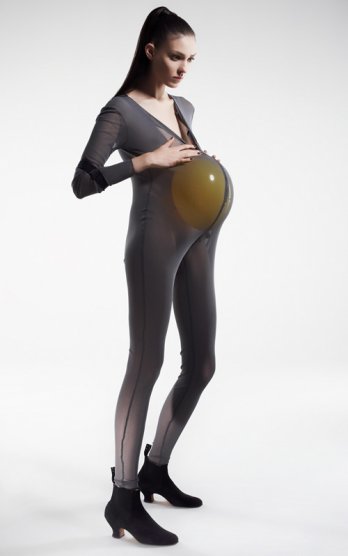 Hamansutra_Artificial Skin Collection_Denis Pernath
E.D.: What will be, for you, the favourite brands or objects, and why?H.A.:
My favorite object (I also use this going to work) is my Swiss Army bike, which dates from 1945 and symbolizes rebellion. It's also a vintage machine that I categorize as an aesthetic object - but my attempts to renovate it showed me that the Swiss should stick to making watches. I'm working on getting an "Indian" brand army motorbike from 1938. Indian won the Army-Navy Production Award in 1943. I don't have any favorite fashion brands at the moment, but I just love all Levi's twisted leg styles in original rigid Red-Caste denim, because you feel the quality when you wear them.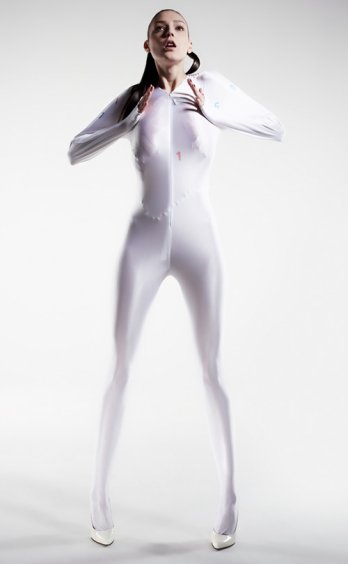 Hamansutra_Artificial Skin Collection_Denis Pernath
E.D.: Which city resembles you the most and why?H.A.:
Munich is definitely very me in certain ways, but more out of habit – after all, I lived there for over 20 years. Secure, grounded, orderly, but still with interesting areas of light and darkness in all aspects of everyday life – the people, the food, the creative scene, whatever – that draw you in and fascinate you. New York, on the other hand, requires a whole load of stamina – every step is a small battle – but it delivers such a wealth of inspiration. And so does my birthplace Teheran – not as it became after 1979, but as it was in the ancient Persian Empire. It's where my roots are, and it has the vibrant emotions, the warmth and hospitality, the blazing heat, the extroversion and the optimism that I like to think I have too. Actually, I feel I'm on the same wavelength as the major metropolis cities, where people have big ideas and big ambitions and don't hesitate to try and achieve them. Here in New York I'm striving to think big too. And yet New York isn't the gateway to success that the media try to make out. It's full of disappointed people who failed to reach their big ideals – and the media is partly to blame for hyping up the Disneyfied "self-made man", "American Dream" image of the place. There's no substitute for sheer hard work, for learning to take disappointment and working through it. You have to get the best out of this city for yourself. But when you do… oh boy. The way I look at it, this place is full of brave and thirsty horses – and I'm one of them.

E.D.: Your dream project?H.A.:
One of my dream projects would be making childhood dreams into reality – like making a film out of the old cartoon series "Captain Future", preferably working with Luc Besson. I think I'd be the right person to create the look of the film – redesigning and improving characters and their costumes, making it all happen in reality. If Steven Spielberg hasn't already bought the film rights, of course. I would be careful not to overload the film with too many 3D effects. The aim is to make people love to go to the movies – to feel the power that emanates from the screen, the vastness, the infinite inventiveness. That's how I imagine Captain Future in 2017. Futurism on a movie screen, created with the help of good old-fashioned tailoring craftsmanship. And we'd transform Christian's Bruhn's amazing music into a lush, lavish orchestral score.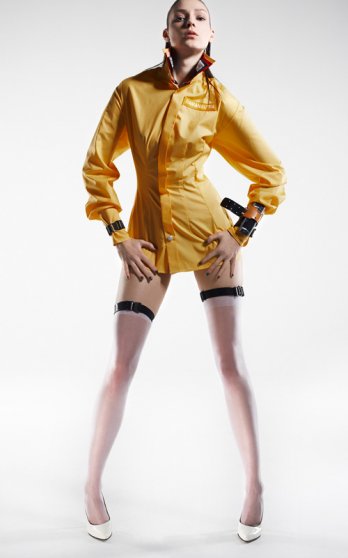 Hamansutra_Artificial Skin Collection_Denis Pernath
E.D.: What is your favourite example of the use of sustainable fabrics/products in fashion design?H.A.:
Well, personally I love the denims that are currently being produced in Japan – a mixture of cotton and hemp. Really rugged, long-lasting fabrics that are fantastic to work with, feel good and are timeless.
E.D.: What design project would you never design and why?H.A.:
I don't spurn commerciality, but I don't embrace it at any cost. I'm perfectly willing to cancel a project if the client doesn't support my ideas. It would be ridiculous for a sick patient to start telling the doctor what kind of treatment he should be giving. Sometimes you have to give clients a general anaesthetic to be able to get on with a project. There's nothing worse than people trying to intervene. So many designers working for major companies have to suffer under these conditions day in day out, watching helplessly as their ideas are shot down in flames. Whatever kind of project I'm involved in, I paint pictures like a classical painter – it's what I'm commissioned for. And if a project isn't in line with my vision, I can't approve it.
E.D.: What are your favourite items (in art, photography, design, architecture)?H.A.:
Hans Bellmer and Marcel Duchamp are definitely my favorites among the Surrealists, and I admire Expressionists such as Egon Schiele and also the German artist Arno Rink, who wrote the foreword in my Lookbook. I don't need to name names in photography but I love working with new, unknown image-makers. In modern architecture I have to mention Lebbeus Woods for his highly experimental approach, but also Art Nouveau architects and the architects of the palaces at Persepolis, commissioned and collaborated on by Cyrus II. And of course Persian poets like Khayyam, Hafiz and Mawlana (Rumi). Finally, my favorite comic artists are Vaughn Bode and Régis Loisel.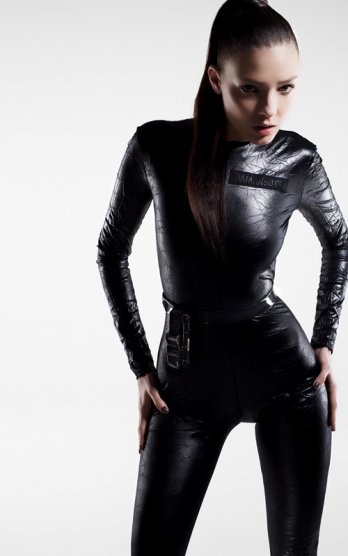 Hamansutra_Artificial Skin Collection_Denis Pernath
E.D.: What do you hope your current work will bring to people, to humanity?H.A.:
My work at the moment gives insights into the background of my ultimate collection which isn't yet on display anywhere – it basically involves show pieces. I always try to think like a doctor. My designs are closely based on human anatomy, but realized with a twist. When I draw the sketches for a design, I use my wrist like a pair of compasses and create organic shapes which I then transform. My philosophy, like my accessories and outfits, is designed to be primarily based on anatomy, like an intrinsic part of the body that we just don't happen to have. As if we needed an artificial leg to be able to walk. In the past, the craft of tailoring paid far more attention to functioning human anatomy than today, but this knowledge was still used too rarely. Except in the military – the designers there were the greatest geniuses, and I'm still amazed at the ideas they came up with.
E.D.: What invention would best improve your life? H.A.:
A flying skateboard or hoverboard, like the one in "Back to the Future". OK, we'd need a new transport system, but wouldn't it be the most sensational invention for all of us? To me, there are few things more boring than going to auto exhibitions or looking through portfolios of industrial design graduates – everything's focused on four-wheeled cars. While you could hardly describe them as failures, I get so incredibly tired of seeing them.
E.D.: Can you describe the evolution of your work from your first projects to the present day?H.A.:
Everything I did was helpful in teaching me different techniques of dealing with problems. I started to experiment with leather accessories in 1995, using myself as a guinea-pig and model to find out exactly how these accessories feel, how people respond to them and how they capture the attention. At that time I knew nothing about tailoring so I worked with liquid glue to hold my designs together! Now I can carry out all the phases myself, using all the disciplines and techniques I'm familiar with; layouts, collages, drawing, photos, sketching, sewing, designing and finishing fashion collections for my brand…. knowledge is power, so no-one can tell you bullshit.
E.D.: What couldn't you live without?H.A.:
Sport, optimism, the power and faith of my team and my family – it wouldn't work without them.
E.D.: Finally, which 21th-century architects/designers/artists would you invite to a dream dinner?H.A.:
Oh, I'd be spoilt for choice – there would be plenty of interesting people there. But my top favorite right now would be to meet Luc Besson for dinner to discuss a film project… and for dessert, a little hanky-panky with his ex, Milla Jovovich.
www.hamansutra.com

Acknowledgments
Photography: Denis Pernath
Model: Katjushka Krasawiza aka Katja K. (fashion world)
Make-up: Alex Hofmann
Retouching: Dirk Meycke
Graphic design: Hort Berlin
Phones: Vertu Mobiles
English translation: Alison Moffat