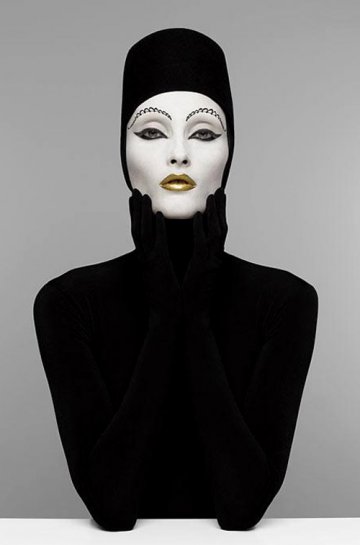 Pure Poison + Dream 45
Color of soul by Patrizio Di Renzo (en anglais)
P.E.H., le 24 août 2009
Patrizio Di Renzo worlwide working fashion and Celebrity photographer with base New York and Milan. Shoots Naomi Campbell and Ornella Muti. Patrizio Di Renzo key concern is to spirit the viewer of his images into another universe, far from the real, from the everyday. Patrizio Di Renzo uses photography to say something other than what is usually says, and above all to undertake 'journeys' into the imaginery, into the beyond.
Guided by a calm sense of confidence, Patrizio Di Renzo has used his lens to immortalise fashion in Los Angeles, New York, Paris and Milan. Back in Switzerland, he explains how his book "Portraits of Illusions" helped him discover the colours of his soul.
It is a misty Saturday morning. Today at midday we have a meeting at the studio of photographer Patrizio Di Renzo, which is located in Baar, somewhere between Zurich and Zug. Finding the studio geographically turns out to be difficult, like a large-scale game of hide-and-seek, which challenges even the most resistant to acquire a GPS. However, is it not true that the most beautiful encounters are those that follow a walk through the fields? After a few wrong turns along the way, with the cloud cover lifting with a promise of dazzling springtime sunshine, it becomes clear that we are approaching the photographer's lair.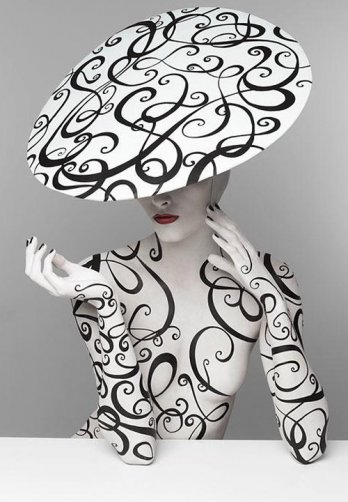 Patrizio Di Renzo/Pure Poison, NY, 2008
The movements of a secure and reassuring man.
It wasn't a bad joke after all, and we find ourselves in front of a large building with enormous windows protecting the artist's studio. "Turn right as you come out of the lift on the second floor and I'll come and meet you", says Patrizio Di Renzo in a calm and cheerful voice over the phone. With his handshake and candid expression, he immediately exudes natural class. It is not because he refines so much beauty and moves in the grandest of circles that he goes over the top to amaze the gallery - on the contrary. He is rather one of those who cultivate mystery and modesty like so many secret gardens. Wearing an immaculate black shirt, jeans and pointed black ostrich-leather shoes, his movements are those of a secure and reassuring man.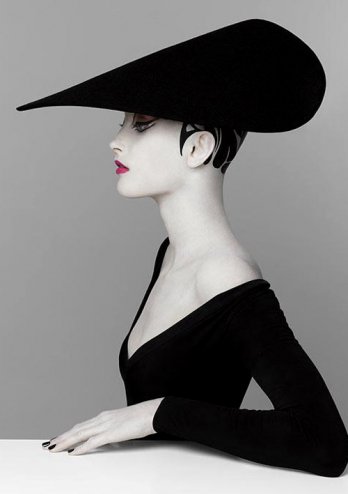 Patrizio Di Renzo/Pure Poison, T2, NY, 2008
Everything is just an illusion
After a whistle-stop tour of the lab where analogue devices mingle with digital equipment, we sit down in his vast, sophisticated white office, around a large table adorned with an enormous bouquet of white and pale yellow roses, and start to talk. "If I had to define myself, I would say that I see myself as more of a neo-realist painter than a simple photographer, because I like working the image." After spending time in fashion capitals, from Los Angeles to New York via Paris and Istanbul, not forgetting Milan where he lived for six years, Patrizio Di Renzo felt the urge to return to his origins. "I like to give myself time to understand things and just over a year ago, I realised the extent to which my origins matter", he explains. So, could this return to Switzerland be the outcome of a journey of initiation around the world? It happened to be during his photographic tour that the artist reached the conclusion that everything is just an illusion. "Five years ago, when I was working on portraits, I thought I was unique and that I was the best. I then understood that teverything is just an illusion. I was missing the essence of my personality", he explains lucidly before going on to say: "I was afraid that the commercial aspect of photography would destroy my creativity." The artist was ready for some introspection.
Patrizio Di Renzo/Dream 45, Tableau9, Namibia, 2005
Being true to oneself
This awareness has materialised in the form of a book. Initially entitled "Unio" (which means "being true to oneself" in ancient Greek), the vast project was ultimately named "Portraits of Illusions" (published by Editions Assouline) More transitory than definite, his work reveals both the melancholic phantasmagoria of the photographer's universe and, equally, a timeless sensuality that is both nostalgic and demonic. In some of the images one can discern the work of Stanley Kubrick, as if one of the keys to the mystery of his final film "Eyes Wide Shut" were hiding somewhere in the cryptic and pearly complexities of the world of Patrizio Di Renzo's imagination. Incidentally, with ideas that are constantly projected into the future and never tend towards nostalgia, the man of images sees himself making films very soon.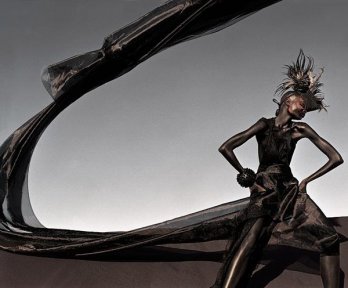 Patrizio Di Renzo/Dream 45, T9, Namibia, 2005
Magic doesn't work on command, it turns up by surprise
"When I take a photograph of somebody, I don't capture that person's soul as other photographers claim to do. In my role as an image-maker, I am aware that, on my own, I don't do anything. I like the idea of mixing. You can never predict what will happen on set, it is an experience that arises from the coming together of several people, and trying to control it is an illusion", he explains. As seen in his recent work with New York make-up artist Kabuki for the photo shoot of the 2008 collection of Swiss jeweller Majo Fruithof, Patrizio Di Renzo likes to surround himself with the best when he is in the process of creating. Together, the team devotes itself to expert work where time doesn't matter, where magic works by surprise. For beauty arises when it wants to, whimsically, and certainly never on command.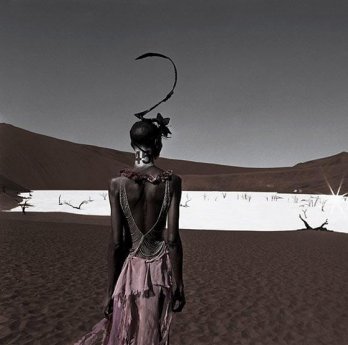 Patrizio Di Renzo/Dream 45, T1, Namibia, 2005
Beauty is a mystery
Will alchemy of the sublime result in the purest form of neutrality? The photographer himself admits that there are no frames, no photos and no paintings on the walls in his home. "Today, people no longer have time to bring out class, and beauty has become a mystery. It is mystical", he adds as a final clue towards explaining why his creativity is in constant turmoil. At the end of this appealing encounter, there is no longer any shadow of doubt that Patrizio Di Renzo is a dandy, a true dandy. One of those who doesn't have to talk about himself to stand out. A man for whom Oscar Wilde's Dorian Gray, transposed into our times, would certainly have risked damnation to have the portrait of his youth drawn against an eternal perspective.
www.patriziodirenzo.com