Katherine Soucie
Sans Soucie, nouvelle griffe de Vancouver (en anglais)
A. B., le 3 novembre 2008
Katherine Soucie_Collection 2009_Jimmy Hammelin
Portrait_Express
Turning hose into clothes is a specialty of Katherine Soucie, an emerging Canadian clothing and textile artist/designer based out of Vancouver. Her current line, Sans Soucie, concentrates on creating nylon hosiery garments that embody the individualism of her customers. Katherine was introduced to the world of fashion as a child, creating inventive outfits from fabrics and vintage clothes. This flare for style eventually led her to study the art of fashion in London and Toronto, ON. But feeling limited by the fabrics and materials available to her, she decided to leave design school and focus her studies on creating new textiles.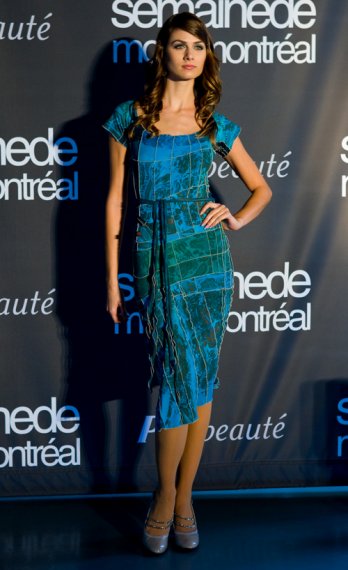 Katherine Soucie_Collection 2009_Jimmy Hammelin
While studying textile arts at Capilano College she came up with a concept that would guarantee her clothing line, Sans Soucie, and developed custom fabrics that were practical, functional and unlike any others. Katherine reclaims unworn nylon hosiery, which she then hand dyes, deconstructs, silk-screens, and heat sets before it is reconstructed into yardage. Once these processes are finished, the new fabric is then draped and cut on a mannequin to ensure a custom fit and design. This process has resulted in the development of a material that is more stabilized, is less likely to pill or run, washable, functional not to mention comfortable.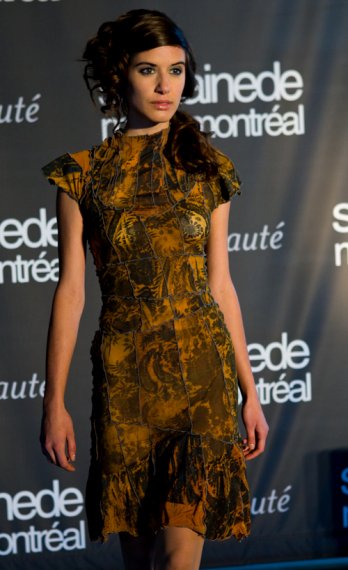 Katherine Soucie_Collection 2009_Jimmy Hammelin
Since her career began, Katherine has been the recipient of several awards and scholarships. Most recently she was one of five recipients of the prestigious BC Creative Achievement Award in 2006 for her outstanding achievement in the Applied Arts and Design, shortlisted for the 2007 NICHE award and was a recently awarded the Design Green Award for 2008.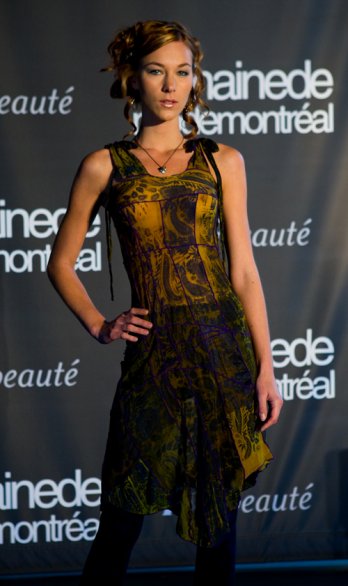 Katherine Soucie_Collection 2009_Jimmy Hammelin
Katherine continuously works towards developing new ways to modernize traditional textile techniques by producing textiles and clothing that are new and functional. She believes that reinventing pre-existing materials raises our sense of awareness, appreciation and expresses our need for individuality. Her work with materials such as pantyhose, dryer sheets, reclaimed wool and silk fibres have allowed for experimentation which has resulted in creating an extensive body of work over three years.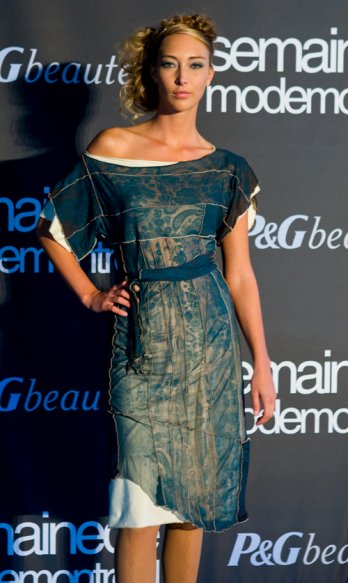 Katherine Soucie_Collection 2009_Jimmy Hammelin
Since launching her company Sans Soucie in 2003, Katherine has received local, national and international print/television media and has had the opportunity to design for television, film, and dance/theatre. Celebrities such as Halle Barry, Norah Jones, and Sarah McLaughlin have been seen wearing a Sans Soucie original. Katherine's work is exhibited and sold through fine boutiques and galleries throughout Canada and the US.
Katherine Soucie_Collection 2009_Jimmy Hammelin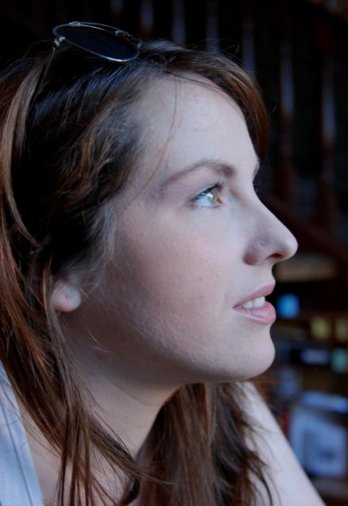 Katherine Soucie
www.sanssoucie.ca