Twenty things you should know about Eva Van Den Bulcke...
Schlof project
Zanoa Bia, March 5, 2007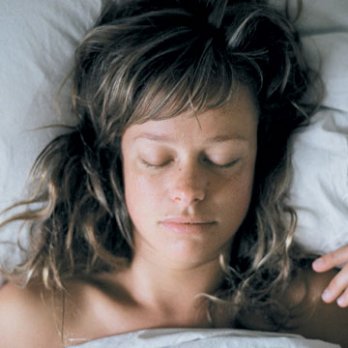 Eva Van Den Bulcke_Schlof_Montreal_Canada
Egodesign.ca : Who are you? How would you describe yourself?Eva Van Den Bulcke:
I make sense out of nonsense. If that makes sense…

E.D.: Tell us more about Schlof, and your (future) works?E.V.D.B.
: Schlof is a series of portraits of people in their sleep. It was very important for the authenticity of the idea, to actually shoot them while they slept. It was quite challenging to capture them in their most profound sleep without waking them up. I had to get a copy of their house keys and sneak in really early in the morning; the braver ones left their front door unlocked. I would then go into their bedroom and climb on their bed to get a frontal view of their face. Some people were aware of my presence; others would just sleep and fart through the whole thing! I then printed these portraits on oversized pillows. The volume of the pillows gave a three dimensional aspect to the faces. The effect of one of these pillows in a bed is stunning. It really is as if someone (with a giant head) is sleeping, creating a strange trompe-l'oeil.

E.D.: Is there a philosophy behind Schlof? Your work?E.V.D.B.
: Coming from advertising I'm used to very staged photography and then very precise retouching, mixing eyes and limbs to create a perfect scene. With Schlof, I wanted to let it all go. No make-up, styling, lighting, smiling or retouching. Pure abandon. If I had shown the portraits to my models, I would've never had an exhibit! People had no control over their image and that was the whole point. Some portraits turned out to be very flattering, but others were really brut!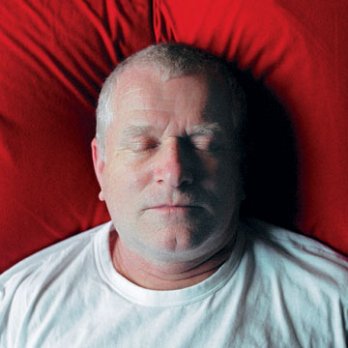 Frederic Metz_Schlof_Canada
E.D.: What do you consider your influences? What inspires you? E.V.D.B.:
Human behaviour. Light. Green. Nature. Laughter. Long baths. Crazy friends.

E.D.: How would you explain art? E.V.D.B.:
Art is therapy. Without art, psychiatric hospitals would be full. In fact they already are. They should open more art centers. This isn't such a crazy idea.

E.D.: What are your favourite art materials and why?E.V.D.B.:
Unexpected materials. I like when designers make you look again; make you see things under a new light.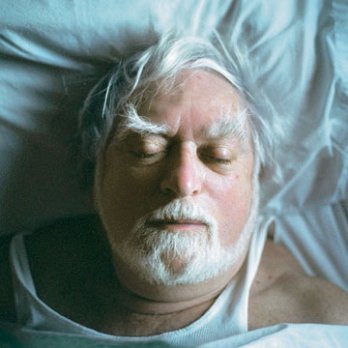 Jacques Languirand_Schlof_Montréal_Canada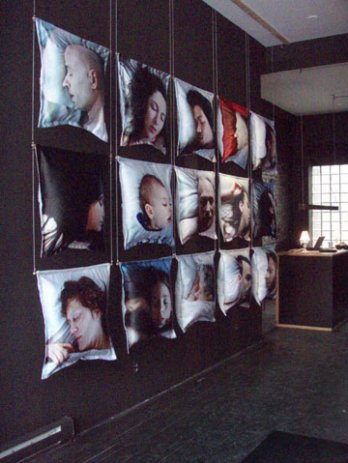 Murale_Schlof_Montreal_Canada
E.D.: What does the word "ecology" mean to you?E.V.D.B.
: Finding ways to define yourself without redefining the face of the earth.
E.D.: And what about the word "chic"?E.V.D.B.
: It's not the same thing for everybody. For me it's a cabin in the middle of nowhere with a view all to myself.
E.D.: Which Art Director / artist / architect / designer do you admire most?E.V.D.B.:
The whole DROOG design movement. Their creations are witty. I like wit; it's interactive in its simplest form.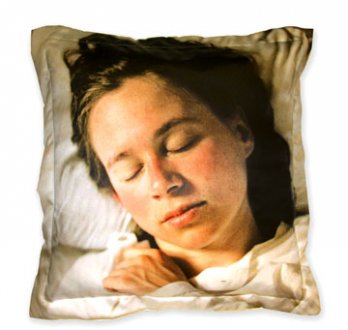 Pillow girl_Schlof_Montreal_Canada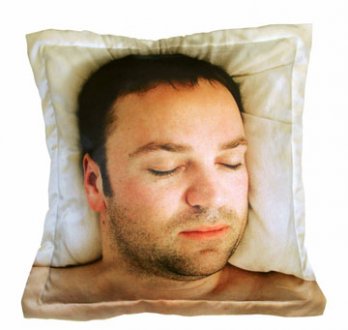 Pillow boy_Schlof_Montreal_Canada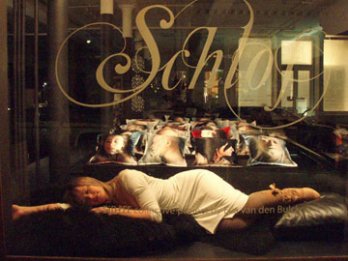 Sleeping beauty_Schlof_New York_USA
E.D.: What are your favourite brands or objects right now and why?E.V.D.B.
: I'm so not a brand person. I couldn't sleep with a logo on my t-shirt. I can't stand for a brand. I like beautiful things. Sometimes a brand impairs my judgement.
E.D.: Which city resembles you the most and why?E.V.D.B.
: Montreal. We're always second, so we try harder.
E.D.: What would be your dream project?E.V.D.B.
: Take pictures of people sleeping all around the world, like Poutine and Bush; and then make a huge bed where the whole world would be sleeping peacefully together.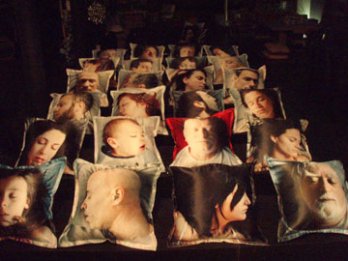 Pillows display_Schlof_Montréal_Canada
Showroom_Schlof_Montreal_Canada
E.D.: What is your favourite example of the use of art in advertising? E.D.V.B.
: I really liked the Honda ad "Grr" because it used cartoons to convey a very cold subject: diesel motors. With a little whistling song they created a message people would hum all over the world, making it a contagious message. Check it out:
www.honda.co.uk/change

E.D.: What Art project would you never design and why? E.V.D.B.
: This question is as strange as thinking of something I would do without wanting to do it…

E.D.: What are your favourite items (in art, photography, design)? E.V.D.B.
: Any item with an idea.
Big bed_Schlof_Montreal_Canada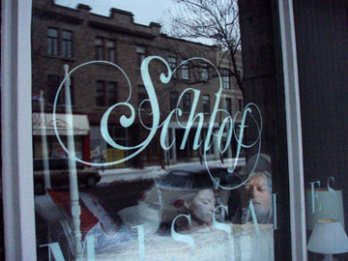 Shop window_Schlof_Montreal_Canada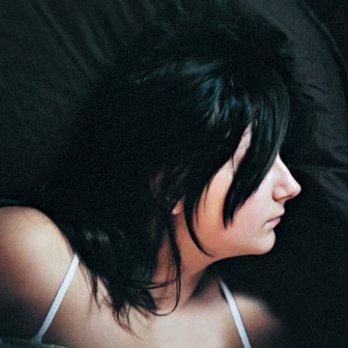 Roxanne_Schlof_Montreal_Canada
E.D.: What do you hope your current (Schlof) work will bring to people, humanity?E.V.D.B.
: I just want to make people smile. Make them question if they sleep enough. I want to let people appreciate natural beauty again; accept that they can't control their image all the time and that beauty lies within them.
E.D.: What invention would best improve your life? E.V.D.B.
: A watch integrated in my brain.
E.D.: Do you notice an evolution in your work from your first project to your latest? E.V.D.B.
: I take myself less and less seriously.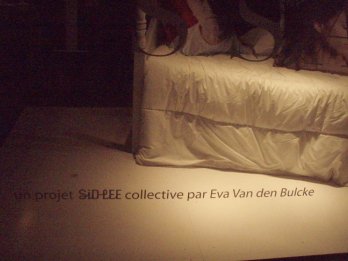 Window Sidlee_Schlof_Montreal_Canada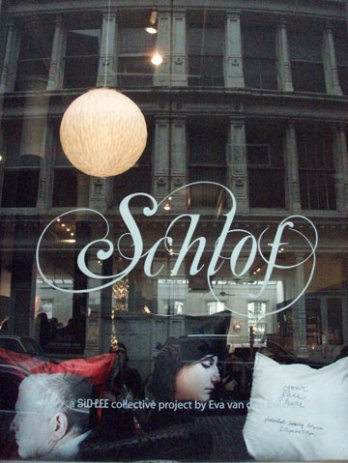 Window_Schlof_Montreal_Canada
E.D.: What could you not live without? E.V.D.B.
: Fresh air.
E.D.: Finally, which 21th-century architects/designers/artists would you invite to a dream dinner? E.V.D.B.:
Spencer Tunick so he can tell me how he turned his perversion of taking pictures of naked crowds into art without getting locked up.
www.sidleecollective.com