The Architecture of Humeurs
New modes of architectural structuring and transaction
David Edwards + Valérie Abrial, May 3, 2010
Animist, vitalist and machinist, the architecture of "humeurs" rearticulates the need to confront the unknown in a contradictory manner by means of computational and mathematical assessments. The architecture of "humeurs" is also a tool that will give rise to "Multitudes" and their palpitation and heterogeneity, the premises of a relational organization protocol.
This research is being carried out with François Jouve, the mathematician in charge of working out dynamic structural strategies; Marc Fornes with Winston Hampel and Natanael Elfassy in charge of computational development; the architect and robotics designer Stephan Henrich; and Gaetan Robillard and Frédéric Mauclere for the physiological data collection station, following a scenario by Berdaguer and Péjus. It also uses Marc Kendall's process of data collection using "microneedles." Le Laboratoire and Caroline Naphegyi (artistic director), have been following this research for two years and give the unique possibility of watching it exhibited in its current development.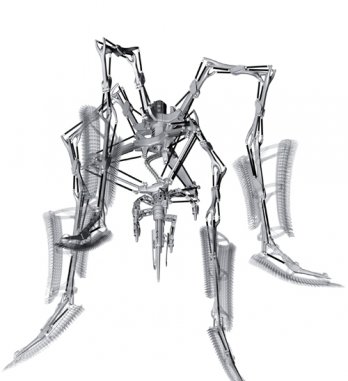 Le Laboratoire_Architecture on Humor_François ROCHE
Through April 22, 2010, the studio R&Sie(n) will render visible a project exploring new modes of architectural structuring and transaction:
- One aspect is comprised by computational, mathematical and machinist procedures designed to produce an urban structure following certain protocols of improbable and uncertain successive indeterminations, aggregations and layouts to rearticulate the link between the individual and the collective. The layout of the residential units and the structural trajectories are conceived and developed here as posterior to the morphologies that support social life and not as an a priori. These structures are calculated following simultaneously incremental and recursive structural optimization protocols whose principle result is the concurrently generated physicality and morphology of an architecture.
R&Sie(n) - Matthieu Kavyrchine.
The "algorithm" developed by François Jouve differs from "directly calculated" structural methods such as calculating a load-bearing structure of a building after it is designed. In contrast, the "algorithm" allows the architectural form to emerge from the trajectories of the transmission of forces simultaneously with the calculation that generates them. The "algorithm" is based on (among other things) two mathematical strategies, one taken from the derivative initiated by the research of Hadamard and the other from of protocol of the representation of complex shapes by Cartesian meshing through level set.
The mathematical process of empirical optimization makes it possible for the architectural design to react and adapt to previously established constraints instead of the opposite.
- The other aspect is the collection of data regarding the chemical body, based on the neurobiological emissions of each future owner. Until now the collection of information involved in the residential unit protocol has been exclusively based on visible and reductive data (surface area, number of rooms, access mode and party walls).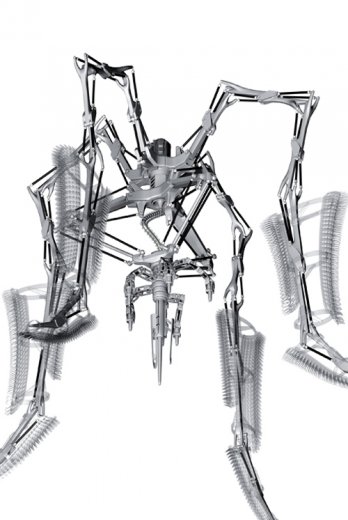 Architecture des Humeurs/Le Laboratoire_Architecture on Humor_François ROCHE
Instead, this experiment will be the occasion to interrogate an obscure area that could be called "the emission of desires" by the capture of these physiological signals based on neurobiological secretions, and to implement a chemistry of the humors of future purchasers, taken as inputs generating a diversity of habitable morphologies and the relationships between them.
The groundwork for this architecture of "humeurs" is a rereading of the contradictions inherent in the expression of these desires, both those that traverse public space through the ability to express a choice by means of language, on the surface of things, and those that are underlying and perhaps more disturbing but just as valid. By means of the latter we can appraise the body as a desiring machine with its own chemistry – dopamine, hydrocortisone, melatonin, adrenaline and other molecules secreted by the body itself that are imperceptibly anterior to the consciousness these substances generate. Thus the making of architecture is inflected by another reality, another complexity, that of the acephalous body, the animal body.
Architecture des Humeurs/Morphologie resultante local_R&Sie(n) & Le Laboratoire
An architecture of "humeurs" means breaking into language's mechanism of dissimulation in order to physically construct misunderstandings. A station for collecting these signals is offered. It makes it possible to perceive these chemical variations and capture the changes in emotional state so that they affect the geometries emitted and influence the construction protocol.
Animist, vitalist and machinist, the architecture of "humeurs" rearticulates the need to confront the unknown in a contradictory manner by means of computational and mathematical assessments. The architecture of "humeurs" is also a tool that will give rise to "Multitudes" and their palpitation and heterogeneity, the premises of a relational organization protocol.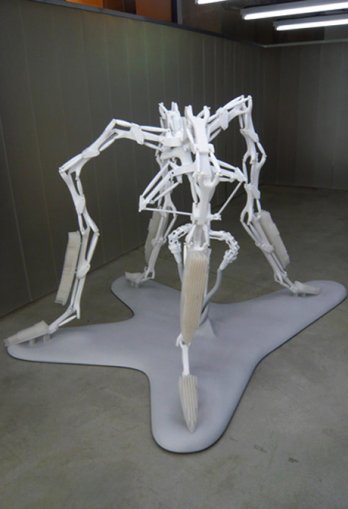 Architecture des Humeurs/R&Sie(n) - Matthieu Kavyrchine
CONVERSATION BETWEEN FRANÇOIS JOUVE, MATHEMATICIAN AND PROFESSOR AT PARIS 7 UNIVERSITY & DAVID EDWARDS, FOUNDER OF LE LABORATOIRE

François Jouve

Research

My research relates to applied mathematics, more specifically to numerical analysis and scientific calculus. I am interested in the mathematical modelling of physical and biological phenomena as well as in the study of the equations that fall out of this modelling and the implementation of approximate methods of resolution of these equations using computers. This branch of mathematics developed rapidly during the 1960s with the advent of the first sophisticated computers able to perform calculations impossible to carry out on paper. The field borrows both from advances in the other sciences to which it can be applied and from the most up-to-date techniques in mathematics. Its growth is facilitated by increasingly powerful computerized calculations enabling ever more complex forms of modelling. Although originally confined to research questions in sciences such as physics or the mechanics of liquids and solids, where mathematical jargon is the norm, numerical analysis has more recently been shown to be applicable to the modelling of research problems in the fi elds of chemistry, biology, economics and medicine.

Part of my research has been carried out in collaboration with ophthalmologists in the modelling of refractive surgery (the goal of which is to correct vision problems such as myopia (shortsightedness) and astigmatisms) and in the development of new intraocular implants used in cataract surgery. I am additionally interested in the problems of optimisation of forms wherein we attempt to discover 'optimal forms' that best satisfy a number of given constraints – a kind of 'list of specifi cations'. A typical example of this type of problem is fi nding the best compromise between the weight and the rigidity of an object made out of a given material having certain mechanical properties. It is this area of my research, and the original forms it gave rise to following the algorithms we developed, that was the starting point of my collaboration with R&Sie. These research problems, in which the form is unknown – problems which might be classifi ed under the heading 'inverse problems' – have a number of applications in extremely varied fields ranging from industry to petroleum prospecting, and even including medical imaging.
Architecture des Humeurs/R&Sie(n) - Matthieu Kavyrchine
David Edwards: Your work in applied mathematics is on numerical analysis and, with respect to your work here, the creation of 'optimal' forms which respect certain physical and geometric rules. This could be useful in the aeronautics industry or, obviously, in the field of architecture. Do you see the value of your work as lying in its potential practical applications or, rather, in a purely intellectual context?
François Jouve:
The two aspects are not mutually exclusive, and the border between so-called 'pure' mathematics and applied mathematics, which for a long time was clearly delineated, is now becoming increasingly fuzzy. Today, traditionally 'pure' domains of mathematics, such as the theory of numbers, have extremely concrete applications whereas others who have been labelled 'applied' mathematicians have become interested in questions quite distant from any practical application. Concerning myself, I have always considered that I am an applied mathematician whose points of departure are practical problems; from this, I develop methods, some of which have a truly theoretical basis; I then move back to the concrete application. There are, however, any number of possible approaches.

D.E.: How did your initial encounter with François Roche come to pass?F.J.:
Thanks to the internet, François had seen the results we had reached in our work on numerical simulations and the calculations of optimal forms. He had found these forms 'monstrous' enough (I use his own words here) to become interested in the methodology used to generate them and contacted me. I liked his description of the results.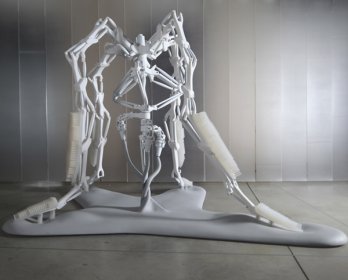 Architecture des Humeurs/_Robots_Matthieu Kavyrchine
D.E.: In what way could your area of research interest him for his own research?F.J.:
What interested him was not so much my area of research as the forms that came out of it, some of which were in fact rather comparable to forms he had used in one of his previous exhibitions ('I've heard about') and which had been created using techniques having strictly nothing to do with my own.
D.E.: Had you ever collaborated with an architect before? Aren't there problems in understanding each other's professional jargon?F.J.:
This is the fi rst time I've collaborated with an architect, so naturally, we had to find common ground in order to communicate with each other. I have in the past worked with doctors, and so I am used to the communication problems that can arise when two unrelated fields are brought together. I'm all the more sensitive to this given that it is often particularly difficult to render mathematical terminology accessible to the non-specialist. Compared to my previous collaborations, the major difference in this particular adventure within the field of architecture concerned the goal that was established. Traditionally, when an applied mathematician decides to collaborate with other scientists, he is expected to provide a model for some phenomenon (physical, chemical, or biological, for instance) with as many details as is possible to obtain.
Then, when the model is considered satisfactory, he must solve (often with the help of a computer) the resulting equations in order to simulate the phenomenon in question. In this case, however, since the goal was purely 'artistic', the ultimate criterion was not the intricacies of the model or its accuracy with respect to certain results of the experiment; the criterion, here, was simply aesthetic. We didn't really care what the equations said – the only thing that counted in the end was the form we were able to obtain. In a way, this raises questions that many people may ask themselves: when you observe certain natural structures – take, for example, the growth of a tree – you come across forms which obviously resemble optimal forms, or rather pieces of structures you sometimes find when you calculate the optimization of forms. It is then logical to assume that nature must somehow be 'optimising' something. But what, exactly? There are, in the end, few cases for which we can give a satisfactory answer to this question. The results we achieved within the framework of this exhibition necessarily lead us to the same sort of reflection: there is obviously some from of calculation for optimization at work here, but we do not really know which criterion has been optimised.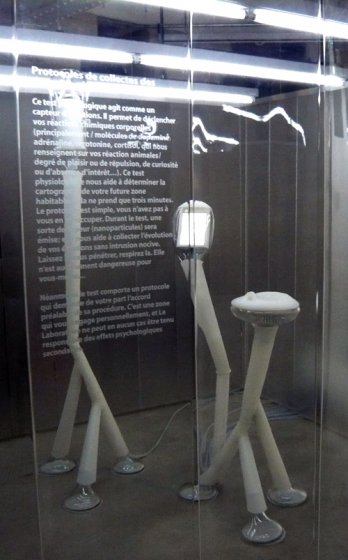 Architecture des Humeurs/_Matthieu Kavyrchine
D.E.: How did you work with François Roche on a day-to-day basis?
F.J.:
Mathematics is often presented as a kind of solid, unshakable edifice constructed stone by stone and using a form of reasoning that is coherent and inflexible. This image of the discipline is especially widespread in secondary and even higher education. And it is true that a demonstrated theorem is accurate and remains so 'forever' – indeed, this is what separates mathematics from the other sciences, for a theory in physics, for example, is often called into question by a new, more modern, more complete theory. This monolithic vision of mathematics, however, is discouraging, not to mention false if one considers the history of the sciences. For the most part, results in science have been the fruit of much trial and error – we end up having a linear view of the process that does not reflect the actual stages of research. Even in our own modest approach, we constantly had to go back and forth, both of us attempting to figure out what the other wanted and was capable of.
D.E.: You recently gave a seminar on this project to your colleagues at Jussieu (University of Paris). How did they react?
F.J.:
This kind of subject is somewhat unusual in the field of mathematics, but people in general tend to be rather partial to applications that lie outside what is ordinarily done. They were more sceptical when I suggested we replace the Montparnasse Tower with the tower I presented to them on the screen.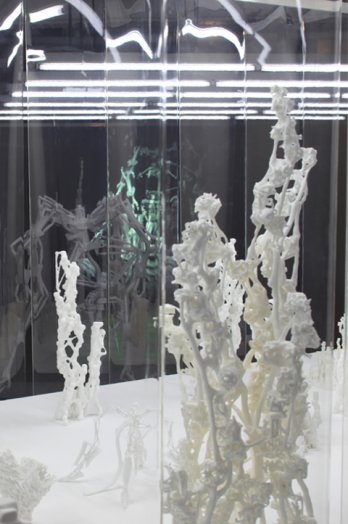 Architecture des Humeurs/Architecture of humors_Matthieu Kavyrchine
D.E.: Can you describe the software you present in the exhibition Une architecture de humeurs? What is its origin, and what is its story? What do you call it? How does it work? What are its perspectives for the future?F.J.:
It's a numerical calculus software program whose humble beginnings go back more than 20 years. It has essentially remained in the academic sphere, although it is has often been used in scientific and industrial applications. For this reason, it's never needed an attractive commercial acronym, and given its age, it's now too late to give it an official name. Like any software, be it academic or commercial, its history is poorly documented, and the program is full of bugs. But it continues to aspire to perfection.
D.E.: What does this software bring to the domain of housing, and how can it change more traditional ways of imagining it?F.J.:
Beyond this particular software program, I think we are on the cusp of a veritable revolution with respect to the forms used in architecture. This has been brought on by the massive use of 3-D modelling. Only 10 years ago, conceptual software and calculation software – not to mention the new materials now available – would have been inconceivable. The variety of forms that are now possible is infinite. It remains to be seen how this avant-garde brand of architecture will make inroads in traditional types of housing.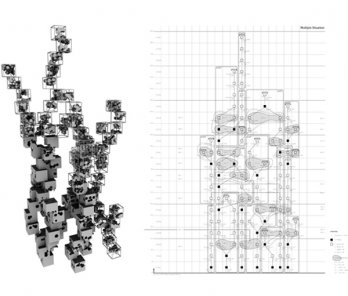 Architecture des Humeurs/Process d'aggregation morphologiques_R&Sie(n) & Le Laboratoire
D.E.: Do you believe that a mathematical algorithm could one day actually deduce forms of housing from our biometric data? What are the mathematical or computing- related obstacles that must be overcome in order for this to be possible?
F.J.:
I don't like the term 'biometry'. It's reminiscent of a police-state society. The theme of this exhibition is more closely related to the harnessing of biological data via microchips or techniques of medical imagery. All of this already exists in laboratories and could be put into practice. The first application of these tools, of course, is in medical diagnosis, but if they could also be used to conceive the homes of our wildest dreams, why not?
D.E.: What is your overall assessment of this experiment? What has it brought to you as a researcher?F.J.:
Scientists are often criticized for staying cloistered in their ivory tower, and this criticism is sometimes justified. As for me, I enjoy participating in improbable, unlikely experiments, and this is one such kind. In the strictest sense, our work does not have any scientific repercussions, but it has served to open up our discipline to society. I'm pleased to be able to show visitors, some of whom were traumatized by the maths lessons of their school days, that these damned equations can also be used in an artistic project, and not only to select the best students or conceive questionable financial products. From a more personal point of view, I've discovered an environment previously unfamiliar to me and which functions in a way that is not all that different from that of my own scientific background: both long-term and immediate results are necessary. I am also extremely eager to see at last the three-dimensional figures of forms which, until now, I've only been able to observe on a screen.
Architecture des Humeurs/Machine detail_R&Sie(n) & Le laboratoire
CONVERSATION BETWEEN MARK KENDALL PROFESSOR AT QUEENSLAND UNIVERSITY "AUSTRALIA# SPECIALIST OF MICRONEEDLES & DAVID EDWARDS

David Edwards: You are one of the world leaders in the fi eld of transdermal drug and vaccine delivery. But your background is actually not in medicine or biomedical engineering at all. How is it that an aeronautical engineer ends up pursuing such a career so successfully?M.K.:
I suppose, above all, I have always tried to work on things that interest me. I believe that in research this is paramount. And yes, by fi rst inspection, it does seem like a leap between fields. However, when I was finishing my PhD, I spotted the opportunity to apply my training in rockets to machines to keep people alive (as opposed to many rockets, which are killing machines), called the Gene Gun, which I helped develop in Oxford. Then as I was developing the Gene Gun, I became fascinated by the biology of the skin and its immunology – and saw the real challenge in understanding how it works, and using this knowledge to make vaccines work better with improved devices. This led me to the Nanopatch.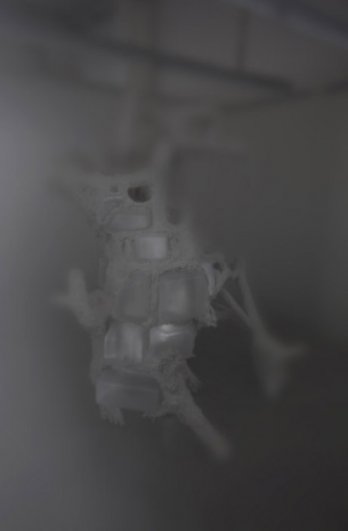 Architecture des Humeurs/R&Sie(n) - Matthieu Kavyrchine
D.E.: Delivering drugs and vaccines across human skin, which is after all a protective membrane, requires that you at least temporarily weaken the protective barrier function of the skin. Can this be done safely, reproducibly, and, if so, where will do we see this kind of medical treatment today? Where will we see it tomorrow?MK:
Yes, our outer layer of skin, called the stratum corneum is a fascinating barrier that we need to breach for successful delivery. Breaching this barrier is happening already: for example, Nicotine patches deliver the nicotine by diffusing it through the SC. This works because nicotine is so small (below the 500 Da molecular weight threshold). However many other drugs, including vaccines do not work by passive diffusion alone, because they are much larger in molecular weight. So, alternative approaches are being developed (e.g. microneedles), which have been demonstrated to deliver drugs/vaccines reproducibly and safely. Very few of these devices are currently on the market, but are expected to be soon. I think, tomorrow, we will see them in many medical treatment applications, including improved and cheap vaccine delivery in the developing world – which I care deeply about.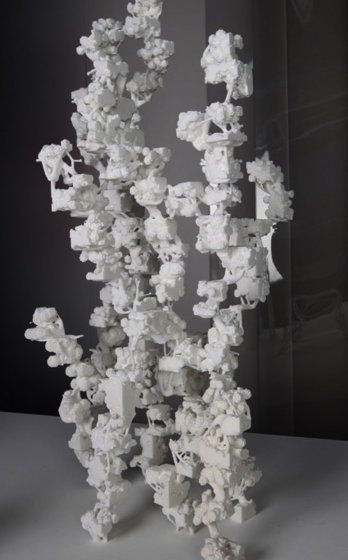 Architecture des Humeurs/R&Sie(n) - Matthieu Kavyrchine
D.E.: Why are microneedles a particularly good approach to biomolecular extraction across the skin? What are the obstacles to seeing this technology in practice? Where do you think we will see it first (for which application)?M.K.:
I think they work so well because they 'tap into' the skin's rich reservoir of biomarkers residing so close to the surface (often less than a hair's width in depth). And the microneedles are pain-free. Also, with selective surface coatings we can extract only the biomarkers we want to, thereby removing/reducing post processing outside of the body. This is a radical change from the current approach of removing blood or taking a tissue biopsy. As with all platform technologies, a challenge is achieving the right 'fi t' between technical capability and medical application. We are still determining the right fi t: I think there is great potential with fi rst utility in disease detection (e.g. do you have a virus). In the long term, improved early detection of cancer would have a huge impact.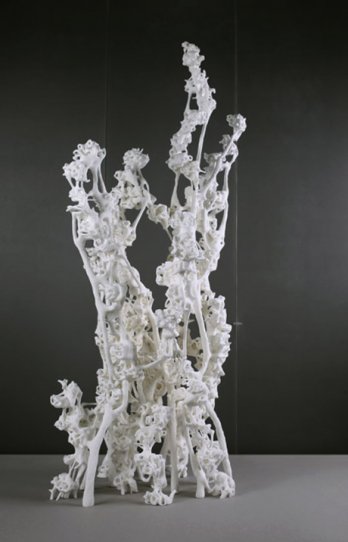 Architecture des Humeurs/R&Sie(n) - Matthieu Kavyrchine
D.E.: You have a busy scientific career? What made you interested to collaborate with Francois Roche on this project?
M.K.:
I am interested in the creative process, which unifies good scientists are artists. And being creative is like oxygen to us – and by working with Francois, all manner of new creative sparks are already fl ying.
Mark Kendall_Bio
Professor Mark Kendall, has more than 12 years of experience researching the field of needle-free gene and drug delivery to skin with micro-nanostructures, authoring over 110 refereed journal and conference papers. In addition, Mark has been an inventor on more than 25 patents and has worked closely with industrial partners in the technology transfer from concept to commercialization. He has delivered 60 invited, keynote or plenary lectures in seven countries. His Biolistics technology has been successfully commercialised with PowderMed (the technology transfer company) purchased by Pfi zer for $400 M in 2006. Mark joined the University of Queensland for a Professorial position after 8 years at the University of Oxford, where he was Associate Director of the PowderJect Centre for Gene and Drug Delivery Research, a University Research Lecturer and College Lecturer (Magdalen College). In addition to research at UQ, Mark lectures undergraduate students in biomedical fluid mechanics.

www.lelaboratoire.org
www.new-territories.com