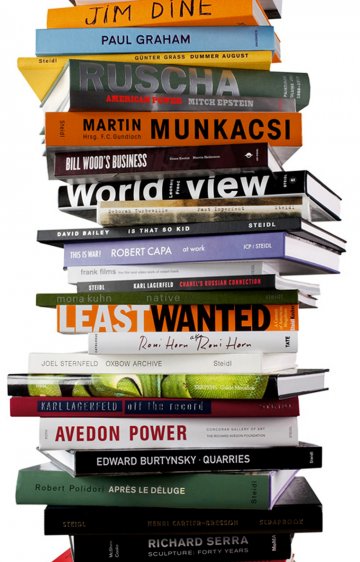 Gerhard STEIDL
Fine art of Steidl book + Last Impressions
Marie-Claire Mermoud, January 4, 2010
Photography has been exhibited on walls and in books since its invention. The book of photography, an enticing object because of its graphics and images, can be acquired by anyone, taken anywhere and read at any time. It refers us to the personal experience of the object which we open, leaf through and read. In the era of digital photography, books remain a source of important information about the history of the medium and its developments, about the works of great photographers and those of passionate creators who are committed to their publications. Whether it has been made by hand or by using the latest technologies, a book is the result of decisions such as the choice of visual and textual content, cover, format, layout, paper, binding, font used, etc., which are unchanging over time. These different elements must all connect coherently, and together they contribute to the attractiveness of the object.
Gerhard Steidl/Koto Bolofo, graphiste de "Steidlville"© 2009, Koto Bolofo
In the early 21
st
century, Gerhard Steidl is without a doubt the most prolific printer and editor of photography books: one book per day leaves "Steidlville", in Göttingen, his home-town in Germany. His fief – which includes his editing house, printing works, and studio for graphic artists and reproduction specialists – also has the reputation of providing housing for the most prestigious artists of our era, all of whom are attracted by the quality of the books produced there. Steidl, whom Le Monde has nicknamed "the haute-couture editor", publishes books which are works of art. Uniting the crafts of editing and printing, he worries more about quality than about the quantity produced, and ensures that no book leaves his editing house before he has personally controlled its paper, cover and printing quality.
"Impressions en continu"
celebrates every aspect of the photography book, from the object of each artist's dream to the final work delivered by the printer. The Musée de l'Elysée has invited Raymond Depardon, Jim Dine, Robert Frank, Roni Horn, Karl Lagerfeld, Ed Ruscha, Jürgen Teller, Deborah Turbeville and Jeff Wall, among numerous other confirmed photographers, to show us the creation of a new book "behind the scenes". For the first time in public, they are exhibiting their sketches and layouts, their choices of covers, typography and paper, as well as their memories of "Steidlville". All agree that making a book with Gerhard Steidl is the equivalent of fulfilling an idea, without the least concession. The exhibit which presents this creative synergy is also an invitation to discover leaf through, smell and touch the printed page.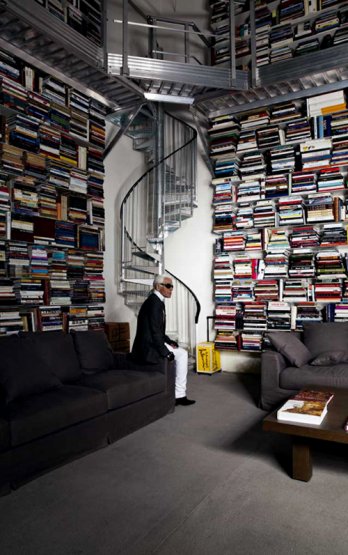 Gerhard Steidl/Karl Lagerfeld © 2008, Steidl
According to his entourage, Gerhard Steidl is so interested in his profession as a printer that he even discusses the relationship between paper and ink! At the age of 17, he had already installed a press in his garage. Born in Göttingen in 1950, Steidl was fortunate to frequent Joseph Beuys at the time when the artist was creating multiples. Their collaboration, between 1972 and 1986, encouraged him to consider printing as a form of art. Marked by the works of the philosopher Walter Benjamin, who predicted that works of art would be designed to be reproduced in the 1930s, he then created silk-screen prints, lithographs and offset prints. In 1972, Steidl launched himself into the editing world with Befragung der Documenta, which was created in the back yard of the Göttingen house with the artist Klaus Staeck, his friend and mentor. Committed to left-wing politics, he used his printing works to publish political essays. Ten years later, he included literary works in his catalogue. In 1986, he suggested to the author Günter Grass that he publish the drawings which accompanied his manuscripts.
This formula was fruitful: the collaboration between the editor and the author resulted in acquisition of the global rights of the Nobel Literature Prize laureate. Grass still visits Steidl, who has distributed his books in over fifty languages, regularly.
Gerhard Steidl/Victor Hugo avant 1876 par Charles Constant Albert Nicolas_Photoglyptie_Woodburytype
Founder and only owner of his editing house, Steidl controls every step of the fabrication of his art books. He is also the appointed printer of the House of Chanel. Working in tandem with the couturier Karl Lagerfeld, Steidl underlines the creative aspect of his work for Chanel. In 2007, he even created, at Lagerfeld's 5 request, a printing font which is now used world-wide by all branches of the haute couture house. Steidl speaks of the Chanel "laboratory" as an experimental terrain for new printing techniques, new papers and new inks, which he then applies to his books. He has, without contest, become one of the most highly specialized printers of photography books, which remain his greatest interest. In his rare moments of solitude, he uses his own camera, creates his own models, researches typography, with a preference for Akzidenz-Grotesk, the first font which he acquired as a young printer, and immerses himself once again in the wise advice to be found in The Ideal Book, written over a century ago by the industrial esthetics theoretician William Morris.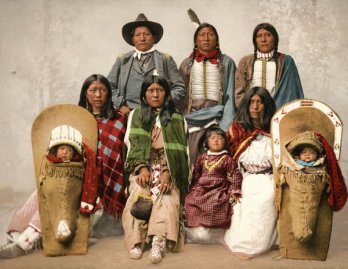 Gerhard Steidl/William Henry JACKSON_Sevara, Ute's tribue chief and his family, 1899_Photochromic
Some photographers have a particular talent for producing significant books, but they rarely work alone. Their collaboration with the editor, the printer, the graphic artist, the typographer, and the reproduction specialist contribute decisively to the success of their book. Publishing, laying-out, printing and distributing all happen under the same roof in the house on Düstere Strasse, in Göttingen. This is clearly the combined effort of a team of trade professionals. The chain is never broken, which is precisely what contributes to the success of the House of Steidl. Even fifteen years ago, when few people knew him, Steidl often said that he wanted to preserve his "island of self-sufficiency". Everyone agrees that his singularity is linked to his independence and to his relationship with the artists who arrive daily at "Steidlville", the nickname given to the premises by the photographer Roni Horn. The building next door, also a small house with narrow staircases, is a hotel for the editor's guests.
Gerhard Steidl/Edouard Payot_Soir d'orage, embouchure de l'Hermance, 1928_Procédé au charbon
Steidl wants this proximity in order to be able to consult with them at all times. He himself puts on his lab coat around 5 a.m., and it is only much later, around lunch-time (rarely before 2.30 p.m.) that he allows himself to relax with his guests. Rüdiger Schellong, the cook, receives hundreds of artists, art critics, curators, editors and every other professional in the world of books at his table every year. As everything is made on-site, the visitor learns his way around the premises very quickly. The doors behind the scenes are opened here by the photographs which we requested, all taken by illustrious photographers and other guests of the house. Steidl races from one floor to another between unforeseen events and emergencies.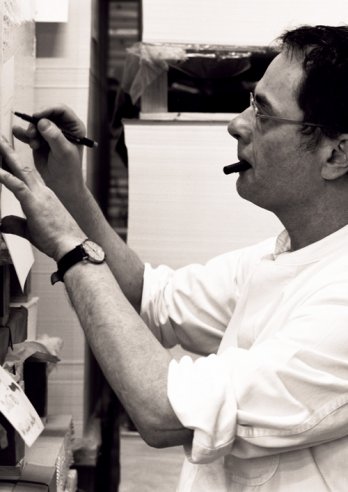 Gerhard Steidl/Koto Bolofo, Gerhard Steidl © 2009, Koto Bolofo
The photographer Joel Sternfeld compares the premises to the LaGuardia New York airport at rush hour on New Year's Day! According to a chronicle written by his assistant Monte Packham, Steidl owes this frantic rhythm to his thirst for new challenges. It seems difficult for him to say no or to make someone who has come from far away with a new project under his arm, wait. The artist who crosses his doorstep (after braving what is often a long waiting line) generally arrives "with pictures in his suitcase and ideas in his head", and there is no doubt that he will leave with a book project.
www.elysee.ch