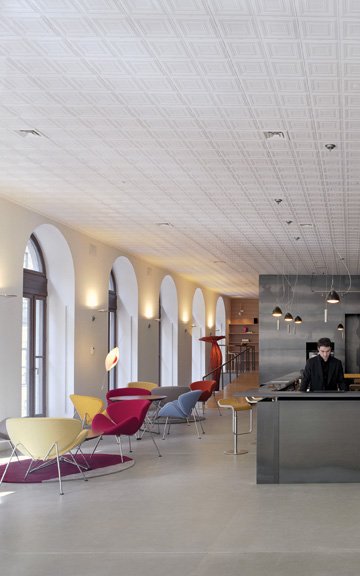 Do not disturb - Gault Hotel
Comfort Zone
Nargisse Rafik, June 22, 2006
Close your eyes and imagine an aesthetically exquisite haven of peace, right in the historical heart of Montreal. Imagine a prestigious setting where you can take pleasure in cocooning, for a temporary halt or more… Visualize spacious rooms, designed to generously offer maximum comfort: "Flou" beddings for a perfect night of sleep, bathroom with heated floor, integrated or hide-away furniture utterly sophisticated in all practical details. What else? Natural fabric drapes and iridescent veils, sliding panels and wheeled furniture allowing the set up of comfort zones adapted to your own needs. Just sense the surrounding feeling of luxury, of quality and freedom impregnated in this environment and omnipresent in your every step.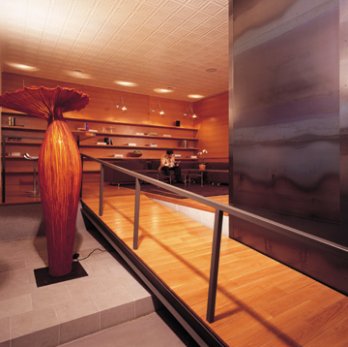 P. Malina Corpadean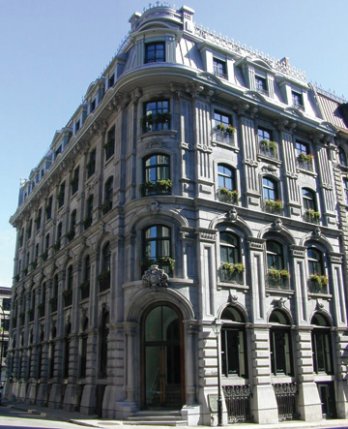 P. Malina Corpadean
Open your eyes: welcome to the Gault Hotel. Through the angled door of this Second Empire style building, guests are greeted in an attractive environment, expertly fashioned, releasing its quintessence in subtle sequence. Enchantment arises as you discover the hotel's multiple features.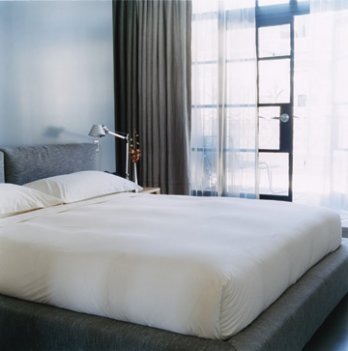 P. Malina Corpadean
A cosy ambience, resulting from superior soundproofing, charms the visitor right away. The lobby, hosting the front desk and the bar, spreads out into a vast open area, where cast iron pillars and apparent bearing walls lead to ingenious interconnecting and modifiable settings. Alternation of fabrics, furniture lines and soft light diffused by brushed-steel lamps brings out an artistic refinement to the environment. In public or private areas, the delicate chromatic neutrality of the structure (concrete, roughcast, steel and wood) is enhanced by colourful design pieces of furniture, Orange Slices chairs from Pierre Paulin, Bird chairs from Harry Bertoia, carpet from Marcel Zelmanovitch…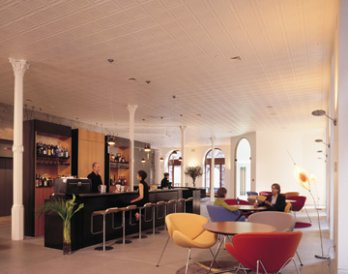 P. Malina Corpadean
The Hotel's art collection adds a soul-appealing touch to the interior decoration: monotype from Paul Cloutier, engraving from Lorraine Fontaine… As for the gigantic Maple Leaf from Roberto Pellegrinuzzi, the Peapod and Morning Star lamps from Ayala Serfaty, they combine the graceful flower shapes to the mineral density of the frame.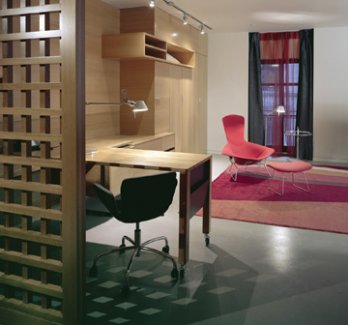 P. Malina Corpadean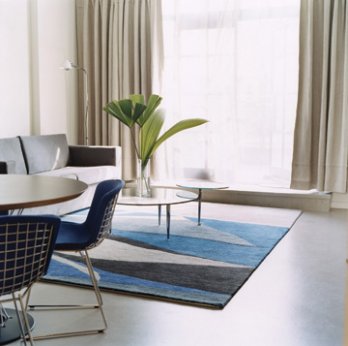 P. Malina Corpadean
P. Malina Corpadean
Visibly, the YH2 agency's architects have created an organic masterpiece where comfort and design are intimately entangled. Proud recipient of the Grand Prize Jury Award of Design Commerce Montreal 2003 contest, Hotel Gault has undoubtedly changed our interpretation of hotel management standards. Definitely unconventional, the hotel provides its guests with a place to live in, not only to stay at: a feeling to experience.
Gault Hotel - Egodesign
www.hotelgault.com
www.yh2architecture.com