ARTĚL
Art for Everyday Use (1908-1935)
DMG, October 19, 2009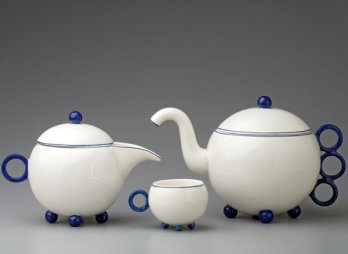 ARTĚL/Part of a tea and coffee set_Rudolf Stockar (CZ), before 1914_by Graniton, Rydl & Thon in Svijany-Podolí (CZ)_Gabriel Urbánek - Ondřej Kocourek
Last year, our colleagues of the Museum of Decorative Arts in Prague commemorated the 100
th
anniversary of the establishment of Artěl – one of the most outstanding institutions specializing in Czech applied arts and design in the first half of the 20
th
century. On the occasion of this the museum prepared a traveling exhibition that will come to Gent end of this year. The exhibition will explore the association's creative endeavours that lasted over a quarter of a century, through a display of wares and designs bearing the prestigious Artěl trademark, presented in several sections. Artel was established in prague in 1908 by an emerging generation of artists and art theorists (J. Benda, V. H. Brunner, J. Konůpek, O. Vondráček, P. Janák, H. Johnová, M. Teinitzerová, V. V. Štech and bank clerk A. Dyk). Soon, the membership grew in number. Notable figures of the Czech art scene invariably were associated with Artěl.
ARTĚL/Model of a souvenir box_Vlastislav Hofman (CZ), 1916-1921_Gabriel Urbánek - Ondřej Kocourek
The name
"Artěl"
(borrowed from the Russian term "артель", meaning "cooperative") was chosen to express its intended character – that of an art cooperative with mutual liability, financial backing and profit sharing. The founders' initial idea was to build their own production facilities, along the lines of the Wiener Werkstätte. However, owing to the lack of funds and the specific conditions, the cooperative decided instead to focus on designing and promoting wares, and on presenting and mediating sales of its members' creations. The artists' designs were implemented by various external companies, under the Artěl trademark.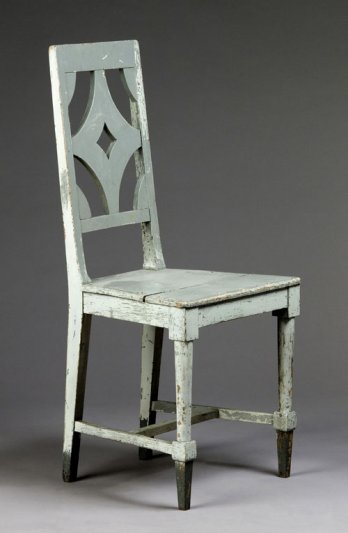 ARTĚL/Chair, 1922_UMP (Museum of Decorative Arts) in Prague (CZ)_Gabriel Urbánek - Ondřej Kocourek
Initially, the cooperative drew on the reformist tradition and on the values of handcraftmanship, and focused on designing and manufacturing "minor art for everyday use" – small functional and decorative items made of wood, ceramic, metal and other materials. Over the years, it extended its activities to include comprehensive designs of private homes and commercial spaces. During the brief prewar period of 1911-1914, a distinct Cubist-Expressionist tendency took hold in Artěl's production, through the designs and theoretical studies of architects Pavel Janák and Vlastislav Hofman. Those years saw the creation of unique Cubist objects made chiefly in ceramics. With the establishment of an independent Czechoslovak state, the association joined the general quest for a distinctive national style, represented by the decorative art movement of the 1920s. Even in the postwar years, Artěl continued to be attracted to the legacy of Cubist experimentation, with a prevalence of geometric patterns and a tendency toward sparse form. In 1927-1930, under the guidance of Jaroslava Vondráčková, Artěl's creative output was influenced by Functionalism.
ARTĚL/Crystal-shaped box_Pavel Janák (CZ), 1911_by Graniton, Rydl & Thon in Svijany-Podolí (CZ)_Gabriel Urbánek - Ondřej Kocourek.
In 1920, the cooperative changed its status to a joint-stock company, renamed Artěl, Decorative Arts Enterprise, Joint-Stock Company, Prague. In doing so, the company was responding to the postwar developments in the field, in an effort to move away from studio-type craftwork toward a modern enterprise capable of handling major assignments (e. g. the furnishing of thirty rooms of the state-owned Hviezdoslav hotel at the Štrbské pleso resort in Slovakia's High Tatras in 1922), with the support of the industrial production. Artěl also participated with success in various exhibitions at home and abroad (notably, the international decorative arts exhibitions in Monza in 1923 and Paris in 1925), works and treatises of its members were published in the period press. From the mid-1920s, the joint stock company met with financial problems and in 1935, under the pressure of the economic crisis, Artěl was wound up.
ARTĚL/BOX_Václav Špála (CZ) for Artěl, 1921_Gabriel Urbánek - Ondřej Kocourek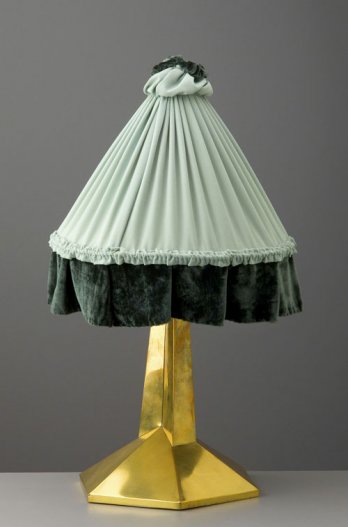 ARTĚL/Table lamp_Pavel Janák (CZ) for Artěl, 1913_by Pražských Uměleckých Dílen (PUD) or Artěl (CZ)_Gabriel Urbánek - Ondřej Kocourek
Throughout Artěl's existence, an array of diverse beliefs and trends emerged, yet all invariably pursued a common goal: to introduce a modern aesthetic outlook into the field of applied arts and to help cultivate household interiors and lifestyles. Artěl therefore takes its rightful place in Europe's modern art and design movement, alongside the artistically-inspiring Wiener Werkstätte in Austria and the Bauhaus in Germany.
www.designmuseumgent.be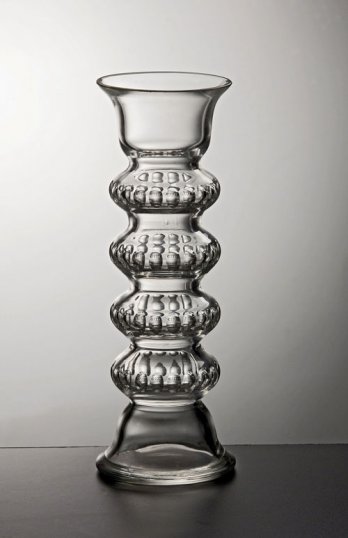 ARTĚL/Vase_Josef Rosipal (CZ), 1913_Jan Oertel in Bor_Gabriel Urbánek - Ondřej Kocourek