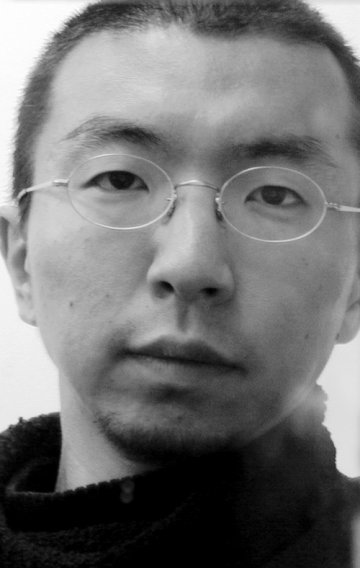 Sou Fujimoto
Represent the intangible between the cave and the nest
Floornature, June 6, 2011
This interview was made by
www.floornature.com

Bio_ExpressSou Fujimoto was born in Hokkaido, Japan in 1971. After studying architecture in the faculty of engineering at Tokyo University, he founded Sou Fujimoto Architects in 2000.
In 2005 he started to gain visibility when he won the prestigious international AR - Architectural Review Awards in the Young Architects category, an award he won for three years in a row, and the Top Prize in 2006.
In 2008 he was invited to sit on the jury of the AR Awards. In the same year he won both the JIA (Japan Institute of Architects) award and the top award in the Private House section at the World Architecture Festival.
In 2009 Wallpaper* magazine presented him with its Design Award.
In 2008 Sou Fujimoto published "Primitive Future", the year's best-selling architecture book. His architectural design, ever in search of new forms and new spaces between the natural and the artificial, will no doubt continue to evolve in the future.
Sou Fujimoto / Treatment Center for mentally disturbed children, Hokkaido, Japan
Conversation with Sou Fujimoto…

A.F.: We are here with Sou Fujimoto for [to discuss] furniture. So, as a start, can you tell us something about this project?Sou Fujimoto:
Yes, the main concept of this project is how to combine nature and artificial things together to create a new expression. The title is "Crystallised Wind." The wind symbolises the car, Lexus and also nature. And crystallised means give [giving] a shape to wind. We used acrylic material. This is the furniture I designed and acrylic car in the exhibition hall. This furniture is uh... The important point is the top surface is very flat, sharp and the back side is very soft and wavy. So you can see the sharpness and softness at the same time. And this looks like a new existing [creation] and in the main hall we layered the furniture just [to make it resemble] like wind blowing and we can see the very silent but at the same time very wind moving [blowing?]. And this is like uh... how do you say...? Japanese traditional garden, stone garden. The Japanese garden is made by stone, only by stone, and very fixed but looks like the water is flowing; so such kind of a duality of movement and silent and emotional but cool, and Nature and artificial things: that combination and good contrast is the main concept of this project.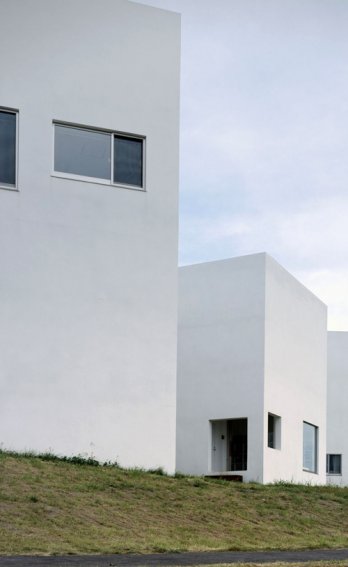 Sou Fujimoto /Sou Fujimoto Centre Point
A.F.: Light, sound, air: there are only material elements. What is your relation with material?Sou Fujimoto:
Materials... This time all the material is acrylic, transparent and I selected this because of the... You can see different things at the same time: the flat sharpness and soft waving surface at the same time so you can mix in your mind two different aspects together and depending on your viewpoint you can see very sharp edge. But two meters [away] different place you can see waving shape. So such kind of various meanings of layers is very, very mysterious of this material and, of course, the shape itself is important, but the combination of the shape and the concept and the material could create something new.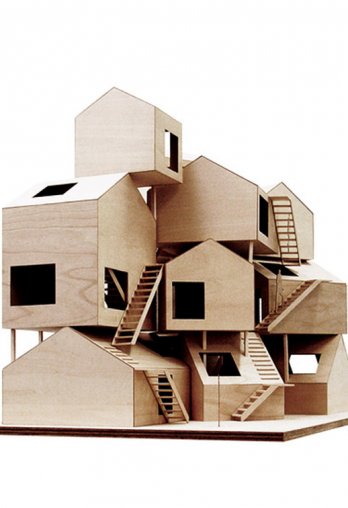 Sou Fujimoto /Tokyo_Apartment
A.F.: In many of your architectures you use wood, a natural material, also for interiors. Which other materials did you choose for your research?
Sou Fujimoto:
Ah, yes of course in designing architecture we use ... how do you say?... traditional materials like wood and concrete and steel and I'm very interested in new materials or new interpretations of the traditional materials because materials could create the shape and space. So of course acrylic is one of the examples and this leg is made of carbon fiber so this kind of new material or new interpretation of old materials, such as stones and wood, could create new architecture I think.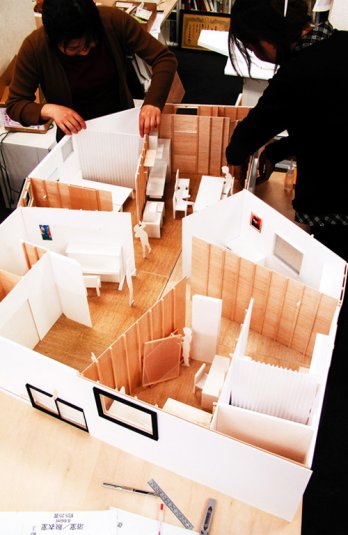 Sou Fujimoto /T House
A.F.: Primitive Future is the title of your book. Can you explain it in reference to your ideal of architecture?Sou Fujimoto:
Yes, I usually use Primitve Future as my architecture concept. The architect is always thinking about the future but future is not just the future because all architecture in future is [will be]used by us, by people. So it depends on the very, very basics of the human beings and of course human feelings. So I think primitiveness and future could combine to create something new. I'd like to explain one example to explain my architecture concept: the contrast of the nest and cave. They both look very primitive but for me the nest is a very functional space. Nest for people is very functional and if there is well [good] design for people to use, it is very convenient. On the contrary, the cave is not designed for people but I think the caveness or cave-like space is very, very creative; it stimulates the creative sense to find your own space. For example, when you are in a cave you can find your own sitting space, your own shelf, something. So not functional [and] because of not functional the cave-like space could be more and more ... how do you say?... rich possibility to use. So I think caveness - not cave itself but caveness - could be reinterpreted to the new contemporary architecture by artificial way. Such kind of a combination could create a new architecture so I think that kind of primitiveness could create future architecture.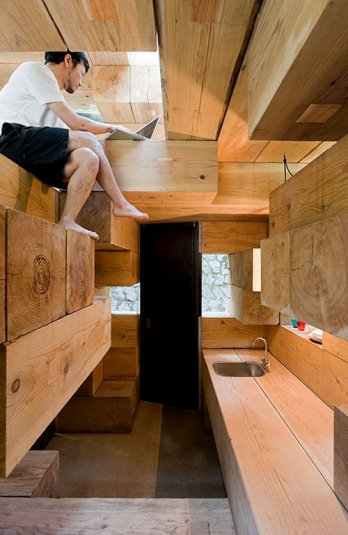 Sou Fujimoto /Final Wooden House, Sou Fujimoto Architects, 2008.
A.F.: Where is the Oriental culture more evident in your work?Sou Fujimoto:
Yes, one of the... Yes, I am very interested in Japanese traditional things... [There are] many, many aspects but one of the good examples is "in betweeness." In Japanese architecture [there is] inside and outside, but we have in between area and we call this engawa, like that. It is not just outside, not just inside: sometimes inside-outside situation. So I don't want to recreate such kind of traditional architecture itself but I like to reinterpret such kind of concept to a new architecture. And sometimes I change the engawa space to a more bigger, garden-like space or such kind of new understanding of the tradition is a big expression for me.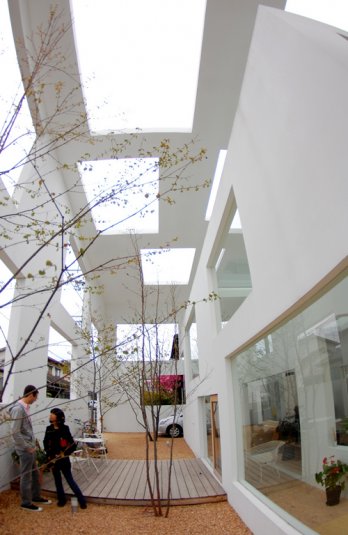 Sou Fujimoto /House N
A.F.: Your project: how [what] is the relation between architecture and interior space?Sou Fujimoto:
Interior space... yes the architecture could create interior and at the same time exterior and I like to treat interior and exterior as equal. So when you make interior space, then exterior should be made. So my interest is how to mix interior and exterior together and make some kind of, as I said, in between situation space. So for me, the simple interior design is not so interesting but designing architecture is creating the relationship between interior and exterior.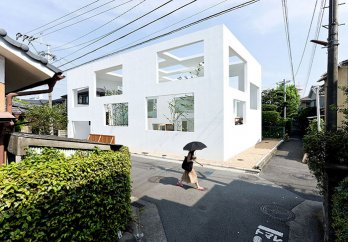 Sou Fujimoto /N House_Iwan Baan
A.F.: Could you describe one of your recent projects that you consider particularly interesting for its solution?Sou Fujimoto:
My architecture projects? One good example is [what] I named Final Wooden House: stacked solid wood and blocks. That material is very traditional wood but the scale is very huge; 75cm timber. And we stacked them to create some kind of artificial cave-like space and you can find your own sitting space, your own sleeping area, putting many things... Such kind of artificial cave-like space is made in Final Wooden House project.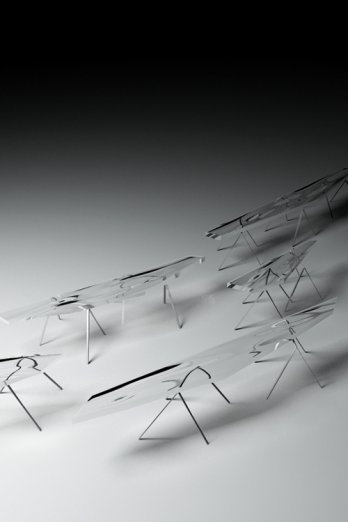 Sou Fujimoto /Lexus L-finesse
A.F.: Do you think a process like Lexus crystallised wind can be applied to architecture?Sou Fujimoto:
Yes, actually this is the first time for me to design this furniture and design this kind of big installation and that is a new experience for me. And I have not such a fixed style of my architecture but I like to have three or four streams of styles in my architecture design and sometimes two different streams of style could combine and create something different flow. And this experience, including materials and this soft wave shape, this is new stream in our architecture design. So that would be the new stream and could have an influence on our existing architecture design, I hope.
Interview made by
www.floornature.com
www.sou-fujimoto.com