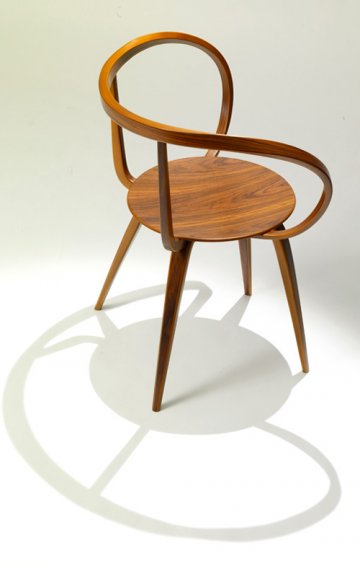 The benefits of ecology
Vitra�
W.S., September 30, 2019
Reflexion of The Week...

The question of a company's ecological accountability is usually discussed in a way that hardly inspires a great deal of interest. It is typically dealt with as a moral commitment to a socially defined standard. Rather than regarding environmental responsibility in production processes as an unavoidable obligation to external agencies, it can be seen as part of the value and usefulness of a consumer good. Rather than viewing the ecological impact of a product as something that primarily increases costs, it can be approached as a design task.
Butterfly Stool by Sori Yanagi, 1954_Vitra
As a consequence of natural disasters and exponentially growing landfills, a nascent awareness of environmental issues arose in industrialised nations during the early 1980s, eventually leading to a social consensus. This was not, however, the initial source of Vitra's engagement with the topic. Again it was the Eameses' way of thinking that guided
Vitra
from the outset. Although the current meanings of "environmentalism" and "ecology" did not exist at the time, Charles and Ray Eames always recognised ethical and social components in design. It was their objective to get "the most of the best to the greatest number of people for the least", and they regarded industrial production methods as the means to achieving this goal. Purely formal considerations, on the other hand, had no autonomous significance for them. They never would have concurred with a definition of design as a mere attribute of an elitist category of consumer products. Their ethical definition of quality included the longevity of the final product, as well as the replaceability of individual parts for that purpose.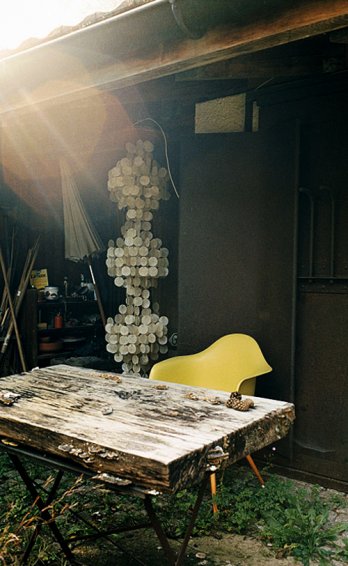 Eames Plastic Armchair DAR by Charles & Ray Eames, 1950_Melanie Hofmann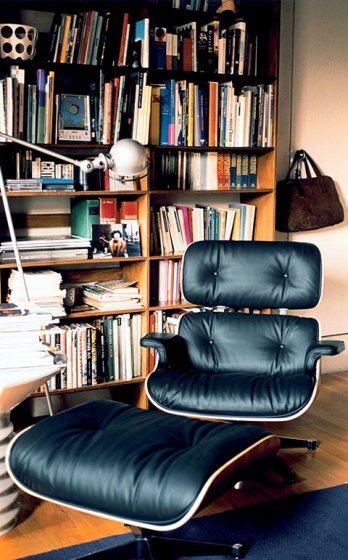 Lounge Chair par Charles & Ray Eames, 1956_Lena Amuat.
This was something entirely new: modular furnishings like the chairs in the Plastic Group, with the ingenious structural solution of exposed connections between the various seat shells and bases. All of
Vitra'
s furniture products from this time period demonstrate the realisation that extraordinary longevity – with regard to both physical durability and aesthetic appearance – is the most effective way to reduce waste. Another example of this is the Eames Lounge Chair, which is now regarded as an archetype of modernism. In a playful promotional film shot by the Eameses after the first serial model was completed, the focus is not on the Lounge Chair's prestigious image or luxurious comfort, but on its assembly. Just one man puts the separate structural components of the entire armchair together in only a few minutes, before dropping into its soft cushions at the end. Almost half a century before the term materials separation was coined, all of the Eameses' designs could be disassembled into their constituent parts.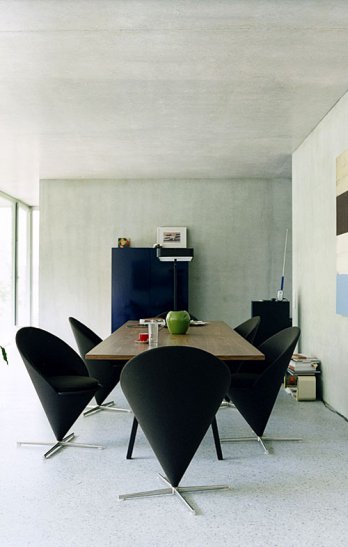 Cone Chair & Cone Stool by Verner Panton, 1958_Isabel Truniger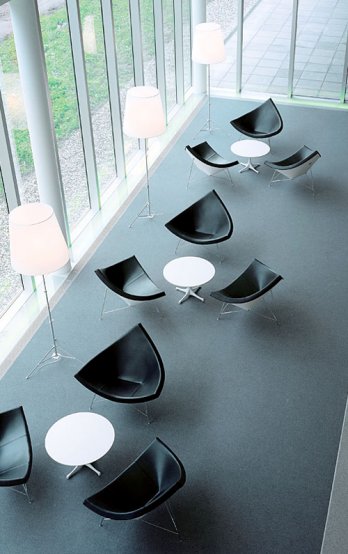 Coconut Chair by George Nelson, 1955_Serge Brison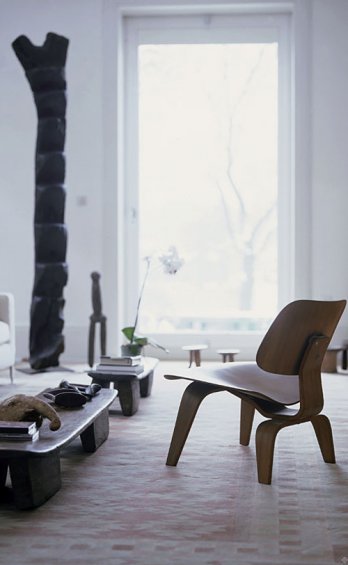 LCW by Charles & Ray Eames, 1945_Miro Zagnoli
Vitra
has always been convinced that part of the value and utility of a piece of furniture is naturally contingent on the assurance that neither its production, nor its use, nor its disposal has a harmful effect on the consumer. The essential task of design is defined as much by ecology as it is by beauty and functionality. However, a complex corporation requires more than just philosophical conviction to guarantee that environmental concerns are rec-ognised and scrutinised in the countless steps of manufacturing and marketing. For this reason, the task group "Vitra and the Environment" was es-tablished in 1986. It was the forerunner of today's comprehensive environmental management section. All of the company's activities are assessed against the criteria of environmental protection. Internal audits and systematic inspections by external consultants provide additional verification of continuing progress in every area.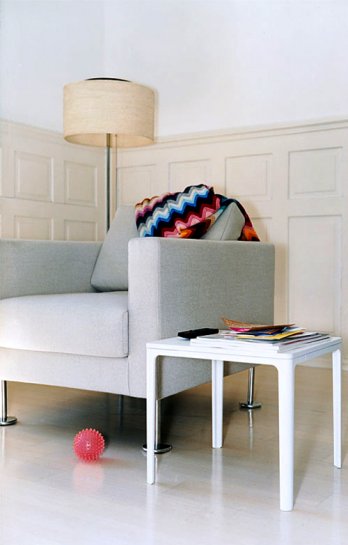 Park Armchair-Park Swivel Armchair by Jasper Morrison, 2004_Isabel Truniger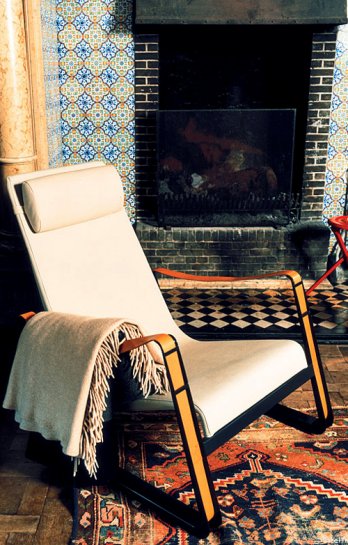 Cité by Jean Prouvé, 1930_Isabel Truniger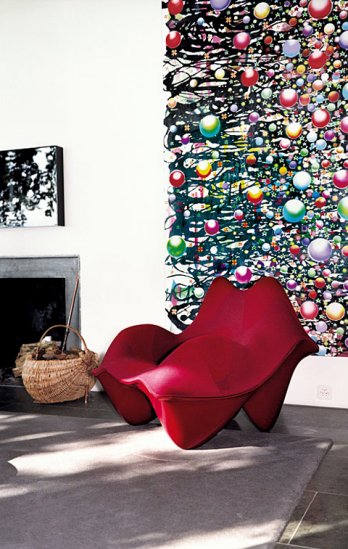 Ravioli Chair & Ottoman by Greg Lynn, 2005_Isabel Truniger
Vitra
is committed to an industrial culture based on prudence and rationality. At the core of this commitment is the avoidance of transient styles that are quickly tossed on the rubbish heap of history's fashions and trends. It is expressed in long-lasting products which are meticulously manufactured from superior materials, and which are not only capable of repair, but also of developing a rich patina as they age. The aim is to create products whose aesthetic life expectancy is unquantifiable.
Vitra
continues to strive toward this ideal.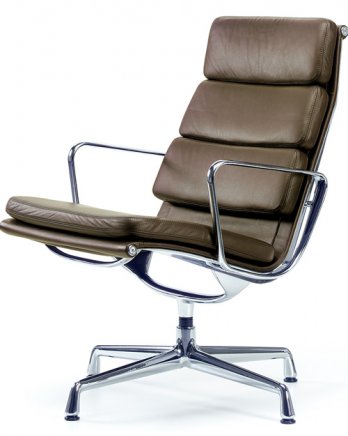 Soft Pad Chair by Charles & Ray Eames, 1969_Vitra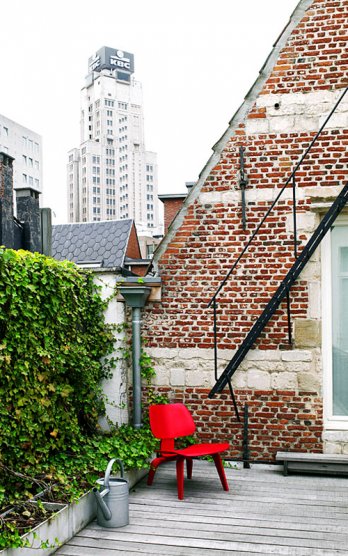 LCW by Charles & Ray Eames, 1945_Jan Bitter
www.vitra.com