Émile Hermès
Craftman of French luxury
P.E.H., October 10, 2017
La maison Hermès breaks its sales record for 2012, despite the current economic crisis.
Who said anything about a financial crisis? Hermès exceeded its forecasts in 2013, and just announced a new total amount record, 2.84 billion Euros.

Whereas Hermès encountered a serious stock issue, leading to a big number of waiting lists all around the world. Patrick Thomas, CEO of Hermès, said that the sales amount could have been bigger if they didn't have this problem. But he is really optimistic and believes firmly that this amount will rise to 3 billion Euros in 2013, which would be an absolute new record. Sales rose up in every sector (leather craft, textile, watch making…) and in every country, except for Japan (-1%).


The biggest increase in sales was for China, which recorded a 36% rise for its Hermès sales. China is definitely the best country for every luxury brand investments, and Hermès plans to build 3 shops in China during 2013. USA (26%) and Europe (16%) recorded pretty good increases as well. In order to settle the stock issue, Hermès plans to increase strongly its production, that's why they are going to implant two fabrics for leather craft in France, invest a lot more for watch making, and increase its textile production by 20%.
In all, it was a very good year 2011 for Hermès, and we can assume that it will be an even better one in 2012. Life is great for the famous Birkin bags creator.


PORTRAIT

Émile-Maurice Hermès was born on 18 December 1871 in Paris where his grandfather, originally from Krefeld (Germany), had founded a harness and saddle manufacture in the Grands Boulevards district in 1837. Émile became interested in the family business at a very young age.At just twelve years old, he purchased an unusual switch containing an umbrella from an antique dealer: A collector was born. His passion for refinement and ingenuity remained with him throughout his life. In 1880, Hermès moved to 24 Faubourg Saint-Honoré. During an apprenticeship, Émile met and became friends with Louis Renault, future automobile designer and manufacturer.An enthusiast of the Belle Époque and its marvellous inventions, he took business trips to Eastern Europe and Latin America, and returned with the idea for the sac à selle, the first Hermès bag.
Twilly en soie de Hermès
Manager of the export division alongside his older brother, Émile Hermès married Julie Hollande, the daughter of an exotic wood importer from the Faubourg Saint-Antoine, in 1900.He soon had four little girls whom he enchanted and enthralled with his wonderful ideas and inventions. From 1902 to 1919, Émile was an associate of Hermès Frères,which built up its internationally renowned saddle division, although the company always kept an eye on advances in the automobile and luggage industries. Back from the war, Émile Hermès took hold of the reins of the company and began to steer it in new directions. From this time forward, his life became one with the company's. A maestro of style and a pilot of daring yet carefully thought-out diversification, he sat on the board of directors for thirty years.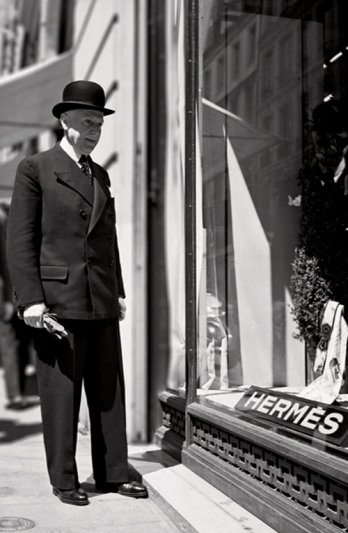 Emile Hermès_Roger Schall
In 1919, he deposited his first invention patent and began looking into new saddle-making techniques. He was the first in France to introduce the zip, which he boldly adapted to leather goods and couture, assuring the success of Hermès by dazzling the fashion world. Named "chevalier de la Légion d'honneur" in 1923, Émile Hermès bought the building at 24 Faubourg Saint-Honoré. Between 1924 and 1926, he launched a construction plan that turned the family manufacture into a beautiful neoclassical house with a light, wellorganised boutique and a large display window exhibiting exclusive new products, of which the saddle-maker was the sole specialist. The upper floors housed workshops dedicated to leather goods, couture, silver work, trunks, travel bags, dog collars and belts. The third floor, between the boutique and the workshops, harboured Émile Hermès'office; the collector gradually created a true "Museum" of equine transport, which he enjoyed showing his workers as much as he did his clients.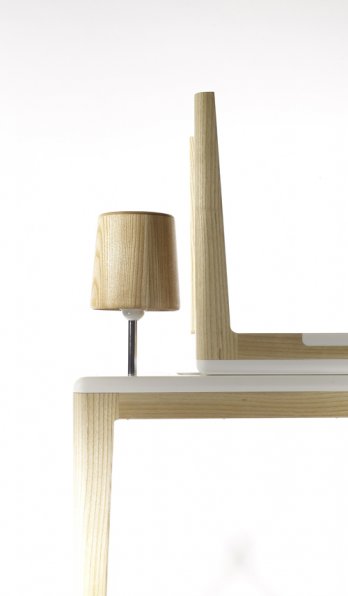 Jarl Fernaeus_Glacier Hallway Group, 2008
An active social life and humanist approach allowed this dynamic director to weave many creative bonds with artists from all walks of life. Embracing the effervescence of Parisian life, he successfully diversified, making for an original product offer. In exploring "saddle-stitched" leather goods, the Hermès name added new travel, sport and automobile accessories to its already established bags and luggage. It also acquired an original standing in couture, alongside the greats, by developing an active, modern femininity. Émile Hermès always demanded perfection, finesse and close attention to detail in choosing materials and in craftsmanship.
Gradually opening multiple personalised branches, Émile made Hermès a "multi-local" brand present in Deauville, Le Touquet, Biarritz, Cannes, Évian,Vittel and New York. In 1949, the Cannes store introduced the now famous Hermès tie. A natural globetrotter, Émile Hermès developed "a deep understanding of everyday needs when travelling" and became the select specialist of an elite hungry for escape and adventure. He seduced this cosmopolitan society, which was deliberately blasé and flinched at the very mention of the commonplace, with his ingenious ideas: the fold-up toiletry case, book trunk, record trunk, fold-up travel sewing kit and Bradka shoecase. His sea trunks became a landmark of the modern elegance that triumphed aboard the large liners of the time.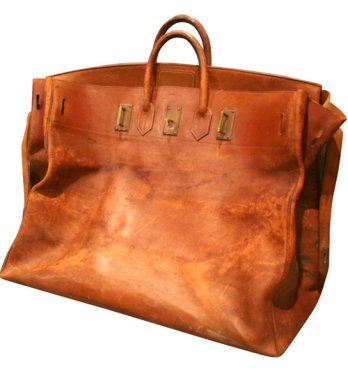 Giant Hermès Birkin Leather Travel Bag, 1940
The yachting craze also inspired in him a series of objects, astounding feats of balance and intelligence: a tray table for cocktails designed not to tip over, a set of bottles and glasses also designed not to tip over, a yacht or beach chair forming a suitcase, pipes and lamps with built-in wind-and-storm protection. Automobile comfort proved to be the pretext for some of his most brilliant creations: trunks, suitcases, a tin trunk equipped with electric lights, thermoses, clocks, a card case and comfortable blankets with zip pockets.All these objects were designed to make the car "a road yacht, a little living room that goes eighty an hour".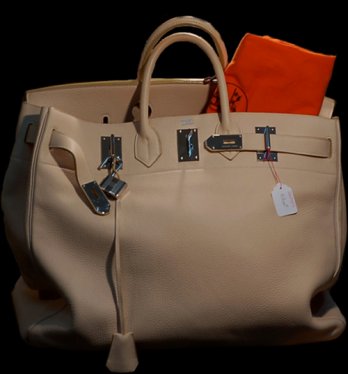 Hermès birkin grand model ivoire
Émile Hermès was the catalyser of each of these amazing inventions, directing production according to a rational, simple, studied style according to the specific activity or sport. For each object, the Hermès workshops were strong in their resolve to meet the equation of comfort and solidity combined with style and imagination. Hence, Hermès'"future classics". Nevertheless,Hermès was not impervious to the Great Depression of the 1930s. The company had to close its New York store in 1931. Be that as it may, these difficult times revealed the drive of the House and its ability to create "tried-and-true" objects. "In periods of financial crisis, an instinctive desire surfaces for genuineness in all things. This desire instils cheap junk with its true value" wrote Paul Iribe, author of Défense du luxe, printed by Draeger Frères in 1932. During these years, Hermès creations bore the mark of a strong identity, with the saddle craftsman returning to his roots and focusing on his background in a spirit combining economy of means and "clear solutions" to the needs of the day. During this time, he came across the work of decorator Jean- Michel Frank, who achieved perfect simplicity in understated luxury.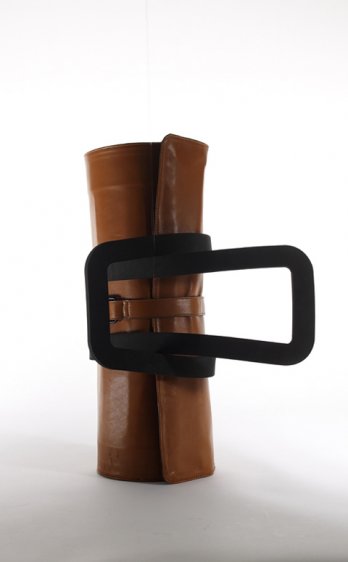 Francesco Librizzi & Vittorio Venezia_Rolling vs Folding, 2008
Visiting his workshops on a regular basis, Émile Hermès started to think about how to use the scraps of leather tossed here and there. In 1930, the leather diary was created; it could be carried in a pocket or in a bag. It was also at this time that Émile Hermès introduced the next generation to the various aspects of the business, putting to work the inventive mind of his son-in-law, Robert Dumas, to whom we owe, among other remarkable creations, the "sac à main pour dame", later known as the Kelly, the Sac à dépêches, for businessmen, and the Chaîne d'ancre bracelet (1938). His endless search for inspiration led to the creation of the printed silk scarf, of which Hermès launched its first design in 1937, thus marking the birth of the Hermès scarf.
Kelly Hermès Croco
This same year, the House celebrated its 100-year anniversary. Émile was sixty-six years old.As an experienced inventor, he drew as much on his passion for the future as he did on his understanding of the past. An established figure in the cultural life of Paris, Émile Hermès was a member of numerous museums.His collection was a benchmark and was featured in several exhibits during the interwar years. In June 1939, a photographer captured Monsieur Hermès with his mischievous yet gentle eyes next to the Faubourg Saint-Honoré display window. His delightfully elegant silhouette, the perfect reflection of his aesthete soul, seems to betray a certain anxiety however. The same anxiety that led Michel Leiris to leave the 1937 Exposition Internationale de Paris exclaiming, "Everything we love is about to disappear."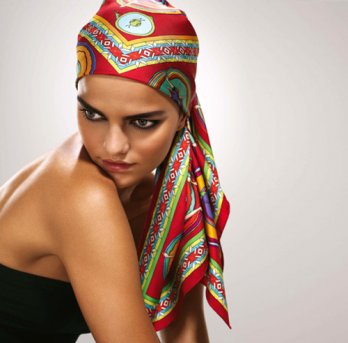 Hermès Ad
When the Second World War broke out,Monsieur and Madame Hermès retired to Cannes and were soon joined by their daughters, grandchildren and, later, their son-in-law, Robert Dumas. This was a time of packages for prisoners, of display windows bearing "nothing for sale" signs, although, at the same time, providing occupied Parisians with messages of hope and humour through their magical tableaux. A similar spirit of humour and playfulness inspired the scarves Le Retour à la terre and À la gloire de la cuisine française. At this time, five Hermès workshops were devoted to couture. Pantskirts and shoulder bags adapted women's clothing to bicycles. The scarcity of most noble materials led Hermès to look for other materials that until then had been overlooked: canvas, wool, raffia, cotton, parchment.Worked carefully, these materials became part of the diversified elegance of Hermès.
Wardrope, 2008 by S.S & V.W
Paris was finally liberated to the exhilaration of a jubilant crowd. Actress Marlene Dietrich, donning a G.I. uniform, marched with George Smith Patton's army, making a stop at Hermès to sign autographs. The colour orange, initially used because of dye shortages during the Occupation, was officially adopted for Hermès boxes. It was the colour of the dawn Émile Hermès supported and encouraged by participating in post-war reconstruction through radiant French elegance. Inspired by a drawing in his collection, Émile added a logo – the horse and carriage – to the Hermès signature.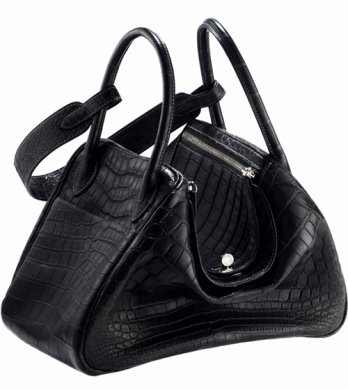 Lindy Hermès_Frédéric VidaL
With his sparkling, youthful eyes, and looking like a young silverhaired man soon to be eighty,Monsieur Hermès attended all the events that lent the City of Lights its dazzling brilliance. With his son-in-law, Jean-René Guerrand, he welcomed the idea of a Hermès tie and, in Grasse, he met the nose who would create a perfume in the image of his House. He purchased and decorated a villa in the hills of Cannes that was large enough for his seventeen grandchildren to come visit during the summer months. In 1950, surrounded by their family, Émile and Julie celebrated their golden anniversary. That year, Émile was promoted "officier de la Légion d'honneur". In late summer 1951, Émile, an avid walker, came back late from a difficult walk. On 11 September, the press and all those who love French elegance were deeply saddened to learn of the death of Monsieur Hermès. "Quicksilver."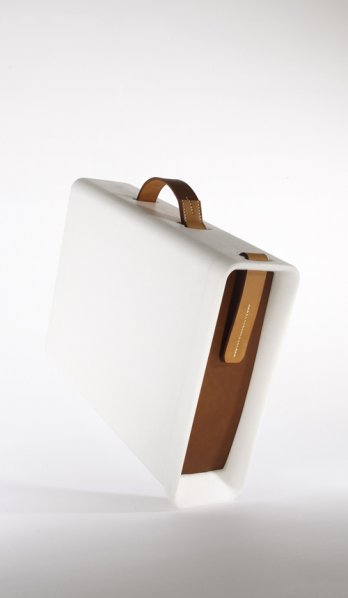 Xavier Figuerola & Alexandre Mussche_Suitcase 1 + 1, 2008
This was the nickname of the passionate visionary who led Hermès on the road to self-confidence and innovation. Beyond a lifetime devoted to inventing beautiful, light objects for the travels of his contemporaries, Émile Hermès remains an inspiration for those who continue to explore new forms of genuine luxury and reach for the inherent beauty of the perfectly pure object whose use is clearly identifiable. In a century fascinated by ephemeral novelties, he defined an enduring modernity founded on beautiful, perfectly worked materials. Candidly opposed to arrogance and immobility, his bold, open spirit remains with the House, which has been in existence for 170 years. He continues to inspire Hermès to be proud, not of what it has done or even of what it does, but rather of what it will do in the future!
www.hermes.com