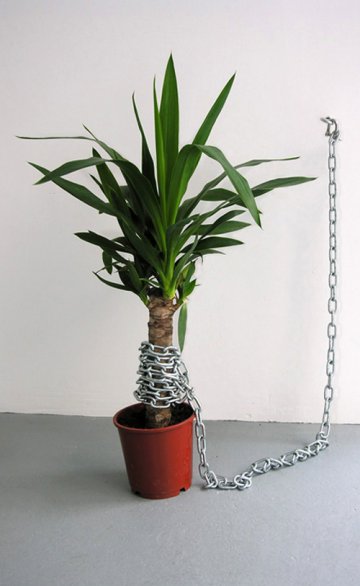 Nature in a Kit
Nature and its double
Chantal Prod'Hom + Magali Moulinier, July 6, 2009
For several years, the evidence has been there to see: nature is coming back in force in society's discussions as much as in the imagination of contemporary creators. What with the call for collective responsibility to safeguard it and the multiplication of urban substitutes, nature seems omnipresent, whereas we have never been so distanced from it. The central subject of very pragmatic challenges, its original inspirational power is effecting a transformation and confronting mankind with the question of its use. Contemporary creation has made itself into an eloquent interpreter of this and is delineating new outlines through sundry media. Even if the sources of inspiration draw on an apparently unsurprising repertoire of forms and themes – plant life, minerals, the planets, clouds, natural phenomena and, more broadly, landscape – designers and artists take pleasure in clouding the issues with literal responses, allusive evocations, never before seen hybridisations and biting visual comments.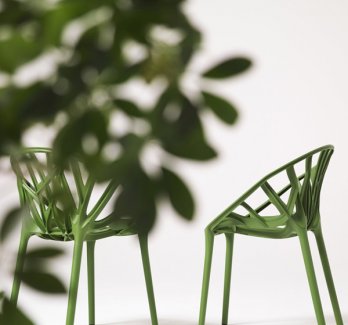 Robby et Francesca Cantarutti, Forest, 2007_Fast Spa_Enrico Colzoni
Nature in a Kit
examines the position and "quality" of nature today and the use we make of it. What part does nostalgia play in this return to nature, a cyclical phenomenon but one that always bears a different content? This appeal to nature seems at first sight to convey a need for the authentic and definite values in the face of the anxieties of the era. But if nature is envisaged as the driving force behind spontaneous growth, what is the real significance of the block of wood serving as a seat in some highly sterilised living-room in a design showroom or the stabilised green plants that decorate airconditioned entrance halls and anonymous offices? Such formal preoccupations turn out to be eminently sociological: designed nature looks like an artificial construction, synthetic nature, as is the case with so many other contemporary components. Halfway between fantasy nature and genuine nature, it seems in any case to have exhausted its powerful symbolism. …The apartment gives itself the airs of an ecosystem, the housing environment is hailed as the new Eden. Will the only answer to anxieties about our remoteness from nature or its loss merely remain a concern for conservation of its traces?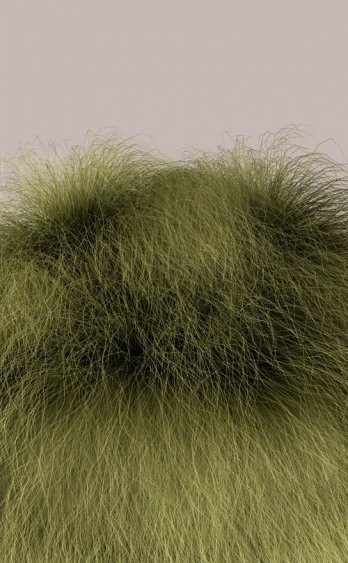 Michel Huelin, Grassbug 1, 2007_Galleria Biasutti & Biasutti_Piero Gilardi
But even this fragmented nature is no less joyfully combinatory, and it is actually in a kit that it presents itself to us. The mudac's exhibition takes the liberty of dealing out the cards again and re-composing, in its fashion, a landscape of our time. It has appropriated the illuminating comment made by Martina Corgnati regarding the work of Piero Gilardi, creator of the famous "Nature Carpets" that appeared in the 1960s, low-reliefs of expanded polyurethane reproducing bits of nature, an historical example of which is presented in
NATURE IN A KIT
: "La nature (…) est devenue apparence, mais l'apparence ne coïncide pas avec la substance: la nature qui nous reste, que nous avons à disposition, est une nature prêt-à-porter, et l'on peut en faire l'usage qui nous convient le mieux: aménagement, ornement, jouet, oeuvre…".
Tokujin Yoshioka, Bouquet, 2008_Moroso_Alessandro Paderni-Studio Eye
The exhibition takes the form of a dialogue between the natural and the artificial and occupies the entire 400 square metres of the museum set aside for temporary exhibitions. This deliberately binary approach, given the complexity of such a subject, infuses the two major sections of the exhibition:
Nature and its double
takes up the first-floor premises while
Green floor
occupies the ground-floor galleries. The apparent confrontation allows for a continuous coming and going between imitation and original, pretence and authenticity, still-life and organic life; the demarcation line remains deliberately porous, reminding the visitor of possible interactions as well as doubts. Thus other groupings are incorporated in order to cloud the issues of this
NATURE IN A KIT
with hybrid contents and fluid meanings.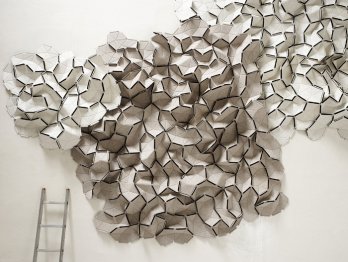 Piero Gilardi, Torrente Secco, 1965_Galleria Biasutti & Biasutti, Torino
Nature and its double
offers a very literal entry into the material through the section
Matter / Materials
, which groups together creations by artists and designers employing the palette of natural elements – primarily plant and wood – in order to extract from them prime forms and functions. Here, contemporary creation is expressed fundamentally in the vast register of natural matter, wood–cane–straw–bamboo, revealing a "primitive", archaic nature via materials in their raw state which deliver forms whose concern is not with style. The chopped-off tree trunk again becomes the archetypal seat, and the plant kingdom sometimes has the air of the ready-made.
Tokujin Yoshioka, Bouquet, 2008_Moroso_Alessandro Paderni-Studio Eye
The section
Imitation / Evocation
is a response to this. A recurrent device in the history of style and ornament, nature today is no longer interpreted in terms of an absolute fascination with original, pure forms, as was the case with Art Nouveau. Present-day design offers an unfettered interpretation via creations based on plant identity but in which artifice is made plain by the use of obviously synthetic materials.
By way of extension, the section entitled
The Forest
offers a sylvan composition made up of uprights, pegs and other racks and stands, varied ad infinitum in all forms of trees and branches against a wallpaper backdrop that is just as illusionistic.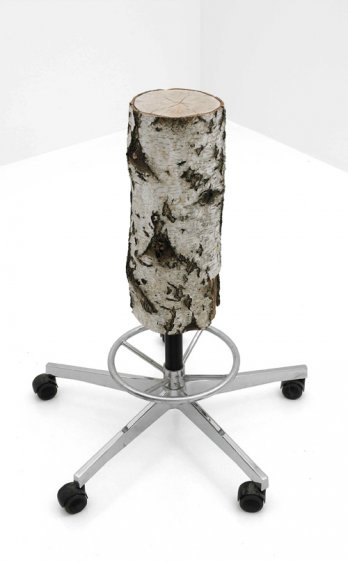 Peter Marigold, Flauna Plain, 2007_Fat Galerie
Further on, like a dialogue between heaven and earth, ethereal and solid, clouds, rocks and pebbles announce themselves as a major source of inspiration for numerous artists and designers in an endless variety of lighting, pouffes and cushions.
Gudrun Lilja - Studiobility, Rocking Beauty, 2006, fauteuil à bascule_Toolsgalerie_Gudrun Lilja-Studiobility
Green floor
, the second leg of the exhibition circuit, presents, in a first group, Nature re-composed. Here the creators have produced visual subterfuges, segmented landscapes in a sense of irony or taking a critical approach: nature seen through the prism of a world that is gradually losing its markers and being drained of its essence. Far from pure imitation, the works presented here evoke sociological and artistic concerns in terms that differ greatly from those of their Land Art predecessors, for whom earth was a work of art and nature the absolute creative power.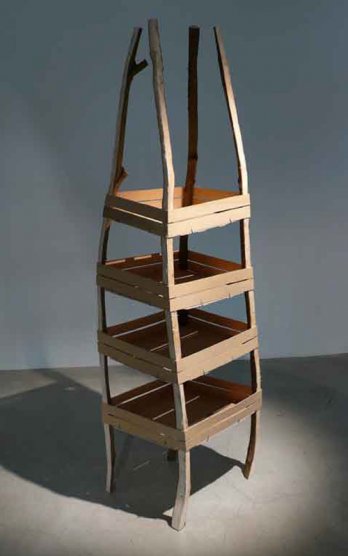 Peter Marigold, Flauna Plain, 2007_Fat Galerie
The second grouping,
Nature constrained
, focuses for its part on the "small garden" – nature in a modest, urban form where creative endeavours are carried on amid cuttings, stakes, vases and inventive containers that take the miniaturisation and conservation of nature into account. Excessive urbanisation has created new scenarios which distance mankind from nature and its forces. The absence and loss of "nature" impel the artist or photographer to envisage an artificial, fetishistic re-creation in which the emotional, "magical" dimension presents an area favourable for irony, for comment. In this modest, restrained kind of nature, fetishes and relics play on the compromise between nature/town.
Meriç Kara, Blockcrack, 2005_Kartal Arat
Throughout the exhibition, enigmatic works, "bugs", like parasites, are grafted like so many nods at nature that slips and slides and is transformed spontaneously. Works with ambiguous contours, unexpected geometry, vegetal creatures with anthropomorphic silhouettes end up sowing doubt between what is natural and what is artificial, between true and fake. Nature as the object of artistic manipulations is seen here like so many perceptive experiences, multiple metaphors of our relationship towards the authentic.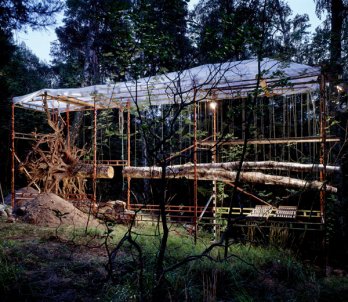 Ilkka Halso, Restoration – Untitled no 7, 2000
Invited creators
Eero Aarnio / Thomas Adank / Saâdane Afif / &made / Ron Arad / Article Design / Az&mut / Sannah Belzer / John Angelo Benson / Susi et Ueli Berger / Sebastian Bergne / Fabio Biancaniello pour l'ECAL / Mattia Bonetti / Tord Boontje / Ronan & Erwan Bouroullec / Andrea Branzi / Nicolette Brunklaus / Robby et Francesca Cantarutti / Cyprien Chabert / Colors/Fabrica / 5.5 Designers / Orianne Dambrune et Marion Excoffon / Felix De Pass / Mark Dion / Patrick Dougherty / Terry Dwan / Martino d'Esposito / Fabrica / Shao Fao / Yvonne Fehling et Jennie Peiz / Bean Finneran / Fredrikson-Stallard / FRONT design / Fulguro / Naoto Fukasawa / Hubert Le Gall / Frank Gehry / Moreno Gentili / Piero Gilardi / Natanel Gluska / Grandeur Nature / Konstantin Grcic / Jan Habraken & Alissia Melka-Teichroew / Ilkka Halso / Robert f. Hammerstiel / Estelle Hanania / Ineke Hans / Elina Helenius / Michel Huelin / Philippe Hurel / Emanuelle Jaques / Ulrika Jarl / Ronèl Jordaan / Rachna Joshi Nair (SIMBL').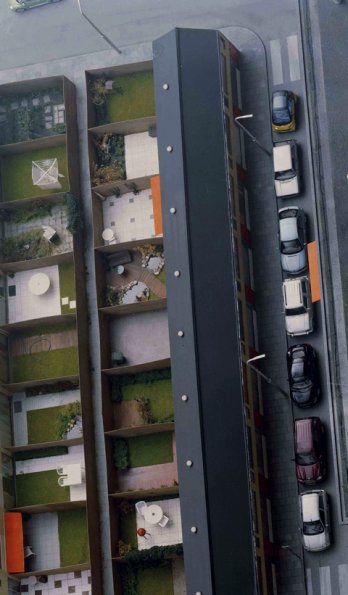 Edwin Zwakman, Backyards – Street II, 2004
Chris Kabel pour Droog Design / Sanna Kannisto / Meric Kara / Tetê Knecht / Vincent Kohler / Cathrine Kullberg / Shiro Kuramata / Olivier Lasserre / Arik Levy / Gudrun Lilja / Xavier Lust / Jonas Marguet / Peter Marigold / Stéphanie Marin / Javier Mariscal / Tony Matelli / Julian Mayor / Mario Mazzer / Michael Meredith / Mario Minale & Kuniko Maeda / Molodesign / Jasper Morrison / Olaf Nicolai / Josh Owen / Russell Pinch / Vik Prjónsdóttir / Qubo Gas / Marc Quinn / Peter Rösel / Denis Santachiara / Ene-Liis Semper / Borek Sipek / Wieki Somers / Robert Stadler / Philippe Starck / Alice Stepanek & Steven Maslin / Patricia Urquiola / Bas Van der Veer / Verges & Lagae / Marcel Wanders / Laurence Weiner / Leonard Wilkop / Robert Wilson / WOKmedia / Emmanuel Wolfs et Jung Bo-Young / Woodloops – Just nature ! / YKSI Design – Leonne Cuppen / Tokujin Yoshioka / Tristan Zimmermann / Edwin Zwakman/ Zoom Design.
www.mudac.ch