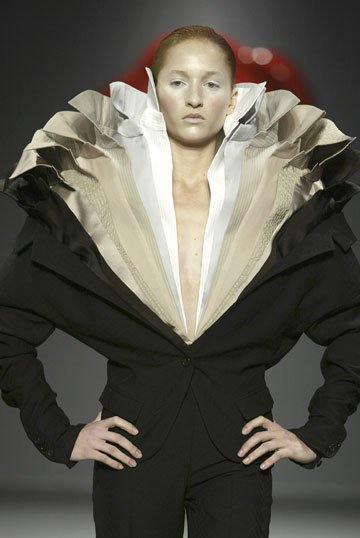 Skin + Bones: Parallel Practices in Fashion and Architecture
First major museum exhibition devoted to fashion and architecture
MOCA, November 21, 2006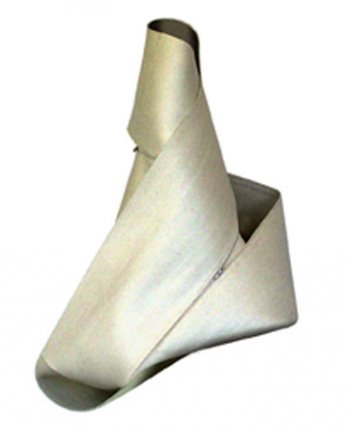 J Meejin Yoon
The first major museum exhibition devoted to the extensive and telling similarities between architecture and fashion design will be
The Museum of Contemporary Art
's major winter show this year. Organized by MOCA and curated by the museum's Curator of Architecture and Design Brooke Hodge,
Skin + Bones: Parallel Practices in Fashion and Architecture
will be on view in the museum's Arata Isozaki-designed building at 250 South Grand Avenue in downtown Los Angeles,
November 19, 2006-March 5, 2007
.
Skin + Bones
shines a broad but focused light on the parallels between the "skin" or exterior surface and the "bones" or structural framework of both clothing and buildings of the past 25 years. The work of 46 of today's most brilliant and creative fashion designers and architects will be represented by a wide range of more than 300 objects: from stunning one of a kind haute couture gowns to intricate architectural models and special full-scale installations. Many of the works have never before been exhibited in the United States.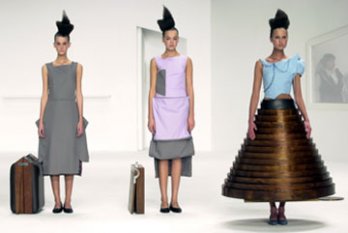 Hussein Chalayan
The exhibition will occupy the entire museum in an installation by New York-based architects Calvin Tsao and Zack McKown designed to reinforce the many connections shared by fashion and architecture. Also, Ralph Pucci International a leader in the high-end mannequin and furniture design industry in New York and Los Angeles is providing 60 mannequins for the exhibition. Simply called MANIKIN, this line is part of Pucci's latest series clean, simple, modern, faceless, and presented in a stone foundry finish, in keeping with the minimal spirit of today's designs.
Hussein Chalayan 01
The 80s
Skin + Bones
takes as its point of departure design from the beginning of the 1980s, a period marked by significant events and advances that contributed to formal and cultural shifts in both fashion and architecture. Japanese fashion designers Rei Kawakubo of Comme des Garçons and Yohji Yamamoto first presented their work during the Paris ready-to-wear collections in April 1981. The oversized, often asymmetrical black clothing they presented featured intentional holes, tatters, and unfinished edges that stood in stark contrast to the elegantly decorative, crisply tailored, and form-fitting looks shown by most of the designers that year, and as a result, challenged accepted ideas of fashion, femininity, and beauty.
Hussein Chalayan 02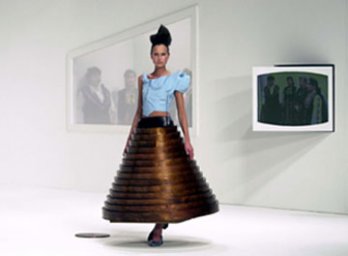 Hussein Chalayan 03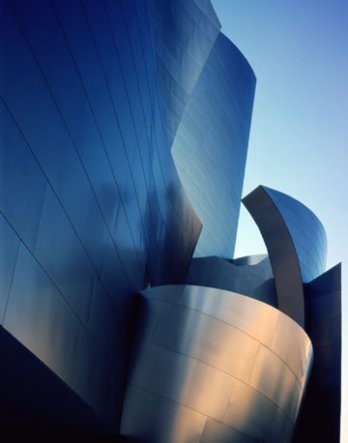 Disney Concert Hall
The following year, architect Bernard Tschumi won the international competition to design Parc de la Villette in Paris. His project, and the resulting collaboration between architect Peter Eisenman and philosopher Jacques Derrida, served to introduce ideas of deconstruction to a much larger audience, and like the work of the Japanese designers, heralded bold new directions that changed the public's perception of both buildings and clothes.
Future Systems_Selfridges Bridge
Another critical event reverberating through fashion and architecture was the 1982 exhibition curated by Susan Sidlauskas at the Massachusetts Institute of Technology called Intimate Architecture: Contemporary Clothing Design which, for the first time, examined formal aspects of fashion from an architectural point of view.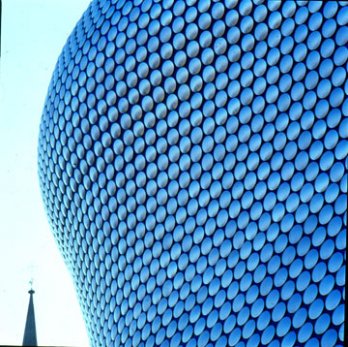 Future Systems_Selfridges Bridge_detail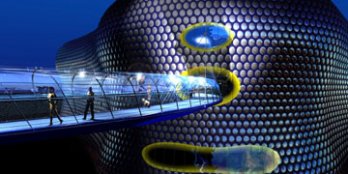 Future Systems_Selfridges Bridge 01
Future Systems_Selfridges Bridge 02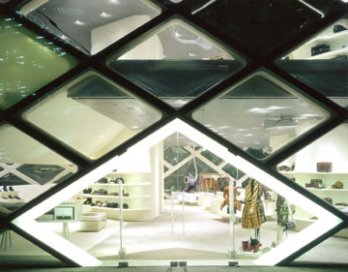 Prada_détail
While a number of recent exhibitions have explored the relationship between art and fashion, less attention has been paid to the relationship between architecture and fashion, despite the increasing overlap in strategies and techniques shared by the two disciplines. Since the 1980s, a growing number of avant-garde fashion designers have approached garments as architectonic constructions, while architecture has boldly embraced new forms and materials. These developments are due in part to numerous technological advancements that have revolutionized both the design and construction of buildings and made techniques like pleating, seaming, folding, and draping part of the architectural vocabulary. Garments of increasing conceptual sophistication and structural complexity have been seen on the runways and in the streets, as buildings of unparalleled fluidity and innovation have come to grace major urban centers around the world.
Prada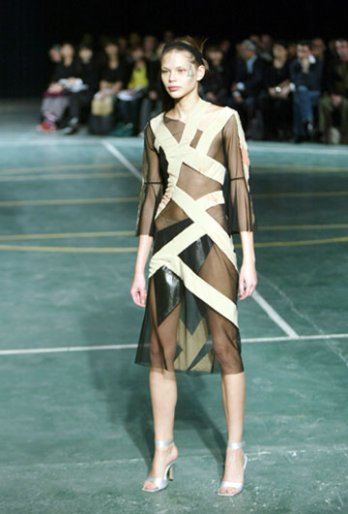 Inside Out
Foreign Office Architects_Yokohama
Taking full advantage of its location in a city renowned for its innovative architecture, MOCA has established a long and distinguished history of engagement with architecture through such exhibitions as Blueprints for Modern Living: The History and Legacy of the Case Study Houses (1989), At the End of the Century: One Hundred Years of Architecture (2000), The Architecture of R.M. Schindler (2001), What's Shakin': New Architecture in Los Angeles (2001), Frank Gehry: Work in Progress (2003), and Jean Prouvé: Three Nomadic Structures (2005). In addition, MOCA has presented exhibitions featuring some of the most important designers of our time Ronan and Erwan Bouroullec (industrial design), J Mays (car design), and Roy McMakin (furniture design). Skin + Bones expands MOCA's purview to the most intimate of designed objects clothing and circles back out to the most public built structures.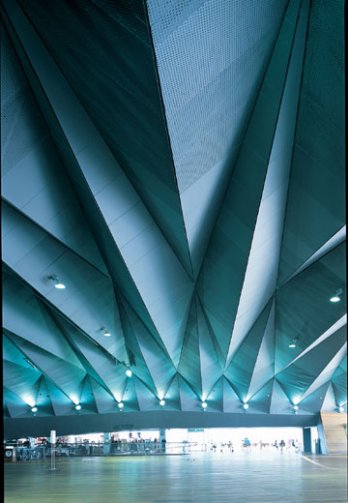 Foreign Office Architects_Yokohama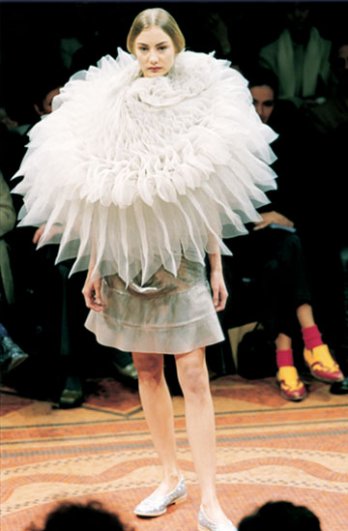 Junya Watanabe_CDG
Hussein Chalayan
Skin + Bones
will feature the work of many of the greatest talents in fashion design today as well the work of a number of promising young designers: Azzedine Alaïa, Hussein Chalayan, Comme des Garçons, Alber Elbaz for Lanvin, Tess Giberson, Yoshiki Hishimuna, Elena Manferdini, Martin Margiela, Alexander McQueen, Miyake Issey (formerly Issey Miyake), Narciso Rodriguez, Ralph Rucci, Nanni Strada, Yeohlee Teng, Isabel Toledo, Olivier Theyskens for Rochas, Dries Van Noten, Viktor & Rolf, Junya Watanabe, Vivienne Westwood, and Yohji Yamamoto.
Shigeru Ban
Likewise, the architects include innovative practitioners both established and emerging who have had, or promise to have, an indelible impact on our built environment: Shigeru Ban, Preston Scott Cohen, Neil Denari/NMDA, Diller Scofidio + Renfro, Winka Dubbeldam/Archi-Tectonics, Miralles Tagliabue/EMBT, Peter Eisenman, Foreign Office Architects, Future Systems, Gehry Partners, Zaha Hadid, Herzog + de Meuron, Toyo Ito, Jakob + MacFarlane, Greg Lynn FORM, Morphosis, Neutelings Riedijk, Jean Nouvel, Office dA, Rem Koolhaas/OMA, Kazuyo Sejima+Ryue Nishizawa/SANAA, Testa & Weiser, Bernard Tschumi, Wilkinson Eyre, and J. Meejin Yoon.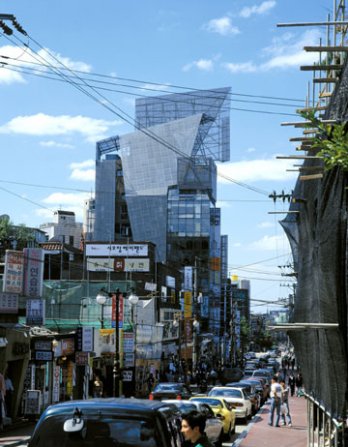 Morphosis_Sun Tower
The exhibition and accompanying publication have been more than six years in the making, and Curator Brooke Hodge describes the origins thus: "During the course of my research [on another exhibition, devoted to the work of the avant-garde Japanese fashion house Comme des Garçons, headed by Rei Kawakubo], I was fascinated not only by visual similarities between clothing and buildings, but also by how the garments could be more aptly described using architectural terminology. I was also impressed by Kawakubo's desire to create a total environment for her work one that embraced not only the clothes but also the design of retail spaces, graphics, and furniture, much in the same way members of the Wiener Werkstatte or the Bauhaus strove to create a gesamtkunstwerk (synthesis of the arts). That fashion and architecture have a great deal in common may be surprising given the obvious differences between the two. Fashion can often be ephemeral and superficial, and uses soft, fluid materials; whereas architecture is considered monumental and permanent, and uses strong, rigid materials. Regardless of differences in size, scale, and materials, the point of origin for both fashion design and architecture is the human body both practices protect and shelter us, while providing a means to express our identities whether personal, political, religious, or cultural."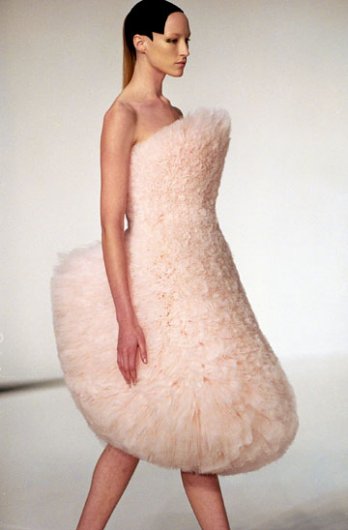 Hussein Chalayan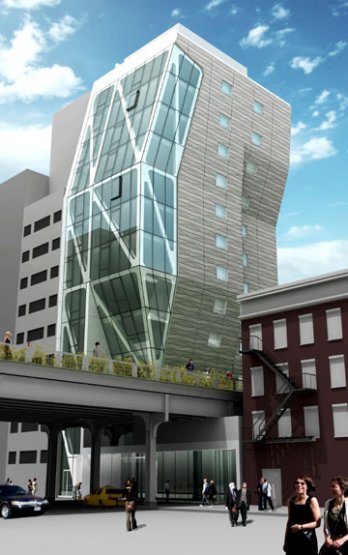 NMDA_HL23
Through March 5, 2007