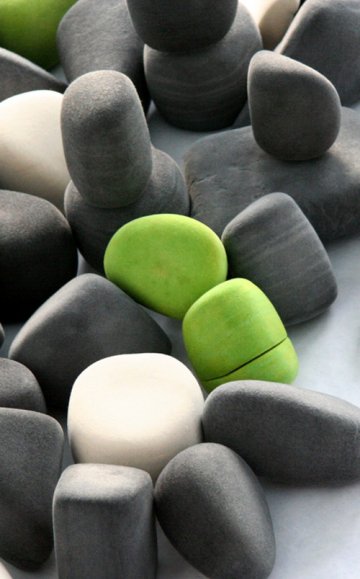 Fashioning Felt
Raw Material
Laurie Olivieri + Jennifer Northrop, May 25, 2009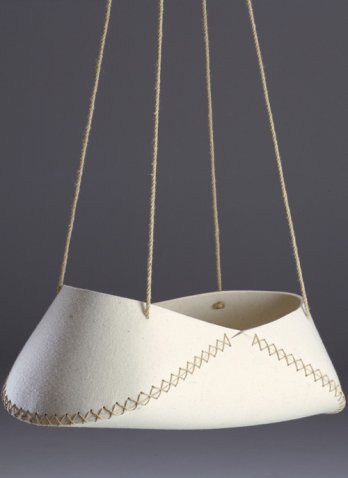 Fashioning Felt/Swing Low cradle. Designed by Søren Ulrick Petersen. Produced by SUP Design. Denmark, 1997. Wool felt, hemp rope_Erik Brahl
The Smithsonian's Cooper-Hewitt, National Design Museum presents
"Fashioning Felt,"
a comprehensive overview of the varied uses of felt in contemporary design,

"Felt has played an important role in nomadic cultures for millennia and this exhibition will explore its origins and bring the material fully up to the present,"
said Director Paul Warwick Thompson. "By examining both the conventional and nontraditional uses of felt over time, the exhibition will spotlight its unique characteristics and provide an extensive look at this ancient material with modern appeal." Made from a renewable resource, the manufacturing of felt is low-impact and virtually waste-free; it is made simply by matting together wool fibers with humidity and friction. The methods of matting felt vary widely, from handmade versions created by violently slamming a fleece roll against the ground to industrial felt produced by mechanically rubbing together wool fibers, but all involve extreme agitation and pressure in order to compact and shrink the felt.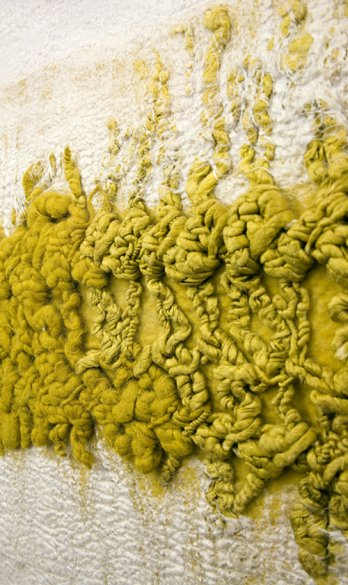 Fashioning Felt/Central Library, Amsterdam, the Netherlands, 2007. Architect_ Jo-Coenen & Co. Architecten. Felt walls designed and made by Claudy Jongstra. Wool, silk_Peter Cuypers
Unlike other fabrics made from wool, which are built up stitch by stitch and row by row through practices such as knitting and weaving, felt has no internal structure. The manufacturing process is readily customizable, and the finished product has a versatility rarely found in other materials—it can be made flexible and translucent or very dense and hard; it can be cut without fraying and molded into threedimensional forms. Felt also provides protection against extremes of temperature and is naturally water repellant, windproof and fire retardant.
Fashioning Felt/Necklace. Designed and made by Brigit Daamen. Haarlem, the Netherlands, 2003. Merino wool, coral_Brigit Daamen
Known since at least the Neolithic period (9000 B.C.), felt is believed to be the first man-made cloth. It was the single most significant material for the nomadic tribes of Central Asia and was used to make everything from clothing to the flexible, collapsible dwellings known as yurts. To illustrate the diverse uses of the material, as well as the continuity of the felt-making technique throughout history, the exhibition will feature animal trappings, carpets and shepherds' cloaks.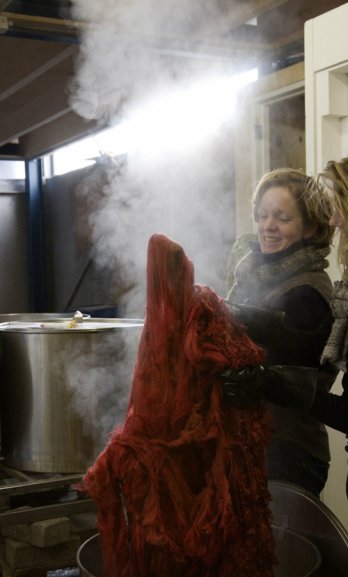 Fashioning Felt/Claudy Jongstra dyeing wool, Spannum, the Netherlands, 2007_Peter Cuypers
As a raw material, felt offers endless possibilities for designers today. The past 15 years have been a period of intensive experimentation and innovation in the craft, and the use of felt has expanded outside of traditional areas to include everything from fashion accessories and costume design to architecture, home furnishings and product design.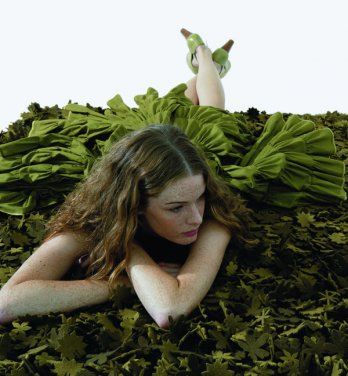 Fashioning Felt/Little Field of Flowers carpet. Designed by Studio Tørd Boontje. Manufactured by Nanimarquina. Spain, 2006. Wool felt_Albert Font
Fashion designers such as Yeohlee Teng and Christine Birkel have embraced felt as a material because it can be manipulated into three-dimensional forms, while still maintaining a soft, textile-like surface. On view in the exhibition will be seamless dresses from artist Andrea Zittel's "A-Z Personal Uniform Series," which are formed directly from fiber in three-dimensions, with all color, shape and ornament being executed in the felt-making process; as well as works by Birkel, who creates forms organically by felting through sheer, lightweight fabrics and controlling shrinkage to create necklines, armholes and waists in a process known as nuno felting, rather than constructing garments using traditional dressmaker techniques such as darts, pleats and gathering.
Fashioning Felt/Dress and jacket. Designed by Christine Birkle. Manufactured by Hut Up. Germany, winter 2007–08. Wool, cotton
In furniture design, textiles are typically relegated to use solely as upholstery, but a dense felt can be firm enough to provide support and structure, while maintaining soft surface qualities. Highlights of the works on view in this area include Søren Ulrick Petersen's "Swing Low" cradle, whose cocoon-like shape muffles noise and keeps out drafts; Louise Campbell's origami-like "Bless You" chair; and Pesce's "Feltri" chair, wherein the back and arms of the chair take shape entirely from the thick, sculptural quality of the felt.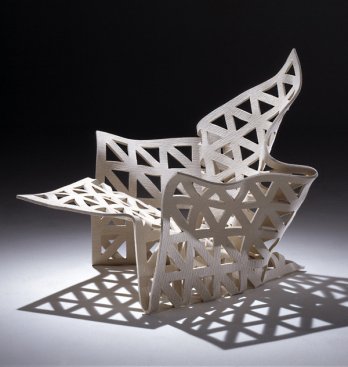 Fashioning Felt/less You chair. Designed and made by Louise Campbell. Denmark, 1999. 10mm technical felt and 750 sheets of gelatin_Erik Brahl
Industrial felt has emerged as a popular construction material in recent years due to its performative qualities of thermal protection, vibration absorption and sound damping, which make it ideal for use as acoustic tiles, wall and floor coverings. The exhibition will spotlight a number of innovative works in this area, including Tord Boontje's "Little Field of Flowers" carpet, in which six different leaf shapes are die-cut from felt and loomed into a woven carpet, and LAMA Concept's "Cell LED" carpet, which features LEDs inserted behind the felt nodes in the carpet to provide a long-lasting, low-energy and visually pleasing light source.
The exhibition also address the issue of sustainability, featuring felts made from partially or fully recycled materials. Felt makes a very short trajectory from raw fiber to finished product, creating fewer opportunities for material waste, and with the burgeoning interest in green design, this most primitive textile is emerging as an exciting "new" material. Among the works on view that are created from recycled materials are Odegard's "Striped Felt" carpet, which is created by embroidering together the waste from various solid-color, cut-edge felt carpets, and Molo's "Felt Rocks," a by-product of a process for hardening high-density industrial felts.
www.cooperhewitt.org