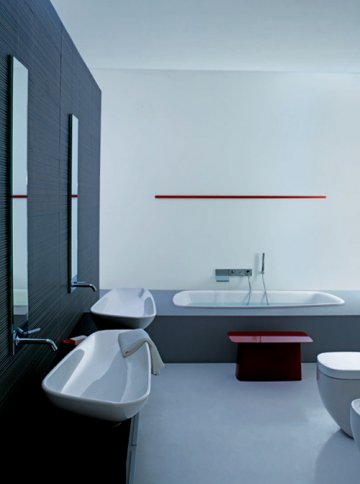 Palomba Serafini Associati
Creative requirements and regulatory
G.T., October 24, 2011
Portrait_ExpressArchitects and designers Ludovica and Roberto Palomba founded Palomba Serafini Associati in 1994. They stand out for their ability to offer a contemporary vision of society and respond to user's needs with a profound knowledge of the historical and cultural roots of design, obtaining results that melt the past with the future.
Palomba Serafini Associati create architectural, industrial design and exhibition design projects displaying a multicultural attitude to innovation and a complex, complete vision of the world of design. Between 1997 and 2004 they oversaw the artistic direction of the company Flaminia, designing bathroom systems and selected bathroom fixtures for which they won prestigious awards. Their work has helped redefine bathroom design, interpreting bathroom fixtures, faucets and accessories and updating the concept of private space. They have revitalised lines, forms and functions to create concepts that become true models for reference.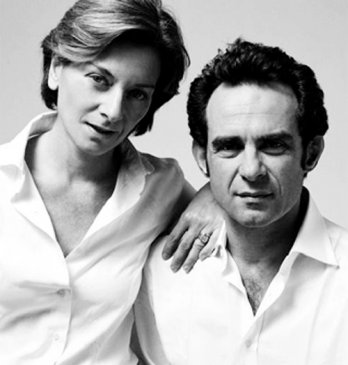 Ludovica + Roberto Palomba
Ludovica+Roberto Palomba are currently in charge of art direction for Elmar, Kos, Swan and Zucchetti and have in the past been artistic directors for Bosa, Flaminia, Iris and Schiffini. They oversee design management projects for Tubes and Zucchetti, created a new brand image for Technogym, and coordinated communications for Kos and for the Palomba Collection by Laufen Bathrooms (international), and continue to oversee interior design and architecture projects all over the world.
Ludovica+Roberto Palomba have always combined their design work with a strong propensity for cultural activities. Their projects have earned them numerous international prizes. Roberto Palomba has taught in Milan Polytechnic's Industrial Design degree programme since 2003.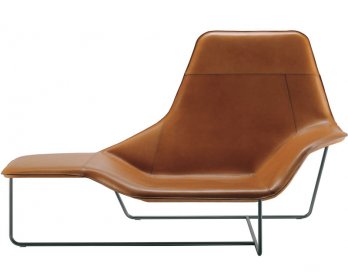 Roberto Palomba /Lama chair_Zanotta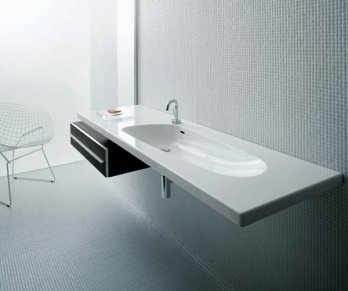 Roberto Palomba /bath
Roberto Palomba
Palomba Serafini Associati
works - the relationship between architectural design, industrial design and exhibition design - in these fields, with a multicultural approach toward innovation and a complex, complete vision.
Conversation with Roberto Palomba…G.T.: What is the difference between designing a product, an interior, a building or a cladding product/system? The differences in scale, in routes, in how space is used... our way of experiencing in interiors has also changed...

Roberto Palomba:

Yes, something has happened. Whether you're designing a system or designing a building, it's all part of the designer's profession. And so you have to respond to creative requirements and sometimes to regulatory requirements, as well as to the high expectations of the people who will be living in the spaces. To me, designing a system upstream means attempting to understand how individual components can live together in a project that has a reason for a bond. It may be a graphic process, or it may be a series of individual elements that live in connection with other elements that have a strong identity. In a kitchen, for example, there may be large hoods linking together little monolithic elements that perform minor functions, or it may be graphically characterised by a series of cupboards and drawers forming two-dimensional grids.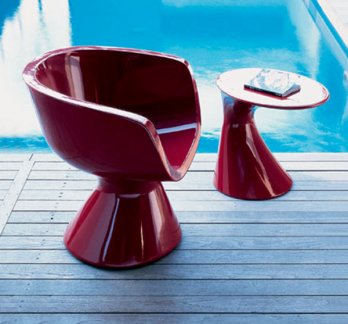 Roberto Palomba /Dora Laque Rouge-Zanotta
G.T.: Do you think people expect to see a little architecture in interiors, in volumes? Cars now use architecture as the ideal backdrop for every new model. A lot of architecture is now fashion, whether it's the archistars' architecture or historical architecture. Is this part of what we expect from design?


Roberto Palomba:

First of all, we need to understand what kind of architecture we're talking about. I don't understand this schizophrenia between interiors and exteriors. Why is there a difference? In theory, an architect ought to be able to deal with the entire architectural organism. But there is often this total schizophrenia between organisms created by archistars on an urban or territorial scale, with outstanding manufactures, and then when you go and look at the interiors there's a total vertical drop in quality.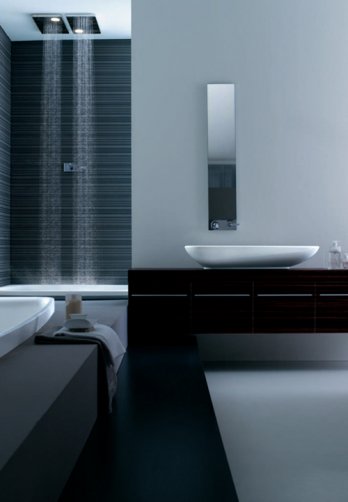 Roberto Palomba /Collection
G.T.: So they are still two separate tracks...

Roberto Palomba:

There are often two different cultures that have no meeting point. A bit like when I was living in Rome, when I went to the apartments in the Parioli district which were built after the war and on the inside, were furnished and decorated in 18th century style. And there are still traces of this schizophrenia... I hope that design will in the future be more coherent. Of course, it's easy with systems, and in any case the architectural space is invaded by the system. Individual objects somehow live on nomadism, and somehow fail to communicate with what is around them.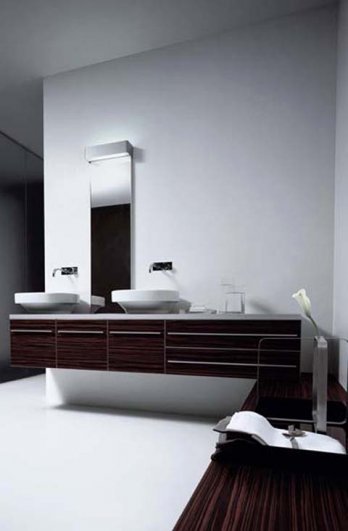 Roberto Palomba /The Laufen Palomba collection
G.T.: A question about how your work has changed, in terms of artistic direction. A process of maturation...

Roberto Palomba
:
Work changes. People who do this job in our country have the good fortune to change a creative process into a creative service. It's nice because it is not expressed solely in designing a product, but also in communications, in putting a product in context, in telling its story. I must say we are also concerned with distribution, and I believe this is one of the most neglected areas of design.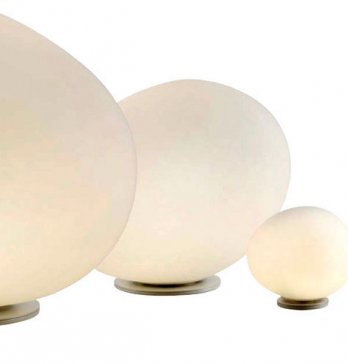 Roberto Palomba /Foscarini Gregg Table Lamp
G.T.: Distribution in terms of how the product reaches the end user, or the architect as medium between the company and the user.

Roberto Palomba:

Of course. Making lots of catalogues, concerning ourselves with graphics and communications, we have once again found that word, schizophrenia, between what we do and how it reaches the end user. We come to the shops with an imprinting which is, in the best of cases, that of the company, but is often absolutely unsuitable for the local sales context. That is, a company of Nordic stamp, for instance, comes to the south and it just doesn't have the right appeal. Now as I believe that design must have values of general appeal, as demonstrated by hybrid designs using furniture from the '50s, which are still relevant, we started working on distribution, seeking to understand in what context to take the value of objects, of design... putting it in context. So that the item has some hope of getting farther than the week of presentation after the Salon.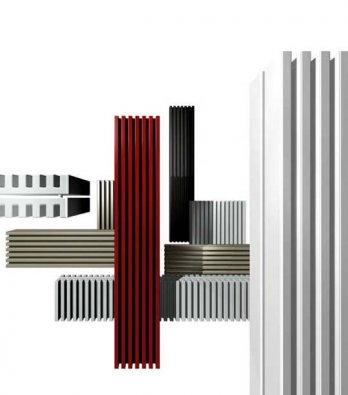 Roberto Palomba /Tubes Radiatori
G.T.: A question about design of surfaces and materials. We have seen design change a lot in both interiors and exteriors. Ceramics, wood treated in every possible way...


Roberto Palomba:
I believe this is really a good time to explore. It's interesting to bring architectural materiality back inside... creating a single relationship between outside and inside. I'm doing a lot of research in this area at the moment and it's lots of fun. I've been to Mexico to see Barragan's work... not just fuchsia and magenta, but Barragan's whites, with their light and shadow. What happens is that in those whites there are hues that become grey and turtledove... it's a very interesting area to study close up...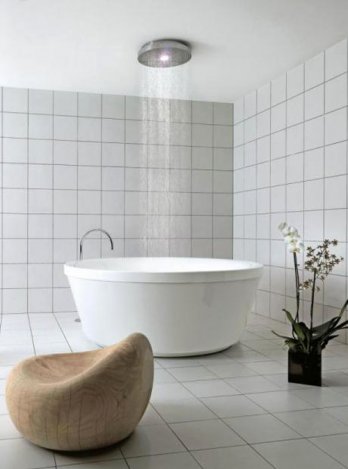 Roberto Palomba /Geo
G.T.: The way people used to do, you mean? When companies used to pay for their designers to travel in search of new ideas. Like Sottsass, De Lucchi and others...

Roberto Palomba:

Well, I still sometimes manage to convince people to do this. Modestly speaking, I can boast of some successes that allow me to say: "trust me". We hear a lot of talk about the recession and all that these days... but in the end when we talk to the companies we say we know what we're doing. I realise it's much harder for young designers who are just starting out and their story has not yet come true. I try to give them a hand when I can see that they're doing something interesting.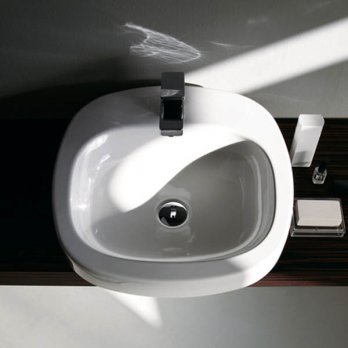 Roberto Palomba /Laufen
G.T.: One last question: here we are in Paris, and I'd like to see just how international Italian design is.

Roberto Palomba:

 I also work with companies in other countries, and I enjoy it because they often have a more international vision. But the Italian product is very international. Like early American design, which looked at the international scene to solve its own problems (Eames, Bertoia). Today we are, as Baricco says, in a new age of barbarism, I really believe this, and I think it is a very positive thing, and so let's turn Italian design barbarian, and try to sell the Salone del Mobile in Milan, as a trade-off, not as the end of the world. As Lao Tse says, "What the caterpillar calls the end of the world, the rest of the world calls a butterfly".What the people of Brianza call the end of the world, the rest of the world should see as just a passing moment...


Roberto Palomba /vasca bath
G.T.: Restart...

Roberto Palomba:

Yes, reset. Let's reset again this year, let's see what happens; let's not expect anything more than another salon, preparing us for the one after that. The world doesn't start and end at the Salone del Mobile. It's just a post station.


www.palombaserafini.com