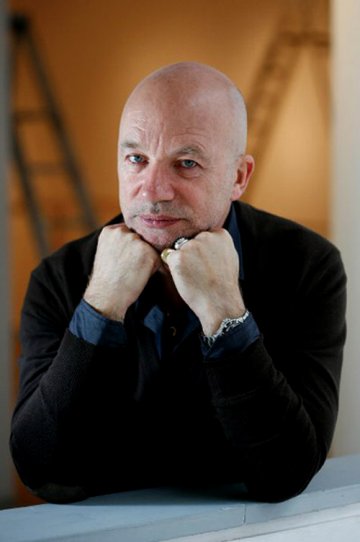 Nigel Coates
Body as a metaphor of architecture...
Fl. Z., May 29, 2015
Architectural_Portrait

Nigel Coates is born in 1949 in England. From 1972-74: Architectural Association School of Architecture, A.A dipl.
 From 1979-89: Unit Master of Unit 10 at the A.A.
 In 1983: Formed NAT0 (Narrative Architecture Today) with Catrina Beevor, Martin Benson, Peter Fleissig, Robert Mull, Christina Norton, Mark Prizeman, Melanie Sainsbury and Carlos Villanueva. The same year, edited the first NAT0 Magazine
. In 1985: Formed Branson Coates Architecture with Doug Branson
. In 1995: Appointed Professor of Architectural Design, Royal College of Art.
Fl.Z. interviewed Nigel Coates, one of the most eclectic personalities on the international architecture scene. The interview represented a unique opportunity to take a closer look at Coates' theory about the human body as a metaphor for architecture as well as at his vision of the city.
Fl.Z: Nigel Coates, your work spreads from architecture to design, art to media, not to mention your academic activity. Which of these fields inspire you the most and which one do you feel closer to your sensibility? 


Nigel Coates:
As I get to know myself quite well, over all these years, I think it is the mixture of all of them that it's inspirational because I am quite a difficult person when it comes to following a straight path. I like invasions from the left and the right. So, if I set out to do architecture it's probable that there's going to be an idea that comes from another field and vice versa, that's just the way I work.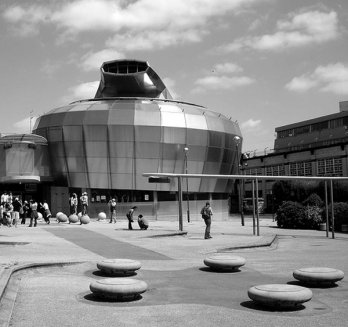 Nigel Coates/sheffield_ncpm
Fl.Z: One of your most recognisable architectural works is the Body Zone in the Millennium Dome, a physical representation of the human body that becomes architecture. What is the basis of your theory that considers the body a metaphor for architecture?


Nigel Coates:
Well, of course the figure in the Millennium Dome was an extreme representation of the human body it actually looked like one, but there are a lot of other works and other ways in which the body can have an influence on architecture, and I first came to this idea because I think that modernism and the architecture of the 20
th
century often created a gap between the way people used it and saw it and what it was and how it was produced. So, it doesn't make a huge depth to actually try to export the body from ourselves into the architecture. There are many experiments that I made before the body in the Dome. It just so happened that they had already wanted to have a body in the Millennium Dome to describe what we are, and it was a good fit for me. 


Fl.Z: It was perfect!


Nigel Coates:
Well, I'd done drawings earlier, many drawings that had large bodies that were woven through an urban context, ten years before I did the figure in the Dome.


Nigel Coates/NCPM-model
Fl.Z: You said that "Body Zone" was an opportunity for you to experiment with digital technology in architecture and to create big human body shapes.

Nigel Coates:
Well, we explored all sorts of ways in which the body could be formed and built and that included digital scanning of bodies, included my own and friends of mine; I made clay models like the traditional process that a sculptor might adopt, and those clay models were scanned...it was a kind of to and fro process between a conventional artistic one and a digital one.


Fl.Z: "At Home in the Modern World", represented at the last Venice Architecture Biennale, is your latest experiment in the research on the relationship between the human body and architecture. Would you consider that installation a synthesis of your theories?

Nigel Coates:
Well always the last one is the best synthesis you have. It certainly attempts a different approach and one of the purposes of this piece was to explore the relationship between real bodies moving, furniture as body and as landscape and a deliberately cerebral or fanciful idea of architecture. So there's a certain kind of inversions and perversions of these various media that are present within that work. But if I think back to how it was created, it was made simultaneously through the furniture objects, the dance that was present in the film and these little cities that were represented on top of the lamps that were floating in the space and it was a kind of ricochet process between those three and in a way that's how anyone designs, is by a process of putting forward an idea and then adapting it but I suppose in that work it had a dynamic system within it, which could manifest the body in various ways. The dance, for example, was initially choreographed with pieces of my furniture in the studio, the dance studio, the first day I asked the dancers to dance as it were, around, on and with some...an old set of furniture I had and the second day we took the furniture away and, at the same time, I was developing the forms for the furniture that eventually got built but they were influenced by the dance so it's kind of an exchange of ideas.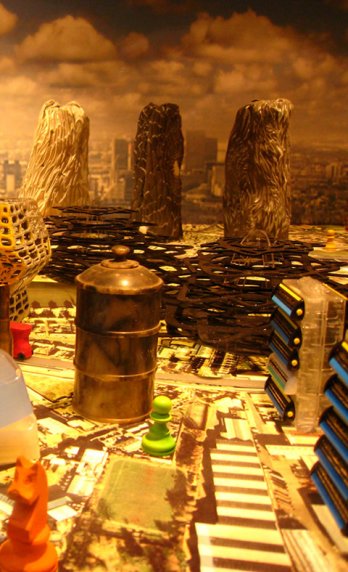 Nigel Coates/Mixtacity_Global cities
Fl.Z: Considering that many of your works have fluid and organic forms, I guess materials are quite important in the design process. Do you find it challenging to experiment with new materials?

Nigel Coates:
Always, but I think there are also materials that are the right ones for a particular expression, so in the case of the Body Zone the actual structure was steel with a shell of concrete, but very thin, and then we wanted to find a material which expressed a kind of silky sensuality to the surface. What we chose was a tile, a plastic tile, which changed colour according to the angle that you looked at it; although one wouldn't necessarily think that plastic could create this skin-like effect the net result was to make an extraordinary skin, a kind of hyper skin that was derived from that material, but then, in other cases, I mean...like in furniture or objects, whether it's plastic or wood or some techno-material depends very much on the project.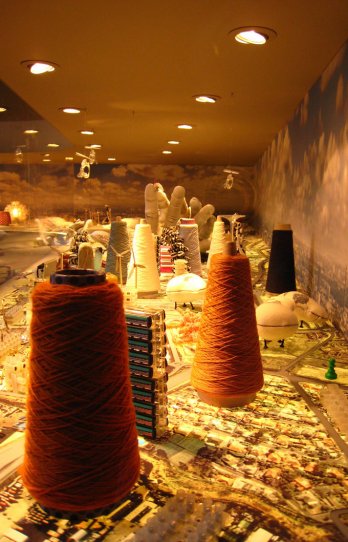 Nigel Coates/Mixtacity_Global cities
Fl.Z: Why did you choose to build an ancient Roman wall for "The Wall" in Tokyo? What was the meaning behind building something which belongs to a totally different culture?


Nigel Coates:
Well it was partly to do with what they were asking me to do and why I was brought to Japan in the first place and it was because I came from "Old Europe" and yet I had a contemporary way of doing things. The client in that case asked for a building which looked as though it had been there forever but was a symbol of the 21
st
century, so I thought, "We can play a bit here," and I decided to come up with a piece of Roman wall because of the absurdity of the idea that the Romans have been in Japan, which of course they haven't. It sort of fitted the mood of what people in Tokyo were looking for in terms of being kind of...not just given or...to build Western kind of architecture but they were fascinated by the heritage of European buildings so it was an artistic response to what I had been asked to do and then it had very practical resonances because I knew a couple of builders from a village in Italy and I thought it would be fantastic and increase the authenticity of this wall if I took these guys from here and took them to Tokyo, which is what I did, so these two muratori, came to Tokyo and built the façade in the way they know how to do, whereas the Japanese builders had no idea on how to make this kind of combination of stone and brick, that is normal in Italy, at least in the countryside. Well, the Japanese words for brick and tile are the same, so the concept of tile of course is totally different is "stuck on" whereas the concept of bricks is to make something structural, with substance.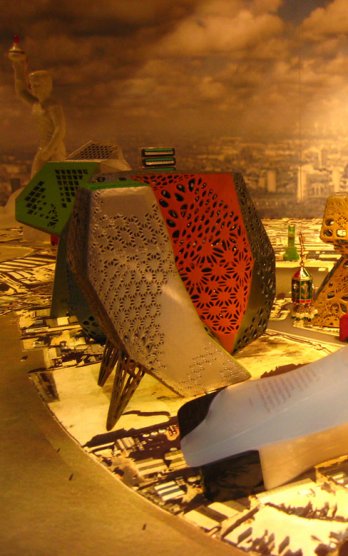 Nigel Coates/Mixtacity_Global cities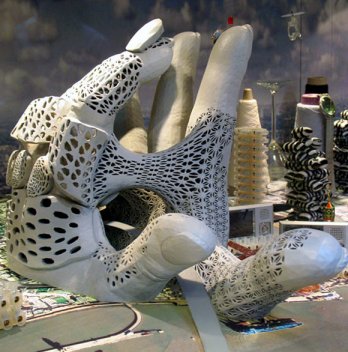 Nigel Coates/Mixtacity_Global cities
Fl.Z: In the early 90's and later at the Venice Biennale 2000, you represented Ecstacity, a work which combines texts, photos, diagrams and graphs. Two years ago you represented the multicultural city of the London Gateway through Mixtacity, using everyday objects. How has your idea of the future city evolved in the meantime?

Nigel Coates:
Between Ecstacity and Mixtacity, well of course in the title you can tell they are related: the Mixtacity is the child of Ecstacity. Ecstacity was a broad look at how we perceive cities and what we expect cities to be, and I suppose Ecstacity is the notion of city that comes to somebody who travels; travels in the mind, who travels physically, is able to put together understanding from all sorts of different places. In other words the life that you lead is your city and I don't think it matters whether you live in a city like London, which is big but it's not the world but it sort of contains the world so in a sense it's a metaphor for London; London in its kind of many cultures and many manifestations. Also there was another Ecstacity before, I first came out with the word in 1992, and I made this small exhibition at the Architecture Association for which there was... it was on the threshold of digital communications and thoughts about cyber space and the possibilities that a city could be responsive. In that first exhibit, I proposed that the existing city be added to, not substituted or taken away but added to, with a series of organic and dynamic architecture elements such as wings and pontoons and there will be crossover between the normal territories configured by land ownership and buildings, and this first version of Ecstacity became a kind of codex for the work that I then did up to the Millennium. So when I looked through the work in Venice in 2000, it was kind of looking at the architecture that had been realized in the context, in a bigger context of this outlook for cities, and from that it was possible to sight the various projects that we had done in our studio in relation to this idea of a city having a kind of reward system that you would not just expect it to work well and to give you a comfortable life and all that...but if we were to be absolutely honest about the way we live in cities, one of the reasons that one goes to live in a city is to be part of something and to be confronted with the unexpected that there's a kind of ecstatic appreciation of cities and in a way, the city stimulates us in that way and we can accept or reject it or find other forms of reward.Mixtacity was a response to a brief and the brief in that case was to express the multi-culture of London so I thought the best way to do that was to identify a part of London that was about to change and then, as it were, put the culture of London in it and express it. I used lots of found objects but there were also lots of original, new architectural ideas in it, so it was a kind of mixture. So the new architecture in a sense was carried along in the tide of the familiar, which of course fits with the things I've been talking about earlier, which is the adhesion of new ideas in architecture to those things that are familiar. 


Nigel Coates/Born and works Britain_Mixtacity 2007
Fl.Z: And then you wrote a Guide to Ecstacity..

.Nigel Coates:
Well, the Guide uses the notion of 'guide' we're all familiar with. We've all used guide books when we've been to a city that we haven't been to before. So it struck me that the guide was a useful type of book to re-work. You don't read a guide from one end to the other, normally. You use it for a kind of reward system or an access to a place you don't know that well and it seemed that was a great idea to take up in architecture. So the Guide, it has 6 chapters, it has various kinds of texts, it switches from a kind of experiential flow to a kind of analytic and factual description or pseudo-factual. It's a work of fantasy. It's a work of imagination but presented as though it were real and I think that is a useful device in architecture. We always project in architecture, we always try to imagine and at the same time pretend that it's real and if you go ahead and build it then it is real but this process of pretending that something is real as it were a refinement of that notion of projecting. That's why in this book it presents simultaneously projects that have been built with projects that have never been built but they're in the book represented as existing. I also have moved projects from one location to another, from various parts of the world and put them in particular locations in Ecstacity. I've also incorporated the work of other people, lots of other architects and in a sense it's a work of curation as well as a work of imagination.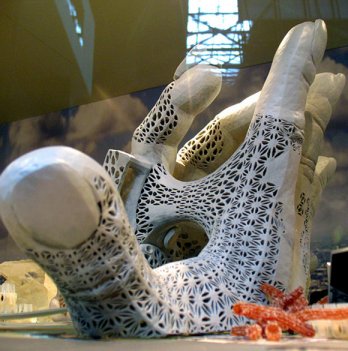 Nigel Coates/Mixtacity_Global cities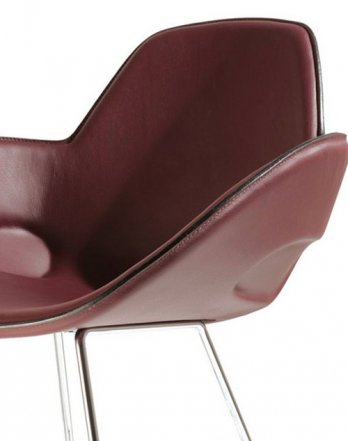 Nigel Coates/Frag Cara
Fl.Z: This is your project for the Pop Music Museum!

Nigel Coates:
Which I enjoyed so much as a project, it's one of our best projects I think, but it was extremely badly managed and the exhibition in it was so awful that they had to close it after six months, so what happened? The local university bought it and turned it into a music venue for the students of Sheffield Hallam University so it has a perfect reincarnation and like the best Roman buildings, there was always another use after...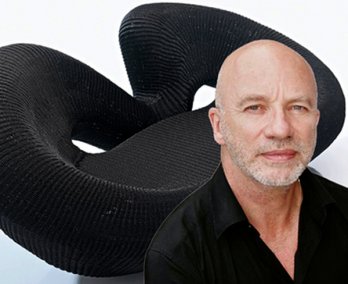 Nigel Coates portrait
Fl.Z: What I find interesting in this project is the fact that there is no obligatory entrance in the building..


Nigel Coates:
It was like part of the gridded plant town, the crossing was enclosed. In fact, this idea of four circular drums came because I was driving in Mercatale and I saw some silos, stainless steel silos and I was thinking to myself, "If you could walk in-between, it would be the most extraordinary sensation because it would be a kind of inside-out space", because of the form of the drums and that was where it kind of related to this which is where the Villacapra has a kind of confusing relationship between the four porticos and at the same time it's a device, an orientation device, for a landscape. So that's why I thought it was similar 'cause when you would enter into that central space, there would be that kind of turning, a question over your orientation in the space. It's geometric. It's geometric but disorienting; which is an enigmatic relationship between the geometry and the experience of the space.



Fl.Z: How would you describe your theories on architecture in one statement?

Nigel Coates:
Capricious!
www.nigelcoates.com