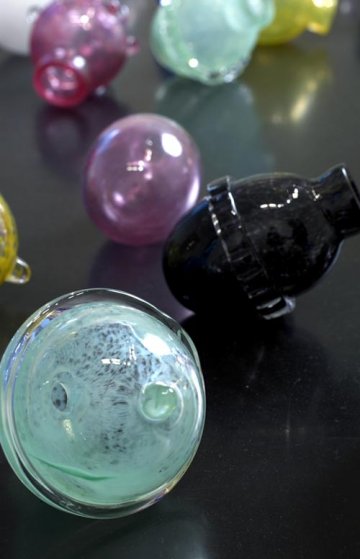 MONA HATOUM
Measures of entanglement
David Spalding, September 6, 2009
Measures of Entanglement is an exhibition featuring sculptures and installations made by the Palestinian-British artist from 2006 onward, as well as a selection of her groundbreaking videos and works on paper. The show offers audiences in Beijing their first opportunity to experience Hatoum's influential and multifaceted practice first-hand."As a platform for dialogue between China and the world, UCCA is inaugurating a new series of creative endeavors with today's most prominent international contemporary artists. Presenting Mona Hatoum as our first choice in this series sets very high standards. Hatoum's work will initiate a very powerful dialogue with Chinese audiences, creating debate around the notions of transient culture and otherness that also lie at the core of Chinese contemporary art today. Beijing has become an international capital and UCCA wants to be the ultimate flagship for international creativity in town," said Jerome Sans, UCCA Director.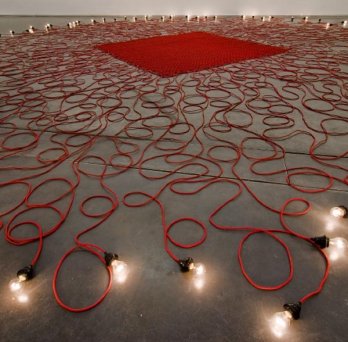 MONA HATOUM_ MEASURES OF ENTANGLEMENT/Undercurrent (red), 2008 - Ph.Oak Taylor-Smith_UCCA
In Mona Hatoum's universe, familiar objects shift in scale and mutate until they take on a complex psychological charge that makes them appear both alluring and dangerous. A constellation of crystal spheres is arranged to form Web (2006), a net-like structure suspended from above in UCCA's nave that attracts the eye but mimics the shape of a spider's trap. Paravent and Dormiente (both 2008) are enlarged kitchen graters whose enormity transforms them into a room partition and a bed, respectively, but their sharp edges threaten to harm those who would dare to touch them. Misbah (2006), which means "lantern" in Arabic, projects a mobile procession of stars and soldiers around the darkened room. Candy-colored globes reveal themselves to closely resemble hand grenades made of glass in Nature morte aux grenades (2006-2007). With its pulsing, glowing light bulbs and tentacle-like electrical cords curling in every direction, Undercurrent (red) (2008) suggests some kind of creature with a malevolent force underfoot.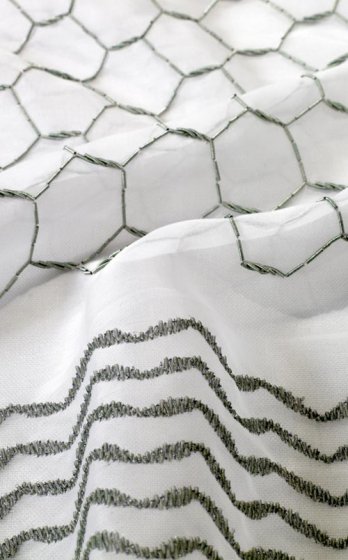 MONA HATOUM_ MEASURES OF ENTANGLEMENT/Keffieh II, 2008_Marc Domage
"Your first experience of a work of art is physical," says Hatoum. "I like the work to operate on both the sensual and intellectual levels. Meanings, connotations and associations come after the initial physical experience as your imagination and intellect are fired by what you have seen."
The exhibition also features video works from earlier in the artist's career, including the deeply moving Measures of Distance (1988), which lyrically addresses Hatoum and her mother's separation after civil war erupted in Beirut in 1975; video documentation of the public performance Roadworks (1985); and a series of unique works on paper.

"Mona Hatoum's extraordinary ability to illuminate the uncanny dimension of our everyday lives cuts across cultural divides," says UCCA Curator David Spalding. "The simplicity of materials and the grace with which they are combined, coupled with the sometimes ominous associations they conjure, creates an ambivalence that activates the imagination. By presenting video works alongside Hatoum's recent sculptures, we hope to give UCCA's audiences a chance to survey the breadth of this artist's complex oeuvre. The exhibition is nothing less than a milestone in the presentation of contemporary art in China."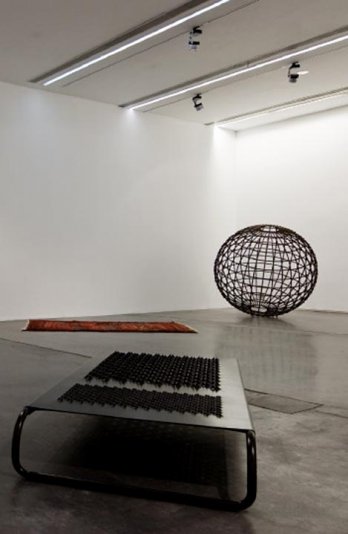 MONA HATOUM_ MEASURES OF ENTANGLEMENT/Vue partielle de l'exposition - Ph.Oak Taylor-Smith_UCCA
Bio_Express
For over twenty-five years, artist Mona Hatoum (born in 1952, Beirut; based in London and Berlin) has built a poetic and challenging artistic oeuvre that takes form in a diverse and often unconventional range of media, including installations, sculpture, video, photography and works on paper.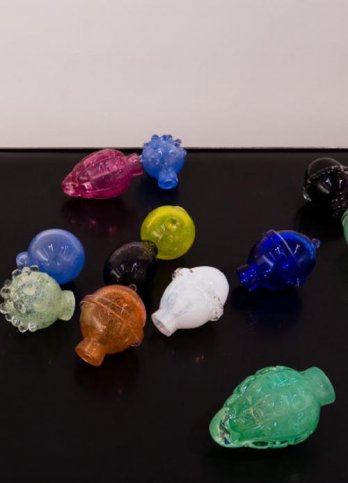 MONA HATOUM_ MEASURES OF ENTANGLEMENT/Nature morte aux grenades, 2007 - Ph.Oak Taylor-Smith_UCCA
Mona Hatoum started her career making visceral performance art in the 1980s that focused with great intensity on the body. Since the beginning of the 1990s, however, her work moved increasingly towards large-scale installations that aimed to engage the viewer in conflicting emotions of desire and revulsion, fear and fascination. In her singular sculptures, Hatoum has transformed familiar, every-day, domestic objects such as chairs, cots and kitchen utensils into things foreign, threatening and dangerous, creating works that employ the stripped down language of minimalism combined with a surrealist sense of humor to draw the viewer in on both an emotive and intellectual level.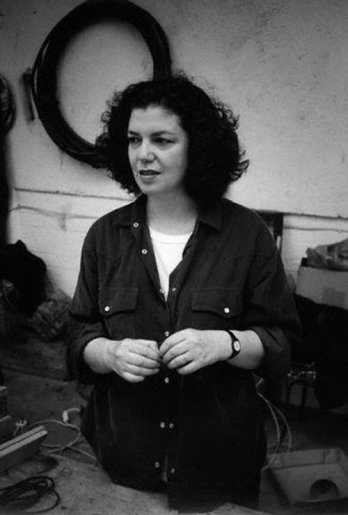 MONA HATOUM
Hatoum's work has been presented at leading museums and art centers worldwide, including solo exhibitions at Centre Pompidou, Paris (1994), Museum of Contemporary Art, Chicago (1997), The New Museum of Contemporary Art, New York (1998), Castello di Rivoli, Turin (1999), Tate Britain, London (2000), Hamburger Kunsthalle, Kunstmuseum Bonn, Magasin 3, Stockholm (2004) and Museum of Contemporary Art, Sydney (2005). She has also been included in numerous group exhibitions, such as The Turner Prize (1995), Venice Biennale (1995 and 2005), Documenta 11 (2002) and Biennale of Sydney (2006). In 2004, Hatoum was awarded the prestigious Sonning Prize for her major contribution to European culture, as well as the Roswitha Haftmann Prize for contemporary art. Hatoum's work will be the subject of a solo exhibition at the Fondazione Querini Stampalia in the context of the next Venice Biennale (2009).
www.ucca.org.cn