Andy Warhol
WARHOL TV
Judith Benhamou-Huet + Julie Martinez, March 23, 2009
Question to Andy Warhol: "How do you define television?" The answer: "Oh, it's just movable print"
Andy Warhol, the Pope of Pop, had always been fascinated by television. A means of communication that was contemporary and massive. An ideal tool for artistic promotion, social promotion, for self-promotion. It was his big dream to have his own television show. A program he would be in control of, but that would also allow him to have control over his own image. As early as 1964 he made an imitation soap opera, to which he added real "adverts". At the beginning of the 70s, he played around at producing telenovelas that were the reflection of his aesthetic and fantastical universe. In 1979 he put together a small team who were in charge of creating TV programs to be aired on the brand-new New York Cable. This team, including Vincent Fremont, Don Munroe and Sue Etkin, created Fashion, a talk show devoted to the fashion world, followed by Andy Warhol's TV, a Factory style reality-TV show, before producing the famous Andy Warhol's fifteen minutes, inspired by his renowned quote on the subject of fame.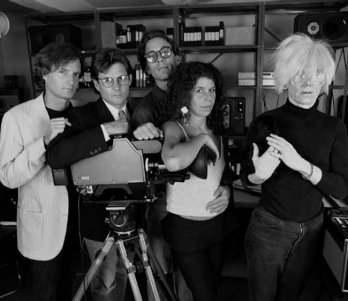 WARHOL TV/Andy Warhol, and Andy Warhol with his team. From left to right- Don Munroe, Vincent Fremont, Jay Shriver, Sue Etkin. New York, 1985. Photographer- Christopher Makos
This exhibition is a giant zap through Warhol's television universe. A journey through the artist's obsessions, his fascinations, his loves, his surprises and fears.In 1987, the TV broadcast of Warhol's funeral service became the tragic final chapter in the life of the man who had so desired to be on screen, to be, as we say, on air.Warhol's television no doubt represents the last unexplored aspect of this taboo-breaking artist's work. Warhol TV looks at a hitherto little-studied aspect of the work of this leading 20
th
-century artist, who was open to all the forms of expression available in his lifetime, and who left his mark on American televisual creation in the 1970s and 1980s. Best-known for his paintings of modern American icons, such as the famous Campbell's Soup cans or the Marilyn Monroe portraits, Andy Warhol (1928-1987) set out to capture the image of his era as from the 1960s, through drawing, painting, silkscreen printing, photography, archiving, publications, sound recordings, film and video.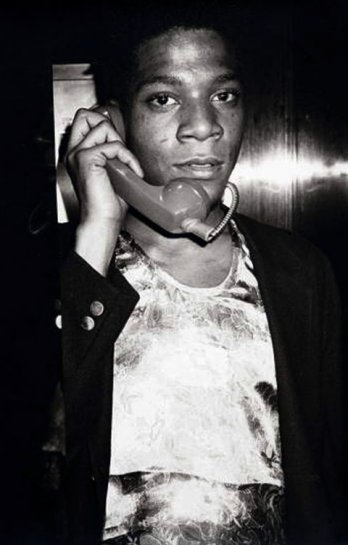 WARHOL TV/Jean-Michel Basquiat, vers 1984 - Andy Warhol
Warhol was fascinated by the "entertainment society" to which he belonged, and was determined to break
down the barriers between popular culture and its more intellectual counterpart. In 1969 he founded Interview magazine, which focused entirely on celebrities and fashion. Its tone – nothing but celebrity interviews – and graphic style would have a profound effect on the 1970s and became a prototype for his TV shows.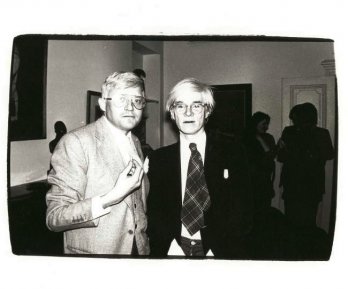 WARHOL TV/Andy Warhol et David Hockney, 1981 - Andy Warhol.
We can see from his diary that television had held a fascination for Warhol since the 1950s, and in 1973 he
turned naturally to this mass medium par excellence as a means of communicating his obsessions. Warhol
saw television as the perfect way to extend Interview: a continuation of the interview process that would
present the wide range of artistic practice that was beginning to emerge in the visual arts, cinema, music
and fashion, while bringing the concept to as wide an audience as possible, and introducing that quality of
instantaneousness which the print version lacked. The exhibition at la maison rouge sets out to build a
portrait of the artist based on his televisual work.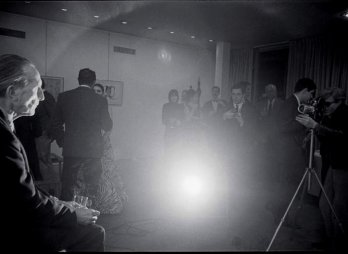 WARHOL TV/Andy Warhol face ŕ Duchamp pour une prise de vue, 1966 - Photographe_Nat Finkelstein.
Judith Benhamou-Huet interviews (extracts of the catalogue exhibition) Vincent Fremont, the producer of all Warhol's TV shows.Early daysVincent Fremont:
Andy didn't want to make television into art. He made a distinction between production, which could be described as a purely artistic activity, and the rest. For his early moves into television, his idea was to explore the soap-opera concept. That's what led to Phoney. He really believed in television. Andy was an American par excellence and television is the American. phenomenon par excellence. He began by founding Interview magazine in 1969, focusing initially on the cinema but later expanding to include fashion. Interview was an exceptionally creative magazine.
WARHOL TV/Andy Warhol's TV [episode 9], 1983. Pictured- Jean-Michel Basquiat, Andy Warhol, 2009
Andy Warhol and his imageV.F.:
Andy never talked about his television image. We were the only ones who could film him. He didn't feel comfortable otherwise. We also made films about people who came to the studio. He wanted to be in control of his image. […] He would use humour to avoid answering a question. Once, while on the set for a show he was doing with Elizabeth Taylor, he completely went to pieces. He completely forgot his lines. He wanted to make sure it never happened again. His mind could go blank in front of a stranger's camera, whereas he was feeling more and more at ease with his own camera.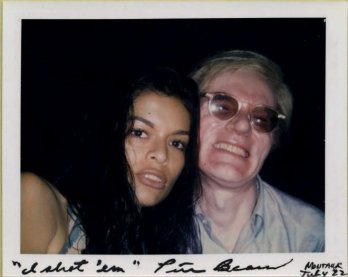 WARHOL TV/Autoportrait avec Bianca Jagger - Andy Warhol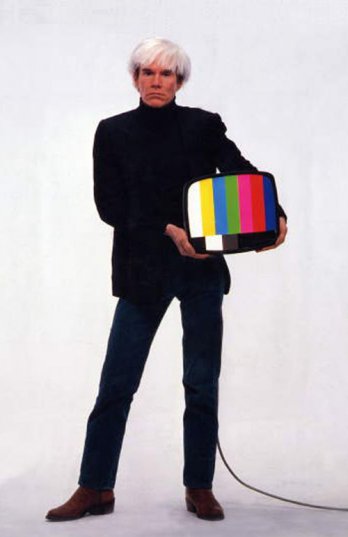 WARHOL TV/TDK, commercial, 1982 - Andy Warhol
TV TeamV.F.:
When he wanted us to look seriously at the question of TV production, I went to get Don Munroe. We had little or no resources. Everybody pitched in. I was a producer, but I was also the van driver. There was an artist on the team called Sue Etkin. We wanted to make a real TV show. We set up the whole technical structure. There were usually five full-time people working on a project, with others coming in from time to time to help.
FashionV.F.:
Andy was always fascinated by fashion. For the Fashion programme, he wanted to devote a half-hour to someone from that sphere. He would put a clock somewhere he could see it and chat with them for half an hour. But we quickly realised we needed to broaden our focus.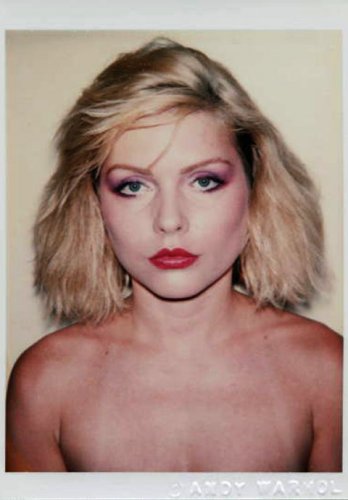 WARHOL TV/Debbie Harry, 1980 - Andy Warhol
Fifteen minutesV.F.:
Don Munroe came up with the title Warhol's Fifteen Minutes in reference to his famous "In the future, everyone will have their fifteen minutes of fame." I said, "OK, but let's make it a 30-minute show and see if the kids notice the difference." Andy wasn't always around when the Warhol's Fifteen Minutes programmes were recorded. He did the introductions. He'd got really good at it but still wouldn't do live TV. He was continually changing his mind about the shows. He'd look at what we'd done, seem satisfied with it, then three days later he'd be asking us to change what he'd been happy with before.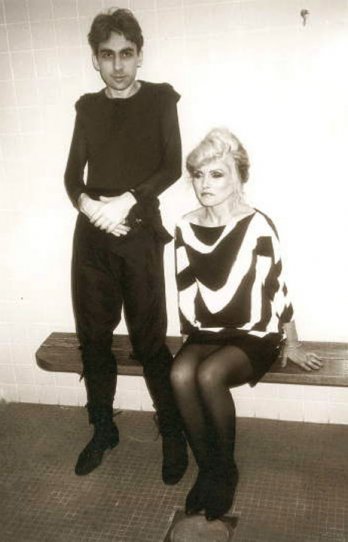 WARHOL TV/Chris Stein et Debbie Harry, 1982 - Andy Warhol
The cars
V.F.: We made the The Cars video for MTV. Andy plays a waiter. He loved young people. He cast all the parts. [the video will be shown at the exhibition]
Love boatV.F.:
I think he enjoyed appearing in Love Boat. He loved playing himself. [the episode will be shown at the exhibition] documenting Recordings, videos, Polaroids, television were all ways for him to document his world. Andy liked documenting things. We had a network of informers. Don Munroe was good at unearthing talent like Marc Jacobs. I remember Cindy Sherman lived in Fulton Street near the Fish Market, but I don't remember how we met. You know, if Andy trusted you, he just let you get on with it.
www.lamaisonrouge.org