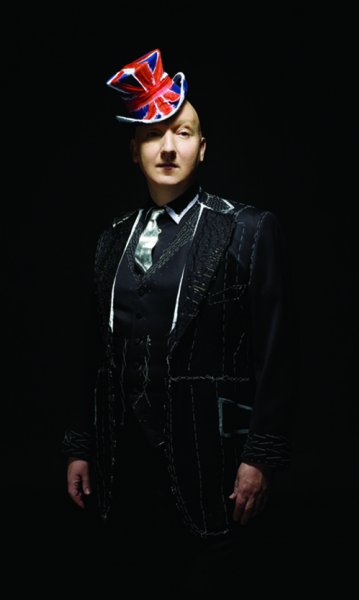 Stephen Jones
Hats: An Anthology by Stephen Jones
V&A, March 2, 2009
Stephen Jones/Hats
Hats: An Anthology by Stephen Jones
is a collaboration between the
V&A
and one of the fashion world's most prolific milliners, Stephen Jones. It follows in the footsteps of the V&A's very first fashion show in 1971,
Fashion: An Anthology by Cecil Beaton
. Stephen Jones began his career on graduating from St Martin's School of Art in 1979. Since then he has produced hat collections twice a year under his label 'Stephen Jones Millinery', while also collaborating with some of the most prominent fashion houses and designers of our time, including Jean Paul Gaultier, Vivienne Westwood, Thierry Mugler, Christian Dior, John Galliano, Comme des Garçons and Marc Jacobs.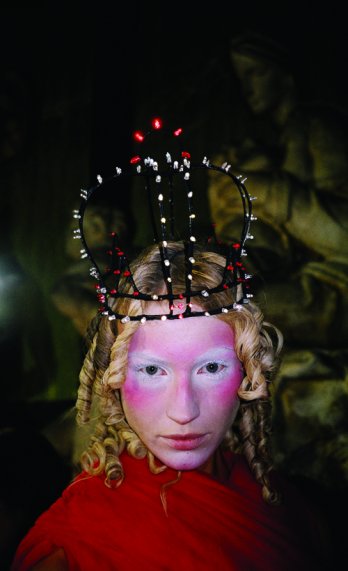 Stephen Jones/Crown by Stephen Jones for Comme Des Garcons , Spring Summer 2006 Photographed backstage at Comme Des Garcons show, Paris_Stephen Jones Millinery
Distinct from hat-making, with its large-scale production of standard hat types, millinery focuses on the creation and decoration of elegant, experimental and often whimsical hats. Jones permits us to examine the world of millinery from the inside out, following the life-cycle of a hat from its point of inception in the milliner's mind to its final incarnation atop the wearer's head. Cecil Beaton's 1971 show raised the profile of fashion and put it firmly on the museum map. Jones feels the time is now right to do the same for what he terms 'the ultimate accessory' – the Hat.
Stephen Jones/Hats Dior
Inspiration
_ A hat begins life as an idea in the mind of the milliner, and on this page you can see a selection of hats from the V&A's archive that Stephen Jones finds inspiring. The sources of inspiration are unending – and often surprising. Historic hats redolent of romance and adventure are a constant source of inspiration for many milliners. Simple folded shapes such as the tricorne and bicorne can be reimagined, evoking the drama of a bygone age. Architecture and geometry, travel and exoticism can all spark the maker's imagination. The natural world, too – flowers, feathers, the sea, animals and vegetation – offers inspiring forms and styles that can be endlessly updated for new creations. Hats are unconstrained by the need for fastenings or neck holes, sleeves or soles, opening a door of fashion possibilities.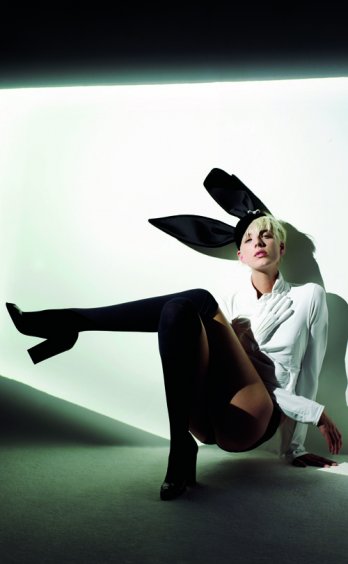 Stephen Jones/Agyness_Deyn wearing Stephen Jones for Comme des Garcons Nick Knight-Vogue_The Condé Nast Publications Ltd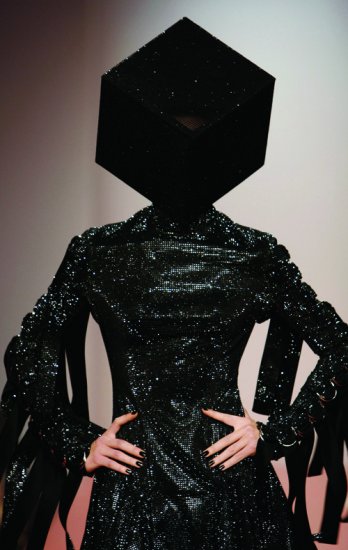 Stephen Jones/Nasir Mazhar for Gareth Pugh Spring Summer 2008_Chris Moore-Catwalking.com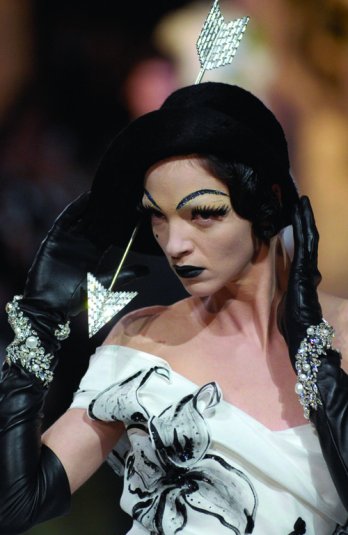 Stephen Jones/Stephen Jones for Christian Dior Haute Couture Autumn Winte 2007_Chris Moore-catwalking.com.
Creation
_The millinery workroom or atelier is the creative laboratory where hat designs are transformed from ideas into reality. The methods, materials and tools have changed little in the past hundred years. Milliners still work seated around a large table with their scissors, needles and thread. Straws, felts and fabrics remain the key materials used to pin and shape prototype hats on a calico-covered head known as a 'poupée'. From these prototypes a hat mould ('block') can be taken. Usually of wood, the block is an essential tool of the workroom. Milliners often amass a library of differently shaped blocks that can be used time and again. In the words of Stephen Jones, a milliner's workroom is 'half Aladdin's cave and half artist's studio', a place where each hat is carefully coaxed into being.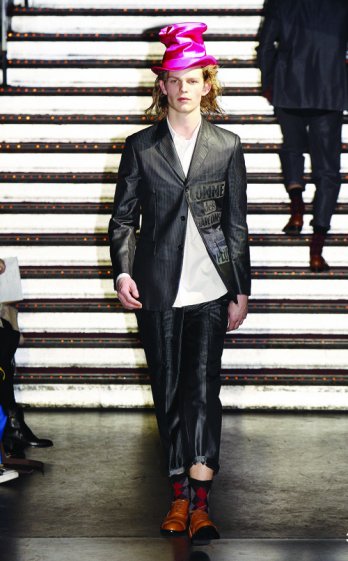 Stephen Jones/Stephen Jones for Commes des Garcons A-W 08-09_Commes des Garcons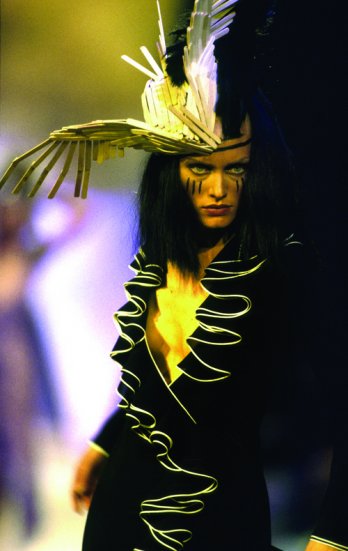 Stephen Jones/Stephen Jones Thunderbird hat for John Galliano, 1996_Stephen Jones Millinery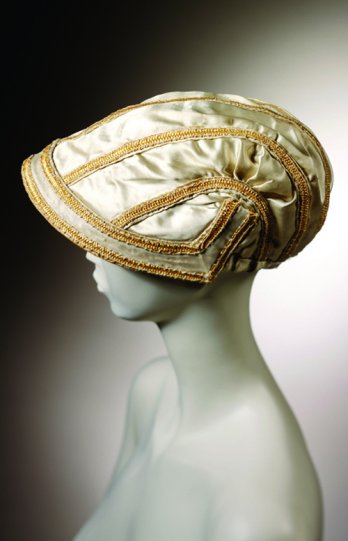 Stephen Jones/Silk and straw_bonnet, 1807_V&A Images
Stephen Jones Bio_express
Stephen Jones was born in Cheshire in 1957. In 1975, as an art foundation student at High Wycombe College of Art, he first visited the V&A – to see the exhibition Fashion from 1900–1939. He says: 'This was a revelatory experience... For the first time I had an inkling that I would like to be part of the fashion world'. He applied to St Martin's School of Art (now Central Saint Martins) to study women's fashion, but soon became entranced by the millinery department and asked for a transfer. When Jones left college in 1979 he recalls that 'the creative atmosphere was in flux… Punk had lost its energy and the vacuum was filled by the New Wave and the New Romantics'. London's famous Blitz nightclub was a magnet for these movements, and Jones was a regular. He made hats for friends and fellow clubbers, and then in 1980, backed by Blitz' owner Steve Strange, he opened his first millinery salon in Covent Garden. Since then, Jones has become recognised as one of the world's most radical and important milliners. He designs hats for couturiers and celebrities, including Vivienne Westwood, Jean-Paul Gaultier, Madonna, and Dita Von Teese. For Jones, however, 'collaborating with clients is an adventure whether they are a bridesmaid from Lancashire or Rei Kawakubo preparing for a fashion show. There is never a formula and every time is like the first time'.
Stephen Jones/The young Halston places a hat on the head of actress Anita Colby at Bergdorf Goodman department store. New York 1965_Photo Ormond Gigli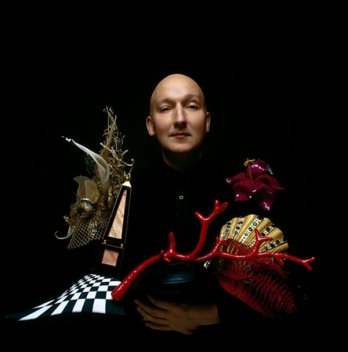 Stephen Jones/Stephen Jones 2008 by justinephotography
www.vam.ac.uk