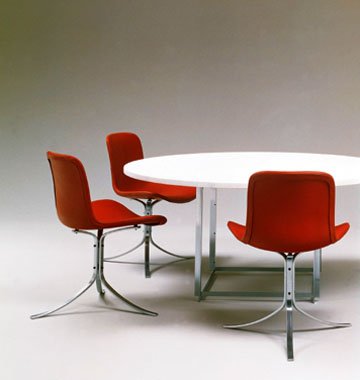 Poul Kjærholm
The Furniture Architect
Susanne Hartz, September 25, 2006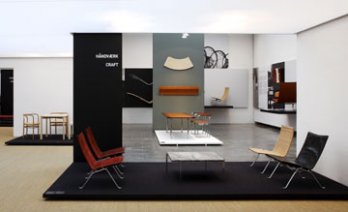 Poul Kjaerholm 2006 Exhibition
This summer's Poul Kjærholm retrospective at Denmark's renownedLouisiana gallery provided an excellent overview of one of the 20
th
century's most influential furniture "architects". The show is the first to focus on Kjærholm's work as a furniture and exhibition designer, and continues the series that began with the gallery's 2002 Arne Jacobsen and 2004 Jørn Utzon exhibits.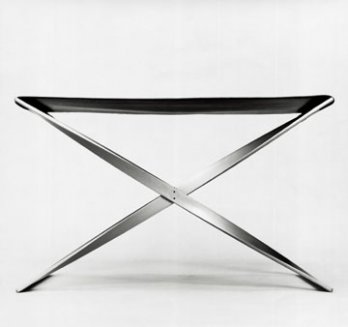 PK 91, Foldestol, 1961
Poul Kjærholm (1929-1980) created some of the most lasting, if complex, furniture of the 20th century. His work blurred barriers between the industrial and the traditional. Heavily influenced by Kaare Klint and Mies van der Rohe, Kjærholm redefined modern furniture, in a career which began in 1951. Complementary complexity and clarity allow much of his oeuvre to remain shockingly contemporary - more than 50 years after its introduction.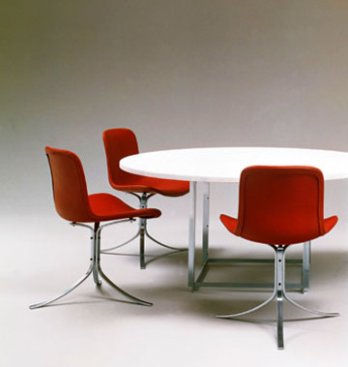 PK 9, 1961 & PK54, 1963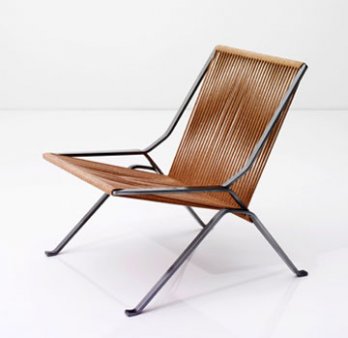 PK 25, 1951 - Stålstol med flagline
Poul Kjærholm was born in 1929. He studied traditional woodwork from the age of 15 as a cabinetmaker's apprentice. Finishing his apprenticeship in 1948, he enrolled at the DanishSchool of Arts and Crafts, where he studied under designer Hans J. Wegner.
Kjærholm's 1952 graduation piece was the PK 25 lounge chair – his first masterpiece using steel in an organic approach to form which formed the basis for work in 1950s and 1960s. Kjærholm joined forces with merchant E. Kold Christensen in 1955 and established the firm that was to produce and market Kjærholm's new designs. For the next 25 years Kjærholm produced a succession of pieces that combined modern materials with the highest standards of craftsmanship, and a profoundly personal approach to detail and surface. Many of these pieces, including the PK 22 lounge chair, the PK 9 dining room chair and the PK 54 dining table are still in production.
PK 9, Spisestol, 1960
Poul Kjaerholm - Tarnby Radhus, 1958
The exhibition at Louisiana
"Poul Kjærholm - The Furniture Architect" at Louisiana is a unique opportunity to experience the full scope of the designer's oeuvre and to explore the concepts and ideas behind Kjærholm's beautiful, seductive creativity. Presented in tableaux which highlight his most important and enduring designs, the exhibition offers a panoramic overview of Kjærholm's work by exploring his sources of inspiration and work process.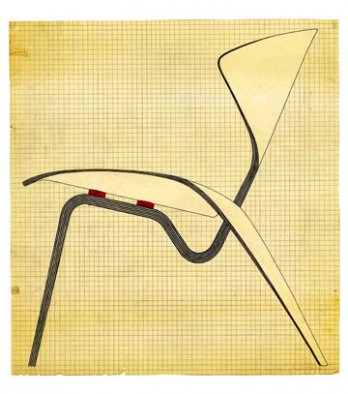 Poul Kjaerholm - PK0, 1952
The exhibition begins with early experiments in laminated wood and aluminium, continues through his masterpieces in steel and leather, and concludes with later pieces in which he returned to the woodwork of his younger days. The exhibition includes rare prototypes and models from private collections, as well as a wide selection of photos, sketches and drawings.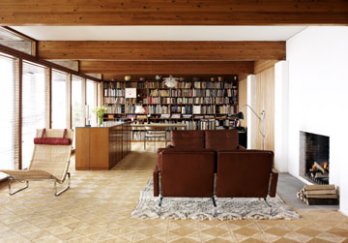 Poul Kjaerholm, private home
The exhibition reflects two underlying goals. The first is to move beyond the clichés associated with Kjærholm's work and explore its incredible ability to withstand the test of time. Secondly, the show provides a more complete understanding of Kjærholm's career and his place in design history. Much of the power of Kjærholm's work lies in his ability to fuse contradictory forces together in the creation of a serene and self-contained piece. In order to reveal these contrasts, the exhibition is organized into a series of sections, Workshops, Factory, Assembly, Craft, Elements and Space, that present the different ways of thinking and making that were synthesized in his production.
Until 15 October 2006
Poul Kjaerholm Exhibition