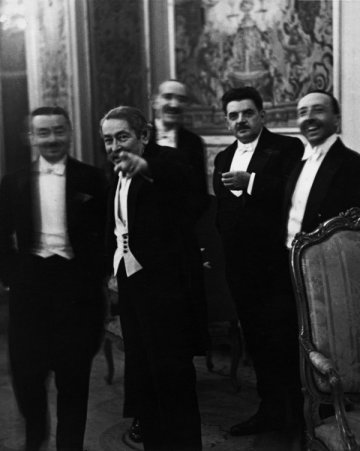 Erich Salomon
The King of the Indiscreet, 1928-1938
Naïs Elfassi, January 12, 2009
"Ah, there he is, the king of the indiscreet!" exclaimed Aristide Briand as he pointed to Erich Salomon in the salons of the Quai d'Orsay, where he had been caught by surprise. The words would become famous, especially since the French Foreign Minister spoke them just as Salomon had pressed his shutter release. It was August 1931, and for three years now the German photographer had been finding his way into conferences and other international meetings, bringing back surprising photographs of the most prominent political figures. Paradoxically, however, if there was one word that described Salomon's practice it was discretion. His elegance, polished manners and gift for camouflage meant that this gentleman photographer could always go unnoticed, wherever he was.
Erich Salomon (born 1886), whose career and tragic destiny are intimately bound up with the political and media history of the interwar period, was certainly one of the first reporters to enter the hitherto impenetrable world of power and to reveal the private lives of celebrities to the general public. His work thus marked the beginning of a new era in photojournalism. He was the precursor of what, many years later, would become the "paparazzi method." However, while Salomon's procedures (unauthorised infiltration of protected spaces, "hunting his prey" and use of ultra-sophisticated equipment) are comparable with those of the modern "celebrity hunters," his skill, ethics and, above all, his ambitions, not to mention the context in which he worked, set him very much apart from today's people press.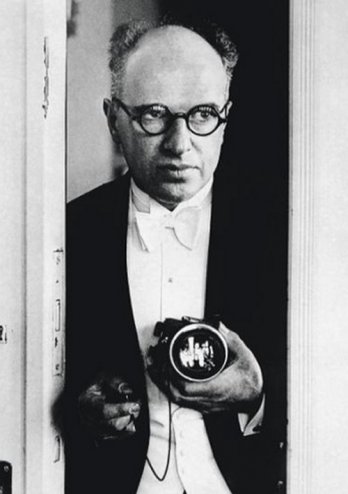 Erich Salomon_Autoportrait
Nothing in Erich Salomon's background pointed to a career in photography. Born into a rich Berlin banking family, he studied zoology and architecture and went on to gain a doctorate in law. However, the rampant inflation after the Great War forced him to find a job. He became a photojournalist in 1928, at the age of 42, and had soon developed methods that enable him to discreetly photograph court hearings. Within three years the exploits of this brilliant autodidact had made him one of Europe's most famous photographers.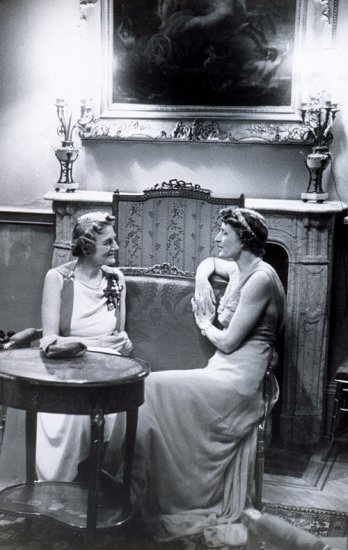 Erich Salomon/Erich Salomon_ClementineChurchill
Salomon no doubt had a clear sense of the media and technological situation that he was entering. The illustrated press, with its copious photographs, was booming. Popular magazines made abundant use of sensationalist articles, combining hard-hitting words and powerful images. This period also witnessed a new generation of small cameras that could be used in all kinds of lighting conditions. Salomon lost no time in taking up this advanced equipment. Two cameras that he owned are included in this exhibition: the Ermanox, with its wide aperture, and the famous Leica 1, which he started using in 1930. No longer dependent on artificial light and its constraints, the photographer was free to go behind the scenes and beyond the conventions of the portrait to capture unguarded subjects who were unaware of the camera's presence.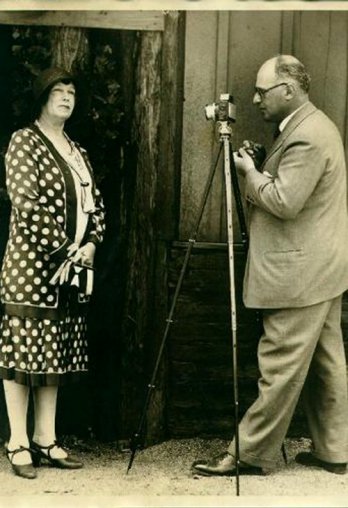 Erich Salomon/Dr. Erich Salomon_Mrs. Green, 1930
Salomon's appearance and polished manners enabled this cultivated man to get past barriers – guards often took him for a man of state, and so indeed did men of state. All of which prompted this amused remark from Otto Braun (Minister President of the Free State of Prussia): "Nowadays, one can conduct politics without politicians, but not without Doctor Salomon." His success enabled him to provide newspapers with portraits of Aristide Briand, Austen Chamberlain and Gustav Stresemann (respectively the French, British and German foreign ministers at the end of the 1920s) or of Benito Mussolini in mid-discussion, sitting at a table with a cigar in his hand. In contrast to stiff official images (in which the subject is "fully aware of his official significance"), his spontaneous photographs show individuals absorbed in their work, or in the process of taking decision that will affect the affairs of the world.
Erich Salomon/Erich Salomon (1886 – 1944) Jurastudium in München und Berlin, von 1929
Salomon was also good at cultivating his own reputation. He insisted that his signature ("Doctor Erich Salomon") should appear on every reproduction. A number of articles and interviews related the adventures and secrets of the "formidable doctor." The press nicknamed him the "master of the hidden camera" and the "Houdini of photography." But in fact Salomon's legend also served as a guarantee for his clientele: it ensured the press that it would be provided with sensational images, and his subjects (whom he always treated respectfully) that the images published of them would be sincere but also well-disposed.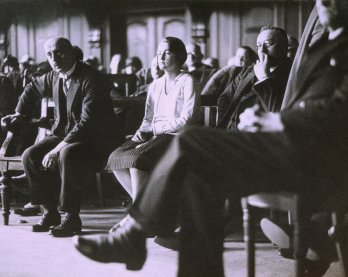 Erich Salomon/Erich Salomon_Krantz Prozess
However, it would be anachronistic to reduce Salomon's career to his media exploits. He was no doubt aware that he was immortalizing events as and when they occurred, and thus producing historic documents. But his group and individual portraits can be viewed as studies of different milieus, forming an inventory of psychological and behavioural tendencies. In this sense, his approach belongs to the German tradition of encyclopaedic investigation (one thinks, naturally, of August Sander's Menschen des 20. Jahrhunderts [Men of the 20
th
Century]).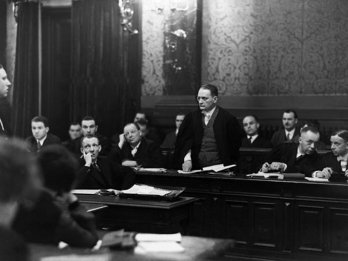 Erich Salomon/Erich Salomon_ Strafverteidiger Frey, Berlin 1929. Courtesy bdk Berlinische Galerie
For his contemporaries, the Salomon method represented an avant-garde approach to photography. His modernity also lay in his ability to use every available medium to disseminate his images. This fashionable man worked on a great variety of photographic commissions. He was even asked to take on film projects, although he did not have a proper chance to follow these up. He had two solo exhibitions in London, the first at the Royal Photographic Society in 1935, and the second at the Ilford Gallery in 1937 (the last section of this exhibition shows the set of prints made for the Ilford Gallery and now held by the Berlinische Galerie). In 1931, in Berlin, Salomon gave a talk entitled Mit Frack und Linse durch Politik und Gesellschaft [In Tails and with a Lens in the Political and Social World] to an audience of 400 politicians and celebrities. That same year he published Berühmte Zeitgenossen in unbewachten Augenblicken [Famous Contemporaries in Unguarded Moments, Engelhorn Verlag, Stuttgart]. Salomon presented himself as a "hunter" tracking down the true face of public figures. He detailed the exact circumstances in which his photographs were taken and described the best moments for getting snapshots that would avoid the frozen expressions of posed photography.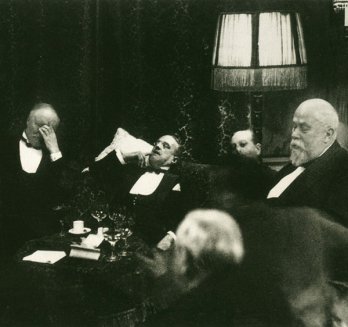 Erich Salomon/Erich Salomon. Conferencia de la Haya, 1930
When his book came out, Salomon was criticized for concerning himself only with his subjects' appearance. Nevertheless, his images are inseparable from the period and its historic events. The political figures he photographed were mainly democrats, men of peace in a world in crisis. In 1928, when he started his career as a photographer, the National Socialist Party was still only a minority formation. Two years later, it had become one of Germany's major political parties. When Hitler became Chancellor in 1933, Salomon went into exile in The Hague. His name was on the list of undesirable Jewish figures banned from publishing. He continued his career with Dutch magazines, but when the German army invaded the Netherlands he was forced into hiding by the anti-Semitic measures. Eventually he was denounced and deported to Auschwitz, where he died with his wife and younger son in 1944.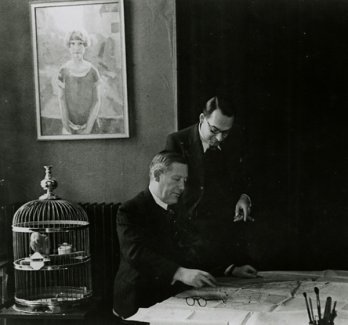 Erich Salomon/Erich Salomon_Jan Wils, 1935_Collection NAIWILS
With this project, the Jeu de Paume is inaugurating a cycle of three exhibitions at the Hôtel de Sully on the subject of European photography between the wars (already touched upon in the current Lee Miller retrospective at the Concorde site). The series covers three main areas: German photojournalism, as represented by Erich Salomon, avant-garde photography in Paris from 1920 to 1940, in the Christian Bouqueret collection, and, finally, war photography, through the work of Augustí Centelles during the Spanish Civil War.
www.jeudepaume.org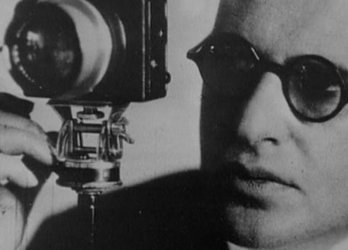 Erich Salomon