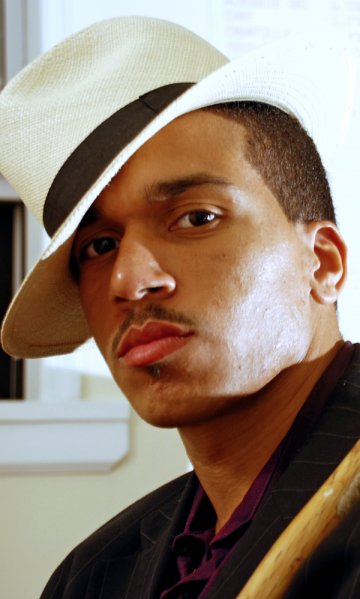 Alexis Aliocha Peskine
Twenty things you should know about Alexis Peskine...
Zanoah Bia, December 6, 2018
Alexis Peskine was born (1979) in Paris, France. He was a Fulbright Scholar in 2004 and received his Bachelor of Fine Arts at Howard University in Washington DC, and his Master of Digital Arts and Master of Fine Arts at the Maryland Institute College of Art (MICA) in Baltimore. The use of graphics and business ideas in the art of Peskine comes from his first training related to graphic arts.

The Interview

EgoDesign: Who are you? How would you describe yourself?
Alexis Peskine:
I am an artist an observer a thinker an eternal learner a sensitive soul a traveler a music lover. I try to understand people and situations and I am hungry for culture.

E.D.: Tell us more about your works?A.P.:
I like to include popular icons and pervert them. My reasoning behind the inclusion of elements that people are familiar with is to establish a connection between the work and the viewer. My work has a graphic quality mixed with fine art sensibility. I like the graphic appeal because of its boldness and its ability to grab most people's attention. I feel that if the images I make can retain someone's eye, then half of the purpose of my work is already fullfiled. That's why in my work, technique and craft are important. They can alone retain the eye if they are impressive. I use all kind of materials from nails to soap, but my signature works are my Nail Pieces. I use photoshop to translate an image (that I generally stage and shoot) into halftone pattern dots and then I recreate this image painting it on wood and using nails with different size of heads to replace the dots.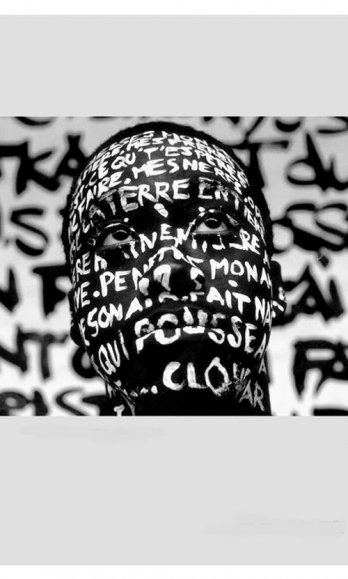 Alexis Peskine_Word?, 2002
E.D.: Is there a philosophy behind your work?A.P.:
Making refined popular work. Bridging the popular and the elitist. I make extremely simple graphic images with extremely complicated and elaborated techniques and process to talk about topics such as identity with a drop of cynicism.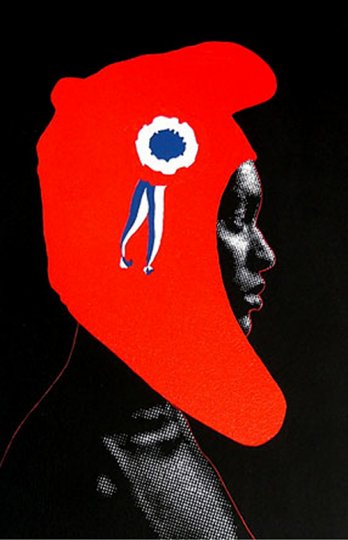 Alexis Peskine_Mariam.
E.D.: What do you consider your influences, what inspires you?
A.P.:
Well there are 2 kinds of influences: Things that influence my work aesthetically, and things that influence my work conceptually. Conceptually I find topics anywhere from the news, to books, to advertising to societal things I observe. I'm a news rat and I watch France 24 a lot I also read articles on the net, and I love documentaries. Since my work deals with identity I also observe human behaviour whenever I travel. As far as aesthetic influences, it's not necessarily just fine art. Anything from art toys to music videos to magazines, to fashion photography and advertising, to films. I used to work in my aunt Marianne Rachline's small industrial design firm (Crayures) and she developed my taste for graphic design. I love bold clean things. I have to say I'm a big fan of pop art in general. I love Takashi Murakami, Warhol, Chuck Close, Jeff Koons, Damien Hirst, Ron Mueck, César, Jean Dubuffet, Eugène Delacroix, Jean Paul Goode, David La Chapelle, Michel Gondry, Hype Williams, Jean-Michel Basquiat, Chéri Samba, Matt Groening, Masami Kurumada (Saint Seiya), my friend Jordan Eagles and Hank Willis Thomas, Titus Kaphar, Ellen Galagher, Jota Castro, Satch Hoyt, my brother Anthony Peskine, Tedra Wilson, I also like craft and I admire the work of my New York mentor Eric Chapeau who works in piano and antique conservation. My work is a mix between graphic design, and meticulous ancient craft. I have an appreciation for classical things and when I am in Paris I spend a lot of time in the Louvre to observe and borrow strong aspects of a variety of ancient master works like the composition of Byzantine paintings, the drapery, movement and gesture of classical Greek and Italian sculpture, the pattern, the technique, the conceptual and textural of African art from Egypt to Benin.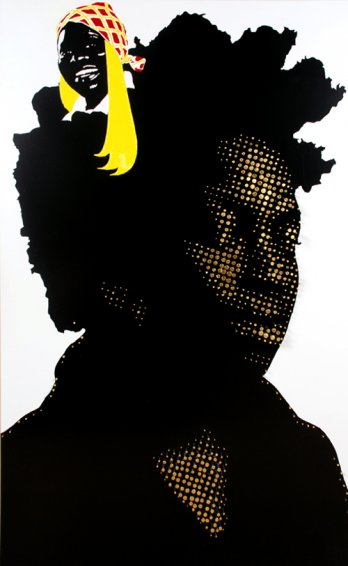 Alexis Peskine/'Aunted
E.D.: How would you explain Art? And how can you explain yours?
A.P.:
Art=observation+thought converted into expression. My art is visual philosophy basically. To me making art is talking with images and signs.
E.D.: Your favourite materials in art and why?A.P.:
Takashi Murakami's "Tan Tan Bo Puking a.k.a Gero Tan" and "The Raft of Medusa" from Eugène Delacroix for the awesome way with which they depict drama, human complexity, urgency and chaos. I also like the way they hurtfulness into something aesthetically beautiful. In those works you can see beauty through suffering. This ability to translate struggle into art and beauty is a major trait in Black art as well. It is found in Black music from Samba, to Jazz and Hip Hop.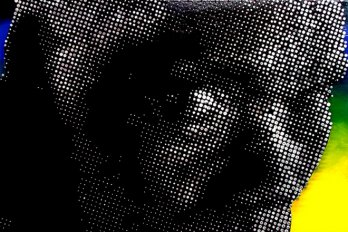 Alexis Peskine/Alexis Peskine_ Ordem e progresso
E.D.: What represent for you Jean-Michel Basquiat?A.P.:
Fast lane, youthfulness, politics of the people, intellectual refinement meets the screaming chaos of the streets, the link between the streets and the established, chaos, the de-chichi-ization of the art world, the true first young rock star artist.
E.D.: And the international art market, what do you feel it is?A.P.:
It's weird. It's a big elephant. A big capricious rich eccentric bi-polar elephant with a short attention spend. And it has the power to validate the value of an artist's work…
E.D.: Which artist, architect, designer do you admire most?A.P.:
Takashi Murakami in art, David Adjayé in architecture, as far as design I like a lot of design from many different designers from Starck to Le Corbusier.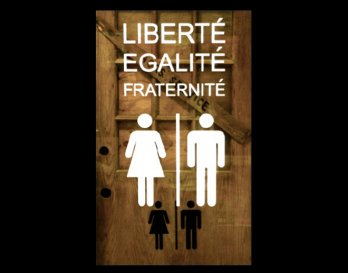 Alexis Peskine/Alexis Peskine_Bienvenue en France, 2007
E.D.; What are currently your favourite brands or objects, and why?
A.P.:
"Sponge House" by 5.5 designers for Scotch Brite (I dreamed of this for it's functionality and appeal), The Astro Boy Toy (Takara 2003)(So Pure and poetic with the opening heart and other gadgets) The "Tape Dispenser" by j-me (I'm a sucker for when someone actually physically "make" a corny joke), the project building stool by Sentou ,I also gotta give it to the Ipod and the Iphone. Oh Yeah I love googlestreet view.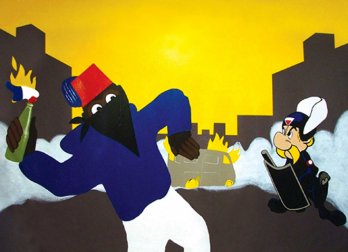 Alexis Peskine/Alexis Peskine_La France des Franšais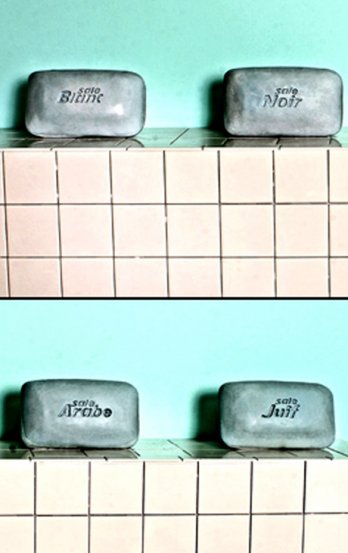 Alexis Peskine/Alexis Peskine_Sale Rrrace
E.D.: Which city resembles you the most and why?A.P.:
I'm mixed. I'm the son of Paris, New York and Salvador, Bahia. Paris is where I was born and raised so it moulded me. At the same time it is cosmopolitan and quite multi-cultural. It is urban and socially diverse. It takes its time to enjoy and soak in things and doesn't like to be contradicted. It is cynical, and complex, it doubts and loves itself and it has yet to be satisfied. New York is also multi-cultural; it has a constant thirst for new things and the hip. It forever seeks for amusement and never settles down. Salvador is has an old soul and is a big kid at the same time, it loves to party to laugh to eat to make love, it doesn't think about tomorrow, it is very expressive and melancholic.
E.D.; Your dream project?
A.P.:
Something that would connect and a lot of people, and connect a lot of people to me.

E.D.: What is your favourite example of the use of sustainable materials in art?A.P.:
I like lacquer because when you look at pianos for instance they stay in pretty good shape. But if you want to look at seriously strong and sustainable material of course you have bronze, or better yet gold or diamond. It doesn't really get better than diamond.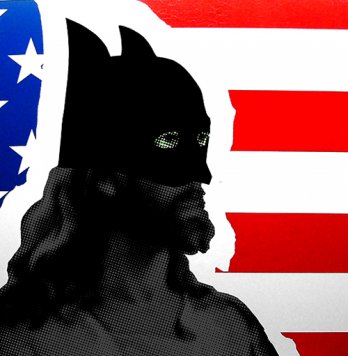 Alexis Peskine_Axis of evil, 2005
E.D.: What art project would you never create and why?A.P.:
Something that would compromise my integrity and my morals.
E.D.: What your favourite items (in art, photography, design, architecture)?A.P.:
In art, the lacquer gun, in photo, the high quality digital camera along with the strobes (because you can do anything with those), in design, the exacto knife, tape and photoshop, in architecture ceramic tiles.

E.D.: What you hope your current work will bring to people, to humanity?A.P.:
Reflection, evaluation of what we can improve around us and abroad.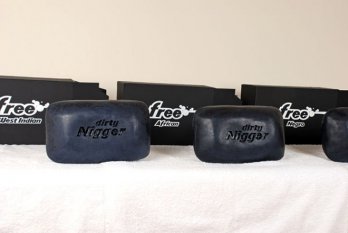 Alexis Peskine/freed-closeup-3boxe
E.D.: What invention would best improve your life? A.P.:
A nail gun that would enable you to nail in a variety of nails at whatever depth you decide.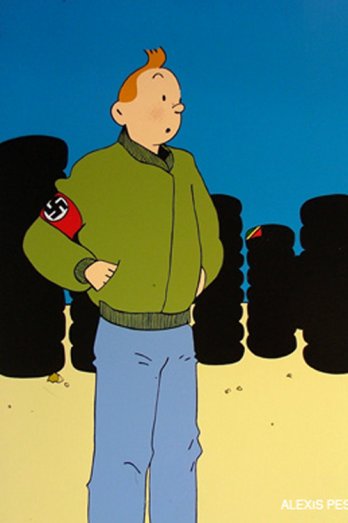 Alexis Peskine/Alexis Peskine_Tintin and Your Kids
Alexis Peskine/Alexis-Peskine_Lessoned, 2008
E.D.: Can you describe an evolution in your work from your first projects to the present day?A.P.:
Definitely technique wise. I use more sustainable materials. I replaced latex paint by lacquer and sign paint; I oil and gold leaf my nails to prevent them from rusting. I use lighter and tenderer wood. I always had the will to make my works clean opaque and graphic and it has been a journey to find the right longest lasting materials and products to realize the images I have in my mind. Concept wise, I try to be more universal and I try to be thought provoking rather than provocative or insulting.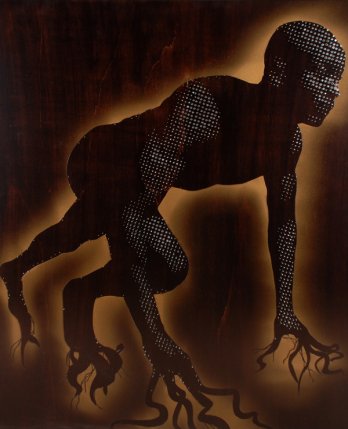 Alexis Peskine/Starting Blocked
E.D.: What couldn't you live without?A.P.:
My brain.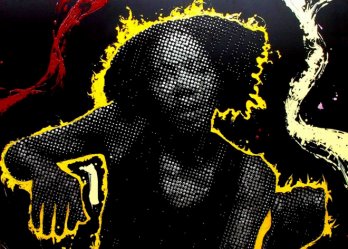 Alexis Peskine/alexis-peskine_Maezinha Revisited, 2008.
E.D.; Finally, which 21th-century architects/designers/artists would you invite to a dream dinner?A.P.:
Stevie Wonder, Jay Z, Takashi Murakami, David Adjayé, Jeff Koons, Michel Gondry, Kara Walker, Damien Hirst, Dave Chapelle, Ellen Gallagher, David LaChapelle, my brothers Anthony Peskine and Gystère, Tedra Wilson, Hank Willis Thomas, Jordan Eagles, Mickalene Thomas and of course a couple of other interesting friends.
Alexis Peskine/Alexis Peskine_Corna Banana.
Bio_Express
Alexis Aliocha Peskine was born in Paris, France, on September 29, 1979. He is a 2004 Fulbright Scholar who holds a B.F.A. from Howard University an M.A. and M.F.A. from the Maryland Institute College of Art (MICA). Peskine's use of graphic and commercial images in fine art is informed by his early start in graphic design. At age 15, he was the youngest student to enter the Apprentice Center of Formation for the Graphic Art in Paris; he subsequently worked for Crayures as an industrial designer for clients such as Roland Garros, Malterre and Fly. He also served a stint as Creative Director for Burrell Communications in Chicago. Peskine bridges the gap between graphic design and fine art by using the same design aesthetic to appeal to the masses, as his work often touches on the ideology of consumerism and mass consumption.
As a junior at Howard University in 2002, Peskine was the first winner of the Verizon HBCU Student Art Competition; the following year, he won second place in the same competition. His work has attracted the attention of Chrissie Iles of the Whitney Museum and Yukie Kamaya of the New Museum of Contemporary Art in New York. Burrell Communications' Chairman Emeritus Tom Burrell and musicians Donald Byrd, Talib Kweli and Common all own Peskine's work.
Drawing inspiration from his paternal grandfather who survived a German concentration camp, to his maternal grandfather who lived in the favelas of Salvador, Bahia, to the loving marriage of his own Franco-Russian father and Afro-Brazilian mother, Peskine challenges his audience with provocative, cynical and sometimes earnest takes on serious subjects. Much of his work also celebrates family, friends and the beauty and humor of solitary inanimate objects.
www.alexispeskine.com