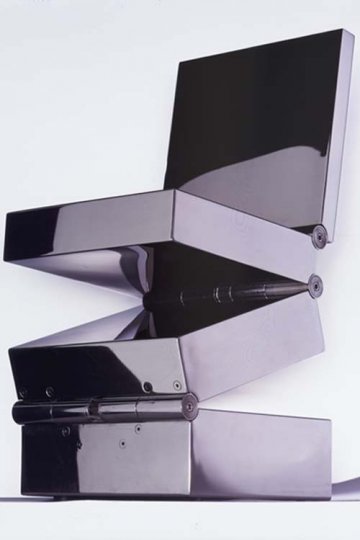 Ron Arad
No Discipline
Marie-Laure Jousset, November 17, 2008
The Centre Pompidou is to devote an exhibition to the work of British architect and designer Ron Arad, his first major one-person show in France. From its beginnings, the Centre has played a key role in presenting design and designers to the wider public, with exhibitions such as
Design Français 1960-1990
(1988),
Manifeste: 30 ans de création en perspective, 1960-1990
(1992) and
D. Day, le design aujourd'hui
(2005), as well as monographic exhibitions devoted to such figures as Carlo Mollino (1989), Ettore Sottsass (1994), Gaetano Pesce (1996), Philippe Starck (2003), Charlotte Perriand (2005), and now Ron Arad.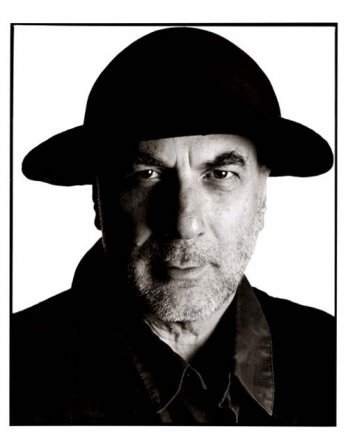 Ron Arad_No Discipline/Ron Arad by David Bailey_July08
Born in Tel Aviv and trained at the Bezalel Academy of Art and Design in Jerusalem, Arad moved to London in 1973 to study at the Architectural Association. Having settled in the British capital, he has since produced a diverse array of objects, sinusoidal, elliptical or ovoid in form, from one-offs to limited editions to mass-produced pieces. Mention of Ron Arad's name immediately brings to mind such pieces as the Bookworm bookshelf (1993) and the Tom Vac chair (1997), but his ground-breaking work has taken him beyond conventional categorization: a creator who recognizes no a priori boundaries, who in his practice moves freely between architecture, design and the visual arts.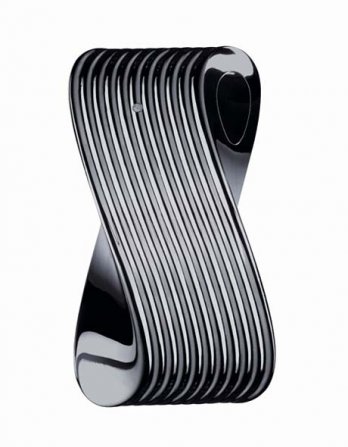 Ron Arad_No Discipline/Kenzo Parfums by Ron Arad_2008-09
In 1987, he was invited by the Centre Pompidou to participate in the exhibition Nouvelles tendances: Les avant-gardes de la fin du XX
ème
siècle, and he has several pieces in the design collection of the Musée national d'art moderne/Centre de création industrielle. This retrospective will present emblematic examples of Arad's work as a designer, from prototypes to mass-produced objects, as well as a number of architectural projects, together with audio-visual documentation.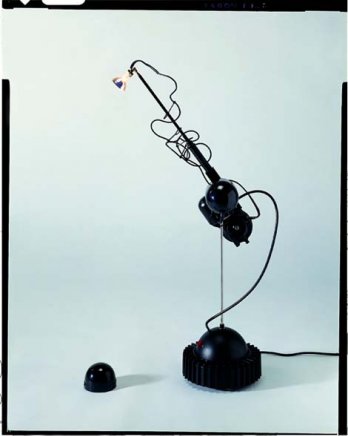 Ron Arad_No Discipline/Lampe Aerial_Ron Arad_Jacque Faujour, 1981
Ron Arad's design for the exhibition in the Galerie Sud draws the visitor into a strikingly distinctive world. The first space offers an identical reproduction of his foyer and staircase for the Tel Aviv Opera House (1994), onto whose elliptical form is projected a film on the Holon Design Museum currently under construction, while plasma screens on the wall present some two dozen of his architectural projects. Beyond this reconstruction, a luminous divide revealing the mysterious silhouettes of objects beyond delimits an intermediate space in which are displayed one-off pieces, prototypes and limited editions. This long ribbon also encloses another space, visible from the street, where visitors and passers-by will find a scaffolding composed of a multitude tubes of varying diameters housing examples of mass-produced pieces, while others contain small screens showing videos. On the floor are more pieces, some of them mobile, equally visible from the street.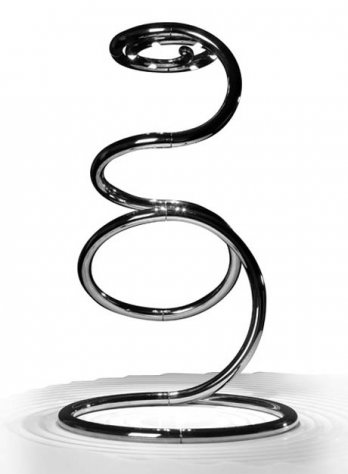 Ron Arad_No Discipline/Lampe Pizzakobra white by Ron Arad, 2007
The work exhibited testifies to Arad's long-standing interest in technology, illustrating the way in which innovative research, materials engineering and the use of high-precision machinery are combined in unique experiments: sculptural chairs in carbon fibre or silicone, vases produced by stereolithography, lamps that receive and display text messages. And in his work for manufacturers, these technical and formal innovations find expression in the design of everyday objects. Arad's architecture is equally idiosyncratic, identifiable by its deployment of a formal vocabulary that suggests the application of design to space, as in his Y's Store for designer Yohji Yamamoto in Tokyo, the Duomo hotel in Italy, and the Holon Design Museum in Israel.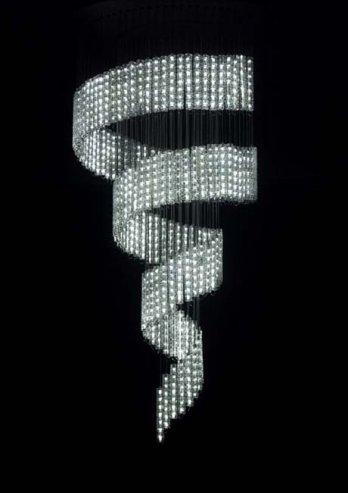 Ron Arad_No Discipline/Chandelier Swarovski Lolita by Ron Arad, 2004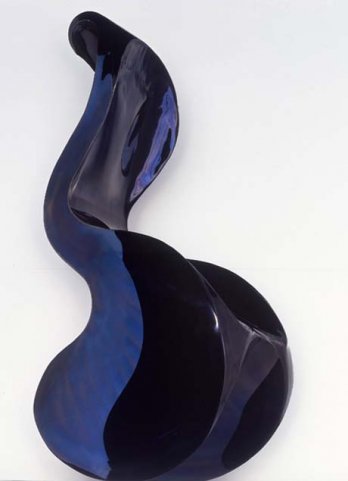 Ron Arad_No Discipline/Ron Arad_Siège At Your Own Risk (A.Y.O.R), 1991_Tom-Vack
Dialogue with Ron Arad...
Marie-Laure Jousset: You're back at the Centre Pompidou once more, after the exhibition 'Nouvelles Tendances' twenty years ago, in 1987. But this time for a solo exhibition. Is it important for you to show your work in public institutions like the Centre
Pompidou, or MoMA?

Ron Arad: Of course it's important, I'd be lying if I said otherwise. But it's important above all in terms of the relationship it allows me to establish with the public. A public institution is inevitably 'institutional', it's never perfect. If it was, I'd be free to do whatever I please there, and treat it as a kind of extension of my activities. In fact, the institution acts as a kind of filter. In general, it's a reassuring echo of the creative aspect of what we do, because it's all too easy to think that one's work is devoid of meaning. You also start to ask yourself whether you should do something this way or that way, or to question the usefulness of what you do, whether it will really be of any use to anyone. And you sometimes feel as if you're putting on a front, duping your public. I'm talking in general terms, I don't necessarily mean that this is what I do… the fact is, I don't want to feel as if I'm fulfilling some sort of duty. I want to do what I want to do, and have fun at the same time. And in a sense, an exhibition of my work at a cultural institution [like the Centre Pompidou] confirms to me that what I do is not totally insignificant.
M.-L. J.: I would even go so far as to say that in your case, this particular institutional setting is no stranger to what might be called a spirit of rebellion or criticism. [?]

R. A.: I do like to 'shake the palm tree' from time to time, it's true. Of course I'm delighted that one of my works is on display in a museum, that the Centre Pompidou or MoMA, recognise my work. And the fact that the piece isn't a picture, or even a piece of furniture, but a humble ping-pong table, a piece of sports equipment, is even more delightful. I like to disarm people when I show them something, so that they think: 'What's design doing here?' I also like the idea that a single piece can have several existences depending on the way it's presented. For example, playing with the reflective surfaces or patina of a particular work: you can use this to see an external landscape, or the morphology of a piece. I feel as if I'm using the institutional setting to serve my own subversive ends.
M.-L. J.: In terms of exhibition planning, the design and layout of a show, I firmly believe that since we are lucky enough to present the work of living, active artists, it's worth accepting the challenge, taking the risk, of giving them carte blanche. It seems to me that what results may be a new work of art in its own right.
R. A.: Taking care of the design and concept of an exhibition, and everything that goes with it, all the problems of getting it installed, is not something that interests me a great deal, in fact. I don't have any particular desire to get involved in that, I'm quite happy to leave it other people. I prefer to see myself turning up the day before the opening of one of my own exhibitions, taking a look around and enjoying it: 'Great: Terrific! That's beautiful..!'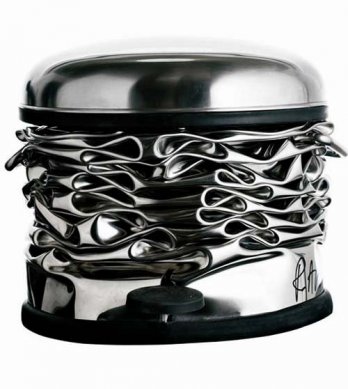 Ron Arad_No Discipline/CRASH Vipp ben brown by Ron Arad, 2008
M.-L. J.: I doubt that very much - you'd be too anxious.

R. A.: Ideally, I'd like things to happen that way. But in reality, as soon as I stick my nose into something, it's a lost cause. I end up wanting to do everything myself, and to include as many things as possible. For example at MoMA, where the exhibition will be presented in a year's time, after the Centre Pompidou, we have to design the entire space, because it's very different from the Centre Pompidou. When I discussed this with the curator, Paola Antonelli, I made a suggestion: we could imagine that the exhibition space is cut in two, with her exhibition on one side, and mine on the other. Just for a moment, it seemed like a really interesting experiment: the public would be able to judge our respective choices, compare how we each used the available space etc. I had to come down to earth and face the facts: it was an impossible dream. But I would be prepared to do that, absolutely.
M.-L. J.: Without going that far, it's true that over the course of this project, and in order to finalise plans, we have had to get together very often, to talk things over, exchange our views and ideas…

R. A.: With hindsight, I'm very happy about the outcome of our different conversations, which have, in the end, helped us to overcome a number of difficulties. To achieve this result, we have had to discuss, explain, convince, sometimes shift our positions, change our ideas. It's difficult for me because when I have one idea, I also have seven others, which I know are impossible, but at the same time, I still think they may be feasible after all.
M.-L. J.: But you would agree that presenting your work in a museum is not the same thing as showing it in a private gallery. As a public institution, we have a duty to encourage learning and knowledge-sharing, to show the public where the works are coming from, where they stand. Take the Concrete Stereo and Oh Void, for example: the first is set in concrete, and was produced by One Off in the 1980s, and the second is in silicon, produced by Galerie Mourmans in 2006. But if we were to display them just as they are, without explanation, without dates…
R. A. : … that's exactly the problem, I have to tell a story, one single story, and unfortunately not all the other stories I have in my head. Sometimes I think that a mental process ought to suffice as an exhibition [?] But for our exhibition here, I think I have the solution. Based on the floor, and new technology: in Milan and Maastricht, I've already tested and used an extensive system of floor based collage, which enables me to write things by hand, fix pictures and texts, use colours. It's a very flexible system, which suits me well. I can direct people, for example, by drawing arrows, as if to say to them: 'Go over there to see the work on the other side'. It's a way of giving the public information, but retaining the greatest possible sense of freedom.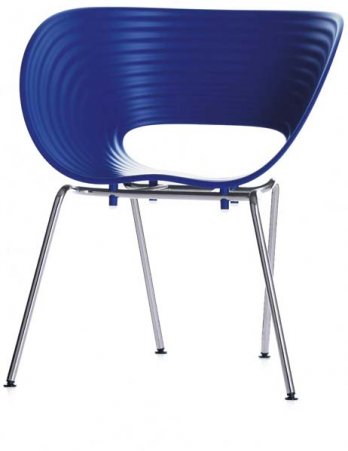 Ron Arad_No Discipline/Ron Arad_Tom Vac_Vitra,1999.
M.-L. J.: And this system integrates perfectly with your planned structure…

R. A: I take the foyer of the Tel Aviv Performing Arts Centre as my model structure for displaying one-off pieces and limited editions, because it's a project halfway between design by hand and design by digital technology. In fact, when we presented the design for the project, everyone thought: 'That's one of the finest examples of computer-designed architecture.' In fact the design was done by hand, but looks like a virtual-reality picture. The incredible thing is, it took just a single morning to model what it had taken four years to design! But with regard to the arrangement of the exhibition, I prefer to talk about an absence of structure, it's not my aim to turn it into a manifesto for 'No Discipline'.
M.-L. J.: No Discipline, indeed: we hesitated a great deal over these two words. [?] In seeking a title for the exhibition, did we have to resort to concepts of 'indiscipline', 'non-discipline', or 'no discipline'?

R. A.: It's true that French and English are languages separated by two cultures, two different worlds, and that words and expressions can be contradictory. But personally, I'm very happy with the title 'No Discipline' for the exhibition. There's no need for definition. Concrete Stereo alludes to architecture (because of the concrete), and to music, and yet it's also a piece of design. 'No Discipline' is exactly that.
M.-L. J.: And to come back to the concept of the exhibition itself, we have tried to reflect every aspect of your work, exploring three different avenues: unique pieces, industrial pieces and architecture. Are you worried that people will ask, 'Who is Ron? An architect? An artist? A designer?

R. A.: I hope people will say: 'He's a good architect, a good artist and good designer.' You know, when you go into the studio, there's no barrier between these functions, and you don't need a passport to go from one to the other. That's how I work, too bad if people feel a need to tidy things up and classify other people and things systematically. As I have said already, I like to have fun. I like it when people in an office feel as if they're at nursery school, when you don't start the week moaning about the fact that it's Monday. The idea of a playground, a recreation ground, is fundamental for me. I didn't plan to go into the world of design, I didn't do it on purpose… what happened was that I didn't feel comfortable working in an architectural practice. For example, when I made the piece that referred to the ready-mades - the Rover Chair - it wasn't because I wanted to save the planet by recycling, or because I wanted to get into furniture design, no, it was because at that time, I was able to do it. That's all.
M.-L. J.: It was within your means and capabilities, in a way.
R. A.: It was feasible, at any rate.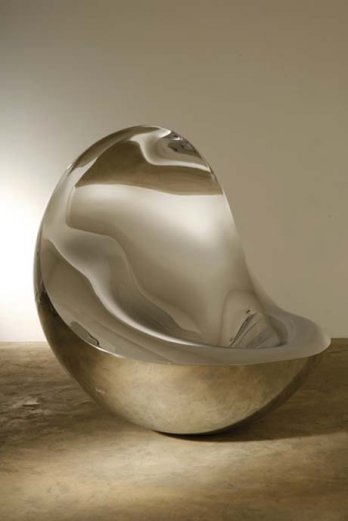 Ron Arad_No Discipline/Ron Arad_Chaise sculpture Southern-Hemisphere_Eric & Petra Hesmerg
M.-L. J.: How do you use colour in your creations?

R. A.: I adore colours: the colour of metal, copper, cement, wood… What I don't like is using paint to introduce colour into what I do. On the other hand, I don't adhere to struct rules like: 'Paint is ugly.' I prefer to say: 'Let's talk about materials rather than using other materials to cover them up.' Nothing is ever completely simple. With regard to materials, for example: I love stainless steel, but not chrome. But if I needed to use chrome one day I wouldn't ban it, I would use chrome.
M.-L. J.: In essence, you don't apply or follow any particular methodology.
R. A.: No, I would describe myself as lazy, with no working method.
M.-L. J.: Lazy?
R. A.: In my own way. Which basically means counting on the people around me: and since I'm surrounded by extremely competent people, I lean on them. Before I design anything, I talk things over with them. It's my most effective tool. But I tend to skip between one idea and the next, I'm quite capable of dropping everything and moving on to something completely different. When the Rover Chair became a success for us, I stopped making it because I didn't want it to turn into a facile process. In fact, everything took off very quickly after an article in Blueprint magazine. A fan of the chairs, who I didn't know me from Adam, said I was London's most interesting designer. And at the time, I was far from thinking of myself as a designer.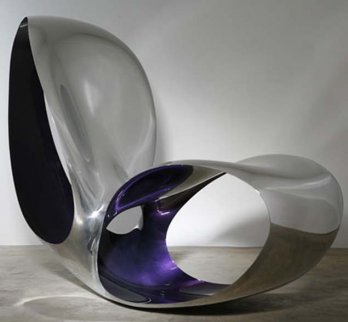 Ron Arad_No Discipline/Ron Arad Bodyguard sculpture chair, 2007_JCollection José Mugrabi.
M.-L. J.: Once, you said something which I found quite surprising: you said, 'I have an imaginary museum in my head, and I know, love and appreciate Matisse, without possessing him.' What does this idea of 'a work in your head' mean to you? To have the use or enjoyment of it, in a way, without being the owner of it?
R. A.: I owe a lot to museums. Beyond school, they have been responsible for part of my education. I didn't come from the centre of things, I came in to museums from the suburbs [?]. I saw a huge Van Gogh exhibition in that way, and a Giacometti exhibition. These things mark a child, or an adolescent, adventures like that! And so yes, when people comment on the high price of works of art, my response is that you can be a consumer of art, you can enjoy it without buying it. Recently, again, when I went to the fantastic Giacometti exhibition at the Centre Pompidou, I never once asked myself: 'And that work there, how much is it worth?' No, I see myself as a consumer of the things I see, without feeling the need to buy them.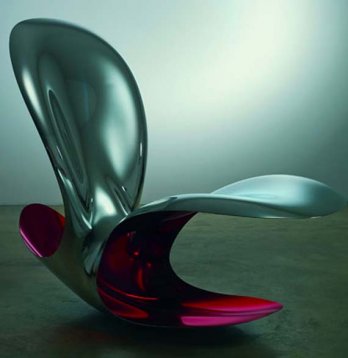 Ron Arad_No Discipline/Ron Arad_Chaise sculpture Bodyguard numéro 2, 2007_Eric & Petra Hesmerg.
M.-L. J.: But that doesn't stop your own creations from having a certain value?
R. A.: When you see the price that something you've made can fetch, then naturally it gives you an idea of the value of your works, and helps you to situate them in relation to other people's work. But there are abuses of the system: I see a lot of work today that's done cynically, based on what the market wants. And then there's the paradox of this market that tells the art market that the 'art of design' sells well, when at the same time, the art world doesn't accept design… For me, it's just a question of marketing. In any case, I don't find it very satisfactory to talk about design as art.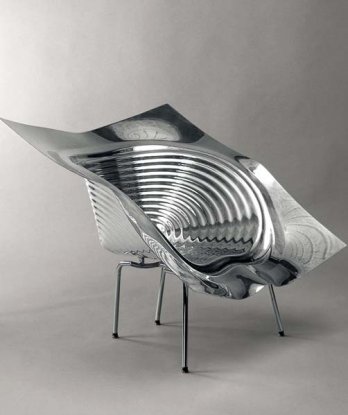 Ron Arad_No Discipline/Ron Arad_Uncut chair, 1997_Jean-Claude Planchet
M.-L. J.: Some would accuse you of being the originator of the phenomenon.

R. A.: If that's true, I didn't do it on purpose.
M.-L. J.: Generally speaking, is money a major issue in your work?
R. A.: It allows me to do what I do. I should say that I've been lucky from the start, to be able to finance my activities through my work. I've never had to go fishng for finance. Even if, today, with a team of 20 people working with me, we're more comfortably off than we were before, we would obviously like to have more money, to launch more projects.
M.-L. J.: Your creations are certainly far more spectacular now than they were 20 years ago.
R. A.: But I'm quite capable of creating very expensive pieces in small limited editions, like the Pizzakobra lamp - an industrial object which is accessible to all, I hope - and at the same time I'd be ready to work with IKEA if the project seemed worthwhile. What I don't want, on the other hand, is to work for IKEA if that means making it easier for some f***ing pretentious art critic to comment on my work. Or to create works of art specifically designed to be of interest to IKEA.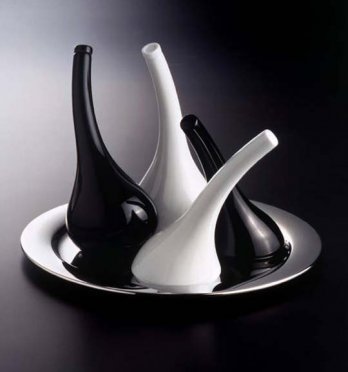 Ron Arad_No Discipline/Ron Arad_Calebassa, 2007_Rosenthal AG
M.-L. J.: Are other people's reactions to your work important to you?
R. A.: If we're talking about the reaction of the art critic of the Daily Telegraph - who described my exhibition at the Victoria & Albert Museum in 2000 as 'shameful' because I dared to display plastic - then I'm very pleased about that! It confirms that the exhibition was a success. But there can be self-appointed and invisible judges of your work, too, or judges whose opinion you respect, and whom you willingly 'appoint' as your chosen critics. These might be old friends from art school, industrialists, journalists, exhibition curators.
M.-L. J.: And visitors to the exhibition?
R. A.: When young Israelis (possibly rather less young today) come up to me and say: 'I became a designer because I saw your show at the Museum of Modern Art in Tel Aviv, it's what made my mind up,' I think that's incredible, fantastic! Of course, I prefer it when viewers appreciate my shows, or that at the very least they have a good time visiting them.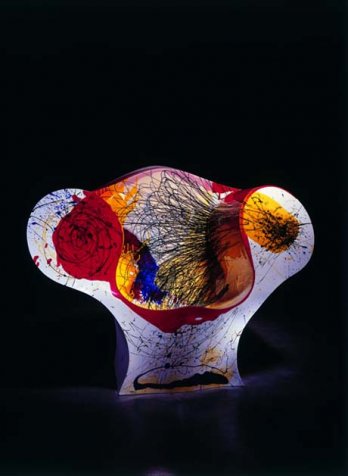 Ron Arad_No Discipline/Ron Arad_Fauteuil New Orleans, 1999_Eric & Petra Hesmerg
M.-L. J.: To end, I'd like to say how much I have enjoyed working on this exhibition together. It's been an emotional experience for me, reflecting my own journey almost exactly: I started out with you, among others, working on the exhibition Nouvelles Tendances, which we referred to at the beginning of this conversation, and I'm ending with you, now. This will be my last exhibition. I feel very touched by that.

R. A.: What I showed here twenty years ago wasn't really design. It was much closer to Caesar and Chamberlain than to Marcel Breuer and Charles Eames, even if the first works to destroy were armchairs by Eames. Today, finally, I wonder if I'm not what might be called a 'special case'? Am I able, or unable, to make things in the way people would want me to make them, to do what is expected of me.

www.centrepompidou.fr