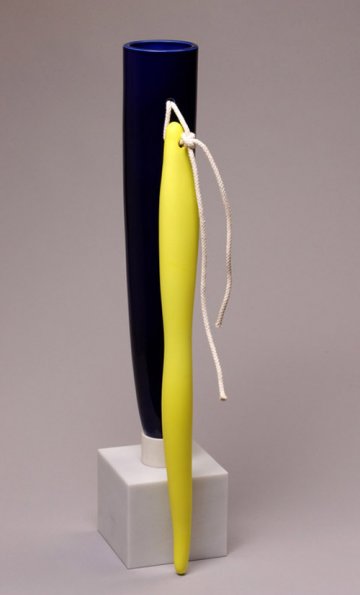 Ettore Sottsass
Ettore Sottsass & Sottsass Associati
Marie-Claude Beaud + Adrien Rovero, October 20, 2008
Ettore Sottsass (1917-2007) was one of the leaders of contemporary design. In the 1980s he renewed the design scene by creating the Memphis movement which became the international model for anti-modernism. Mudam presents an exhibition devoted to him in collaboration with the Manufacture nationale de Sèvres and DuPont and with an original exhibition design by Adrien Rovero. The exhibition Ettore Sottsass & Sottsass Associati concentrates on two distinct projects. The first is a series of ceramics composed of nineteen vases that was created in collaboration with the Manufacture nationale de Sèvres between 1994 and 1996 and subsequently from 2005-2006. Presented under the title "Songs and Landscapes", it translates both the mastering of Sèvres techniques and the progress of Sottsass's research. Each of the forms, that the Manufacture persists in calling "vases" in order to respect its tradition as a creator of objects of practical use, is named after a literary or mythological heroin: Lolita, Juliette,
Salome, Diana etc.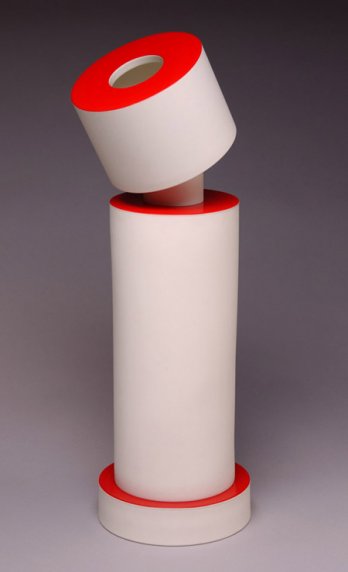 ETTORE SOTTSASS & SOTTSASS ASSOCIATI/Sottsass_Juliette.
The second project, "Exercises in Another Material", involves a group of fourteen large-scale architectural objects produced by the designer's agency, Sottsass Associati, between 1999 and 2000 at the invitation of the DuPont company and using Corian®, a material invented in 1967. For Sottsass, design implies the search for a sort of balance between tradition and the future. The objects made of Corian® show how an innovative modern material can create forms that defy time. He also questions the way in which certain materials are systematically limited to precise uses. Sottsass's "exercises" challenge our perception of things and show how the only limits in design are imposed by our imagination.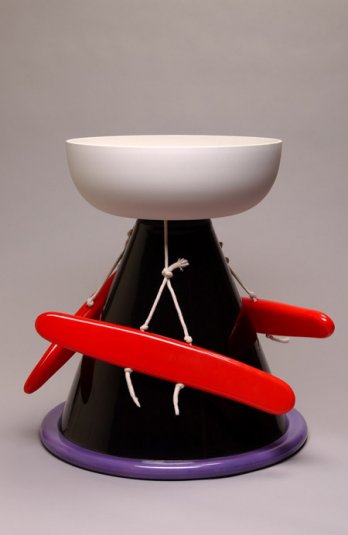 ETTORE SOTTSASS & SOTTSASS ASSOCIATI/Sottsass_Rababah
The two projects illustrate the experimental nature of Ettore Sottsass's approach, from the point of view of colours and shapes and the material used. They come together through the same use of refined shapes, effects involving the material and new combinations of colours.
"I conceive the colours like words. In the same way that words have a vocabulary, one can imagine that there is vocabulary of colours. With them, you can create an object or paint an environment like writing a novel or, if you want, you can make a statement."
(Ettore Sottsass on his "exercises") The setting of the exhibition, produced by the Swiss designer Adrien Rovero, Prix du jury Design Parade 2006, uses all the space in the Grand Hall of the museum. By placing the Sèvres ceramics on a raised platform, Rovero creates a veritable landscape of vases which interact with the architectural forms in Corian®.
ETTORE SOTTSASS & SOTTSASS ASSOCIATI/Sottsass_Surtout Csārda
"Songs and landscapes" Ettore Sottsass and the Manufacture nationale de Sèvres
During his initial collaboration with the Manufacture nationale de Sèvres (National Porcelain Factory of Sèvres) from 1994 to 1996, Ettore Sottsass created 14 vases and one table centrepiece, before adding another five objects (vases, bowl, centrepiece) in 2006, combining porcelain with glass, marble and string. Following in the tradition of the designer of practical use items, Sottsass called his objects "vases" and gave them names that conjure up a host of associations: 14 names of women hailing from the world of literature and five originating from known gypsy songs. By adding a few playful details and vivid colours characteristic of both himself and the Sèvres factory, Sottsass lightened up his ceramics, which typically display an architectural character and assume a strict form between sculpture and object.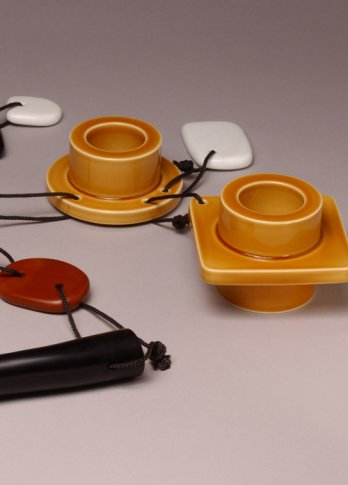 ETTORE SOTTSASS & SOTTSASS ASSOCIATI/Sottsass_Surtout Csārda
As a result, the over one thousand colours belonging to the National Porcelain Factory were joined by a new coral-tinged orange-red colour, henceforth known as "Sottsass Rouge". The technical effort required to manufacture these items, which consist of several individual pieces, is hidden behind their final perfection, owing to an accumulation of skills encompassing more than 250 years. The choice of clay, turning and throwing the vases, joining the individual elements, the repeated burning, the enamelling, gilding and subsequent burnishing all require expert craftsmen, who together form part of a production group and whose survival these days is ensured by the French State at the highest artistic level.
ETTORE SOTTSASS & SOTTSASS ASSOCIATI/Sottsass_Surtout Csārda
"Exercises in Another Material" Sottsass Associati and DuPont
The fourteen architectural forms grouped together under the title "Exercises in Another Material" are the result of a study carried out by Ettore Sottsass' design agency Sottsass Associati in 2000 to assess the potential of a material named Corian®, invented during late sixties by DuPont. Having experienced good results with Corian® during his interior design work at Malpensa's new airport, Sottsass suggested in 2000 that DuPont launch the product in an innovative manner by going beyond its typical use for countertops highlighting its colour diversity. The abstract forms thus designed by Sottsass Associati, reminiscent of architectural elements such as columns, walls, room dividers and similar, only sound the depths of the specific characteristics of this material, but also its technical and aesthetic limits. The experimental nature of these 14 architectural forms, both monumental and playful without any concrete functionality, allowed Sottsass Associati to further push the boundaries of the traditional designer.
ETTORE SOTTSASS & SOTTSASS ASSOCIATI/Sottsass_Sybilla
Ettore Sottsass on the exhibition "Exercises in Another Material"
"This project describes the efforts made during the year 2000-2001 to discover "other" possibilities of using the new man-made material called Corian®, made by DuPont and first introduced in the market in 1967: "other" possibilities of use beyond those known for some time, namely the application of the material in sheet, mainly for vertical facings or horizontal tops, which means two-dimensional surfaces… The new challenge was to envisage the use of this material on large three-dimensional structures, and the possible inclusion of these in architectural design. It wasn't a matter of finding "solutions" to this new problem, but of examining their scope. We needed to discover how far the boundaries of this material could be stretched, the limits beyond which it droops and grows silent, becomes boring…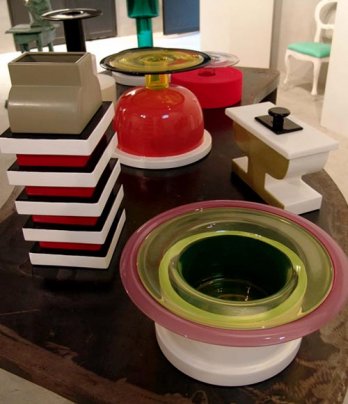 ETTORE SOTTSASS & SOTTSASS ASSOCIATI/Ettore Sottsass products
Also we needed to discover those boundaries beyond which even colors (the new colors chosen by the wise men and women at Sottsass Associati) begin to lose their intensity and their presence, to fall apart… We needed, too, to find out how the new material would cope with the proximity of other materials; ancient materials like wood, or stone, and new materials like chrome, or like violet neon light… And then, all things considered, it was a matter of people being invited to go ahead with experiments, so that ultimately "something else" could be possessed, some other occasion, some sort of vocabulary, small or large, with which to start drawing again, designing again…"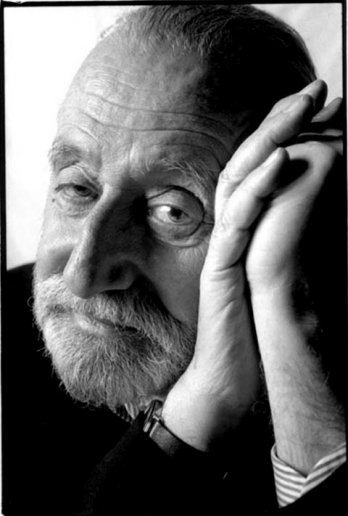 ETTORE SOTTSASS
Posthum_Portrait
Ettore Sottsass was born at Innsbruck in Austria in 1917. He died in Milan on 31 December 2007. Sottsass was awarded many prizes and his work is included in the collections of the great museums. He never ceased to develop a practice that touched on art, architecture and design. Ettore Sottsass completed his studies in architecture at the école polytechnique in Turin in 1939. In 1947 he opened his own architecture studio in Milan. His activity was particularly involved in a cultural approach: he therefore participated in the Milan Triennale of art and modern architecture several times as well as in numerous exhibitions in Italy and abroad. Before 1939 and in the post-war period, Sottsass contributed to the promotion of numerous innovative design concepts on a worldwide scale. After the war he created several architectural projects, before becoming the artistic director of the furniture manufacturer Poltronova in 1957.
From 1958, he was design consultant for the Italian firm Olivetti which is notably indebted to him for the design of the Elea 9003 computer (1959) as well as the famous Valentine typewriter (1969). From the end of the 1950s, following an oriental voyage, Sottsass came up with his first ceramic. In 1960, he opened his first design office, Ricerche Design, notably collaborating with Alessi. As a precursor of the "radical architecture movement", which was opposed to modern functionalism and rationalism, Sottsass actively contributed to theoretical debates concerning design and architecture in the 1960s and '70s. Having founded or collaborated with different groups such as Global Tools (1973), a veritable architectural anti-school, and Alchymia (1976), and wishing to apply the "radical" principles of the previous years to design, in 1981 Sottsass founded the group Memphis, which rapidly became synonymous with "New Design". In the same year, he created the agency Sottsass Associati. Sottsass is particularly famous for a phrase which well embodies the spirit that motivates a large number of designers: "The designer is a sponge, certainly, but a cosmic sponge."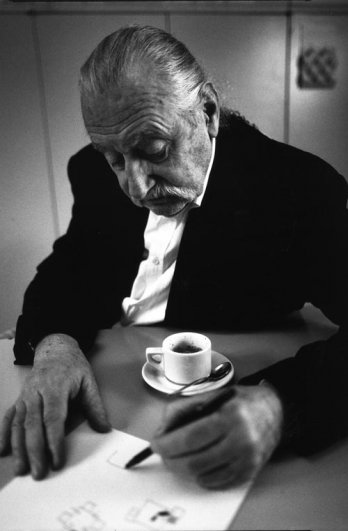 Ettore Sottsass_Photo by Luca Fregoso
"Ettore Sottsass and Sèvres (1993-2006)" by Ettore Sottsass
I was working with Marie-Laure Jousset for my exhibition at the Pompidou Centre when she asked me if I was interested in creating pieces for the Manufacture nationale de Sèvres. The proposition seemed to me to be way-out, almost crazy. That must have been in 1993, a year before my exhibition. Up until then I had only designed ceramic objects, in other words, maiolica. The first ones were for a certain Mr Richards, an American who sold ceramics to interior decorators, creators of decors for private houses and more or less luxury hotels and cinema decors, which were also more or less luxurious, for Hollywood films, of the so-called pink period, thus called, I think, because the stories always had a happy ending! Everybody was rich and happy, they always got married at the end and certainly lived happily ever after. Such was the conception of life and ceramics of this Mr Richards.

But in reality, the red clay, that baked earth, had passed through the fire for thousands of years already in the world. In Italy, during the Renaissance between the 14th and 15th centuries, maiolica was produced for important and powerful Tuscan families who devoted their time to bumping each other off, producing Popes in the Vatican or getting the best artists of their time to create plates, bowls, salad bowls and other compote dishes for their sumptuous banquets. Sometimes they commissioned squares of faience or low-reliefs of small or large dimensions to decorate the piers of church doors, or to decorate the facades of monasteries or various villas. The maiolica were fragile, fired with red clay: their thickness was more than 5 or 6 millimetres, the enamels were not bright and the colours of restricted range with many yellows, some oranges, a cobalt blue, some copper green, manganese brown, black and white.

I worked with these simple materials in a studio in Montelupo, a small town about thirty kilometres east of Florence, on the Arno. It is said that the Etruscans used to fire clay drained by the river which flowed down from the Apenines to the sea near Pisa. Also, when Marie-Laure Jousset suggested I design for the Manufacture de Sèvres, I replied that I was enthusiastic even if I knew full well that I would have to radically change my way of looking at artworks. I would have to learn new production methods and become familiar with new materials. I would also have to think about the new spaces which my shapes would inhabit and those who would like them or hate them. I also had to find a way to integrate my pieces into the huge patrimonial catalogue of pieces produced by the Manufacture de Sèvres. It wasn't like working with Mr Richards who told me: "Please don't use Spanish blue, it doesn't sell nowadays!"

I had to design for a long procession of ghosts of capricious and powerful kings, shadows of great queens, cultivated and probably refined mistresses, a huge crowd of phantoms of courtisans, intellectuals, philosophers and sharp thinkers. I had the feeling that the heritage of the Manufacture de Sèvres echoed the history of a whole nation and certainly not the fluctuations of the market. And in this history of Sèvres, there had never been a place for a Mr Richards. After Robert Bizot, the last director of the institution that I met, there was a civil servant from the ministry of culture, might I say a "gentleman", a sort of aesthete, slim, straight, of great elegance.

He continually smoked slim cigarettes, in a long cigarette holder made of shell, always looking up. This cultural functionary was the son of a French general at the court of the king of Greece, where he had spent his adolescence and where he had undoubtedly learned to become the "Monsieur" that he was now. Thus it was that one day I passed through the "front entrance" and penetrated the silent landscape of the Manufacture nationale de Sèvres. I had the impression of plunging into a metaphysical landscape, as if a group of compact, white, 19th century French buildings had been abandoned in a strange antique silence, immobilised, preserved in perfect mental order along deserted streets of white sand, situated in a wooded enclave of the Parc de Saint-Cloud.

Perhaps I still felt impressed by the order, the silence, the perfect white antiqueness, as I am when faced with a large sheet of paper on which I must draw lines. Now, the bigger the paper, the more rare and precious it is, the more the trace of my gesture corrupts the untouchable magic of silence and the more I will be involved. I will no longer be able to erase myself. But on the contrary, in this silent place, when I passed through the studios nodding to the people who worked in these white edifices, permanently aspiring to a singular perfection, I was welcomed by friendly smiles, as one greets a fellow traveller, a fellow risk-taker. These intense people, who were so kind, invited me through their smiles to share the risks with them. Thus it was that I took the risk with them.
Ettore Sottsass, April 2006
www.mudam.lu