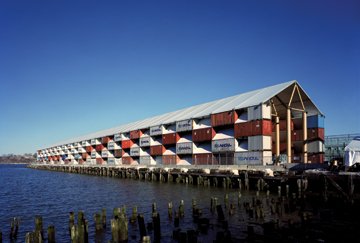 The Nomadic Museum
An Arche of Paper
Jacques Martin, September 9, 2006
New York's photographic exhibiton of the year is Ashes and Snow. Canadian photographer Gregory Colbert revealed an overwhelming display, not-seen until the 2002 Biennale de Venise. And now it is joined by an impressive architectural component as unique as the artwork itself.
The thirteenth century rope warehouse of the Arsenal of Venice, with its massive stone columns and shadowy, vaultlike space was a perfect setting to present, in a totally new way, this incredible collection of oversized photographs of whales, elephants, birds, old people and children.
With funding by the Bianimale Foundation, which Colbert co-founded,
Ashes and Snow
was able to become a travelling museum. Japanese architect Shigeru Ban, known for his whimsical, inexpensive, transportable structures, recalls how he was approached for this project. ''They were images like nothing I had ever seen before, primitive scenes of wild animals interacting with humans. While I was trying to comprehend this mysterious world presented before me, Gregory Colbert told me that he did not want to hold exhibitions in existing museums but rather wanted me to design a nomadic museum or traveling museum''.
First stop: New York, Pier 54 where the
Titanic
was to have docked 100 years ago. An auspicious choice?
On this dilapidated site, a titanic building, over 15 meters high and covering an area of over 4,700 square meters was erected, piece by piece - like a modern ark, housing hundreds of humans and animals, albeit all on paper...
P. Michael Moran
Shigeru Ban's masterpiece
Something between a cathedral and a vault, Shigeru Ban's nomadic museum is a vast steel carcass measuring 235 meters long by 24 wide. It is constructed by stacking over 148 shipping containers, in checkerboard fashion, to produce as large a vessel as possible. Each remaining opening is covered on the diagonal with a PVC sheet, which allows for both light and ventilation. A simple peaked roof, also of PVC covers the entire structure. Inside, 64 recycled cardboard columns are spaced 6 meters apart to recreate the Arsenal's colonnade. This skeleton and its shell can be dismantled, repacked or recycled at the closing of the event.
"You will likely be overwhelmed, as if you were entering a cathedral" explains Shigeru Ban. "But you will gradually be drawn to Gregory's work that is laid out between the columns, and the space will become nothing more than the background. It's like being absorbed in a prayer in a cathedral and forgetting the grandeur of the space that surrounds you".
An impressive handmade curtain, suspended from the ceiling, made from one million used paper tea bags, filters the light and emits a sepia tone throughout.
The most surprising fact of this structure, is that the whole exhibit moves in only forty containers, while each host city supplies the other 100 to complete the structure: simple and efficient. Even though the use of containers in architecture is not new, it is usually for space efficiency and not for structural purposes. This is what makes this museum so innovative.
The Nomadic Museum proves that man and animal can co-exist, as can art and architecture.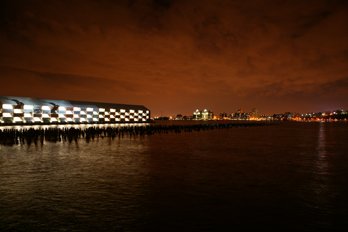 P. Michael Moran
www.ashesandsnow.org