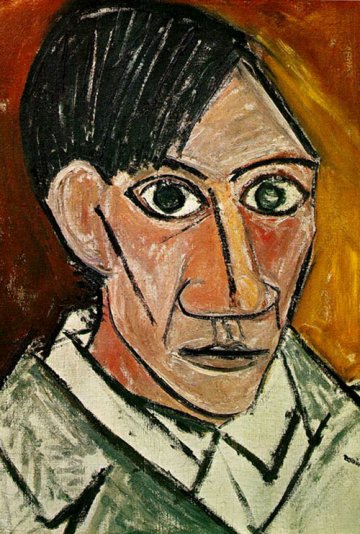 Picasso and the Masters
Pictural dialogue
Anne Baldassari + Marie-Laure Bernadac, October 6, 2008
Pablo Picasso was trained in the strict rules of academic painting at a very early age, first by his father, José Ruiz-Blasco, a teacher at the fine art school in Málaga and director of the Malaga Museum, and then as a student (1893-1899) at the fine arts school of La Corùna, at La Lonja (Barcelona), and then at the San Fernando Academy (Madrid). Drawings from the antique, statuary and architectonics, copies of paintings by the great Spanish masters and the study of the history of European art formed the core of this training, rooted in the humanist pictorial tradition which reminds us that Picasso was born in the 19
th
century (1881). Academic drawings, history paintings, genre scenes, epic or religious compositions, sombre effects, large, pretentious canvases, competitions, official painting and art galleries were the daily labour, the references and prospects of his formative years. The oppression felt by the virtuoso youth, who never drew as a child does but was immediately confronted with Michelangelo and Raphael, long nourished a subversive urge which drove him into the most radical formal innovations, Cubism, and to the foundation of modern art.
Picasso et les maîtres/"Grand nu au fauteuil rouge", Pablo Picasso, 5 mai 1929
Simultaneously a brilliant academic artist (he won a medal at 19) and a rabid destroyer of established forms, Picasso kept up an ongoing dialogue with the grand tradition in painting. His posture was not - as it was in many artists of his generation - merely a reflection of a period in the throes of change, but the driving force shaping his pictorial ambitions. It operated from his first major composition on an allegorical subject, Science and Charity (1896), until the last canvases after Velazquez, Titian and Rembrandt, in which an obsessive self-portrait lurked beneath the masks of musketeers, musicians and matadors. The period of "variations" on Delacroix, Velazquez or Manet (1950-1962) forms the best-known and most explicit episode in this process of critical revisiting which runs throughout his work.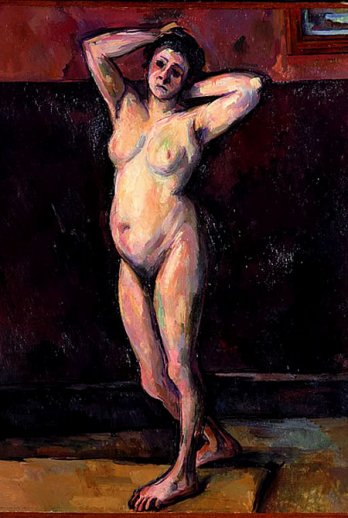 Picasso et les maîtres/"Femme nue debout", Paul Cézanne, 1898-1899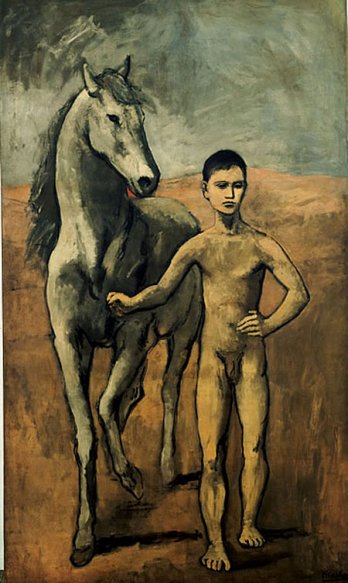 Picasso et les maîtres/"Meneur de cheval nu", Pablo Picasso, 1905-1906
Bringing together 210 works from the most prestigious public and private, French and international collections,
Picasso and the Masters
at the Galeries nationales du Grand Palais takes stock of this process. Confronting past and present, going beyond changes in style and formal innovations, the exhibition presents, in a cross between thematic and chronological approaches, guided by Picasso's painting alone : El Greco, Vélasquez, Goya, Zurbaran, Ribera, Melendez, Poussin, Le Nain, Dubois, Chardin, David, Ingres, Delacroix, Manet, Courbet, Lautrec, Degas, Puvis de Chavannes, Cézanne, Renoir, Gauguin, Douanier Rousseau, Titien, Cranach, Rembrandt, Van Gogh. Spanish, French, Italian, or German, these artists are the multifaceted framework of a narrow motif in which painting learns from painting.
Picasso et les maîtres/"Portrait de Gauguin à la palette", Paul Gauguin, hiver 1893-1894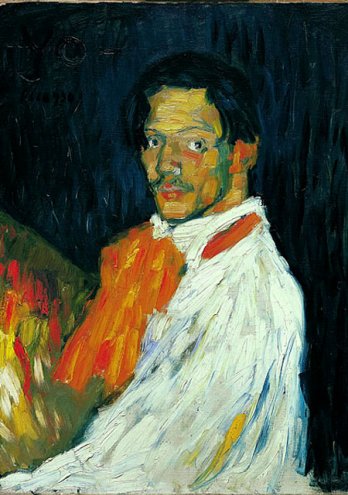 Picasso et les maîtres/"Yo, Picasso", Pablo Picasso. Paris, 1905
Picasso et les maîtres/"Le Matador", Pablo Picasso, 4 octobre 1970
Unprecedented pictorial cannibalism is at work in Picasso's approach. He made painting of painting into a system. Breaking away from the academic procedures of the transmission and reproduction of tradition - copy, paraphrase, quotation - this new method put painting at the very heart of knowledge of the world. Transposition, mimicry, deviation, distortion are some of the figures in the strategy used by Picasso in the treatment of his favourite painters. He thus fertilised the modus operandi of modern and contemporary creation, sometimes also pulling it towards perverse duplication, irony and pastiche.
Picasso et les maîtres/Pablo Picasso, Nu couché, 1967
Picasso et les maîtres/Picasso Pablo_L'Infantie
www.rmn.fr/Picasso-et-les-maitres