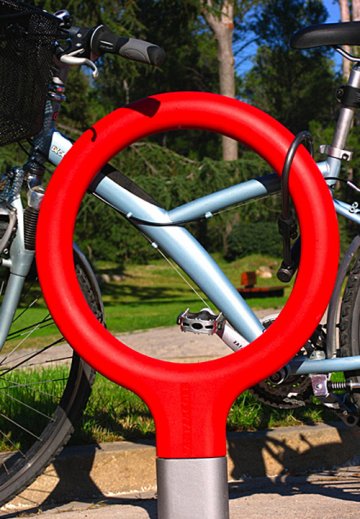 Lagranja Design
Audace and Optimism
D.B., September 8, 2008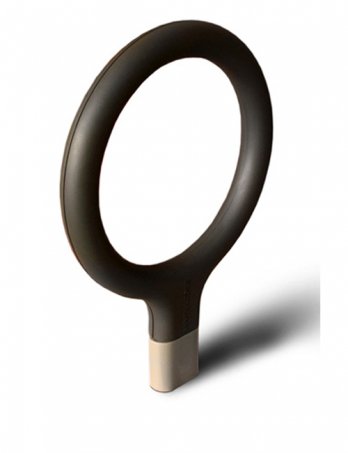 Lagranja Design/Key bicycle Rack
Lagranja Design
opened in Barcelona in 2002 when two designers - the Italian Gabriele Schiavon and the Spaniard, Gerard Sanmarti got together. Together, along with a solid team all aged under 35 they produce design "for friends and companies" that is happy and fun. At Lagranja, theory follows practice, instinct prevails over reason and a 'positive attitude' floats over all their projects that are optimistic, full of vitality and yet attentive to the human condition. Their 'Fantasia Logica' was at its zenith during the Milan furniture fair where they showed the Ring chair with its carefully honed details and graphic lines on the Gebrüder Thonet Vienna stand. Easily moved, multi-purpose and stackable it uses steel tubes for the legs and back, moulded aluminium for the seat frame and plywood for the seat itself. It comes in red, anthracite and white.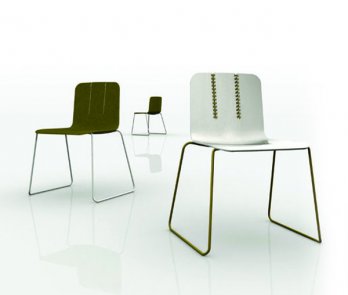 Lagranja Design/Zip Chair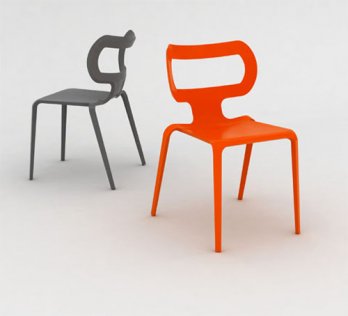 Lagranja Design/Uno Chair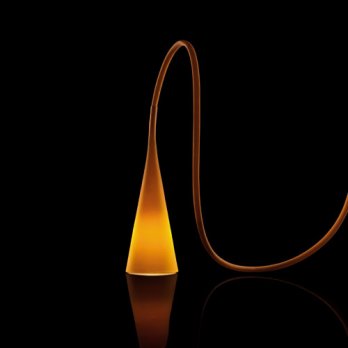 Lagranja Design/Uto Lamp
For Uno Design, the 'Lula' chair uses cast aluminium while the 'Zip' chair uses a coloured rubber lace that weaves in and out of the plywood seat to give it elasticity and comfort. For Pallucco, Lagranja created 'Nimbo' a light cloud made from polycarbonate that completes a range of lighting produced for Metalarte, Marset and Inlight in Frankfurt as part of Light+Building. But furniture and lighting are not the only areas in which Lagranja believes design has a role to play. On May 4th, 2008 tennis fans got to see the trophy awarded for the 56th Barcelona Tennis tournament, a modern recompense made from carbon fibre that took the strings on a racket as its theme. The 'Key', a piece of street furniture for attaching a bicycle won a Red Dot Award. Distributed by Santa e Cole, it gives a strong visual impact to the city and adds dimension to public spaces which can only be a good thing.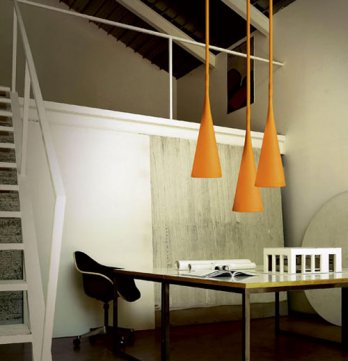 Lagranja Design/Uto Pendant
Lagranja Design/FOS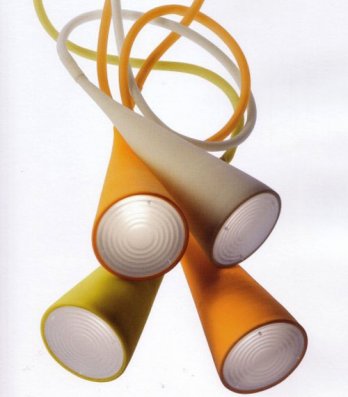 Lagranja Design/Uto Lamp
www.lagranja.it