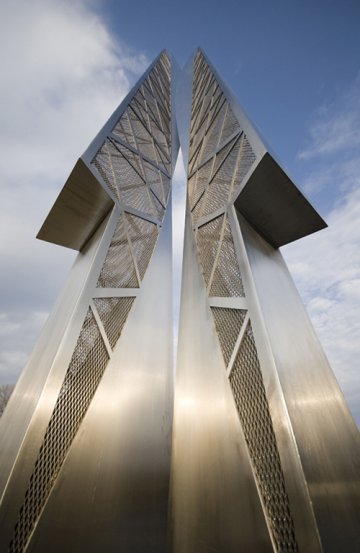 Jacek Jarnuszkiewicz
Man is a thinking reed No3
J. P., September 30, 2013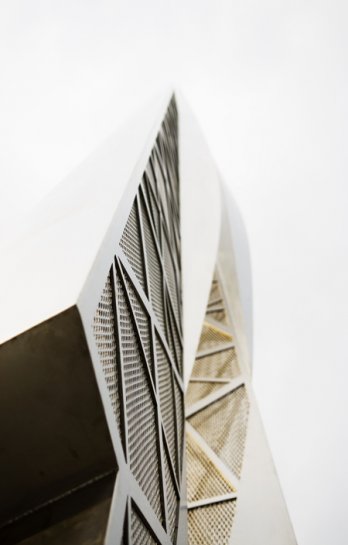 Jacek Jarnuszkiewicz_Sculpture_Pierre Bélanger
Set some 20 meters from the metro station entrance, this stainless steel threadlike piece, culminating at more than 40 feet, beams like a lighthouse. Its name?
"L'Homme est un roseau pensant no.3"
inspired from the citation of Blaise Pascal. His references? By its supple sail figure, it commemorates the river bed that once flowed through the station's ground; by its kinship to "L'Oiseau" by sculptor Brancusi, it evokes the grace of herons and other cranes that silently wade in the marshes. The proposed sculpture engages itself in a dialogue with the building and more largely with the "architectonie" of the place, which it seeks to embrace on the formal level as well as on the symbolic one.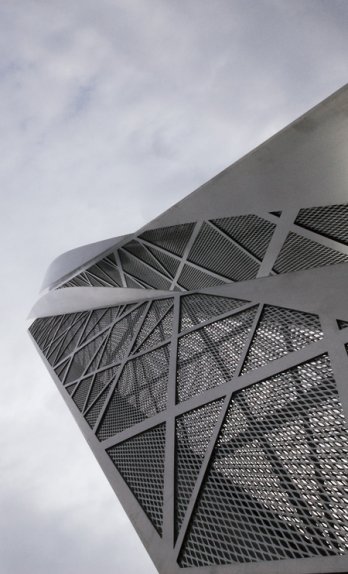 Jacek Jarnuszkiewicz_Sculpture_Pierre Bélanger
First, on the formal level: with it's general horizontality - complex but dominant – the building answers in counterpoint - with the consequences symbolic systems which we'll underline below – to the general verticality of the sculpture; more concretely, the trapezoidal roof shape is compressed and tilted vertically to draw up the essential form of the sculpture; the tilted plan of the building roof, having very subtly introduced into the orthogonal rate/rhythm of the architectural "whole" some oblique lines, those are repeated in the trapezoidal part of the sculpture, segmented and geared down in a series of rhythmic signs in filigree; finally, the axial body of the sculpture marry itself with the wood walk curve, thus bringing into focus the idea of movement and it's intrinsic sensuality.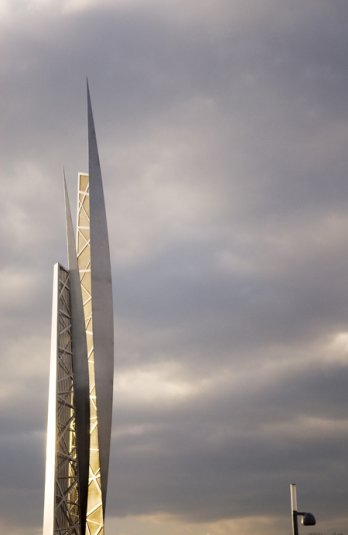 Jacek Jarnuszkiewicz_Sculpture_Pierre Bélanger
On the symbolic level, the erection of certain lines and geometrical forms constitutive of architectural work intents to prolong the metaphors "immanentes" with the building and its immediate context. Indeed, with the evocations of a stream of water, old Backwater and ship hull, the sculpture proposes - with the same degree of abstraction - the idea of the ship masts, that of a water plant with a sinuous stem, and then again, the idea of an insect "archiptère" - named young lady or dragonfly - to the transparent and ribbed wings which haunt readily the marshes. The poetry of chance comes to clarify this last symbol through its etymology: dragonfly comes from Latin, "level", because of its horizontal gliding flight, which brings us back to the initial idea of horizontality and water stream, while the flight, in general, reminds us of movement, displacement, voyage, and thus reminds us of the subway.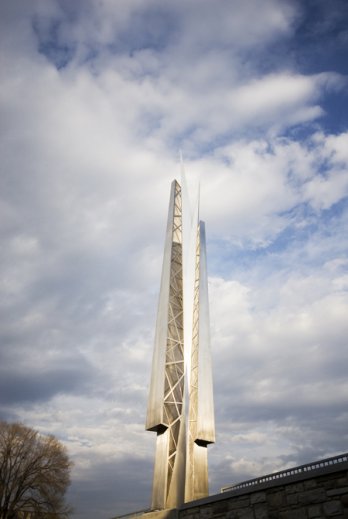 Jacek Jarnuszkiewicz_Sculpture_Pierre Bélanger
Should we add that the central part of the sculpture, its heart to some extent, is also a homage to Brancusi through a free quotation of its bird? Bird which does nothing but deploy the metaphorical way of flight and movement.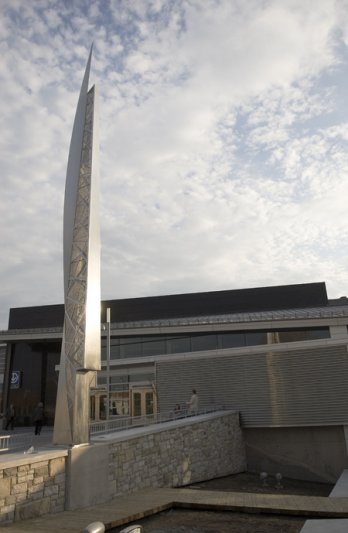 Jacek Jarnuszkiewicz_Sculpture_Pierre Bélanger