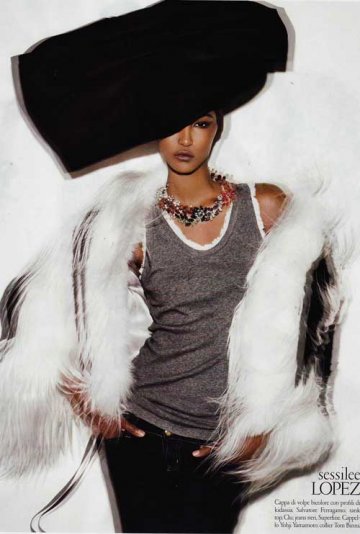 Blackness + Business in 2019
According to fashion industry and magazines, black models don't sell…
Mara Pat, December 28, 2018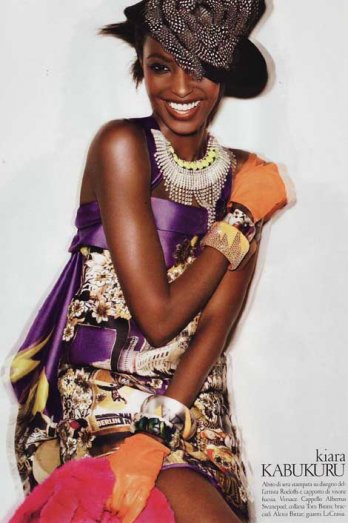 Vogue Italia_Kiara Kabukuru by Steven Meisel
"I don't like using black models because, in my view, their bodily proportions do not work for the cut of my clothes. "
Stefano Pilati, Fashion Designer
Naomie Campbell, Imam, Liya Kebede and guest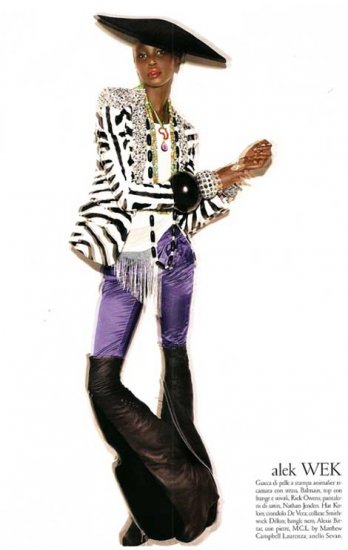 talian Vogue_Alek Wek by Steven Meisel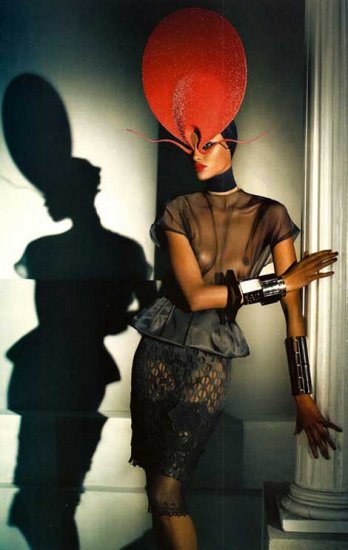 Vogue Italia Hats Three by Steven Meise
Discrimination, I am so sick of the only time people want to have dialoge about racism is when it somehow affects white people. I am not only a black woman, but I am a DARK black woman who never gets to be called beautiful by mass media. How is it fair that whites have had the opportunity to define black beauty which by the way has lead to some of the most harmful images ever. Black beauty under a traditional white lens means being light, and having as few "black features," as possible hurting darker girls such as myself. People are taken with this issue because the world has been robbed of true black beauty. Latinos, Asians have the same problems, we find Latinas, Arabians and Asian women who are on the white side of their race to present as beautiful. Is that fair? Whether you are black, white, or whatever, seeing black beauty presented as an art is fascinating because its hardly ever shown.
Submitted by 2Tired
VOGUE Italia Hats Two by Steven Meisel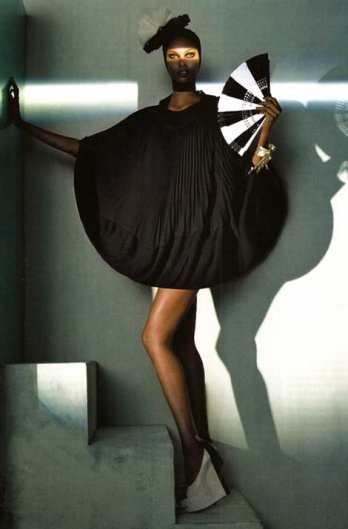 Vogue Italia_Hatone by Steven Meisel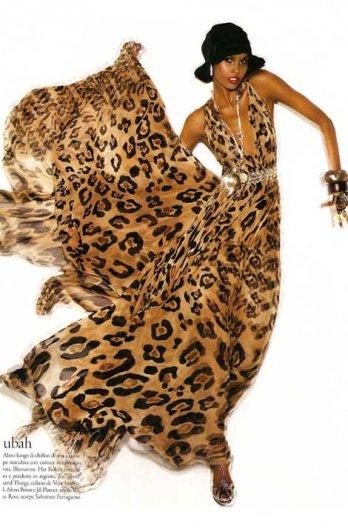 Italian Vogue_Ubah by Steven Meisel
Mr. Steven Meisel - Vogue Italia primary photographer - has his own theories about why black models, save for the token few, have disappeared from runways.
"Perhaps the designers, perhaps the magazine editors,"
he said
. "They are the powerful people. And the advertisers. I have asked my advertising clients so many times, 'Can we use a black girl?' They say no." The concern is that consumers will resist the product,
he said
. "It all comes down to money."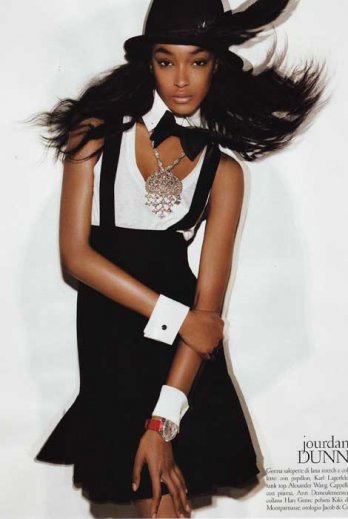 Vogue Italia_Jordan Dunn by Steven Meisel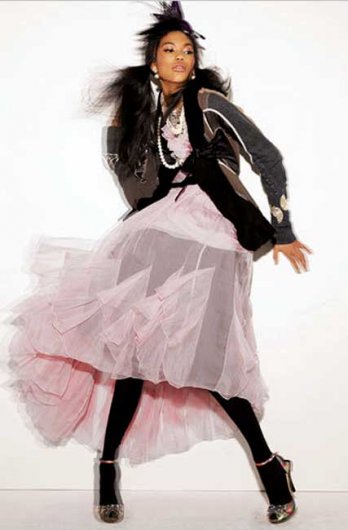 Vogue Italia_All Black by Steven Meisel
VOGUE Italia_Iman by Steven Meisel
It's an open secret in the fashion industry: black models rarely get jobs on catwalks, in magazines and on billboards. According to executives, they do not inspire women to spend money. Apart from Naomi Campbell in one Louis Vuitton advertisement this season, it would be difficult to find a single black model in a prominent position in a magazine. Carole White of the Premier Model Agency says she has received casting briefs requesting "no ethnics" and adds:
"According to magazines, black models don't sell."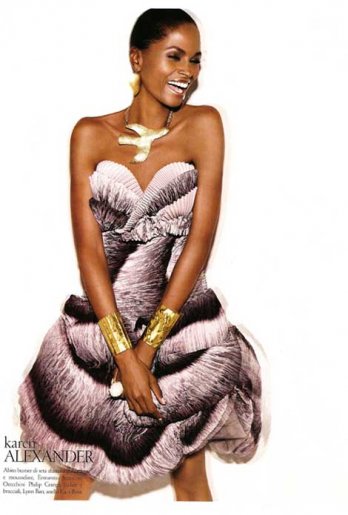 VOGUE Italia_Karen Alexander by Steven Meisel
Vogue Italia_Yasmin Warsame by Steven Meisel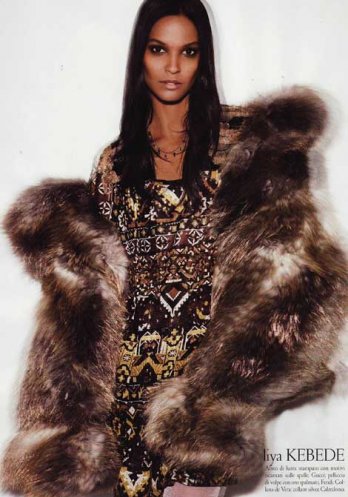 Vogue Italia_Liya Kebede by Steven Meisel
The leading British photographer Nick Knight says:
"The fashion industry and the advertising industry are steeped in racism. You just have to look around at the number of black girls you see in ads - virtually nil. Among the main fashion brands, they are completely under-represented. It's shocking and atrocious."
Vogue Italia_Naomie Campbell by Steven Meisel
Vogue Italia_Noémie Lenoir by Steven Meisel
Vogue Italia_Tyra Banks by Steven Meisel
Mr Knight blames business people at the top of the industry. A common attitude among them, he says, is that black models are "not aspirational" or "don't sell in Asia". He goes on:
"I have tried to redress the balance. It is enormously important to use black models and models of different ethnic backgrounds."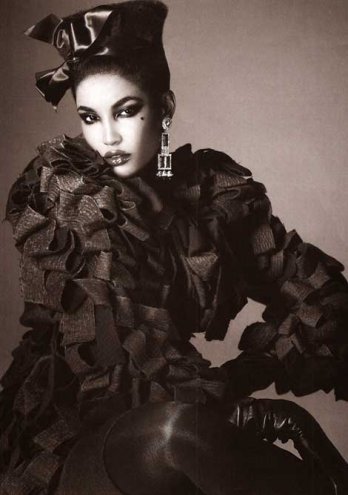 VOGUE Italia_Last Dazzle by Steven Meisel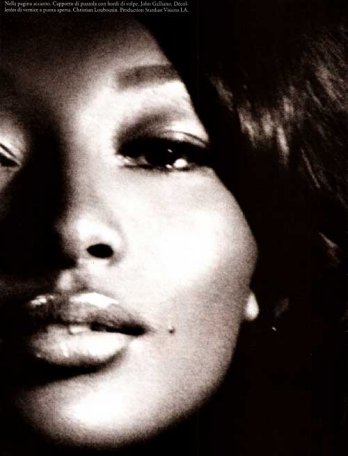 Vogue Italia_Toccara three
What do you think about this?

Send your ractions at redaction@egodesign.ca - Egodesign.ca reserves the right to choose to post it or not.