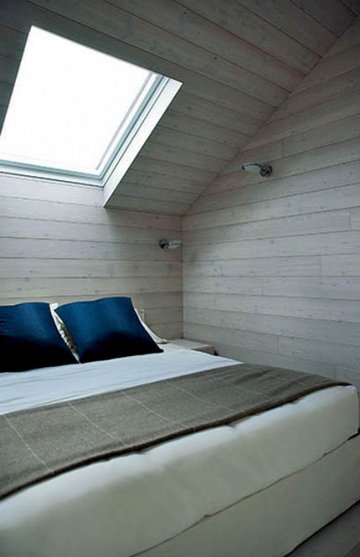 The Three Mobile House
Slow Architecture with Hangar Design Group
F.N., September 21, 2015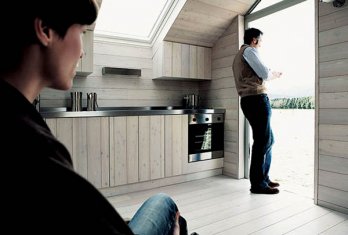 Joshua Tree by Hangar Design Group
HOUSE WE LOVE

Hangar Design Group has designed three new mobile homes in partnership with HHD, Holiday Homes Design, an Italian manufacturer of prefabricated accommodations. True micro-homes incorporating interesting functional solutions, the new mobile homes do away with the associations of temporariness conventionally linked with the idea of prefabrication.
 HHD's residential units are designed to be built entirely in the factory, like products of industrial design, and incorporate home automation elements that add to their potential in terms of technologies for management and control of windows, climate control and heating.
 All the prototype homes are designed to be flexible and reversible but at the same time to serve as permanent homes.
 A two-person model is available (Suite Home), as well as a home for three or four (Joshua Tree) or a home with a more complex layout for four (Icaro Bay).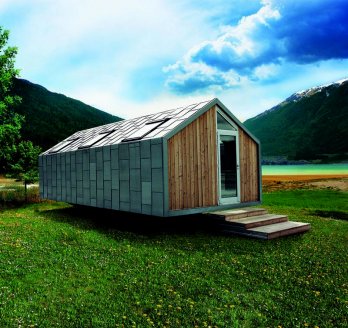 Joshua Tree by Hangar Design Group
Designed for HHD - Holiday Homes Design - the three new miniature homes attempt to revolutionise the concept of the mobile home, solving the problem of its ephemeral, temporary character. Somewhere between design and architecture, the plan for three mobile homes by Hangar Design Group was presented during the Salone del Mobile in Milan.
 Designed for HHD - Holiday Homes Design - the three new miniature homes attempt to revolutionise the concept of the mobile home, solving the problem of the ephemeral, temporary character traditionally linked with the concept of prefabrication. These mobile homes claim status as true miniature homes, offering flexible functional solutions in terms of both materials and furnishings based on a highly rational floor plan in which there is room for everything and all the inhabitants' needs are met, responding to the requirements of today's nomadic culture and lifestyle.
 Destined for open air tourist accommodations and for private residential use, all three mobile home models stand out for their intrinsic aesthetic and functional character and ability to respond to accommodation requirements by combining different modules, permitting creation of ever-changing landscapes in total freedom and privileging forms of architecture linked with the genius loci of the place hosting them.
 The
Joshua Tree
is the model intended for difficult sites in the mountains, consisting of 34 square metres divided into two bedrooms, two bathrooms with a shared shower and a kitchen and living area.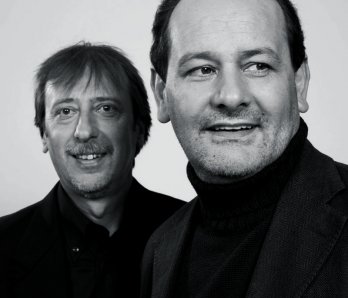 Sandro Manente + Alberto Bovo_Hangar Design Group
Icaro Bay_Hangar Design Group
Surrounded by the greenery of an Alpine pasture or resting on bare rock, the mobile home reflects the colours that surround it in its metal coating. Large Velux windows reveal the profiles of the snow-capped mountains from inside the home.
 Natural wood finishes project the warmth of the interior outside. In this new version of the mountain cabin, a continuous, homogeneous metal surface creates a mountain refuge with a heart of living wood.
The cubic
Icaro Bay
model, with its flat roof, large living room windows and openings in the bedrooms, is decorated with blue furniture and kitchen units, white walls and living wood with open pores varnished like wood on boats or wharves.
 The open space floor plan of
Suite Home
with its big windows is perfect for contemplating infinite horizons. The big panes of glass create an evocative continuity between inside and outside, forming new open terraces that participate in the landscape with harmony and continuity. Their clear white aluminium profile becomes a guide for the alternate sliding of regular panes of glass and wooden panels. The living room, dominated by a sofa and a big LCD screen, leads into the bedroom area with its one double bed.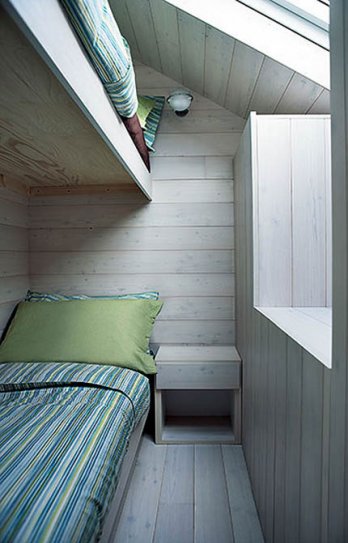 Joshua Tree by Hangar Design Group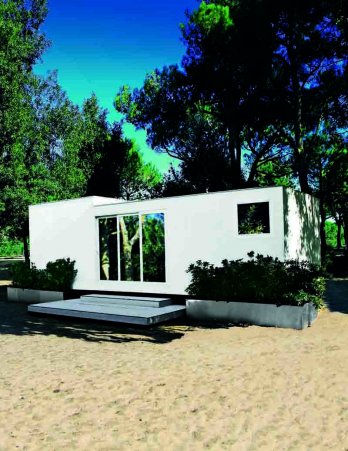 Icaro Bay_Hangar Design Group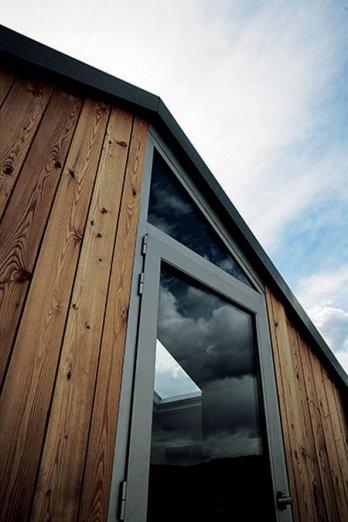 Joshua Tree by Hangar Design Group
Hangar Design Group's plan for HHD demonstrates particular awareness of the concept of environmental sustainability and reversibility, in terms of both recycling of materials and structures and the average lifespan of the mobile home product, with an intrinsic aesthetic and functional quality capable of reconciling the demands of hotel accommodations with the difficulty of building ordinary constructions in areas of particular environmental significance.
 A mobile home is a bit like a car, in that its price varies depending on the configuration required, ranging from around 60,000 euros for the
Suite Home
or Icaro Bay to 70,000 euros for the
Joshua Tree
(plus shipping).
 One example of application of this type of construction is a beachside resort in Gallipoli, in the province of Lecce, overlooking the Gulf of Salento, where temporary dining facilities have been installed. 
Three modules have been adapted for use as a restaurant, toilets and dressing rooms for the beach and integrated into the Mediterranean scrub covered with light L- shaped structures made of Iroco wood and finished with light varnished wood.
 The white counter and the platforms shaded by roofs with strips of light-coloured wood open up toward the horizon of the sea and act as a filter channelling people toward the beach.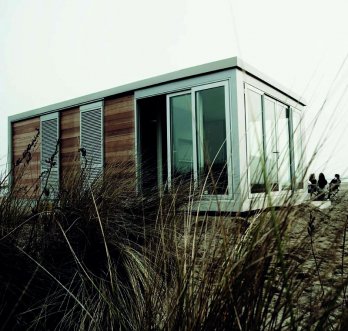 Suite Home par Hangar Design Group
Three Mobile/joshua tree by hangar prefab
www.hangarprefab.it