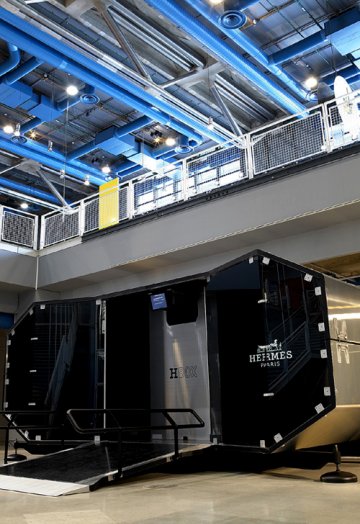 H BOX
H as Hermès
Muda L., July 14, 2008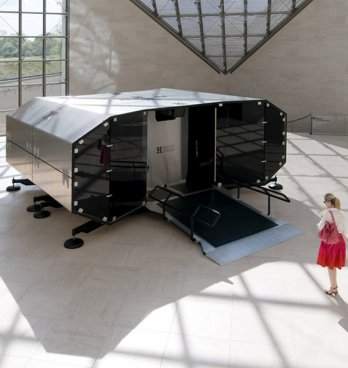 H_Box_Hermès_Andres Lejona
H Box
is a mobile screening room showing the work of eight video artists. H Box was designed by artist and architect Didier Fiuza Faustino, while Benjamin Weil, executive director of Artists Space, New York, acts as artistic director of the project. The 6.5 by 5 metre unit, designed to accommodate 10 viewers at a time, shows works by artists from different countries and cultures. Alice Anderson, Yael Bartana, Sebastian Diaz Morales, Dora Garcia, Judith Kurtág, Valérie Mréjen, Shahryar Nashat and Su-Mei Tse are the first whose works are presented to the public in this way. Every year, four new artists join the programme as four others give up their place.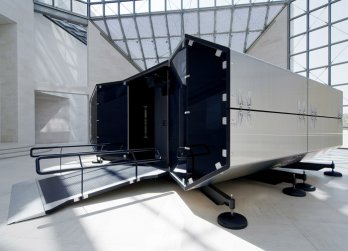 H_Box_Hermès_Andres Lejona
For this project, one element in Hermès long-established programme of support to artistic production, video was an obvious choice. Easily transportable and simple to work with, video is an art of movement.
H Box
will travel the world, in search of new audiences and new visions. Architecturally inventive and completely demountable,
H Box
is fitted with the latest in audio-visual technologies including an aluminium and Plexiglas screen offering irreproachable sound and image quality. A first presentation of
H Box
was held at the Centre Pompidou in Paris and a second at Musac, Museo de Arte Contemporáneo de Castilla y León (Spain). After its presentation in Mudam,
H Box
, now in Tate Modern, will move on to Yokohama Triennale in Japan, as well as to other exhibition spaces all around the world.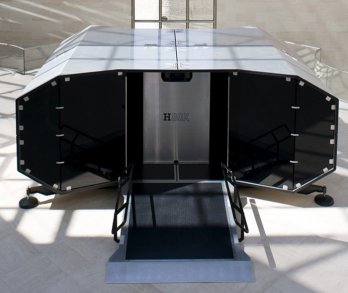 H_Box_Hermès_Andres Lejona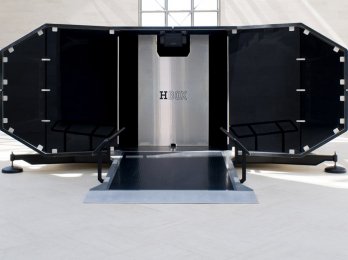 H_Box_Hermès_Andres Lejona
Hermès created
H Box
, both an annual commission of video art works, and a travelling screening space. Created by the artist, architect and designer, Didier Fiuza Faustino, H Box is a work of art in itself, a sort of mobile and functional "camera obscura". The programme of video works has been entrusted to Benjamin Weil, director of Artists Space in New York. For this first edition, the choice has fallen upon eight very diverse, upcoming artists: Alice Anderson, Yael Bartana, Sebastián Diaz Morales, Dora García, Judit Kurtág, Valérie Mréjen, Shahryar Nashat and Su-Mei Tse.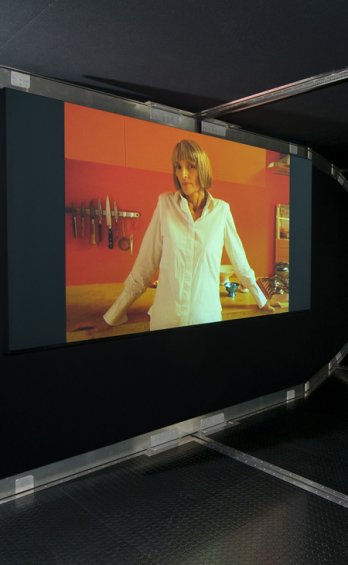 H_Box_Hermès_Andres Lejona
Consisting of two entirely collapsible modules constructed of aluminium and Plexiglas,
H Box
can be assembled, disassembled and transported as required. Raised 30 cm above the ground on its adjustable feet and swivel wheels, it might look as if it were taking off were it not for the gangway that offers access to the interior. The principal facade, entirely transparent, is more than a window or an invitation to enter: an eye on the world, a direct access to light, it makes
H Box
a private space open to the images around. The cutting-edge sound and image technology draws viewers deep into the projected art.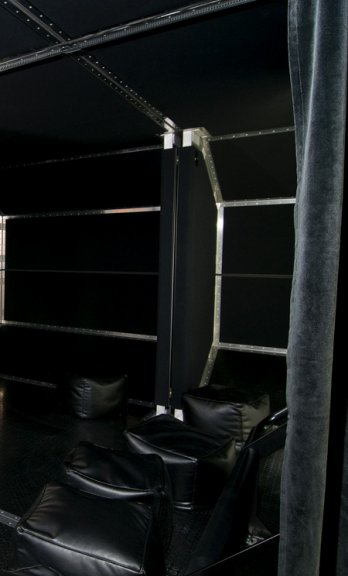 H_Box_Hermès_Andres Lejona
www.tate.org.uk