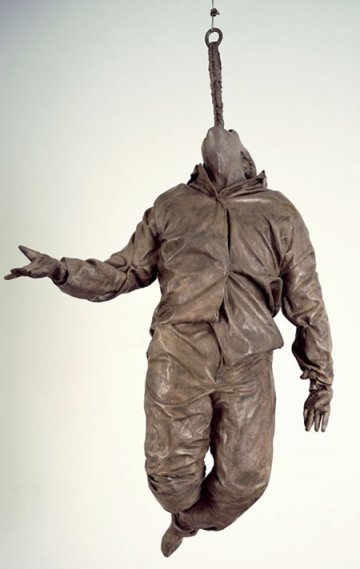 Juan Muñoz
A narrator sculptor
Sheena Wagstaff, July 7, 2008
The Guggenheim Museum Bilbao is staging the most important retrospective exhibition in Spain of works by Juan Muñoz (Madrid, 1953 - Ibiza, 2001), widely considered one of the world's finest contemporary sculptors and installation artists. With a selection of nearly 80 works, including sculptures, installations, drawings, radio works and writings, the selection reveals some neglected aspects of the Madrid-born artist's broad, innovative register. Muñoz studied art in London and New York, living in both cities for a number of years after a brief period spent studying architecture in Madrid. In the mid 1980s and early 90s, after major exhibitions all over the world, Muñoz had established himself on the international art scene as one of the most important sculptors of recent decades. In Spain, however, true recognition came late, finally arriving in the year 2000, when he was awarded the country's Premio Nacional de Artes Plásticas.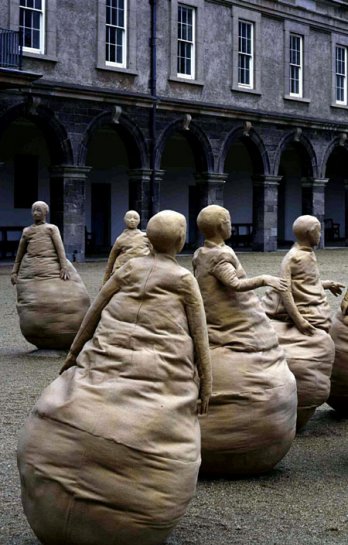 Juan Muñoz_Conversation
From his early architectural works - staircases, balconies and banisters - located in impossible settings, by way of his optical floors that dissolve the limits of space and time, to his dramatic, theatrical installations involving groups of human figures that evoke the solitude of the individual in society, Muñoz's works play with the spectator, enticing him into relating to them, even awaking feelings of unease and isolation. Muñoz described himself as "a narrator", and his ability to propose new forms of contemplation and thought, to create tension between the illusory and the real, made him one of the few artists capable of renewing contemporary sculpture.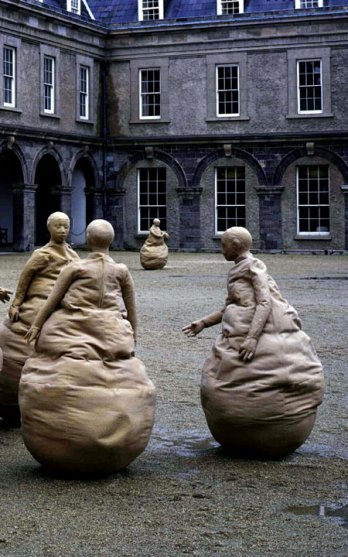 Juan Muñoz_Conversation
In 1984 a small spiral staircase standing against a wall and with a balustrade above was presented in Madrid in Juan Muñoz's first solo exhibition. This work was the first of which the artist remembers as having "a certain sensation of identity." This architectural motif would be repeated throughout his career. More than twenty years later,
Spiral Staircase
(Inverted), 1984/99, a small spiral staircase directly related to the earlier piece, opens the artist's retrospective exhibition in Bilbao. His work often provides strange places to see and be seen, like the empty balconies of the series
Hotel Declercq I-IV
(1986). Together with works like
Double Balcony
(1986), they transform the gallery area into a small, disquieting urban district that stands in what are completely alien architectural surroundings. These architectural features have been deprived of their functions: windows that don't open, banisters you can't lean on; they are works in which Muñoz inserts objects usually occupied by man in landscapes he generally inhabits. A good example is
Derailment
(2000–01), a work not on show at Tate Modern, London, but which is included in the Bilbao version. Here the city takes up the inside of a derailed train, it being impossible to say where it starts or where it ends.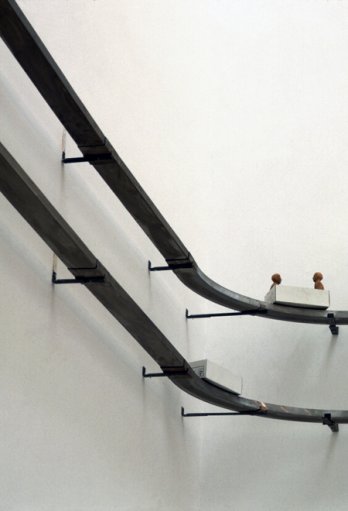 Juan Muñoz_Leaving in
Muñoz's first major installation,
The Wasteland
(the title borrowed from T.S. Eliot's poem), is from 1986 and is to be found in gallery 206. A linoleum floor inspired by Italian Baroque Masters such as Francesco Borromini creates an optical illusion that directs the spectator's gaze towards a strange figure who observes us from the wall: it's a ventriloquist's dummy. Muñoz used a similar architectural ruse a year later in
The Prompter
(1988), installed in gallery 207. Here the floor is transformed into a scenario where a small prompter turns his back on the spectators to gaze at a desolate proscenium where only a drum remains.
"Architecture gives figures backing. I learnt from Carl Andre that the floor was important in activating space, but I make optical floors because they help to augment the tension of the figures,"
explained Muñoz, a keen student of language and architecture. His installations play with presence and absence, destabilizing the visitor's experience and accentuating in him the awareness of his own identity.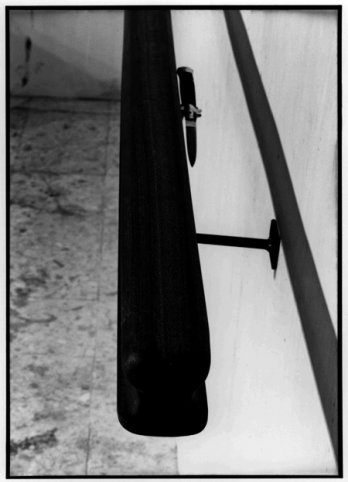 Juan Muñoz_M_First vanister
In the 90s the human figure in Muñoz no longer resembles reality, creating groups and installations of increasing complexity instead. His much-praised Conversation Piece (1994) features genuine sculptural studies in social interaction in which small characters with spherical bases relate with each other in a mute dialogue that seems to exclude the spectator. One of the most outstanding of these works, whose title alludes to the kind of group scenes popular in 18
th
century English painting, and to which Muñoz adds the modeling, will be on display in the unusual gallery 209. Created in 1994 for the Irish Museum of Modern Art (IMMA), the work has not been seen in Spain since that time. The sensation of intruding one gets throughout the exhibition eventually calls into question the limits of time and space. This happens with "ingenuous" works like 1994's
Living in a Shoe Box
(for Diego) , in which two small figures travel permanently in a shoe box, as if trapped in a train carriage, never to arrive anywhere.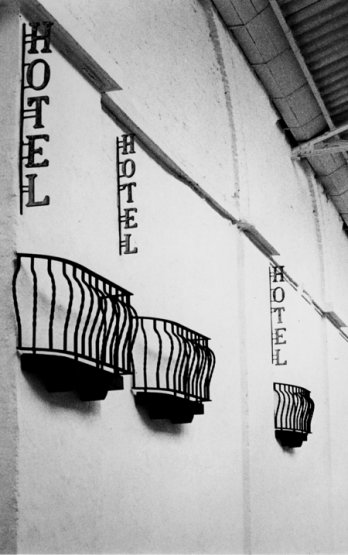 Juan Muñoz_Hotel D
Anodyne characters in grey suits emerge from corners of the Museum and take us back to the foundations that underlie the work of Juan Muñoz. An absolute universe that bears the influence of the works of Alberto Giacometti, Luigi Pirandello, Francesco Borromini and Edgar Degas, among others, and which is reflected in one of Muñoz's most famous works,
Many Times
(1999), composed of one hundred smiling figures with Asian features and no feet, who appear to be locked in animated conversation. This overwhelming army of figures, installed in gallery 208, turns the spectator into a distant observer of a strangely disturbing world. Outside the Museum, a similar welcome awaits the visitor in
Thirteen Laughing at Each Other
(2001), a work last exhibited in 2005 in the gardens of the Venice Biennale. Here, thirteen smiling figures on benches talk to each other.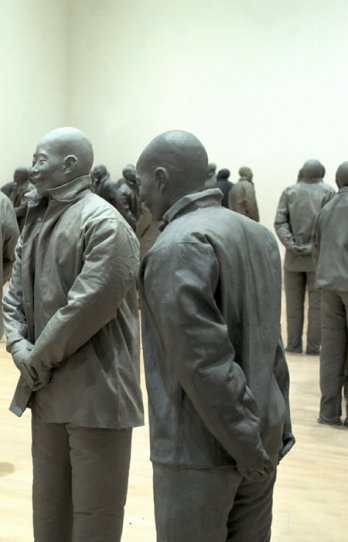 Juan Muñoz_Many Times
With the human figure as the central character, one of these grey scenes sculpted in bronze,
Hanging Figure
(2001) hangs from the ceiling of a small gallery in the Museum, as a sort of chapel. Although a clear allusion to Miss La La, the trapeze artist Edgar Degas immortalized and which Juan Muñoz saw as a student in London, in this scene the figure is stripped of its playful nature and transformed into an image of worry and anxiety that breaks down the frontier between normality and alienation. This anxiety also appears in
Shadow and Mouth
, from 1996, a work belonging to the Guggenheim Museum Bilbao Collection. Here the artist presents two figures face to face across a table, whose falling shadows underscore the wordless dialogue that echoes silently throughout the exhibition. Two other works are on display in this gallery: Staring at the Sea I (1997/2000), and
One Figure
, from 2000. They both play with the amplified image reflected back by mirrors in a new optical effect that once again enables Muñoz to manipulate space, evoking the theater of Luigi Pirandello.
Crossroads Cabinets
, 1999, which are to be found in the adjacent areas, bring together Muñoz's body of work in genuine cabinets of curiosities. The collection of doors, members fashioned in resin, sculptures and miniatures stored in fragile showcases bring to mind the image of old hospital closets.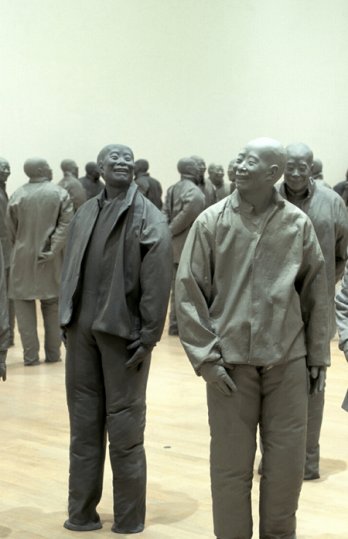 Juan Muñoz_Many Times
The exhibition also reveals Muñoz's interest in film, and film's influence on his work in the plastic arts. Accompanying his sculptures is a generous selection of his drawings, on display in gallery 202, particularly his series
Back Drawings
(1990),
Mouth Drawings
(1995), and his
Raincoat Drawings
(1989). In the latter series, done in white charcoal on black raincoat fabric, Muñoz depicts sparsely furnished rooms that normally contain staircases or doors leading to unknown spaces, while leaving us to imagine a before and after for each image, like camera snapshots. Radio and sound works were another of the fields Muñoz explored during his career. These he produced in collaboration with some notable personalities, such as novelist and art historian John Berger or composer Alberto Iglesias. He created ten five-minute fragments entitled
A Man in a Room, Gambling
(1992/97), one of his best known works in this medium, with British composer Gavin Bryars. Here Muñoz described card tricks to the accompaniment of music composed by Bryars. The works were broadcast by the BBC.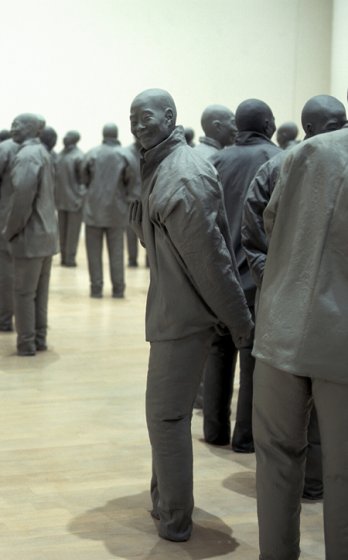 Juan Muñoz_Many Times
Will it be a Likeness?
(1996),
A Man in a Room, Gambling
(1992),
A Registered Patent: a Drummer Inside a Rotating Box
(2001–02), and
Building for Music
(1993) are four radio and sound works Muñoz created, together with the unreleased Third Ear , and which captured radio broadcasts from around the world. Rounding off the exhibition are some examples of Juan Muñoz's literary works, a selection of essays and writings that put the finishing touches to this portrait of a great narrator, an artist whose idiom connects with the deepest recesses of the human condition and with which, in just twenty years, he produced one of the most substantial bodies of work of our time.

www.guggenheim-bilbao.es