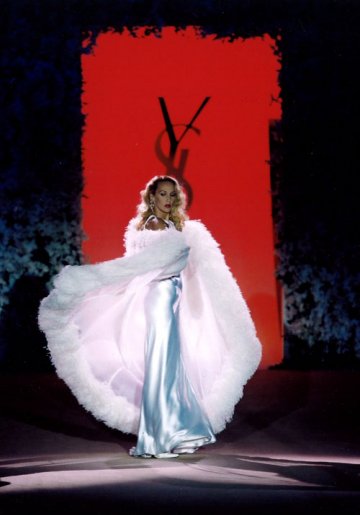 A tribute to Yves Saint Laurent
1936 - 2008
Florence Müller + Catherine Guex, June 2, 2008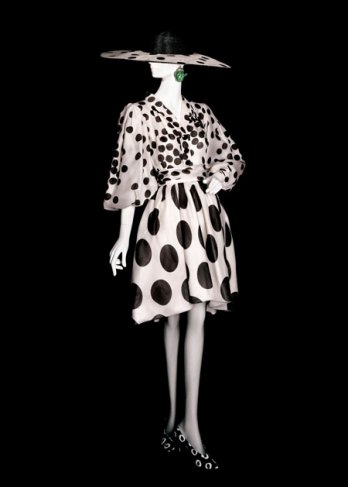 Yves Saint-Laurent_Cocktail Dress, 1992 Spring/Summer Collection_Fondation Pierre Bergé - Yves Saint-Laurent_Alexandre Guirkinger
The First Retrospective to Span 40 Years of Creation of a Great couturier.


"Why present Yves Saint Laurent in Montreal? Quite simply because the work of one of the twentieth century's greatest couturiers is a thing of great beauty. The poetry of each of his creations reflects this man's incredible sensitivity and vast cultural knowledge. Every square inch of fabric is compelling… Experiencing haute couture up close cannot possibly be compared with viewing its image, which at times becomes hackneyed from its omnipresence in the media. Personally, I was blown away, if you will excuse the expression, when I first saw the storage areas of the Fondation Pierre Bergé - Yves Saint Laurent, and I still am. Kudos to this young institution, a model of its kind! In my opinion, to offer all our visitors this ultimate fashion experience in the setting of a fine arts museum is perfectly justified, especially since our city (like the Museum's multidisciplinary collections) supports creation, art and design in particular. Another aspect of Yves Saint Laurent's work that touches me is his desire to empower women day and night. He appropriated masculine codes of dress, creating a wardrobe for modern women who were stepping out of traditional roles. This was in stark contrast to the practice of depicting women as Barbie dolls designed to sell products. But above all, he idealized the beauty of all his models, whatever their ethnic background or the colour of their skin (he was the first to use a black model), and his inspiration was nourished by a beautiful soul. Today, more than ever, young designers are re-examining his complex work."
Dixit Nathalie Bondil, General Director.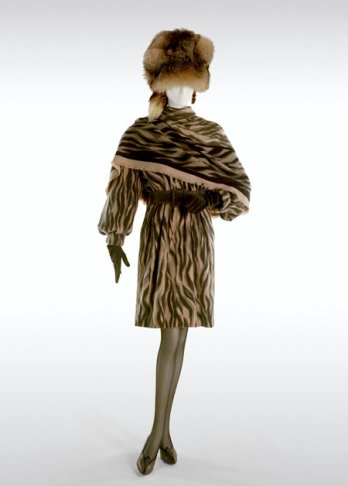 Yves Saint-Laurent_Dress & Shawl in Cachemire, 1990 Automn/Winter Collection_Fondation Pierre Bergé - Yves Saint-Laurent_Alexandre Guirkinger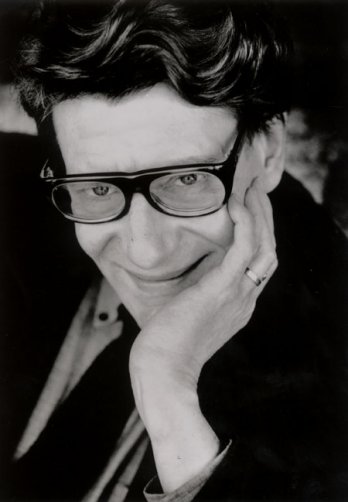 Yves Saint-Laurent_Fondation Pierre Bergé - Yves Saint-Laurent_André Rau
Born in 1936, Yves Saint Laurent spent his childhood in Algeria. Moving to Paris in 1954 to take design courses at the Chambre syndicale de la haute couture, he caught the eye of Christian Dior and was hired as his assistant the following year. At the age of twenty-one, he took the reins of the House of Dior after the master's sudden death in 1957 and swiftly rose to triumphant fame with his Trapeze line. In 1958, he met Pierre Bergé, then a theatre director and stage producer, who went on to manage his career. With Bergé's help, Saint Laurent founded his own maison de haute couture. On January 29, 1962, he unveiled his first collection under the Yves Saint Laurentlabel, an array of dazzling creations stamped with the inimitable style for which he will always be known. Pioneering the couturier move into the ready-to-wear market, Saint Laurent also designed costumes and sets for such famous ballets and plays as Cyrano de Bergerac (1959) and The Marriage of Figaro (1964), and for films including The Pink Panther (1963) and Stavisky (1974). He also dressed a number of actresses, the most famous being Catherine Deneuve.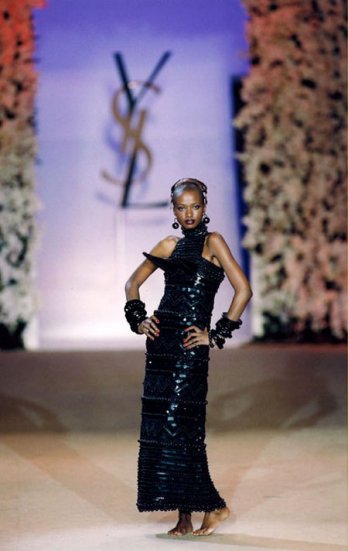 Yves Saint-Laurent_Robe longue du soir, 1967 Spring/Summer Collection, number 108_Fondation Pierre Bergé - Yves Saint-Laurent
On January 7, 2002, Yves Saint Laurent announced to the press his retirement and the closure of his maison de haute couture. On January 22, a crowd of 2,000 admirers from around the world gathered to celebrate his career at a valedictory fashion show staged in Paris. Since stepping down, he has worked with Pierre Bergé managing the Fondation Pierre Bergé - Yves Saint Laurent, which holds a remarkable collection of more than 5,000 ensembles and 15,000 objects that trace the history of the House of Yves Saint Laurent. Yves Saint Laurent not only transformed the world of women's fashion, but is also the first living haute-couture designer to be honoured by a museum. In 1983, the Metropolitan Museum of Art presented the very first exhibition on Yves Saint Laurent, which later travelled to Beijing, Saint Petersburg, Moscow, Paris, Sydney and Tokyo. In 1985, he was awarded the "Oscar du plus grand couturier" at the Paris Opera House for lifetime achievement in fashion.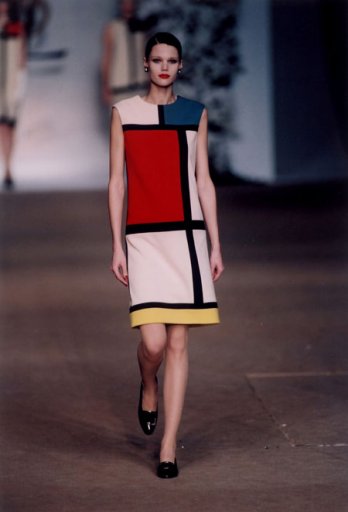 Yves Saint-Laurent_Cocktail Dress, Homage to Mondrian_1965 Fall/Winter Collection, number 81_Fondation Pierre Bergé - Yves Saint-Laurent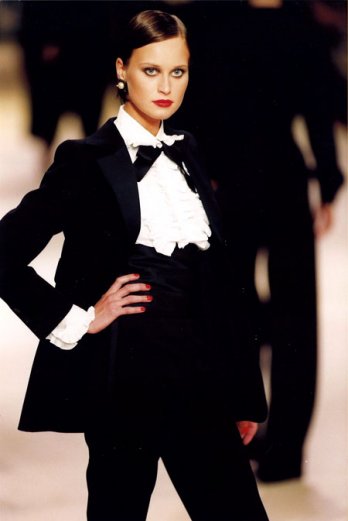 Yves Saint-Laurent_First Smoking_1966 Fall/Winter Collection, number 76_Fondation Pierre Bergé - Yves Saint-Laurent
The Montreal Museum of Fine Arts and the Fine Arts Museums of San Francisco have designed and developed, in partnership with the Fondation Pierre Bergé - Yves Saint Laurent, the first retrospective spanning the forty years of creation of the Maison de haute couture Yves Saint Laurent. The exhibition
Yves Saint Laurent
focusses on this virtuoso of haute couture, whose unique style blends references to the world of art with allusions to pop culture and social revolution. Structured around four themes, the exhibition develops the revolutionary nature of a body of work that has marked both the past and the present with a new definition of femininity and left a signature that transcends fashion. The display will include 145 accessorized creations belonging to the Fondation Pierre Bergé - Yves Saint Laurent, as well as drawings and videos. After Montreal, the exhibition (which is the first co-production of these two museums) will be presented at the de Young Museum of San Francisco, from November 1, 2008, to March 1, 2009.
Yves Saint-Laurent_Evening long dress ,1968 Fall/Winter Collection, number 74_Fondation Pierre Bergé - Yves Saint-Laurent
Yves Saint Laurent is famed for revolutionizing the haute-couture tradition and laying the foundations of modern women's wear. The wardrobe basics that he designed - pantsuit, culotte skirt, pea coat, blazer, safari jacket and tuxedo ­- shone with his innovative style and became true timeless classics. His designs were equally remarkable, reflecting wide-ranging sources of inspiration. In Saint Laurent's stylistic vocabulary, music, art, performance, literature and impressions of far-off places were just as important as the new shapes he introduced.
Yves Saint-Laurent_Suit & Trousers_1978 Spring/Summer Collection, number 7_Fondation Pierre Bergé - Yves Saint-Laurent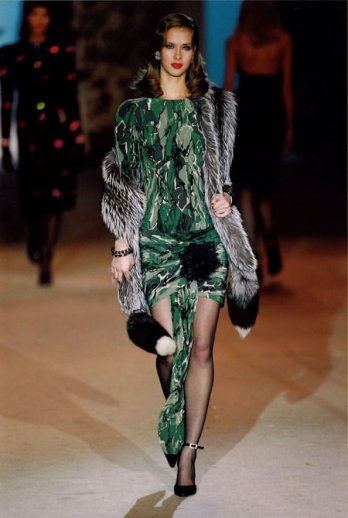 Yves Saint-Laurent_Evening short dress_ 1971 Spring/Summer Collection, number 66_Fondation Pierre Bergé - Yves Saint-Laurent
The exhibition is divided into four main themes: "The Stroke of a Pencil" where the designer's idea is followed from the original sketch; "The Yves Saint Laurent Revolution," where feminized versions of men's attire rub shoulders with seductive apparel; "The Palette," which shows how traditional rules of colour harmony were reversed in new contrasts inspired by cross-fertilization; and "Lyrical Sources," which explores the historical, literary (Marcel Proust, Oscar Wilde, Louis Aragon, Jean Cocteau…) and artistic influences that were interpreted and translated by this genius of couture. Throughout his career, Yves Saint Laurent examined the work of the great artists of our day, expressing his personal tastes and the paintings he admired by transforming painting into fabric. Some of his creations reflect the visual sensations of Impressionism, while others liberate the expressive power of some of the great names and movements of modern art: Mondrian and Poliakoff in 1965, the "Pop Art" dresses in 1966, Picasso in 1979 and Braque in 1988.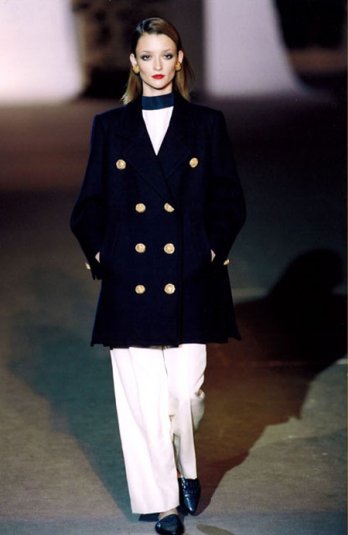 Yves Saint-Laurent_Day suit_1965 Fall/Winter Collection, number 81_Fondation Pierre Bergé - Yves Saint-Laurent
www.mbam.qc.ca