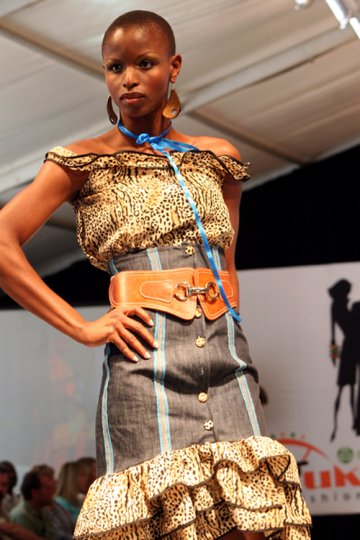 New young african designers
Old Mutual Vukani Fashion Awards 08
Judy Bryant, May 26, 2008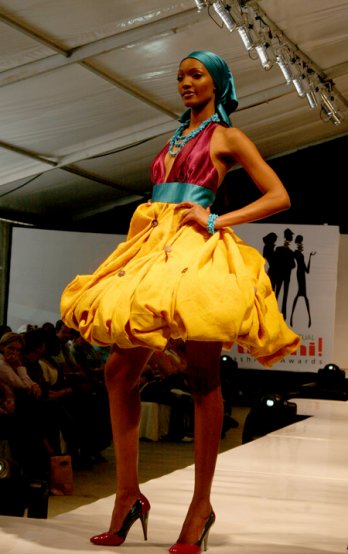 Natasha Morais dress
"The awards provide a platform for the young designers to showcase their talents," said South African Fashion Designers Agency Executive President Sonwabile Ndamase, who founded the awards with the encouragement of his most famous client, Nelson Mandela, who wears his iconic shirts. The Old Mutual Vukani! Fashion Awards, now in its 14th year, is South Africa's premier platform for the empowerment of our country's young and emerging designers. The awards also have another component, the African Pride Award, through which we promote an indigenous and afro-centric expression using some of the continent's role models. Previous recipients of the African Pride Award include Pan African Parliament President Dr. Gertrude Mongella, MP, Ms. Winnie Nomzamo Madikizela Mandela and world-renowned singer Miriam Makeba.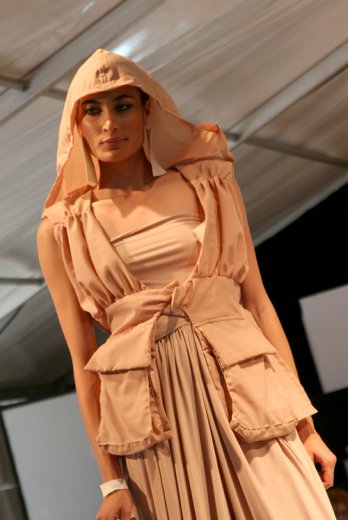 Peggy Magasela Clothing
A Cape Town student, 20-year-old Karin Hoffman, has just sewn up one of South Africa's most prestigious fashion awards. Hoffman, who lives in Rondebosch and is in her final year at the Elizabeth Galloway Academy of Fashion Design, won the overall prize in the 14th annual Old Mutual Vukani Fashion Awards held in Pretoria this weekend. She also took the honours for the best clothing collection.
The most innovative designer is Natasha de Morais, a 23-year-old Pretoria resident who already runs her own business making women's evening wear and bridal outfits. The best high fashion design prize went to Tozama Nandipha Dyantyi from Sea Point who's in her second year BA Fashion Design at the Future Excellence Design Institute of SA (Fedisa) in Cape Town.
The three winners will enjoy formal business mentoring for a year - worth R12000 each - and Hoffman also takes home R18000 worth of sewing equipment to set up her own business.
"I'm very excited about the future because winning this prize affirms I'm on the right track," said Hoffman. "I would like to do more shows and really want to make the best use of this award."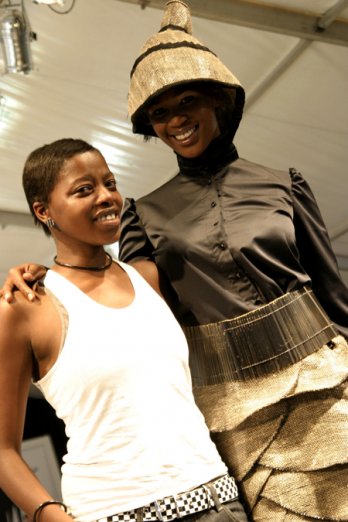 Tozama Nandipha Dyantyit + model
The winners were selected from 14 finalists by an eight-member panel that included singer and entrepreneur Yvonne Chaka Chaka; MTN Durban Fashion Week co-ordinator Greg Wallis; and O Magazine fashion editor Primrose Moloantoa.
The young finalists first attended an intensive three-day business and fashion training workshop then showed six garments each at a Menlyn Park shopping centre fashion show. At a gala dinner that evening they met local fashion industry stars, previous Vukani Awards winners and established designers from Mozambique, Nigeria, Botswana, Angola and other African countries.
"Their lives will not be the same again - this is a springboard into the business of fashion,"
said Wallis.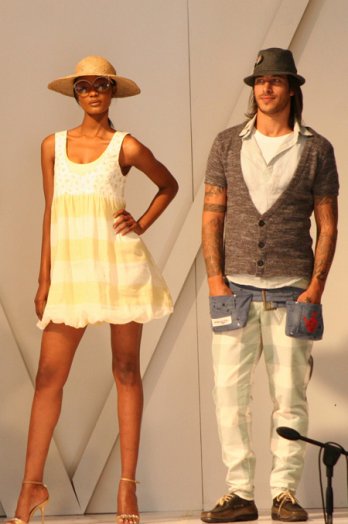 Karin Hoffman Collection
The judges had examined every one of the 14 finalists' garments "from top to toe" and interviewed every designer individually, he said. "The standard and content of this year far supercedes anything we saw last year. The work is exemplary and all are winners just by being in this show." Hoffman wove a gardening theme into her collection - florals and lace for women, shrunken jackets and cropped pants for the men in bright, retro colours.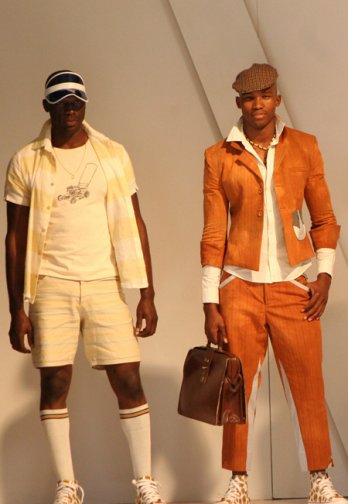 Karin Hoffman Collection
Dyantyi showed traditional Xhosa styling of layered, floor-length A-line voluminous silhouettes in earth and sky colours, as well as bright, bold '50s silhouettes pinched in at the waist. De Morais chose purple, turquoise and mustard yellow fabrics and describes her signature style as
"daring and bold with a sophisticated edge and a hint of playfulness."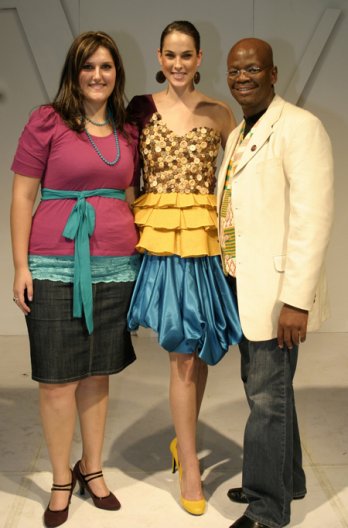 Natasha Morais, Model + Sonwabile Ndamase
Ndamase, the talent behind the distinctively South African designs of Vukani! ('wake up') Fashions, said all the finalists had already benefited from the training seminar and made valuable contacts.
"It's not so much about winning or not. The main thing is that we give the designers experience and mentoring in what is a notoriously cut-throat industry."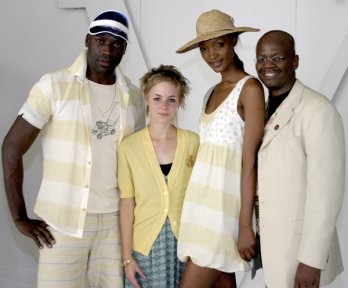 Karin Hoffman, 2 models + Sonwabile Ndamase
He said the awards have been a valuable platform for previous winners who had gone on to designing outfits for SABC presenters, set up their own studios, traveled abroad and achieved success in related fields such as fashion journalism.
"We are delighted to again support the Vukani Awards, as both Old Mutual and Vukani share a vision of contributing to youth development,"
added Old Mutual Brand Expression Manager Joy Khaole.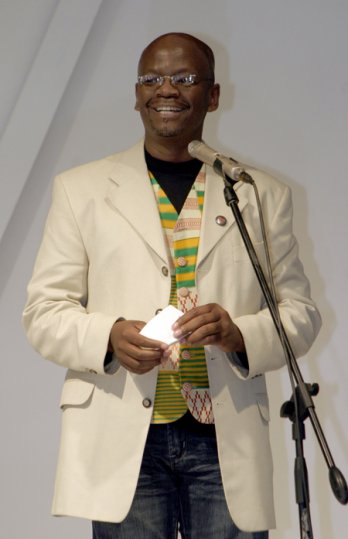 Sonwabile Ndamase, Executive president of the South African Fashion Designers Agency
"With Vukani, there is a true commitment to ensuring that designers from all walks of life in South Africa access the opportunity to develop and market their skills through a platform that would ordinarily not be available for emerging young fashion entrepreneurs. "
We fully support the founding principles of empowering young local talent; bringing together different cultures; focusing on education and entrepreneurial development; and boosting accessibility to both financial and marketing resources,"
she says.