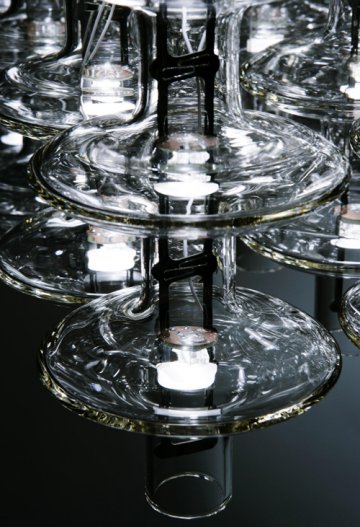 Edge design + the way things are
Jean Louis Frechin's Thoughts
Annie Gentès + Jean-Paul Robert, March 11, 2019
Jean Louis Frechin_Wanetlight M, suspension à variation lumineuse 3D
Special Feature

In the places we live in, objects of everyday comfort cohabit with high performance technological objects that are complex and often intrusive. In time, with the convergence of digital applications, new devices developed by computer science seem destined to replace all the electronic devices that are familiar to us - stereo and TV sets, telephones, radios. In their new formats they will be digital interfaces connected to networks, proposing enhanced ranges of services.
In the world of tomorrow, we are told, the home will be an 'intelligent environment', thanks to these omnipresent networks. The household appliances of the near future will be interconnected to form an '
internet of objects'
. Some forecasters propose specific objects, relatively intrusive, visible and complex; others take an opposite line, concealing machines and networks to fabricate 'wired' spaces in which none of the real workings are visible (pervasive computerization). But neither of these propositions sufficiently integrates human factors to the technology. As such, they run the risk of creating everyday devices that people can neither understand nor control, even though their functions aim at improving the way we live. In view of this, it is important that we propose other scenarios, to embody and represent digital services that are user- friendly. It is also of prime importance that we inscribe digital technologies in the intimate and emotion-fraught contexts of living space. For it is vital that we see
and understand the devices that surround us, all the better to appropriate them, invent other uses, and recognize possible risks.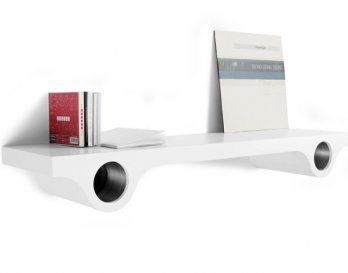 Jean Louis Frechin_Waaz AL, étagère support de musique
Starting out from these issues, the '
Interface(s)'
project proposes a 'hybridization' of new relational technologies with the 'legitimate' objects of living space: furniture, elements for decoration, comfort, lighting and so on. These 'hybrid' objects thus become supports or diffusers of on-line services. They embody the visible and user-friendly interfaces that mediate relations between people in a wide range of practises in the home: computer-enabled pastimes, communication services and comfort-related devices. In their material presence, these 'relational objects' are discreet, soft and emotional, even if they relay all the potential offered by information and communication science. For the designers and makers of services and technologies for habitat, an approach like this constitutes a new paradigm as well as a challenge to innovate.
Jean Louis Frechin_Wanetlight M, suspension à variation lumineuse 3D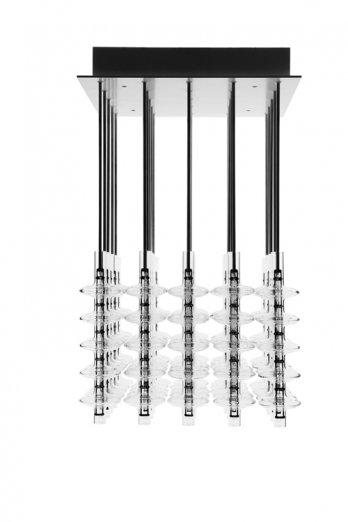 Jean Louis Frechin_Wanetlight M, suspension à variation lumineuse 3D
Like all emerging technologies, digital technologies however sophisticated often strike us as being awkward and not yet mature. From invention to discovery, as Pierre Damien Huygue points, there is a long way to go before achieving the expression of specific aesthetics. At the present time digital science is spreading in two trends. On one hand, digital devices are invading living space: computers, internet box, screens are transforming the organization of work and leisure and their time scales too. On the other hand, digital science is infiltrating all sorts of everyday machines, inaccessible black boxes that make it virtually impossible to understand the functioning principle of an automobile, an oven or kitchen scales. The work of Jean Louis Frechin and Uros Petrevski synthesizes this paradigm, between the proliferation of devices and hyper mediation, and their contrary: immediateness and immersion, that is to say the will to efface works, gears and fittings for the benefit of a heightened experience. In the objects on display here and the many projects which he contributes to or accompanies, Frechin attempts to question this 'all or nothing'.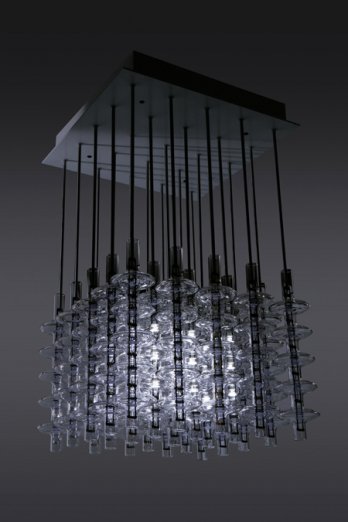 Jean Louis Frechin_Wanetlight M, suspension à variation lumineuse 3D
Rather than a 'trim design', as Armand Hatchuel calls it, what we see is more an 'edge design'. The design work does not focus on variations around a genre; it inscribes itself in the tradition of maturing technologies that these designers are helping to define by their search for specific aesthetics. Frechin dreams of 're-enchanting technologies'. Mirrors from somewhere else, sensitive lamps, talking shelves, none of the objects presented here imposes the industrial presence of computer science in the home space. But nor do digital applications disappear in them. Jean Louis Frechin creates digital objects to be seen and used, to take their place in our everyday world. You can stack books on WaSnake ELA or light a room with Wanetlight M: functions are not called into question. But this is not to say that in these digital pieces creation is reduced to decoration. My hypothesis is that the 'Wa' series adds feeling to our relationships with time and information, and with ourselves and others - relationships that are specific to our modernity. Since I cannot expand on each dimension of these 'discoveries' here, I prefer to open avenues of thought into the mode of being of these objects.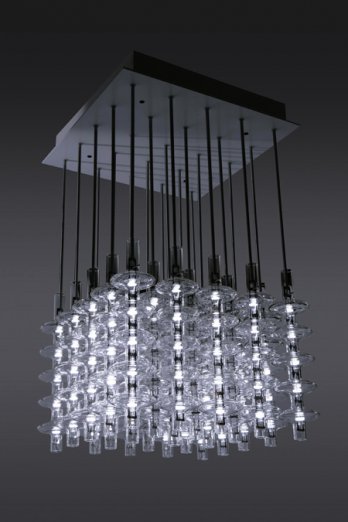 Jean Louis Frechin_Wanetlight M, suspension à variation lumineuse 3D
The aesthetics of a technique become clear when the conditions of its production are not hidden, encased or disguised, but exploited, expressed and able to be appreciated. In this way, Jean Louis Frechin's role consists in questioning the nature of texts, images and digital effects, the degree to which they can be calculated, but also the conditions of their ordinary production. Wapix YJMM strikes me as being a significant example. The family photo still has something to do with institution and memory, but it is no longer a standardized yet rare object sitting on top of the piano. The digital photo actuates the abundance enabled by an inexpensive device.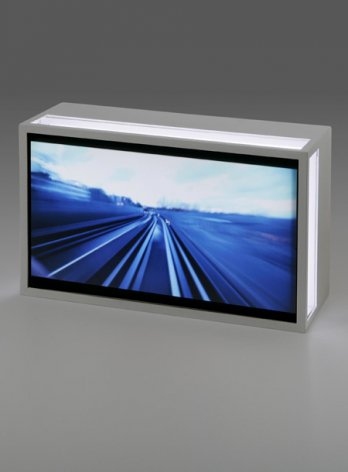 Jean Louis Frechin_Wapix YJMM, cadres chronopictographiques
Accordingly, photos taken in swift succession do not aim at creating monumental presence: they record a sequence, present a chronicle. It is this time flow of the digital camera that we see expressed by Wapix YJMM. Not a slide show but migration from one frame to the next. In other words, one photo does not obliterate another but coexists laterally in shifts. This presentation of pictures expresses the ease of the photographic act today, as it scans our personal and family activities, and translates this lightness into transitory display. At the same time, the proposal invites us to move from the archiving of photos in files on a hard disk. Not only does it guarantee the legitimacy of the 'everyday photo' in family living space, it also demonstrates how the digital mode introduces time into objects: not as witness to a state moving towards obsolescence, but as a clean animation of time in ebb and flow.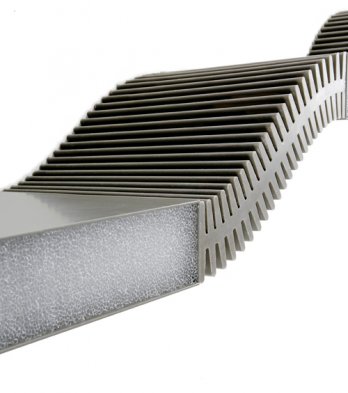 Jean Louis Frechin_WaSnake ELA, étagère modulable, dispositif de diffusion d'information
If the computer is the information node par excellence, the screen is the unstable page on which text and image appear, evolve and vanish. The distance between the digital mode and the experimentation of interfaces is like the distance between denotation and connotation. WaSnake ELA offers a space for representing presences. This representation is based on both precise information and its transformation into complex signs, having many meanings and open to interpretation. The digital designer must pre-select the ways in which this information appears. He must also pre-select the ways users interact with devices.
This distance between information (machine) and denotation (interface) is made clear in the absence of a keyboard, to date the dominant mode of interaction. We no longer type the name of the .wave file into the computer's search engine, but look for the CD covers that have been put on Waaz AL, as if to pick up a trail. Small free movements, minute shifts enable us to make the environment evolve. The hand does not assign, it quivers, undulates, alights and lamps come on, doors animate, music is heard. The 'Wa' are not targets but surfaces to caress with a touch.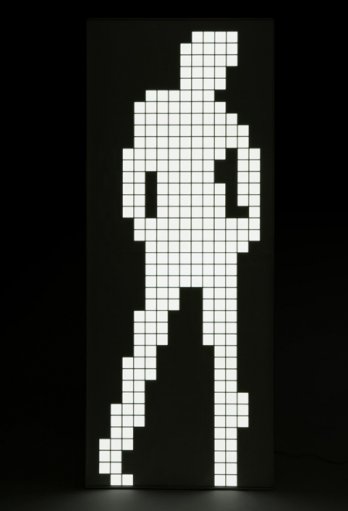 Jean Louis Frechin_WaDoor UP, porte-écran
Digital objects are mirrors that respond to our presence. As many authors have remarked, identity and intimacy are redefined in our relationship with communicating machines. Reactive surfaces, message displays, follow-on photos that diffuse and exhibit our presence. Our memories become external; work spaces and private places overlap; physical nearness cannot define us to the extent that virtual nearness does. Objects designed by Jean Louis Frechin are caught in this complex logic of an intimacy that is no longer experienced as an independent interior reality. Besides mediating the external display of what is intimate by turning furnishings into vehicles for expressing what is personal, his designs attempt to defuse what is dangerous in this display, in this renouncing of what is obscure, by reinventing a formal distance between user and object. To do so, the idea of the trace is fundamental, because it is what expresses our relationship to objects by contact - not, however, to the extent of biometry - since the trace is what is constantly vanishing.
These display surfaces are palimpsests on which we re-write every day. Transferred to questions of identity, this aesthetics enables us to conceive of substitution not only by means of an avatar, for example, but in dynamic gradations, from the abstract dot to the realist photo. In this way, the absence of clearly defined contours, and even the encoding of objects as forms of self expression, enable us to recreate our own
intimate space.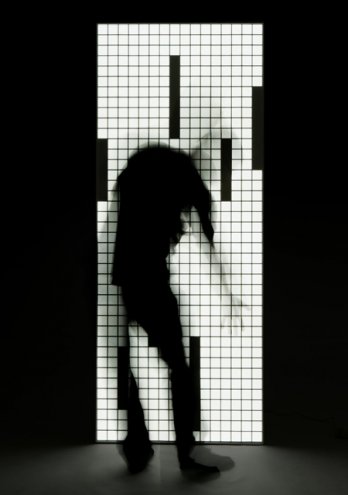 Jean Louis Frechin_WaDoor UP, porte-écran
Reflecting and intimate, the 'Wa' objects are also communicators. Instead of a finite living space enclosed in an interplay of surfaces and mirrors, communicating objects create depth that is internal as well as external. They open doors to other homes and set up a forum for interaction between all the members of a family. In a flat-screen world, emotional dimensions are introduced by relationships with others. This is the ultimate mission of the digital designer, whose task is to create objects for structuring relationships between people, modify the modalities of sociability and exchange, and redefine symbolic territories. With objects that communicate, or are 'relation-oriented', as Jean Louis Frechin describes them, the designer has the responsibility of framing and influencing relationships. WaDoor UP, Wanetlight M, WaSnake ELA, Waaz AL, all denote a choice of protocol and poetics. The accent is on welcoming hospitality. The modalities of their presence conspire to avoid any brutal intrusion. The digital object is designed as a space for writing and sharing the family chronicle.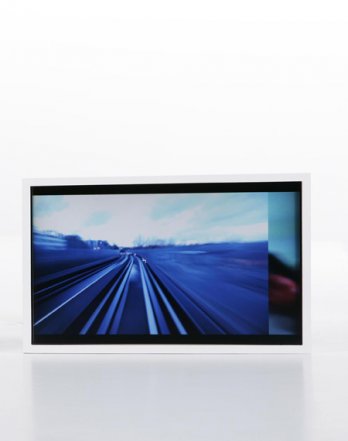 Jean Louis Frechin_Wapix YJMM, cadres chronopictographiques
If there is a gentleness in the digital objects that compose this exhibition, it is no doubt because digital applications have reached a form of maturity in them. In the same way as Gilbert Simondon analysed the evolution of technical objects towards internal coherence, the design of the 'Wa' series expresses the effort to interpret the principles of a precise aesthetics, pertinent to 21st century communication devices. In the final analysis, they are open-ended objects that invite interaction. And they are discreet, because they efface themselves in their usefulness (shedding light, storing books), and poetic too, since they recreate choreography in space. A space for sharing secrets and leaving clues rather than mere information, in the fragile present that is ours to renew.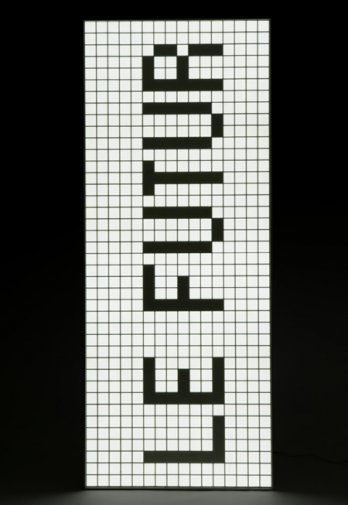 Jean Louis Frechin_WaDoor UP, porte-écran
Objects weigh us down. Worse, they take over our lives. Indoors, while our houses, in cities, are getting smaller; outdoors, where they proliferate, disfiguring public space by their disparity and crowding out possible liberties; on our persons, in the bags and pockets that we keep needing more of to carry them around. And that isn't all: objects are becoming fluent. They talk and some even talk to themselves. They slip in everywhere, keep themselves in order, never leave us in peace. They pretend to serve and set free: yet they alienate. They are no longer inanimate. In digital mode, they have even become 'intelligent'. The Austrian writer Robert Musil wondered whether it was possible to say that a race horse was 'brilliant'.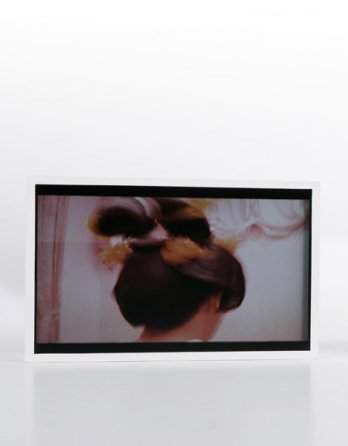 Jean Louis Frechin_Wapix YJMM, cadres chronopictographiques
What would he have said about these things that have become 'intelligent': do they reason, or rather do they arraign us? And what is more, now they are 'communicating'. Quite true: they exchange things between themselves. But, just as language speaks to us at the same time as we think it is we who are speaking, they communicate us. Just as while we think we are manipulating them, they manipulate us. Objects are subjects. And we, who thought we were subjects, are little more now than their objects. We thought that using them would set us free, save time, enhance space, improve utility and service. But instead we live in immediacy and no longer think in time or duration; we fancy ourselves to be ubiquitous or nomads yet we can't do without artificial limbs or life-lines; we have to respond to the services that are proposed by objects, but to do so we have to learn how. We have become useful to them, and it is we who serve. Objects perfect themselves, get cunningly simpler, smaller, smarter, less visible. They pretend to be learning to get to know us. They are customizing us. We think we assert ourselves by them, but it is they who assert the degree of servility to which they have reduced us. They do not serve, they enslave. We want to individualize ourselves: they deprive us of subjectivity. We think we are gaining another alter ego: they alienate and separate us by interposing and replacing relations with another. We think we are gaining in freedom: they subject us. The higher their merchant value, the more they impose merchandise values as the only social value. The more they communicate, the more they isolate us in communities. The newer they are, the sooner they go out of fashion and become obsolete. And we can no longer even lay them down or get rid of them. They pollute us and end up as pollution.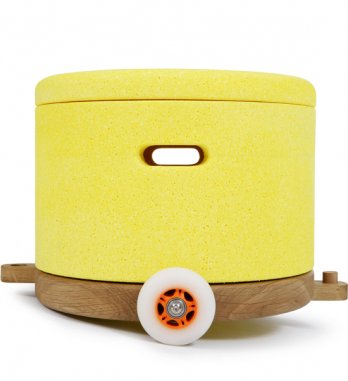 Thorsten Franck_Aide à Projet - rangement Tube_Box
Consider what Giorgio Agamben has to say on this, in his updating of the notion of apparatus, as it was developed by Michel Foucault. The Italian philosopher sums up this notion in three points. '1) It is a heterogeneous set that includes each thing virtually, whether it be discursive or not: speeches, institutions, edifices, laws, police measures, philosophical propositions. Considered in itself, the apparatus is the network that grows up between these elements. 2) The apparatus always has a concrete strategic function and is always inscribed in a power relationship. 3) As such, it results in relationships of power and knowledge.'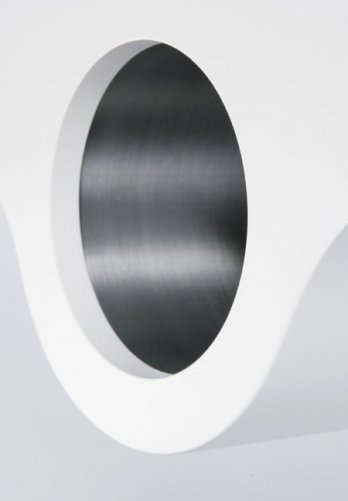 Jean Louis Frechin_Waaz AL, étagère support de musique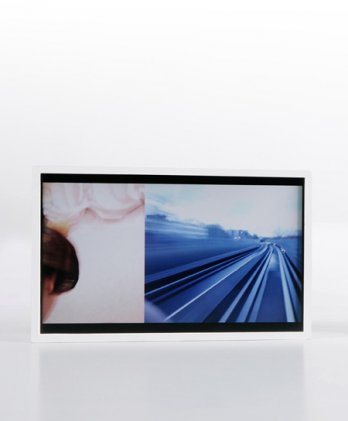 Jean Louis Frechin_Wapix YJMM, cadres chronopictographiques
Agamben exhorts us to turn the apparatus against itself, to take it over, to 'desecrate' it, to free ourselves from its bondage. We must become players rather than mere vectors. We see a utopia shaping up here, so necessary in the disenchanted world of the 'end of History'. There will be neither winner nor loser there, but rather a perpetual unbalance, capable of impelling the motor of History in us. Faced as we are with apparatus and things, rather than reject them we should exploit them, turn them into series, sidetrack and subvert them. But that will not be enough: merchandise itself already uses these same procedures. What we must do above all is propose new things that are reasoned and related to other senses and values than those that they relay without our knowing it. We must conceive of these things in terms of political economy, by bringing together usage and meaning, utility and lastingness, pleasure and reason, the individual and the social fabric, power and knowledge. In short, we must invent them to invite exchanges. Only then, perhaps, and provided they become mediators in these ways, will objects exist once more to serve us.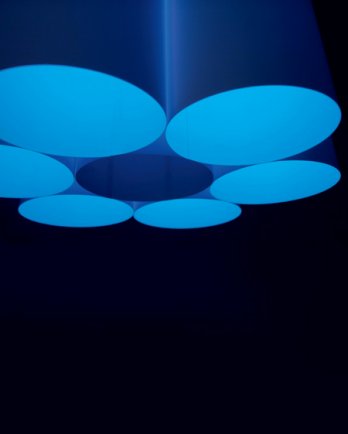 Fabrice Berrux_ed. DIX HEURES DIX_Label - luminaires RGB
Jean-Louis Fréchin is a DPLG architect and a graduate of the ENSCI, where he trained under Yves Savinel, Gilles Rozé and Marc Berthier. In 1989 he left France to work at the INESC, a computer research institute in Lisbon. There he discovered the fertility of drawing together design and computer science. On his return to Paris, he set up a global design partnership with Stéphane Bureaux, handling many industrial and cultural projects. In 1995, he joined the publishers Montparnasse Multimedia to take part in the adventure of producing quality multimedia titles. His work is always based on the idea of global design and aims at making an intrinsic link between content, interactive design and technology - at creating meaning. Many of his creations have won prizes: notably series like « Les petits débrouillards », « La Terre merveilleuse », « L'histoire de l'aviation », « Le Louvre, Collections et palais », « La Résistance », etc.
In 2001 he set up NoDesign, a digital design office specializing in creation, innovation and strategic thinking for information technologies, interactions and user protocols in industrial and cultural projects. A recognized front-runner in digital design, he is also a consultant for firms in new fields: innovation by design, advanced technologies, innovation strategy. Founder and head of the Digital design studio at the ENSCI / les Ateliers in Paris in 1998, it is there that he passes on his experience, culture, insatiable curiosity and 'project' method. For him, design is a state, a prism for understanding and questioning the world. New challenges, new territories, attempting to enlarge the 'scope of what is possible' and 'desirable', without losing the basic values of design; meaning, simplicity, emotion, and above all human endeavour.