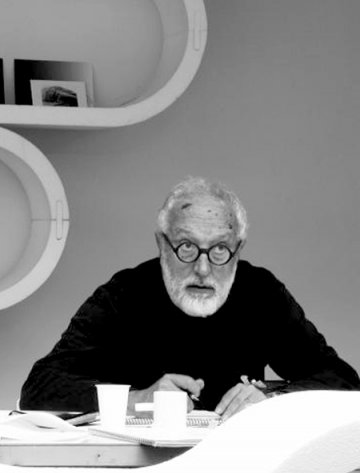 Andrea Branzi
Open Enclosures
Linda Chenit, February 18, 2008
Andrea Branzi_Vase Simbiosi, 2005_Fondation Cartier
Andrea Branzi, one of the most influential Italian architects and designers working today, will present two ambitious new installations created in collaboration with the CIRVA,1 specifically for his exhibition at the Fondation Cartier. Realized in glass and metal interweaved with natural elements such as branches and flowers, these installations, immersed in the musical environment of Patti Smith, create a dialogue with the architecture of Jean Nouvel's building. Fragile, delicate and poetic, these hybrid structures express what Andrea Branzi has called "a weak and diffuse modernity" where the translucent, the transitory and the flexible become the guiding concepts for architecture and design in the 21
st
century. After exhibiting Ron Arad, Marc Newson, and Alessandro Mendini, the Fondation Cartier confirms its ongoing commitment to design through this commission to Andrea Branzi.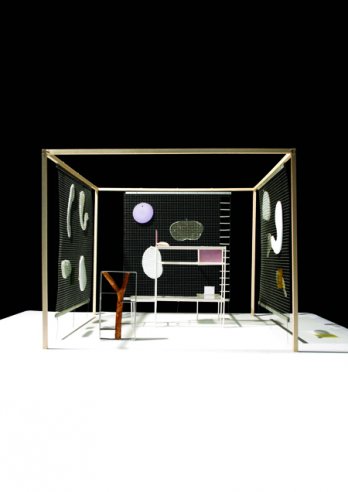 Andrea Branzi_Gazebo, 2007_Fondation Cartier
Born in Florence in 1938, Andrea Branzi has been involved with many progressive elements of Italian design since the late 1960s. As one of the founding members of Archizooom Associates (1966-1974), he played a major role in the radical architecture movement, which inspired a whole generation of architects such as Frank Gehry, Rem Koolhaas and Daniel Liebeskind. In the 1970s and 1980s he also participated in important avant-garde groups such as Studio Alchymia and Memphis. A prolific writer and critic, he was one of the co-founders of the world-renowned design school, the Domus Academy in Milan, of which he was the director and vice president for ten years. For his career contributions in the fields of design and design theory, he was awarded the prestigious Compasso d'Oro in 1987. He is currently Professor and Director of the graduate program of Interior Design at the Politecnico di Milano, and Curator at the Museo del Design di Milano.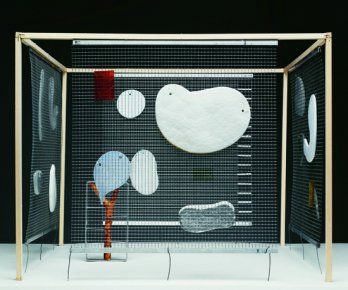 Andrea Branzi_Gazebo maquette, 2007_Fondation Cartier
The installations presented at the Fondation Cartier have evolved out one of the designer's major preoccupations: how may we reinvent architecture following its demise? He argues that modern architecture, with its emphasis on closed form and definitive function, has not only lost touch with "the intimate needs and behaviour of users" but also with the general needs of a "fluid" society based on electronics and services. Embracing the opposing realities of the natural and the artificial, the industrial and the handmade, the work of Andrea Branzi strives to reflect the complexities of contemporary society, encouraging viewers to rethink their relationship to the built environment.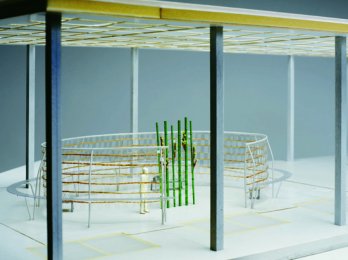 Andrea Branzi_Ellisse grande maquette_Fondation Cartier
For the first installation, the designer has created a mysterious elliptical enclosure, using construction
techniques related to the handicrafts. Weaving together materials such as plants, tree branches and hemp with glass and metal, he creates a hybrid structure that marries the natural with the manmade. Three seats from the Domestic Animals (1985) series, realized using industrial carpentry and rough birch wood, will be placed inside of the ellipse, echoing the dual nature of the structure itself. Branzi employs weaving - a technique traditionally used in the creation of fabrics - to build a wall that is light and permeable in appearance.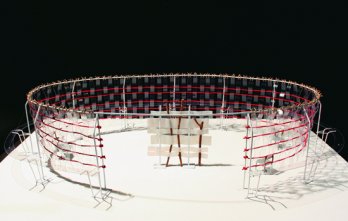 Andrea Branzi_Ellisse, 2007_Fondation Cartier
Rarely used in construction, this method is employed here to create a flexible surface that may be dismantled. Far from the notion of architecture as a system of closed boxes, this work expresses the ideas of translucency and penetrability. Unlike a traditional edifice, the ellipse possesses no clear function and raises more questions than it answers: is it a collective dwelling? A walled garden? A trellis? As both a sculptural object and a construction, it is situated somewhere between architecture and design. Expressing the designer's concept of an "open" system, the ellipse offers as many possibilities as the mind can imagine.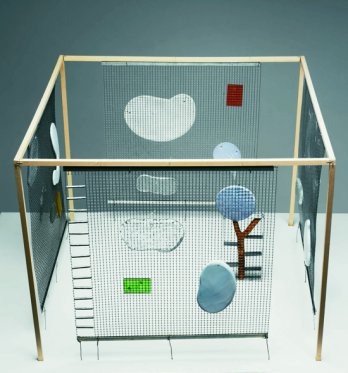 Andrea Branzi_Gazebo maquette, 2007_Fondation Cartier
For the second installation, the designer will present an enigmatic structure that he aptly refers to as a gazebo. Like a traditional gazebo, the installation of Andrea Branzi is a pavilion with intricate decorative features. Metal braiding and organic glass forms ornament its sides made of thin steel bars, adding sensuality and delicate colors to an otherwise minimal geometric structure. Inside of this work, the designer has placed a "vertical home", a modular piece of furniture that may assume a variety of domestic functions - a bed, shelves, or a working area - thus transforming this installation into an imaginary living space. A gazebo is usually a shelter from which we may contemplate the landscape. For Andrea Branzi, however, nature is no longer passively decorative, it possesses its own "weak" energy similar to the electronic energy that has invisibly changed our cities.
Andrea Branzi
Omnipresent in Branzi's work, nature and its modes of production are seen as conceptual models for architecture and design as well as forces with which they may interact. Expressing this potential, Branzi integrates plants and flowers within and around his installations. A glass shelf that completely surrounds the ellipse will display a selection of vases from the designer's collections. Within the imaginary domestic space of the gazebo, flowers will also bloom, their presentation inspired by the art of Ikebana.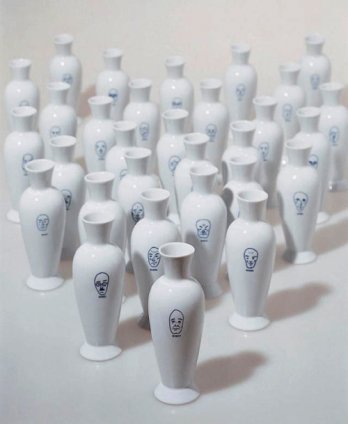 Andrea Branzi_Genetic Tales Three
Jean Nouvel's building provides the most conceptually appropriate environment for these installations. Just as Andrea Branzi's permeable structures strive to blur the boundaries between interior and exterior, Nouvel's sheet glass façades deny the reading of a solid volume, creating a dialogue with the surrounding wildflower garden. For Andrea Branzi, it is this blurring of boundaries that best expresses our contemporary reality. Eliminating the traditional distinctions between inside and outside, form and function, the natural and the technological, these two installations suggest a new conceptual approach to architecture and design. They are metaphors for an architecture of the future, no longer based on the idea of spectacular verticality, but on light, flexible, ephemeral structures that fully incorporate the "weak and diffuse" energy of nature and its seasons.
From March 28 to June 22, 2008
http://fondation.cartier.com