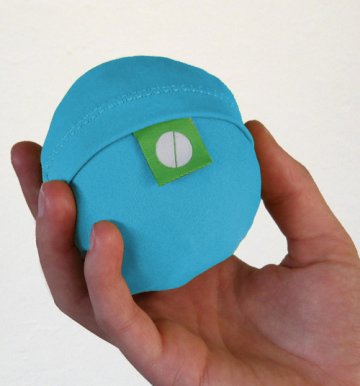 Hetal Jariwala + Eva Bauer
Deux filles et un sac Flip & Tumble
F.T., January 21, 2008
Hetal Jariwala
Flip & Tumble was founded by Hetal Jariwala and Eva Bauer, designers who met while attending Stanford's graduate Product Design program. Both were trying to make the switch to reusable bags, but were struggling to bring their bags with them when they shopped.
"Often shopping trips were unexpected, or we simply just forgot. As we started talking to people, we learned we weren't alone. Lots of people owned reusable bags, but those bags often weren't getting used. It was just too easy to forget."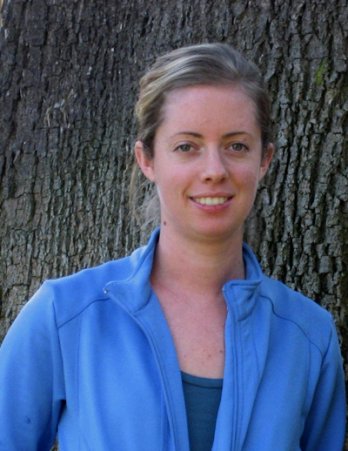 Eva Bauer
The duo felt strongly that in order for people to really use reusable bags, they needed to have the bags with them all the time, so it wasn't a matter of remembering for each shopping trip. "
We wanted to develop the perfect one bag that you could keep with you all the time. The ideal bag had to be compact and work for grocery shopping, but we also wanted it to work for other places, such as a nice restaurant, or a day at the museum."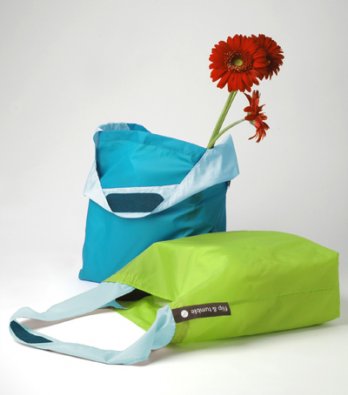 Hetal Jariwala and Eva Bauer_Two bags
As Hetal and Eva surveyed the compact reusable bags on the market, they found that most bags were geared to just grocery shopping, and were cumbersome to compact. "
You had to either cram the bag into a tiny pouch, fold it carefully, or deal with zippers that got stuck on the fabric."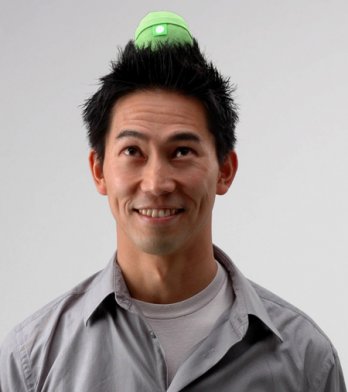 Hetal Jariwala and Eva Bauer_Ballon Head
"We started to play with different methods of compacting the bag, different materials, and just anything that we could change."
Making the bag out of ripstop nylon turned out to be a no-brainer, it had the perfect combination of strength and compactability. For the stuffsack, Hetal and Eva learned that they could use a stretch material, and this made a huge difference in how easily they could get a large bag back into a compact form.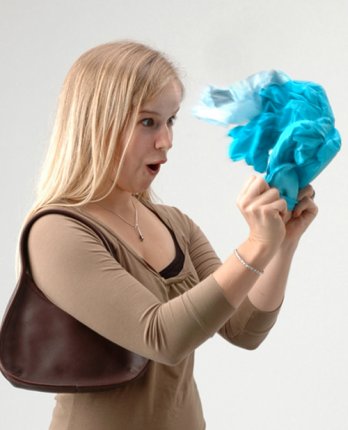 Hetal Jariwala and Eva Bauer_Bag Pop
Experimenting with different forms for the stuffsack, they developed a design that made it possible to convert the bag into a small ball. It worked similarly to a sockball.
"All you had to do to compact the bag was place your hand in the pouch, scrunch up the bag, and flip the stretchy panels over it. It took about 10 seconds to go from a full sized bag to a ball the size of a peach."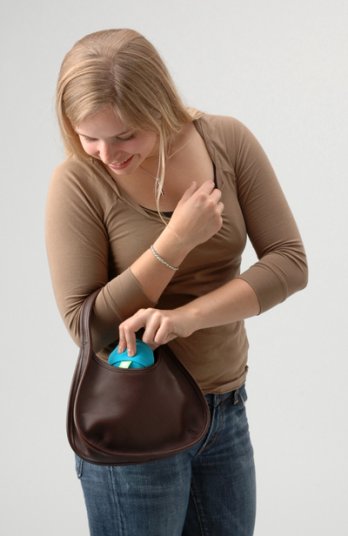 Hetal Jariwala and Eva Bauer_Ball Purse
Their final product, titled the 24-7 bag, sells online for $15 through their website at
www.flipandtumble.com
. Over its lifetime, each 24-7 bag can easily spare the earth from over 1,000 disposable plastic bags. The bags fit over your shoulder and have a go anywhere, do anything style that works in just about any environment.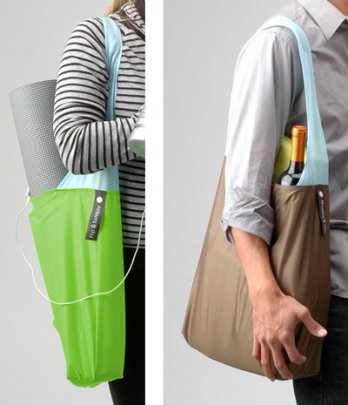 Hetal Jariwala and Eva Bauer_Three bags
Interview with Hetal Jariwala and Eva BauerHetal JariwalaE.D.: Your biggest goal as a designer?H.J.:
Developing products that function well while elevating the spirit. It's not enough for a product to just
work. There has to be an emotional aspect.

E.D.: Your favorite product?H.J.:
I don't have just one! In general, I love modern furniture. There's such a rich history with amazing designers like Eames and Saarinen, who really pushed the limits. I love that I can feel some connection to these great people through the pieces they designed.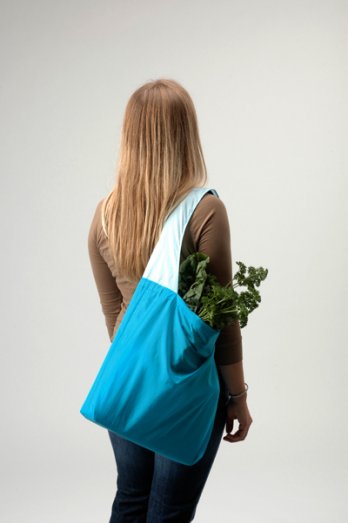 Hetal Jariwala and Eva Bauer_Lauren back
E.D.: Your job prior to going into design?H.J.:
Information Technology Project Manager. It was good, but I really enjoy the more tangible nature of the
work I do now.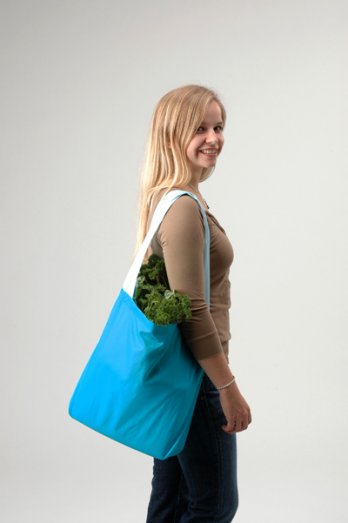 Hetal Jariwala and Eva Bauer_Three bags
E.D.: Your favorite childhood experience?H.J.:
The inflatable planetarium that came to my elementary school every year. I remember crawling through this little tunnel and suddenly going from the crowded lunchtime cafeteria to this brilliant nighttime sky. That was pretty amazing.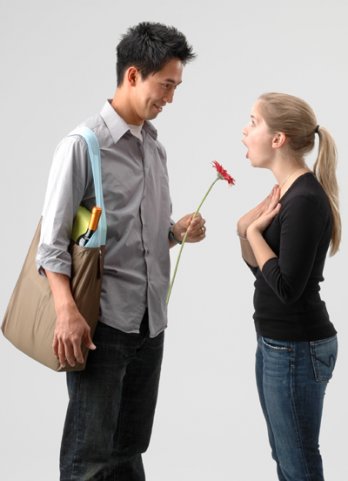 Hetal Jariwala and Eva Bauer_Yusuke flower
Eva Bauer

E.D.: Where do you find inspiration?
E.B.:
I have always been amazed and inspired by the natural world around me. As a young kid I was always playing with bugs, plants, water, and and anything else I could find in my backyard. I was always amazed by the complexity and balance of the interactions of such simple elements. I try to carry that type of balance into the products I design.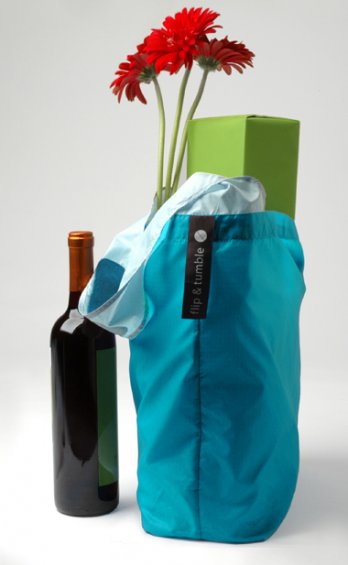 Hetal Jariwala and Eva Bauer_Bag wine
E.D.: Your favorite hobbies?E.B.:
Gardening, running, and lounging around at the beach (warm ones)...

E.D.: How do you want your products to affect people?E.B.:
Well I hope they make the everyday a little easier, but most importantly I hope they bring a little smile, smirk, or even a chuckle to the everyday things we do in our lives. I think being able to laugh, especially at
yourself, is crucial to living a happy life.
Hetal Jariwala and Eva Bauer_Two bags
E.D.: Your favorite childhood experience?E.B.:
Making huge mud baths in the backyard with my sister and getting covered from head to toe in mud.
www.flipandtumble.com