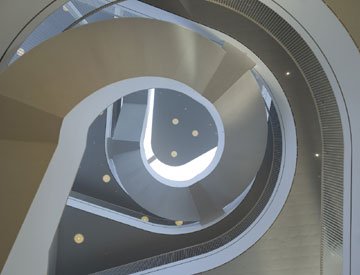 Ørestad College
Ørestad, Copenhagen, Denmark
3XN, November 26, 2007
The Ørestad College will be the first in Denmark to fulfill new educational visions regarding subjects, organization and teaching systems. Communication, interaction and synergy have been key issues.
Ørestad College)P: Adam Mørk
The project displays a visionary interpretation of openness and flexibility regarding team sizes, varying from the individual over groups to classes and assemblies, and reflects international tendencies aiming at achieving a more dynamic and life-like studying environment and introducing IT as a main tool. The intention is also to gradually enforce the students' ability to take responsibility for their own learning, being able to work in teams as well as individually.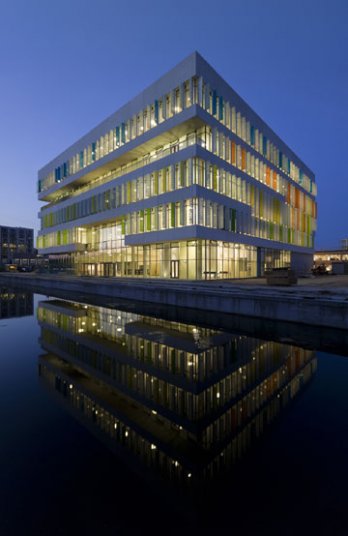 3XN_Ørestad College_P: Adam Mørk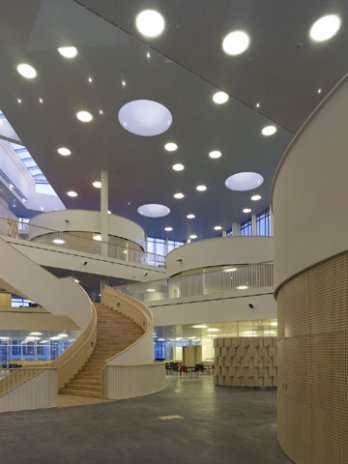 3XN_Ørestad College_P: Adam Mørk
The college is interconnected vertically and horizontally. Four boomerang shaped floor plans are rotated to create the powerful super structure which forms the overall frame of the building - simple and highly flexible. Four study zones occupy one floor plan each. Avoiding level changes allows for highest organizational flexibility, and enables the different teaching and learning spaces to overlap and interact with no distinct borders.

3XN_Ørestad College_P: Adam Mørk
The rotation opens a part of each floor to the vertical tall central atrium and forms a zone that provides a sense of community, and expresses the college's ambition for interdisciplinary education.
3XN_Ørestad College_P: Adam Mørk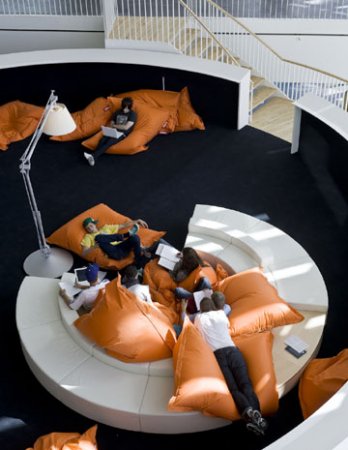 3XN_Ørestad College_P: Adam Mørk
About 3XN:


Founded in 1986, 3XN employs over 100 staff in offices in Copenhagen and Århus, Denmark, and currently works in eight countries around the world. 3XN was represented at the Venice Biennale 2004, won the RIBA Award 2005, the MIPIM Future Project Awards 2005, 2006, and 2007, the ULI Award 2006, the Dedalo Minosse Prize 2006, and the International Design Awards 2007.
Building on a Scandinavian tradition of functionality, clarity, and beauty, 3XN considers each new project a research endeavor that adds to its experience and approach. 3XN architecture translates poetry into reality and aims for its work to become the heritage of tomorrow.
3XN_Kim Herforth Nielsen_P: Kim Herforth Nielsen
Kim Herforth Nielsen, Principal Architect, 3XN

Architect MAA RIBA Kim Herforth Nielsen, founder of 3XN, is Principal Architect. Kim Herforth Nielsen holds full architectural responsibility for all 3XN products from original concept to turnkey building. Kim has been a main driving force in 3XN's 20 years of history, with projects like the Royal Danish Embassy in Berlin; the Architects' Building in Copenhagen, the Music Building in Amsterdam, Ørestad College and the upcoming Museum of Liverpool in his port folio. Kim is honoured with the Danish Knight's Cross and the Eckersberg Medaille. He is judge in the Danish Architectural Association's competitions, sat in the AR Emerging Architects Award 2006 jury, and is a frequent lecturer at architects' schools, universities etc. world wide.