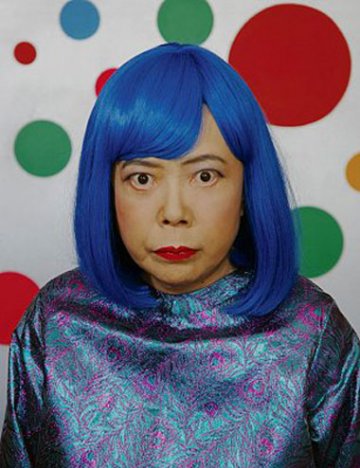 YAYOI KUSAMA
Fireflies on the Water
D.W., August 27, 2012
The Withney Museum, New York presents Fireflies on the Waterthe, a retrospective devoted to Japanese artist Yayoi Kusama (born 1929): through a chronological display of some 150 works dating from 1949 to 2011, the exhibition pays tribute to an artist who stands apart, in a class of her own, yet one who has had a considerable influence on contemporary art from Andy Warhol to Mike Kelley, and who still attracts the interest of the rising generation.
The exhibition then traveled to the
Reina Sofia Museum,
Madrid,
Tate Modern,
London, and the finally took a place at the
Whitney Museum of American Art, New York
. Each city will however make a distinctive contribution to the whole, as the display will vary from place to place: the
Whitney Museum of American Art à New York
for its part puts distinctive emphasis on Kusama's sculpture and the experiments with colour represented by her monochromes.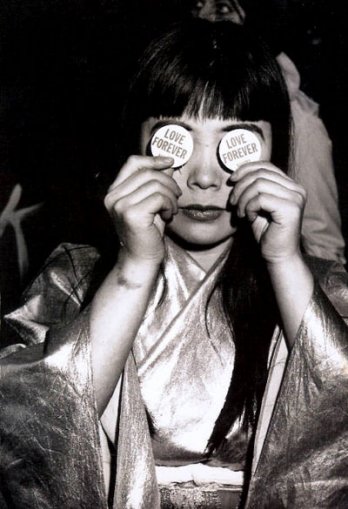 Yayoi Kusama
The retrospective maps the key points in the artists career, illustrating the protean nature (painting, sculpture, performance, environments…) of a body of work the artist herself describes as "obsessional." This characteristic is strongly connected to a childhood memory, a hallucination that stands at the root of her recurrent motif of the dot.
"My life is a dot lost among thousands of other dots,"
she has said. After an introductory section featuring her early, small-format works, notably a number of watercolours never yet seen in Europe, marked by a certain Surrealist influence, the exhibition falls into two major periods: exile in New York, and the return to Japan after 1973.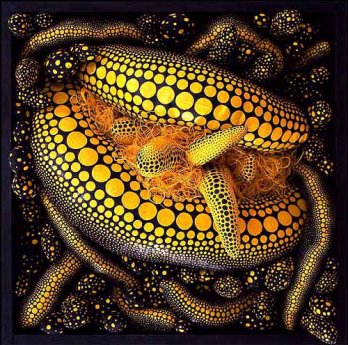 Yayoi Kusama_Flowers blooming in Azumino
Tenaciously creative and obsessive, Yayoi Kusama continues to create artworks wrested from her stream of consciousness. These pieces speak to her past and continue the themes she began in the 1960's. Yayoi Kusama was born in Japan in 1929. As a child, she suffered from hallucinations (Started to paint using polka dots and nets as motifs at around age ten ,and created fantastic paintings in watercolors, pastels and oils.) of nets, dots and flowers that appeared to cover every inch of space and threatened to obliterate her. The hallucinations left an indelible impact on the artist, and the imagery from the period still manifests itself in her work. Essentially self-taught and fiercely determined to be an artist since her childhood, went to the United States in 1957 (at the age of 28).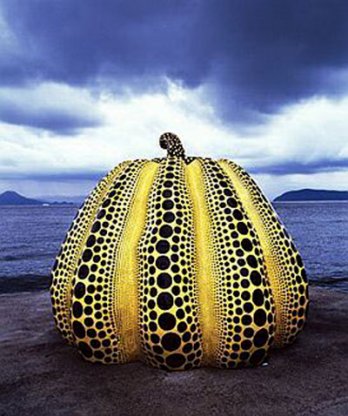 Yayoi Kusama_Pumpkin
Yayoi Kusama_Chess
Showed large paintings, soft sculptures, and environmental sculptures using mirrors and electric lights. In the latter 1960s, staged many happenings such as body painting festivals, fashion shows and anti-war demonstrations. Launched media-related activities such as film production and newspaper publication.
Yayoi Kusama_works in progress
In 1968, the film "Kusama's Self-Obliteration"which Kusama produced and starred in won a prize at the Fourth International Experimental Film Competition in Belgium and the Second Maryland Film Festival and the second prize at the Ann Arbor Film Festival. Held exhibitions and staged happenings also in various countries in Europe.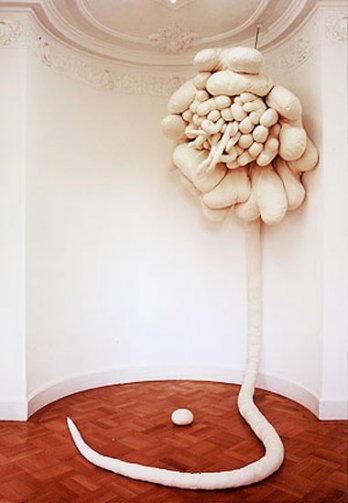 Yayoi Kusama_Death of an illusion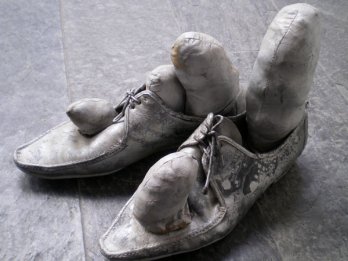 Yayoi Kusama_Sex obsession
Returned to Japan in 1973. While continuing to produce and show art works, Kusama issued a number of novels and anthologies. In 1983, the novel "The Hustlers Grotto of Christopher Street" won the Tenth Literary Award for New Writers from the monthly magazine Yasei Jidai. In 1986, held solo exhibitions at the Musee Municipal, Dole and the Musee des Beaux-Arts de Calais, France, in 1989, solo exhibitions at the Center for International Contemporary Arts, New York and the Museum of Modern Art, Oxford, England. In 1993, participated in the 45th Venice Biennale.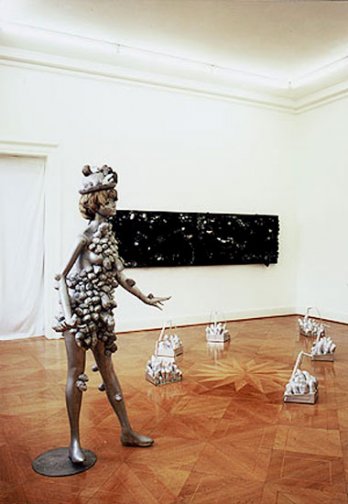 Yayoi Kusama_Phallic Girl
Began to create open-air sculptures in 1994. Produced open-air pieces for the Fukuoka Kenko Center, the Fukuoka Municipal Museum of Art, the Bunka-mura on Benesse Island of
Naoshima
, Kirishima Open-Air Museum and Matsumoto City Museum of Art, , in front of Matsudai Station, Niigata, in front of TGV's Lille Station, France and a mural for the hallway at subway station in Lisbon.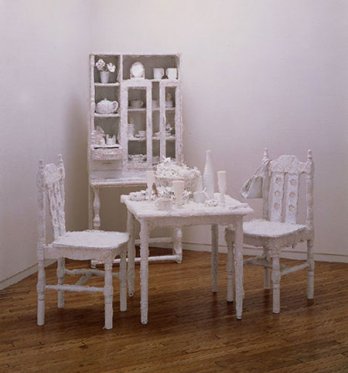 Yayoi Kusama_Sans titre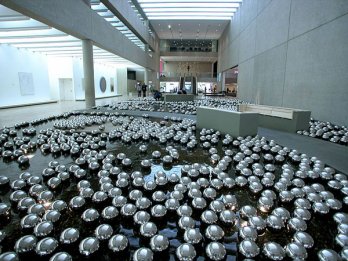 Yayoi Kusama_Narcissus Garden
Began to show works mainly at galleries in New York in 1996. A solo show held in New York in the same year won the Best Gallery Show in 1995/96 and the Best Gallery Show in 1996/97 from the International Association of Art Critics in 1996.
Yayoi Kusama_Narcissus Garden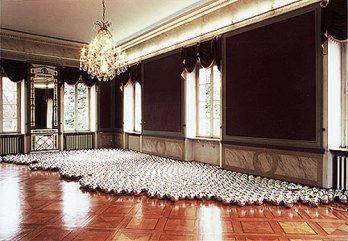 Yayoi Kusama_Narcissus Garden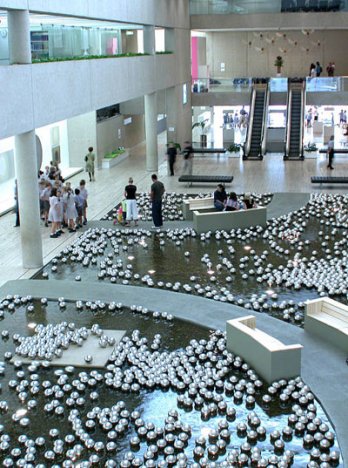 Yayoi Kusama_Narcissus Garden
Yayoi Kusama_Tender are the Stairs to Heaven
From 1998 to 1999, a major retrospective of Kusama's works which opened at the Los Angeles County Museum of Art traveled to the Museum of Modern Art, New York, the Walker Art Center and the Museum of Contemporary Art, Tokyo. In 2000, Kusama won The Education Minister's Art Encouragement Prize and Foreign-Minister's Commendations. Her solo exhibition that started at Le Consortium in France in the same year traveled to Maison de la culture du Japon, Paris, KUNSTHALLEN BRANDTS ÆDEFABRIK, Denmark, Le Abattoirs, Toulouse, KUNSTHALLE Wien, Art Sonje Center, Seoul.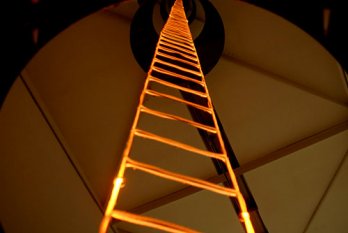 Yayoi Kusama_Tender are the Stairs to Heaven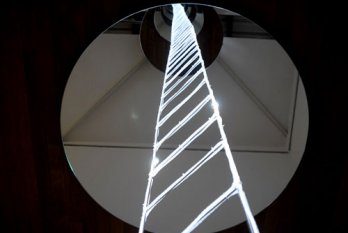 Yayoi Kusama_Tender are the Stairs to Heaven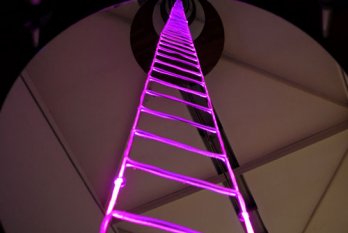 Yayoi Kusama_Tender are the Stairs to Heaven
Yayoi Kusama_Tender are the Stairs to Heaven
Received the Asahi Prize in 2001, the Medal with Dark Navy Blue Ribbon in 2002, the French Ordre des Arts et des Lettres (Officier), and the Nagano Governor Prize (for the contribution in encouragement of art and culture) in 2003. In 2006, received the 2006 National Lifetime Achievement Awards , the Order of the Rising Sun, Gold Rays with Losette and The Praemium Imperiale -Painting- in 2006.
Yayoi Kusama_Tender are the Stairs to Heaven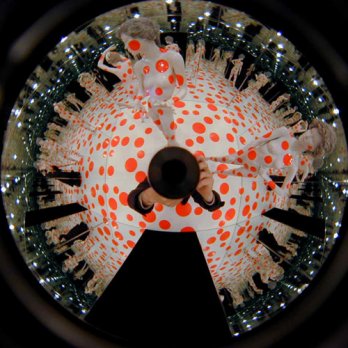 Yayoi Kusama_Manhattan Addict Suicide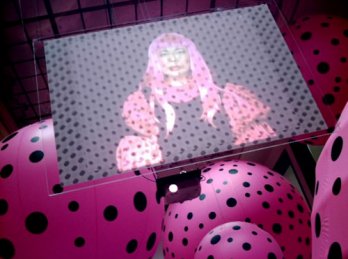 Yayoi Kusama_Sheisa Super Dot
Kusama participates in various activities in other than art, such as photographic collaboration with photographer Nobuyoshi Araki, an appearance in the film "Topaz" written and directed by writer Ryu Murakami, and collaboration with musician Peter Gabriel and fashion designer Issey Miyake.
Her powerful presence during this period has been an influence and inspiration for subsequent generations of artists. "At 78, Yayoi Kusama is doing what she wants artistically, which is probably too much.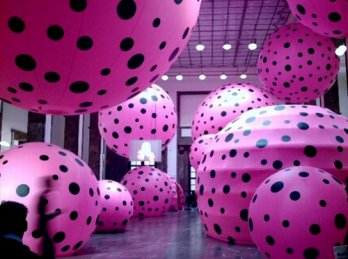 Yayoi Kusama_Sheisa Super Dot
Yayoi Kusama_Dots Obsession
Yayoi Kusama
www.withney.org
www.yayoi-kusama.jp