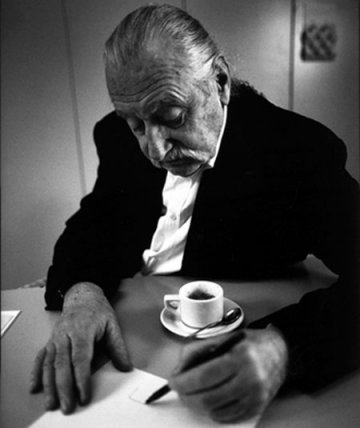 Goodbye Mister Ettore Sottsass!
1917 - 2007
Marie-Laure J. + MOD, January 1, 2008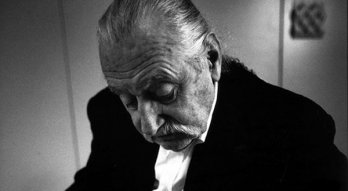 Ettore Sottsass
Born in Innsbruck in his mother's native Austria in 1917, Ettore Jr. was marked out as an architect from an early age. His parents moved to Turin in 1929 because it boasted the best architecture faculty in Italy and Ettore Sr. wanted his son should study there. Although he also loved painting, Ettore Jr. acquiesced to his father's wishes and gained an architecture degree in 1939. Ettore Sottsass has devoted his life and work to dismantling the past in his various roles as artist, architect, industrial designer, glass maker, publisher, theoretician and ceramicist. The past to him was the rationalist doctrine of his father, Ettore Sottsass Sr., a prominent Italian architect. Fond though he was of his parents, Ettore Jr. favoured a different approach. "When I was young, all we ever heard about was functionalism, functionalism, functionalism," he once said. "It's not enough. Design should also be sensual and exciting."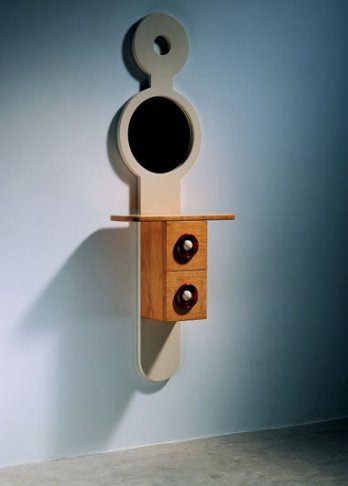 Ettore Sottsass_Spiegel
Ettore Sottsass_Bijzettafeltje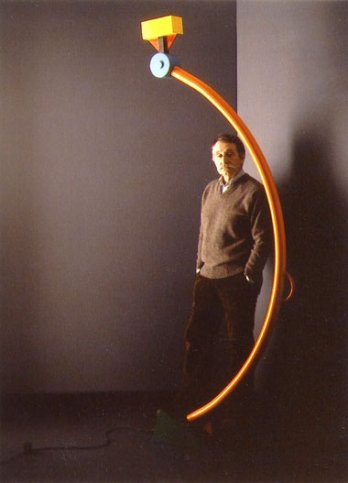 Ettore Sottsass_Ballo
No sooner had he graduated than he was called up into the Italian army only to spend most of World War II in a Yugoslavian concentration camp. "There was nothing courageous or enjoyable about the ridiculous war I fought in," Sottsass wrote. "I learned nothing from it. It was a complete waste of time." After the war, he worked on housing projects with his father before moving to Milan in 1946 to curate a craft exhibition at the Triennale. For the next decade, Sottsass continued to curate as well as pursuing his passion for painting, writing for Domus, the art and architectural magazine, designing stage sets and founding a practice as an architect and industrial designer.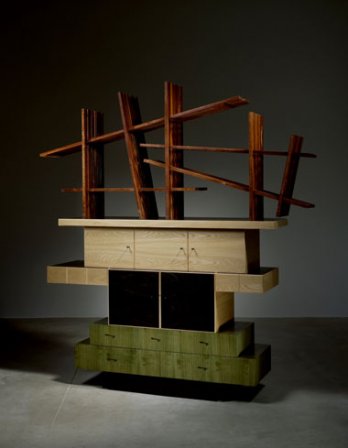 Ettore Sottsass_Cabinet 54_Erik Hesmerg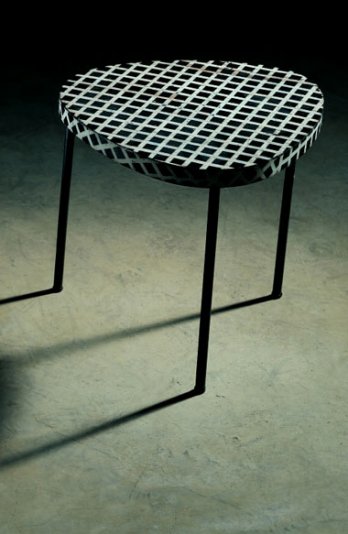 Ettore Sottsass_Bijzettafeltje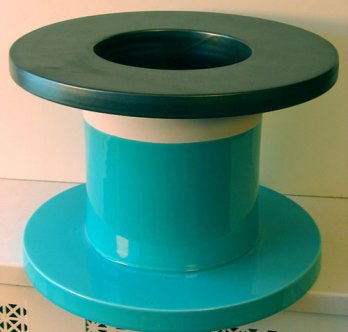 Ettore Sottsass_Bitossi Spool vase
In 1956, Sottsass and his first wife, Fernanda Pivano, travelled to New York. "It really did look like (Fritz Lang's 1926 film) Metropolis: everybody rushing around, noone caring a hoot," he recalled. "It was incredible, in fact, I changed inside out." He was commissioned to create a line of ceramics during this visit, but was also inspired to concentrate on industrial design, rather than architecture, after spending a month working in the studio of the US designer, George Nelson.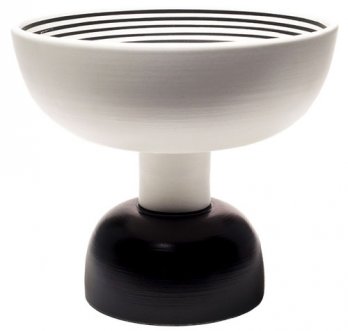 Ettore Sottsass_Ceramic vase
Back in Italy, Sottsass agreed to become a creative consultant to Polotronova, a furniture factory near Florence. In 1958 he accepted a more demanding consultancy role for the newly created electronics division of Olivetti, the Italian industrial group. Sottsass was hired by Adriano Olivetti, the founder, to work alongside his son, Roberto. Together with the engineer, Mario Tchou, they created a series of landmark products which were technically innovative and aesthetically appealing thanks to Sottsass' love of pop art and Beat culture. They won the prestigious 1959 Compasso d'Oro with the Elea 9003, the first Italian calculator, and revolutionised typewriter design with Olivetti's first electronic model, the Tekne, in an elegantly angular Sottsass case.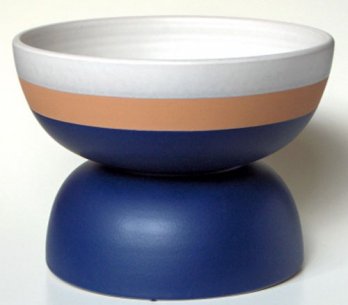 Ettore Sottsass_Grande Coupe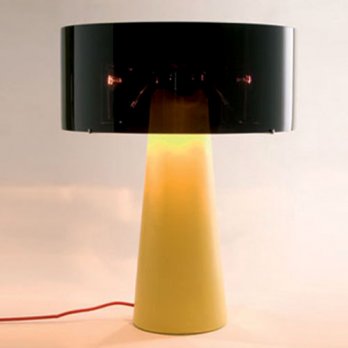 Ettore Sottsass_Abat-jour
Throughout the 1960s, Sottsass travelled in the US and India while remaining a central figure in the Italian avant garde and designing more landmark products for Olivetti culminating in the bright red, poppy plastic 1970 Valentine typewriter which he described as "a biro among typewriters". Although Sottsass later dismissed the Valentine as "too obvious, a bit like a girl wearing a very short skirt and too much make-up, it is still seen as an iconic 'pop' product. His furniture was equally influential: notably the mid-1960s "superbox" closets in stripey plastic laminate developed for Polotronova. In 1972, Sottsass' mobile, multi-functional fibreglass furniture unit was the toast of the Italy: The New Domestic Landscape exhibition at MoMA, New York.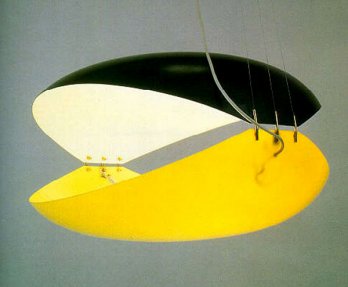 Ettore Sottsass_Light 58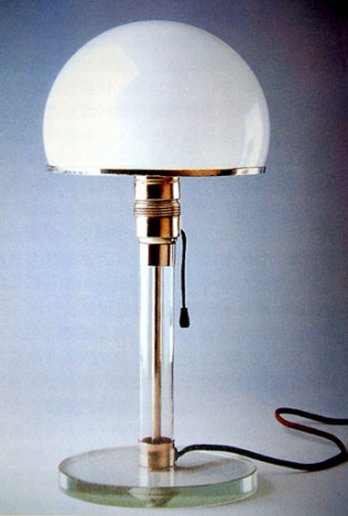 Ettore Sottsass_Light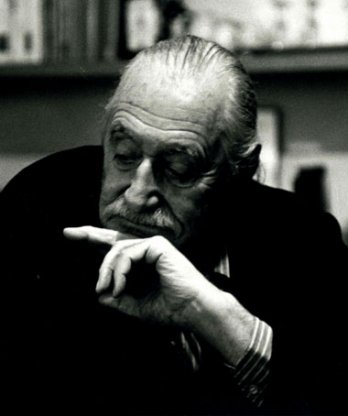 Ettore Sottsass by Giusseppe
By the late 1970s, Sottsass was working with Studio Alchymia, a group of avant garde furniture designers including Alessandro Mendini and Andrea Branzi, on an exhibition at the 1978 Milan Furniture Fair. Two years later, Sottsass, then in his 60s, split with Mendini to form a new collective, Memphis, with Branzi and other 20-something collaborators including Michele De Lucchi, George Sowden, Matteo Thun and Nathalie du Pasquier.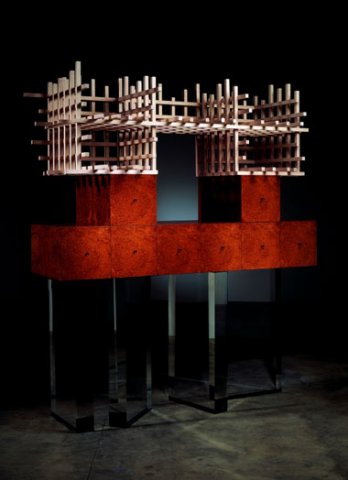 Ettore Sottsass_Cabinet 71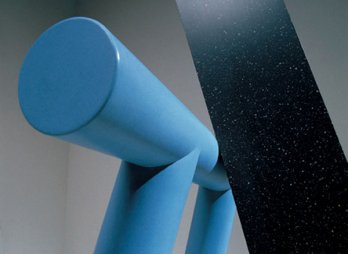 Ettore Sottsass_Design Beam New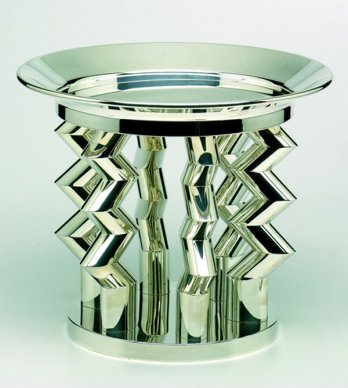 Ettore Sottsass_Fruit Chaal Murmansk
Memphis embodied the themes with which Sottsass had been experimenting since his mid-1960s 'superboxes': bright colours, kitsch suburban motifs and cheap materials like plastic laminates. But this time they captured the attention of the mass media as well as the design cognoscenti, and Memphis (named after a Bob Dylan song) was billed as the future of design. For the young designers of the era, it was an intellectual lightning rod which liberated them from the dry rationalism they had been taught at college and enabled them to adopt a more fluid, conceptual approach to design. The Memphis collective's work was exhibited all over the world, until Sottsass quit in early 1985.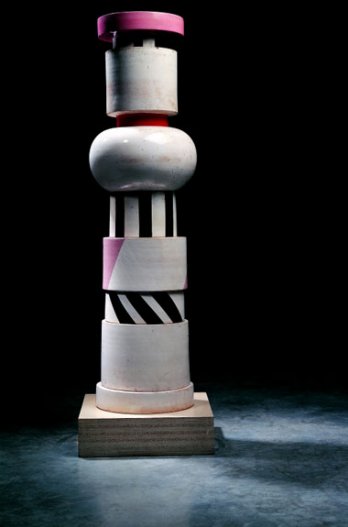 Ettore Sottsass_Gaspump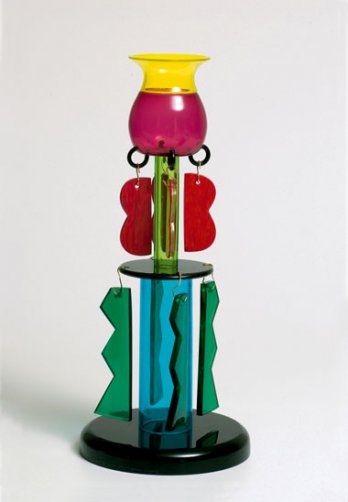 Ettore Sottsass_Vaas Clesitera
Ettore Sottsass_Tik Machine Valentine
Since then, he has concentrated on Sottsass Associati, the architecture and design group where he has worked with former Memphis members and younger collaborators, including industrial designer James Irvine and architect Johanna Grawunder. Sottsass returned to architecture in 1985 when commissioned to design a chain of shops for Esprit.
Ettore Sottsass_Tik Machine Valentine
Ettore Sottsass_SuperBox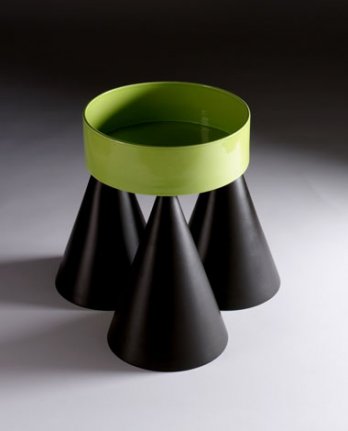 Ettore Sottsass_Jane
He has since completed a series of private houses – including one in Palo Alto for industrial designer, David Kelley - and public buildings, notably Malpensa 2000 airport near Milan. Sotsass Associati has also worked for Apple, NTT, Philips and Siemens, while Sottsass himself has continued with his artisanal projects in glass and ceramics. Revered in Italy as a doyen of late 20
th
century design, Ettore Sottsass is also cited as a role model by young foreign designers, such as Ronan and Erwan Bouroullec, for the breadth - as well as the quality - of his work.
Ettore Sottsass_Tarzan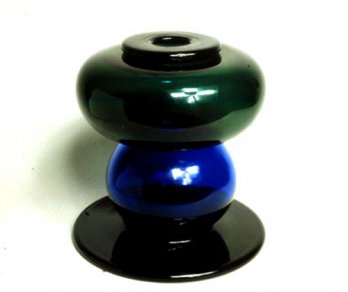 Ettore Sottsass_Totem, 1960
Ettore Sattsass: Retrospective
Through January 13, 2008 at The Design Museum of Gent
www.design.museum.gent.be