1973: Sorry, Out of Gas
Exploration of the architectural response to the 1973 oil crisis
Steffen Böddeker, October 1, 2007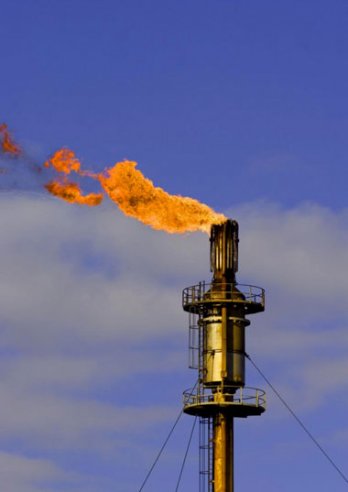 Petroleum offshore_Iran
Organised by the CCA, this major exhibition and its accompanying catalogue are the first to study the architectural innovation spurred by the 1973 oil crisis, when the value of oil increased exponentially and triggered economic, political, and social upheaval across the world. Featuring over 350 objects including architectural drawings, photographs, books and pamphlets, archival television footage, and historical artefacts, the exhibition maps the global response to the shortage and its relevance to architecture today.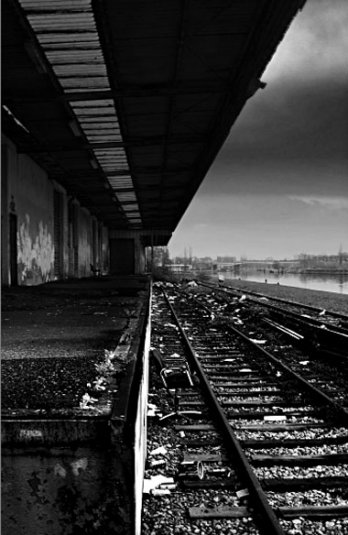 Warehouse destructed_California
Sparked by the combination of reduced oil production and drastically increased prices, the oil crisis marked the end of a period of constant growth in Western countries following the Second World War. Along with social and economic adjustments such as energy-saving measures and reduced activity came the understanding that unlimited development based on unrestricted oil at low prices was no longer feasible. Taking its title from familiar signs at gas stations throughout North America during those years, 1973: Sorry, Out of Gas investigates how architecture and urbanism responded to this new reality. In contrast to the era's sense of austerity it was a time of significant developments and intense experimentation in the field of architecture.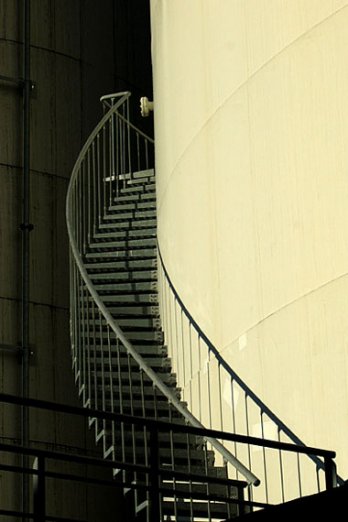 Citerns at Blandonnet near Geneva_Athos99 M. Bobillier
The research and innovations of thirty years ago are of particular relevance in the context of contemporary concerns about diminishing energy resources. While influential at the time, much of the innovative work of architects, engineers, and activist groups of the period was forgotten once financial markets and energy distribution systems adjusted, and political focus diminished. Today, however, a new sense of urgency is emerging, provoked by the reality of a deteriorating environment and a finite supply of fossil fuels.
"It is of vital importance to consider the radical yet, in many cases, little-known work from the 1970s as architects today struggle to address similar issues
," said CCA Director and exhibition curator Mirko Zardini. "
By providing insight on the forerunners of many contemporary approaches to sustainable living, the exhibition aims to increase public awareness and encourage contemporary research in the field."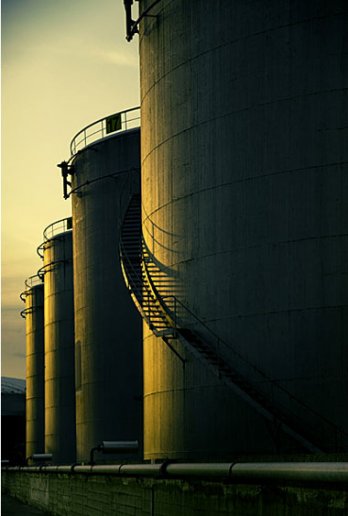 Citerns at Blandonnet near Geneva_Athos99 M. Bobillier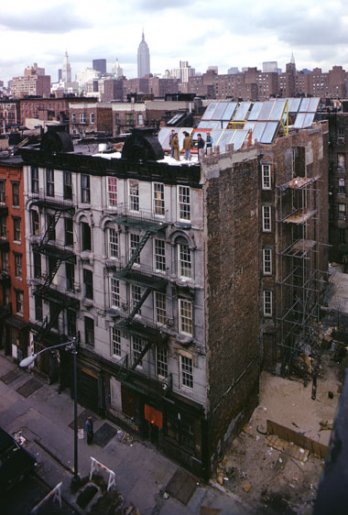 Solar collectors installed on roof top at 519 East 11th Street, NYC, ca. 1976. Jon Naar
1973: Sorry, Out of Gas
and its accompanying publication combine investigations from diverse fields, including the development and applications of both active and passive solar technologies, experiments with earth shelter building, improvements in insulation and construction materials, advances in wind power technology, and the design of "integrated systems" to manage energy sources in larger contexts. The exhibition captures the global social and political response to the oil crisis through footage of impassioned television speeches, historic photographs recording lines at gas stations and streets emptied of cars, and documentation of U.S. President Jimmy Carter's 1979 installation of solar panels on the White House roof - including one of the original panels (later removed by Carter's successor Ronald Reagan). The impact of the crisis on Western popular culture is represented by a selection of the era's board games, whose themes and titles capture the anxiety of a new lifestyle and reflect the profits of oil suppliers, as well as promotional materials such as advertising campaigns and brochures.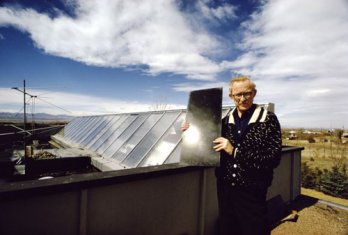 George Löf, designer and engineer with glass plate used in solar collectors. House of George Löf, Denver, Colorado, 1975_Jon Naar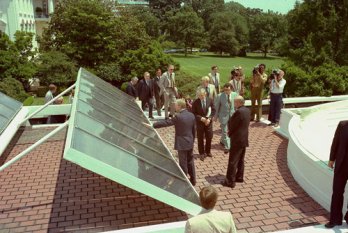 American President Jimmy Carter dedicates the White House solar panels, 20 June 1979_Jimmy Carter Library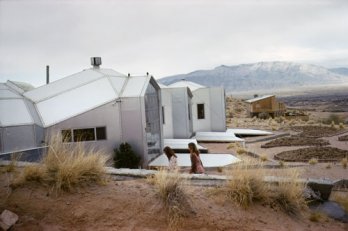 Steve Baer, designer. House of Steve Baer, Corrales, New Mexico, 1971_Jon Naar
Among the exhibition highlights are individual projects by such architects as Steve Baer, Michael Jantzen, Douglas Kelbaugh, Michael Reynolds, and Malcolm Wells, who designed and built innovative homes to gain independence from existing energy distribution networks. Their little-known work broke new ground by allowing alternative concepts of energy use to guide the formal and functional design of their structures. Also featured are the contributions of key engineers George Löf, Maria Telkes, and others, whose development of active solar power technology facilitated major architectural advances.
Michael Reynolds, architect. Turbine House, Taos, New Mexico_Michael Reynolds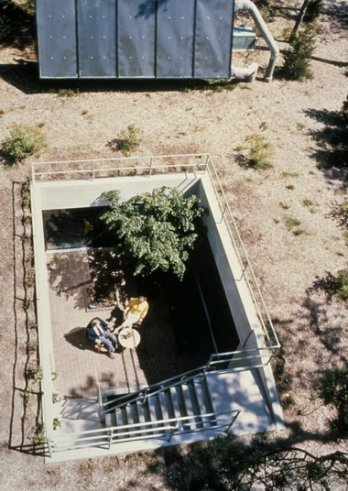 John E. Barnard Jr., architect. Ecology House, Osterville, Massachusetts, 1973. View into courtyard with solar panel.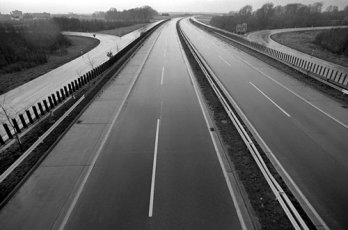 Düsseldorf-Wuppertal interchange during a driving ban, Germany, 15 November 1973_KPA/dpa
These autonomous projects in often remote locations were indicative of counter-culture attitudes that drove much of the innovation of the time. Yet many parallel explorations addressed the question of energy independence in urban environments. Among the most influential is a 1979 design by Oswald Mathias Ungers created in response to a government-sponsored competition for a 400-home community in West Germany. Another, more independent urban project is the 519 East 11th Street cooperative in New York City whose tenant-owners installed solar panels and a wind turbine on the rooftop to provide energy for public spaces in the building. This successful effort to gain independence from the urban power grid led to a legal battle with the local supplier and prompted a lively public debate still relevant today.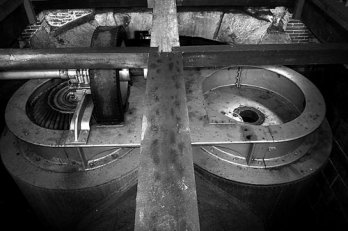 Turbines_Malone
In addition to individual architects and engineers, academic institutions were some of the most active centres to develop new initiatives. Among the most ambitious and enduring is a research program at the Massachusetts Institute of Technology (MIT), which has been studying the mechanical, chemical, and electrical applications of solar energy since 1938. The shorter-lived Underground Space Center at the University of Minnesota (1978-1995) presented its research through several influential publications including Earth Sheltered Residential Design Manual.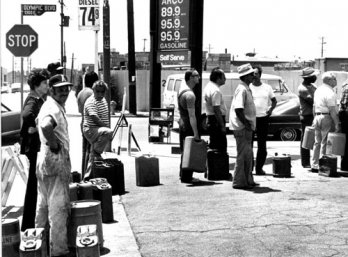 Line-up at a Los Angeles gas station in anticipation of rationing, 11 May 1979_KPA/dpa
Station essence interne_Jean-Claude Claeys
A new typology of architectural publication evolved during this era: Do-It-Yourself books and guides described not only how to construct a home, but how to integrate the necessary energy supply. Among those featured in the exhibition are the instructive Practical Guide to Solar Homes, The Self-Sufficient House, Michael Reynolds' influential series Earthship, and Jay Swayze's unusual Underground Gardens and Homes.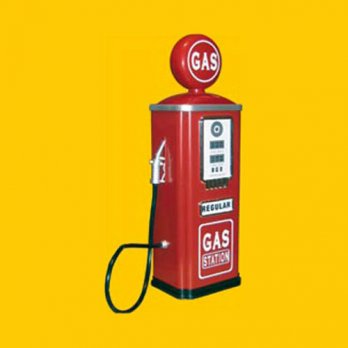 Gas station's accessory_Baghera
The ideas and innovations brought together in 1973: Sorry, Out of Gas culminate with the projects of several maverick groups including The New Alchemists, Montréal-based Ecol Operation, Farallones Institute, and Integrated Life Support Systems Laboratories. Their efforts focused on expanding the scale from individual housing to long-term sustainable communities. Described as "integrated systems," their work incorporates food production, housing, and waste-management. These projects offer the most complex architectural responses to the energy crisis due to their focus on developing sustainability on an urban scale, and form a vital foundation for contemporary planning of future ecological viability.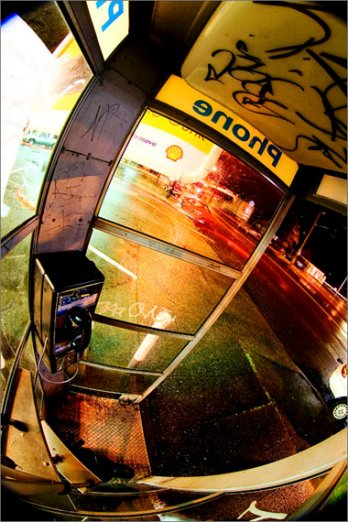 Gas station_Mac Doland_New York
www.cca.qc.ca