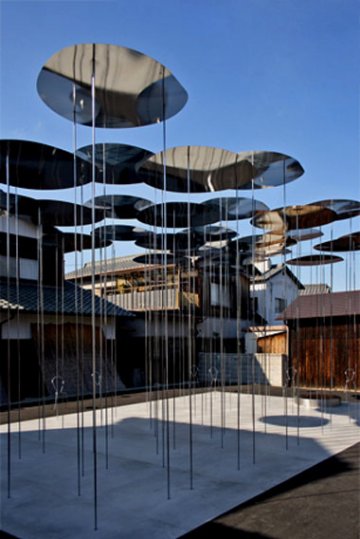 Five Nights at the Museum
The union of Art with Architecture
Trevor Boddy - Enroute Magazine, August 27, 2007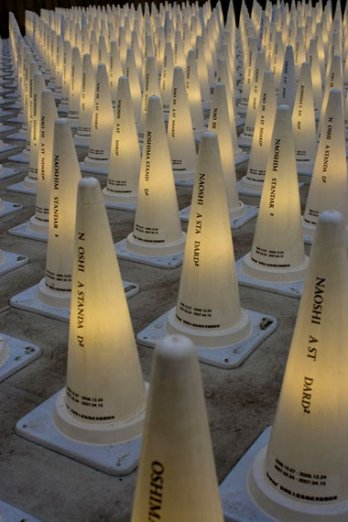 Naoshima_Dard 2 Project
One famous architect, three luxury hotels and a whole lot of Monet: How a yen for art transformed the Japanese island of Naoshima.
There is such a thing as overdosing on fine art and bold architecture. After a few days of ingesting Rauschenbergs, Stellas, Hockneys and even one exceptional set of Claude Monet's water lilies, I had redlined. My eyes hurt, my shins were developing splints from hard gallery floors and I clearly needed a break. I pushed a button hailing the private funicular monorail to whisk me up to my room in the hybrid hotel-meets-museum that is Benesse House on the Japanese island of Naoshima. I was starting to agree with some fellow guests I had met at breakfast - a sprightly pair of Dutch seniors - that Japa­nese starchitect Tadao Ando's cast-in-place concrete buildings and their slightly alkaline smell had become a bit too Zen. "It reminds me of dikes," said one. "Or the Maginot Line," concluded the other.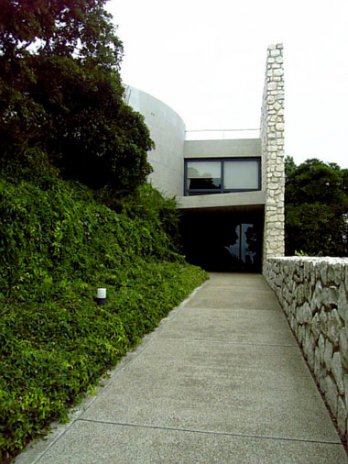 Benesse House_Naoshima_Japan
As the monorail car clicked up the mountainside, I gazed out at the glinting Seto Inland Sea, framed by haze-smeared ghosts of the outer islands, the vista a welcome reality check after so much artiness. Despite its name, the sea is not inland at all but rather a portion of the Pacific, sheltering a verdant archipelago that stretches from Osaka's industrial portside almost to Fukuoka on Kyushu. But it is inland in another more important sense, being central to the minds, hearts and stomachs of the Japanese. Seto-naikai's sheltered bays are the ur-source of the galaxy of seafood central to Japan's cuisine; its misty seascapes are the subject of Hokusai's iconic 19th-century woodblocks; its azalea-decked hills shelter the late Modernist sculptor Isamu Noguchi's stone workshop; and built more recently around its edges is a string of suspension bridges, including the world's longest. Thanks to Naoshima, the Inland Sea has become a global - not just Japanese - cultural hub.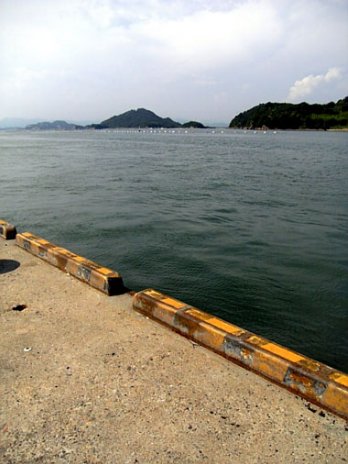 Naoshima Island_Japan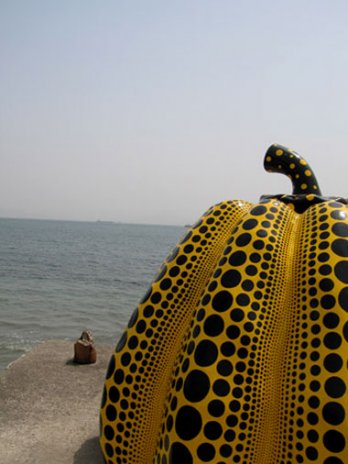 Yayoi Kusama, Pumpkin 1994-2005_Naoshima_Japan
I had come here to drink in the art for a few days but also to think about the fate of a marriage: that troubled relationship between the exhibition of art and the increasingly boisterous buildings opening all around the world that showcase it. In the aftermath of too many formy, mock-sculptural art museums by Frank Gehry, Will Alsop and Daniel Libeskind, the Bilbao Effect had become bilious for me. Too much of this architecture was a distraction, not a complement to the painting, sculpture, photography and installation art contained within. The ancients called architecture the mother of the arts, but now it was smothering.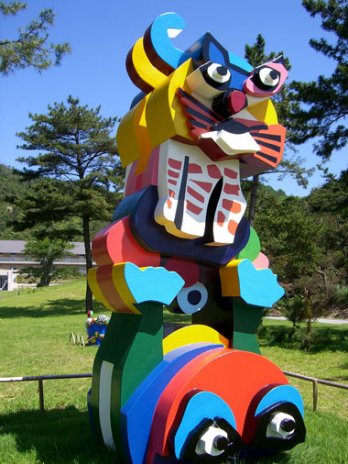 Benesse Art Site_Naoshima_Japan
Naoshima is home to one of the great experiments in contemporary visual culture. The lush, remote island dotted with ancient villages has been transformed into a site for the seamless integration of leading-edge art, the contemporary good life and up-to-the-minute design. You get to wake, eat, relax and sleep with the art. What this means came clear later that night, following a kaiseki dinner saturated with hues and flavours inspired by the surrounding art. I stumbled onto a twentysomething Japanese couple sprawled across the museum floor. They alternately gazed at the army of hundreds of Power Ranger-like figures in Yukinori Yanagi's
Banzai Corner,
then got back to heavy petting, oblivious. A few minutes later, I walked through the immense concrete drum at the museum's core, where the sole light was the flashing neon array of Bruce Nauman's 100 Live and Die, illuminating a quiet debate by three developers from Tbilisi. I followed up a shiatsu massage the next day by soaking in the art – in both senses – with a dunk in the Jacuzzi, set within a ring of Chinese standing stones at the centre of Cai Guo-Qiang's
Cultural Melting Bath: Project for Naoshima
.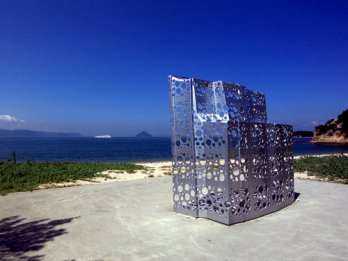 Benesse Art Site_Naoshima_Japan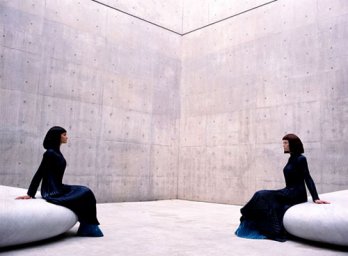 Tadao Ando_Pool_Chichu Art Museum_Naoshima
In the village of Honmura - arrived at on a borrowed bike - I visited the hilltop Go'o Shrine. Here one-half of an 18th-century Shinto shrine was restored, and then a new companion temple in contemporary materials was created by artist Hiroshi Sugimoto. An artwork for veneration in every sense, the contemporary shrine consists of a staircase running from the older shrine's steps to deep within the soil, the risers formed entirely from in-situ cast glass. These sparkling stairs also suck sunlight downward - step by step - into a mystical underground chamber, which art pilgrims can enter through a slit-like concrete passageway. Gazing up at Go'o's haloed stair light from a crude dirt floor, I struggled for a critical take. "Architecture gone sublime without the burden of function." A little wordy. Or this banner: "Young British artists' Japanese cousins enter zazen satori" - a Buddhist idea which means sudden enlightenment through disciplined meditation.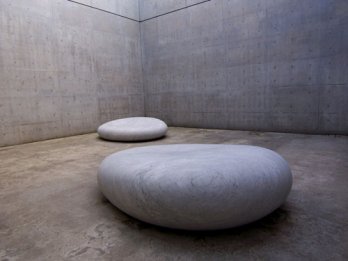 Tadao Ando_Pool_Chichu Art Museum_Naoshima
Twenty years ago, the increasingly renowned art collection of the Fukutake family's Benesse company – the publishing giant that owns Berlitz – needed a permanent home. But instead of opening a Saatchiesque gallery, the family imagined a union of art with architecture, commissioning the first of a string of art-related Naoshima buildings from Osaka's Tadao Ando, who went on to win the 1995 Pritzker Prize, architecture's Nobel. Margaret Jenkins, who has run the prominent San Francisco modern dance troupe bearing her name for 30 years, announced soon after arriving here that Ando's was architecture ripe for dancing. Inspired by Naoshima's art, Toulon fashion designer and fellow guest Isabelle Agnel-Gouzy pulled out a different hand-painted couture dress of her own devising for every breakfast and lunch, not just dinner, telling me that James Turrell's Backside of the Moon optical phenomena had urged her on. The experience of art at Naoshima could not be more different from the flashed glimpses of masterpieces filtered through mass herding we have come to tolerate at any major exhibition at the Tate, MoMA or AGO. Here art appreciation is lived, not taught.
Tadao Ando_Chichu Art Museum_Naoshima
Benesse House_Naoshima_Japan
Near the end of my visit, I took a day trip to the Takamatsu port and got to talking with fellow Benesse House guest Shoji Sadao, a New Yorker and a former executive director at the Isamu Noguchi Foundation. Before working with the famed Modernist sculptor, Sadao had studied architecture at Cornell with fellow students Peter Eisenman and Richard Meier, then served for many years as Buckminster Fuller's private architect. He co-designed the geodesic U.S. Pavilion at Montreal's Expo 67 with Bucky: "We thought we would get lots of new work from that one, but nothing," said Sadao with a dry laugh as the Inland Sea churned by.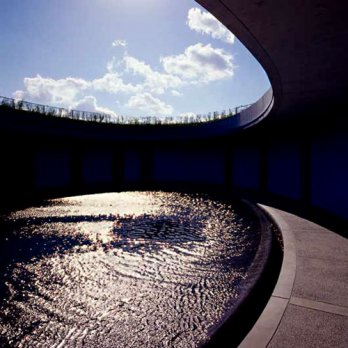 Benesse House_Naoshima_Japan
Benesse House_Naoshima_Japan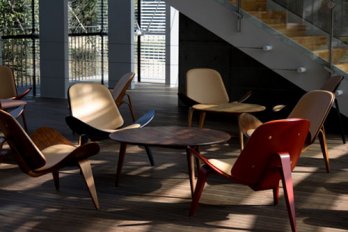 Benesse House_Naoshima_Japan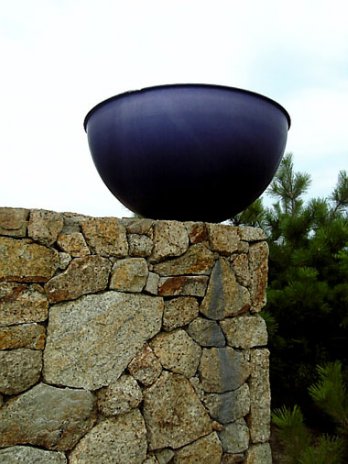 Benesse Art Site_Naoshima_Japan
Fuller had introduced him to Noguchi, who in turn led him to Ando's early works. "I have admired his work from the first houses and chapel," Sadao explained, referring to the career-establishing Church of Light, another cliff-perched cast concrete building overlooking the very same sea. "The first constructions – like the Benesse museum – do not quite work as art spaces," said the 77-year-old American architect, "but the Chichu Museum is a live-in sculpture, as great as the three artworks it contains. Imagine, an entire museum for only three works!"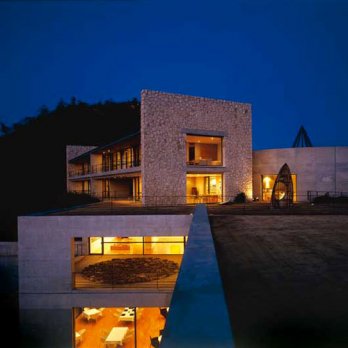 Benesse House_Naoshima_Japan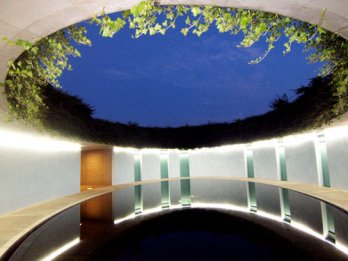 Benesse House_Naoshima_Japan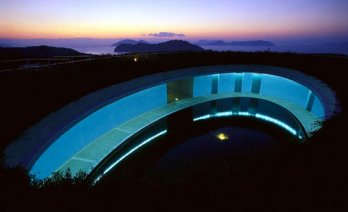 Benesse House_Naoshima_Japan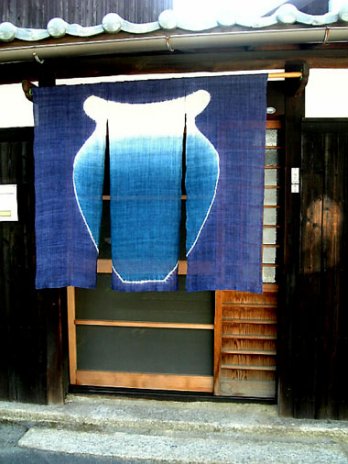 Naoshima Island_Japan
On my way back to Naoshima that night, I thought about Sadao's words and remarkable life and Tadao Ando's central role in my own experience of Japan. Fifteen years ago, at a dinner surrounded by Rem Koolhaas, Peter Eisenman, Jacques Derrida and Daniel Libeskind, I realized that the rough-skinned man sitting on the other side of me was my true architectural hero. The next day, Ando graciously showed me his work in Kyushu – even giving me the simple formula for his tofu-like concrete.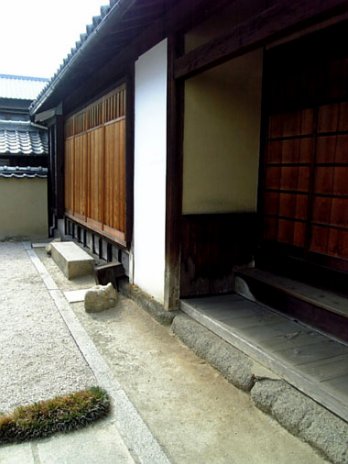 Naoshima Island_Japan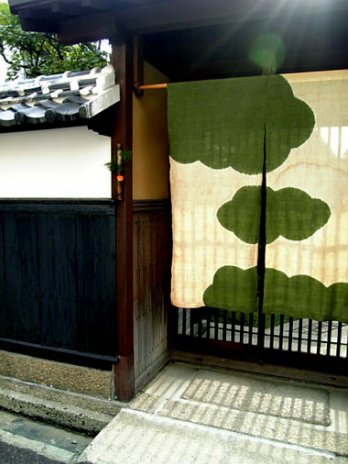 Naoshima Island_Japan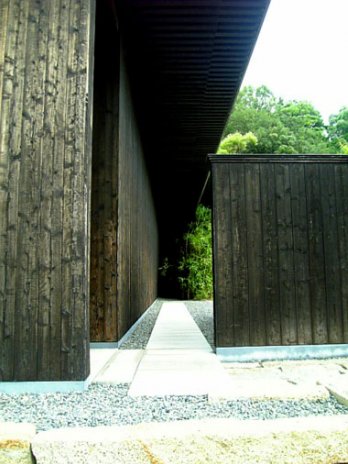 Naoshima Island_Japan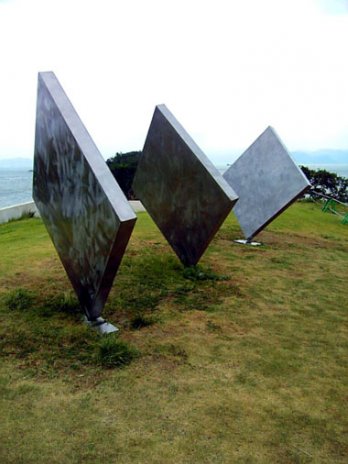 Benesse Art Site_Naoshima_Japan
Had I finally found in Fututake and Ando's Naoshima my desired union of art with architecture, high style with everyday life, abstract ideas with life lived through the senses? Yes. But then I love concrete – the way it smells after it rains, how it glints in oblique light, how your beloved looks framed in its greyness, how it spans the ordinary and the sublime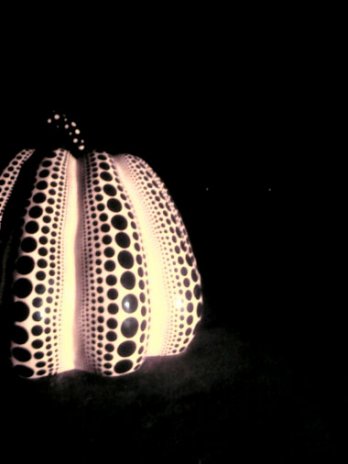 Yayoi Kusama, Pumpkin 1994-2005_Naoshima_Japan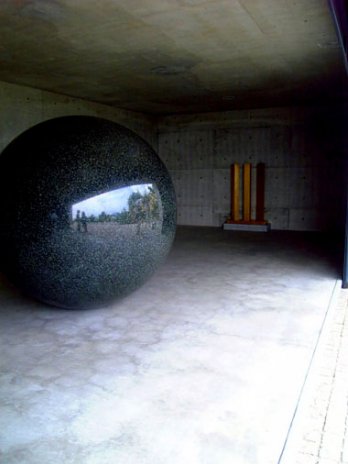 Tadao Ando_Chichu Art Museum_Naoshima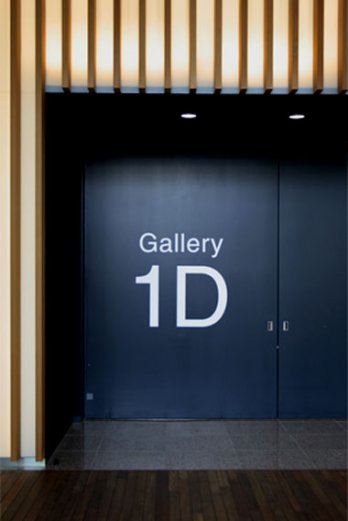 Benesse Art Site_Naoshima_Japan