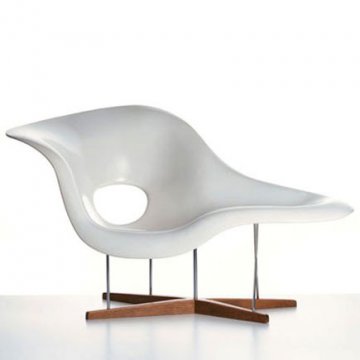 Charles & Ray Charles
An Iconic couple of modern design
Bernadette Deloose, June 22, 2015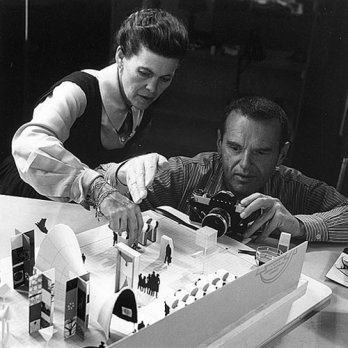 Ray & Charles Eames working_San Francisco_USA
It has been exactly 107 years - June 17, 2014 - since Charles Eames was born in the American state of Missouri. A century later, Eames belongs to the design tenors of the 20th century. Charles Eames showed us how modern design can and must be used to improve the quality of life. In the 1950s, Eames' first designs were commercialized. Vitra AG has been collaborating with Eames and the Eames Office since 1957, and has been the exclusive licence holder for Europe, the Middle East and South Africa for the designs since 1984.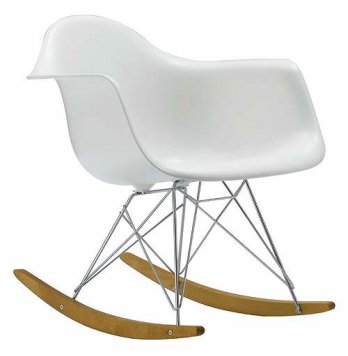 Charles & Ray Eames, Rocking Chair Lounge, 1950_USA
Even though the chairs designed by Charles and Ray Eames are only a small part of their total body of work, they were the part of their work that enabled them to further experiment with other forms of art, and it was their chairs that introduced them to the masses. We distinguish four groups, each one unique because of the method of manufacturing or the material used (plywood, glass fibre reinforced polyester, steel wire, aluminium), and certainly unique in terms of design.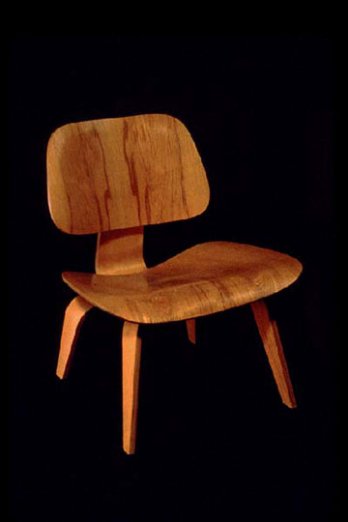 Charles & Ray Eames_DCW-Dining Chair Wood, 1946_USA
Experiments with plywood
The manufacture of plywood furniture in itself was nothing new. The avant-garde, however, saw plywood as a cheap material for rendering furniture affordable. Alvar Aalto was a source of inspiration. In 1941, Charles Eames began his experiments with shapes of layered wood. He particularly strove to attain mass production of doubly bent surfaces. The outbreak of the Second World War offered the possibility to experiment further. By order of the navy, large quantities of leg splints were produced. By the end of the war, the techniques were so refined that Charles Eames was able to produce the desired shapes. After an exhibition at the MOMA in New York, The Herman Miller Furniture Company introduced the chairs to the masses. The plywood was first bent and then pressed into the desired shape and hardened. These experiments were the basis for the development of the Lounge Chair in the 1950s.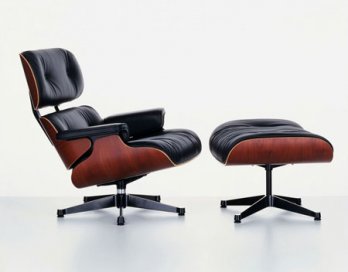 Charles & Ray Eames_Eames Lounge Chair & Ottoman, 1956_Hans Hansen_Vitra Collection AG_Germany
Eames Lounge Chair and Ottoman
This contemporary interpretation of a classic club chair dates back to 1956 and has become famous the world over. The cutting edge design became a status symbol. The seat and back shell and the arm rests are made of shaped plywood and are connected to each other by rubber and metal connections. The removable upholstery elements have a leather covering. The whole unit rests upon an aluminium bottom structure. Charles Eames stated that with this design, he strove for ultimate comfort, made from materials of the highest quality. Exactly as Eames envisioned, the chair calls to mind a soft, worn-in baseball glove into which everyone just wants to blissfully nod off. Last year, at the fifty-year anniversary of the chair, Vitra released a special celebratory edition of only 999 certified pieces.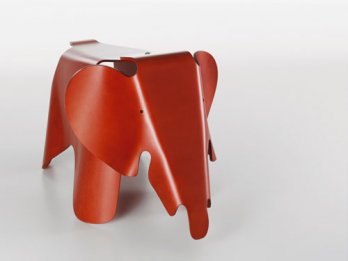 Charles & Ray Eames, Toy Elephant, 1945_Eames Office_Vitra AG_Germany
Kem Plywood Elephant
The little elephant, a well-known design of Charles and Ray Eames, is finally released onto the market 62 years after its creation. For Charles Eames' 100th birthday, Vitra will be releasing a limited edition. The Plywood Elephant is considered a legend among collectors. Only two pieces were ever produced of this design, and they were put on display at an exhibition at the MOMA immediately after production. Today, only one piece remains known. It is owned by the Eames family. With this stool, Charles and Ray Eames are playing with shapes from the world of children in an endearing way, and along the way they create a language of the senses which appeals to both children and adults.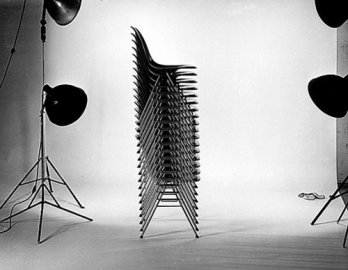 Charles & Ray Eames_Fiberglass-reinforced Plastic Chairs, 1954_USA
Fibreglass: a new material
In 1948 Eames developed his first experiments with glass fibre reinforced plastic, a material which was considered to be a miracle material by the American air force, a material with which anything was possible. In any case, it provided Eames with more freedom to shape, but the design remained largely unchanged compared to the plywood chairs. For The Herman Miller Furniture Company, the investment in the fibreglass chair proved to be one of the most profitable in the history of American furniture design. Initially, the chair was supplied in grey and beige. The many cheerful colours which the chair became known for to later generations were only added to the line in the 1960s.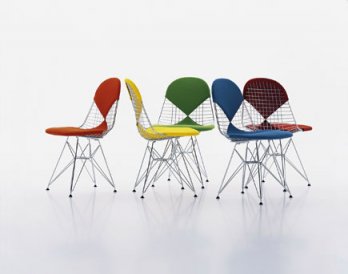 Charles & Ray Eames_Chairs DKR-2, 1951_Hans Hansen_Vitra Collections_Germany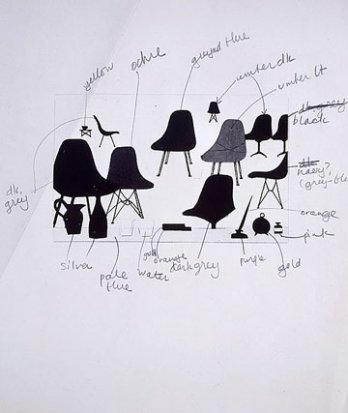 Charles & Ray Eames, Drawing for postcard_USA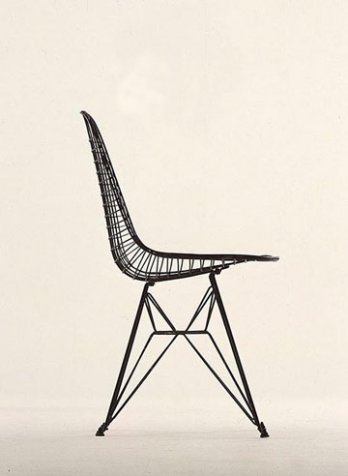 Charles & Ray Eames_Experimental Wire & Rod Chair Shell, 1951_USA
Wire Chairs
For the Wire Chair Eames used the shape of the chair in composite material. In this line, however, the basket was made of steel wire. The metal frame, with or without upholstery, could be paired with different bottom structures to create a great many variations.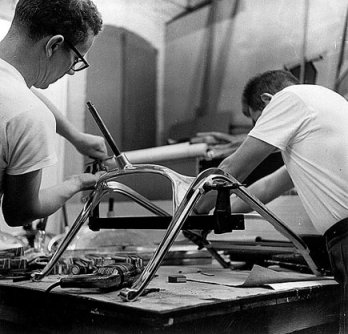 Charles & Ray Eames_Developing of Aluminum Chairs, 1958_San Francisco_USA
Aluminium Group
Well-known designers such as Marcel Breuer had worked with aluminium before, but for a long time the material was considered to be too expensive and too hard to manipulate. Thanks to an increase in production during the war, there was excess capacity after 1945. Charles Eames initially chose the material because of its resistance to corrosion thanks to the pressure die-casting technique. The nice sheen of the aluminium parts was obtained by sandblasting. An exceedingly tough fabric (and leather as well later on) covering was wrapped over the load-bearing aluminium profiles to make up the back and seat.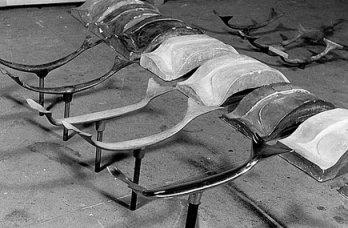 Charles & Ray Eames_Developing of Aluminum Chairs_San Francisco_USA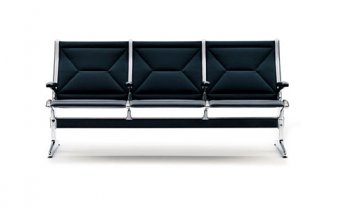 Charles & Ray Eames, Tandem Sling Seating, 1962_Hans Hansen_Vitra Collections AG_Germany
The concept of the aluminium chair was also the angle chosen for the Tandem Sling Seating, a seat system used in the past as well as today in stadiums, schools, student houses, airport waiting areas …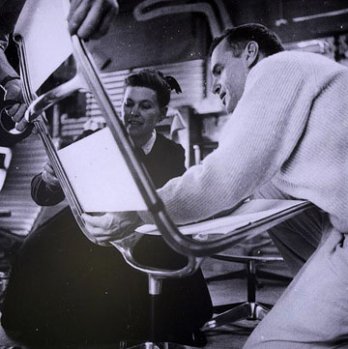 Charles & Ray Eames working and developing Chairs, 1958_San Francisco_USA
Charles Eames (1907-1978) and Ray Eames (1912-1988), An Iconic couple of modern design
Charles and Ray Eames shaped twentieth-century America. They witnessed all major events - the economic crisis, the Second World War - and were, with their work, at the forefront of major social developments: the fact that the newest trends were moving from America's east coast to the west coast, the rise of major industries and the worldwide expansion of American culture. Along with governments, industry and avant-garde, the contemporary campaign for the modernization of post-war America was gathering momentum, spearheaded by the Eames couple.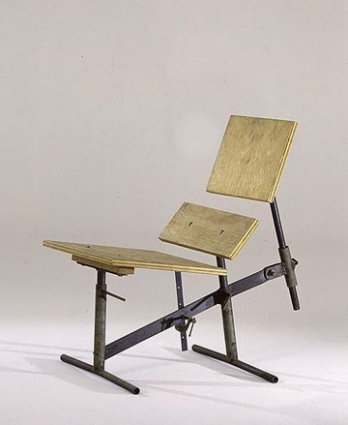 Charles & Ray Eames_Adjustable Jig by Eames Office, 1945_San Francisco_USA
From the 1940s to the 1970s, they were the driving force behind a design culture which displayed a measure of idealism and a diversity which knew no equal: their furniture, toys, buildings, movies, exhibitions and books were to contribute to a better society - they not only had to function better but also serve the culture and the intellect. Today, we are apprehensive of designers who are out to improve the world, but in the Eames' time, it was no exception to have designers, businessmen and noted politicians share common objectives, and everyone assumed they had the country's best interest in mind. Designers such as Charles and Ray Eames had the gift of being able to imagine the future of America, and their clients - government and industry - had the political, financial and technical means that were needed to put this image of the future into action.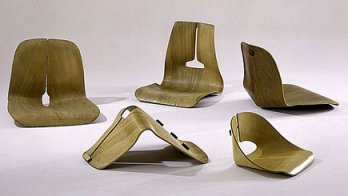 Charles & Ray Eames_Chair Shell Experiments, 1941-1945_San Francisco_USA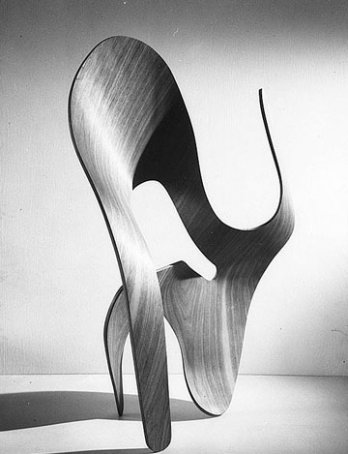 Charles & Ray Eames, Molded-plywood sculpture, 1943_USA
The success with which the Eames succeeded in shaping the America of their time has its roots in their own past, as this history was inseparably connected to their country's history. Highlights in their career occurred at times of major events in the development of twentieth-century America. Both were born before the First World War - Charles Eames in 1907 in St. Louis and Ray Kaiser in 1912 in Sacramento. Charles grew up in the industrial heartlands of the United States. As a young man, he worked in workshops and factories, and this is where he developed his lifelong fascination with machines and complex mechanical connections. One of his first passions, artistically as well as technically, was photography. The economic world crisis also had a great impact on his personality. Charles worked hard in order to establish himself as an architect, and for a certain period of time was given support by the Works Progress Administration, an agency which was part of Roosevelt's New Deal – exactly the kind of activist, culture-friendly government which was later to promote the twosome, and which was also to realize a great number of their post-war projects.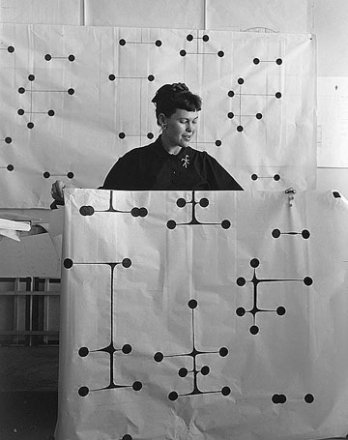 Ray Eames_Dot Pattern Fabric Design, 1947_San Francisco_USA
Charles was thrilled with the way art served the economy during the Depression years, but it was Ray who fitted the artistic movements of modern times into their dynamic reality. Ray's ideas on art were shaped by the theatre, the ballet and the exhibitions on display at the College she attended, the renowned May Friend Bennett School near Poughkeepsie in the state of New York. After her final exams, Ray moved to Manhattan in 1933, which was at the time the centre of modern post-war art in America. She began to paint abstractly, was one of the first female abstract artists in America, displayed paintings and took lessons with Hans Hofmann, one of the trendsetting artists of the time, and later on an important binding factor in abstract expressionism.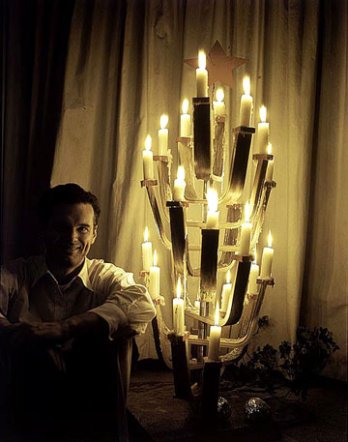 Charles Eames_Christmas Tree, 1946_San Francisco_USA
In New York Ray came into contact with movements which dreamt of modern design art as a means to change society. This was also evident in the new teaching plan of the Cranbrook Academy of Art in Detroit, which would attract Ray and Charles at the end of the 1930s. At Cranbrook, a holistic concept of design was taught. There were classes in architecture, art, urban development and artisanal arts. When Charles and Ray met, he was lecturing design and she was taking weaving, ceramic and metal shop classes. The basic philosophy at Cranbrook, the belief in a better life through better design, would leave a lasting impression on both of their lives.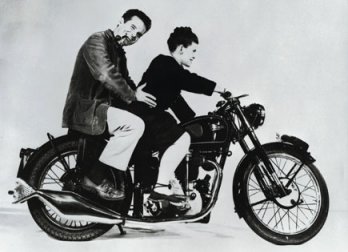 Charles & Ray Eames_Eames Office_USA
The Second World War opened up new possibilities for cooperation between art and industry. Six months before the attack on Pearl Harbour, Charles and Ray married and moved to Los Angeles, America's last "frontier town". Here, they sought to begin anew, liberated of the social and professional pressures inherent to life in Detroit, St. Louis or New York. Los Angeles was the ideal testing grounds for design art to show it had the audacity to take on functional challenges with which a country at war was faced and which were unknown at the time. In this global war, domination in the air became a factor of increasing decisiveness, and accordingly, Los Angeles further consolidated its position as the centre of the aeronautical industry in the United States at that time. Many who came to Los Angeles hoping to find well-paid work in the war industry ended up with the major airplane manufacturers such as Douglas, Lockheed and Vultee. These companies offered designers such as Charles and Ray Eames a fascinating look into the future of design of modern factories and on new materials and techniques applied in airplane manufacturing. "With planes, you can immediately tell what possibilities the streamline's shape has to offer", Charles Eames wrote shortly after his arrival in Los Angeles. "Here it is evident that streamline is sound and good".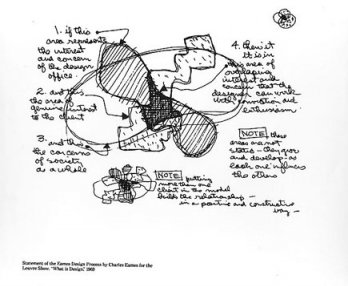 Charles & Ray Eames, Sketches_USA
Griswald Raetze & Office Staff working, 1943_USA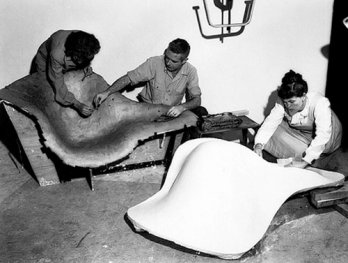 Frances Bishop, Robert Jacobsen & Ray Eames with a plaster mold for La Chaise, 1948_USA
It would not take long for the both of them along with their modest team to be given the opportunity to cast these words into concrete shape. They designed and manufactured airplane parts for the aeronautical industry, and also government-assigned leg splints and stretchers for casualties of war, made of press-shaped plywood. Thanks to these partners, they gained access to financial means and materials which had up to then not been available for civic purposes. The experiments in press-shaping plywood wood eventually led to the development and production of a series of chairs, tables and screens which precisely met the need for a more flexible and relaxed style of living in post-war America. Both technically and aesthetically, Eames' furniture was the most advanced on the market at the time and caused a veritable revolution. "With Charles Eames, the twentieth century is learning to sit again", the Washington Post wrote.
Charles & Ray Eames_Experimental Minimum Chair, 1948_Design Museum Gent_Belgium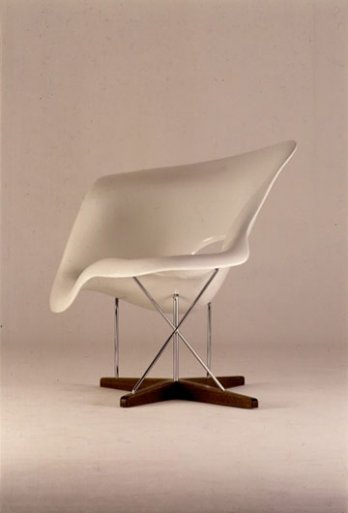 Charles & Ray Eames_La Chaise, 1948_Vitra Design Museum_Germany
Charles and Ray Eames operated in a time where the principle of "What is good for General Motors is good for America" was still honoured. They worked for major companies such as Westinghouse, Boeing and Polaroid. For informatics giant IBM they made designs for over fifty exhibitions, movies and books in which they tried to strip physics and mathematics of all mystique, and familiarize the public with the computer, which was a new phenomenon at the time. As these assignments required an increasingly large amount of information to be transferred in an increasingly short amount of time, they developed new methods for coping with this as well. With their multi-projector screen presentations and their multimedia shows, they voiced their conviction that learning should be an experience of the senses which should bring joy, and that even the simplest of things can lend us important insights in cultural and social relations. These shows, which were realized by order of large companies and institutions, thrilled crowds at world fairs. The largest and most extravagant project of this type was the movie "Think", which was projected onto 22 walls and was shown in the IBM pavilion at the 1964 world fair in New York.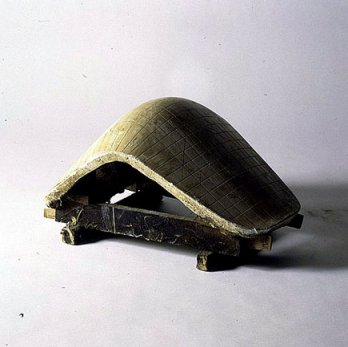 Charles & Ray Eames, Mold for Weding Wire Chair Shells, 1951_USA
All of Charles and Ray Eames' projects were a statement for a kind of human modernism which was convinced that people should be able to use machines for the wellbeing of society. "As with any other tool, people must develop the ideas, and give guidance to the execution thereof", Eames wrote in the scenario for the 1957 movie "The Information Machine: Creative Man and the Data Processor".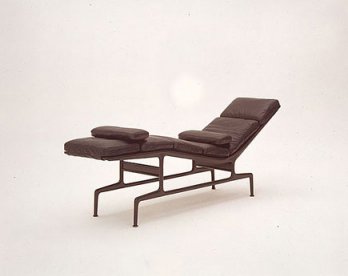 Charles & Ray Eames, ES 106 Chair, 1968_USA
Charles & Ray Eames, Lounge Chair Prototype, 1945_USA
The post-war period, a time when both were garnering acclaim, was also the time in which the focal point of American society was transferred from the east coast to the west coast more and more. The Eames were not the only ones to depart for Los Angeles. Over 15 million Americans packed for the west coast during the war, looking for well-paid jobs in the arms industry. Particularly the states of California, Oregon and Washington with their ship wharves and airplane manufacturers were changed significantly: in Los Angeles and its surrounding area alone, 500,000 souls came to settle. The economic and demographic consequences of this human migration definitively altered the weight distribution between areas, and gave the west coast a new identity and independence. Even after the war, its economic prosperity and its mild climate kept luring Americans to Southern California; its population doubled between 1949 and 1965.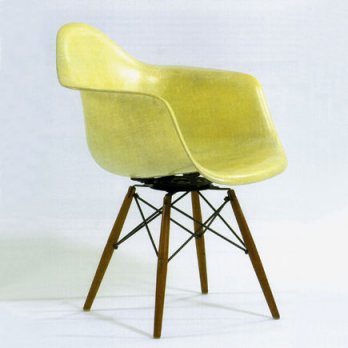 Charles & Ray Eames_Armchair DAW, 1948_Studio Claerhout_Design Museum Gent_Belgium
In those years, Los Angeles and Southern California were the pinnacle of the American dream to the rest of the world. A radical new style of living developed here in the houses with their patios and in the vast car cities. Magazines such as "Life" and "Vogue" published articles on Charles and Ray Eames, how they enjoyed the fruits of post-war America, how they succeeded in uniting work and leisure, indoor and outdoor life, sophisticated arts and popular images, state-of-the-art technology and traditional crafts. Both the Eames and their work seemed original and new, and were as such the embodiment of the spirit of independence and the "self-made man" which was already so typical of America in general and of Los Angeles in particular. Even though they rarely advertised post-war Los Angeles, they were nonetheless regarded as icons of this mythical place where man had subjugated machine, nature and history.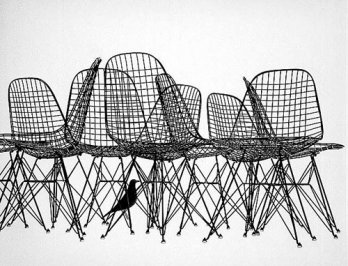 Charles & Ray Eames, Wire Chairs & Eameses Bird Sculpture, 1952_USA
Charles Eames & Eero Saarinen Chair, 1940_USA
Today, these times are held in a more objective light. When Rachel Carsons wrote her nature manifest "Silent Spring", most of the new technologies and materials were shrouded with an aura of progress and optimism. A blooming industry presented the middle class with seemingly endless possibilities for climbing the social ladder; and the less fortunate with the hope that one day, they too might participate in this dream. But all was not as ideal as it seemed, and books like "The Hidden Persuaders" by Vance Packard and "The Man in the Gray Flannel Suit" denounced America's unbridled consumerism. And even though the movements for civil rights and sexual liberation which were on the rise at the time yielded more equality of right in American society, these were also the years of growing social contrast and the protest of the 1960s. "So many of our dreams have come true, and now they are frightening us", Charles Eames said in 1971. "We wanted better technology, and now pesticides have poisoned our earth. We wanted cars and television sets and household appliances, and we all thought we were the only ones who did. Our dreams have come true, and Lake Michigan is paying the price for it. However, this does not mean it was wrong to dream. It simply means that we did not want the right things, and we need to make amends for it."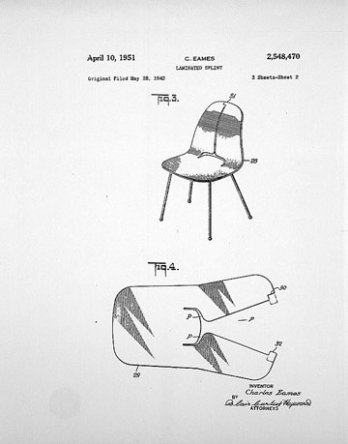 Charles & Ray Eames, Patent Drawing for plywood Chair, 1942_USA
Both of the Eames have always sincerely believed that design was able to "rectify" such things, and provide man with a better life. They have always sought to achieve this enlightened ideal with elegance, spirit and beauty.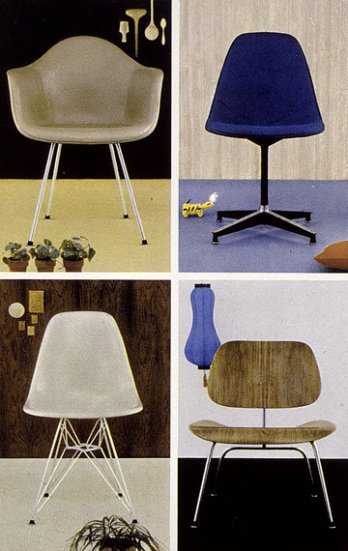 Charles & Ray Eames, Postcard promotion_USA
Tribute to Charles Eames

Trough September 30, 2007
www.designmuseumgent.be